SECRET SEWISTS REVEALED
Welcome to the Love Notions Secret Sewist 2022 Reveal (with a little sewing inspiration to get you ready for the holidays). Love Notions has had a fantastic 2022 and we are thankful for the ambassador team for all they've done to spread the word and inspire the sewing community. So what is our "Secret Sewist" event?
SECRET SAN… ahem, SEWIST
Every year, the Tami treats the ambassadors to a thank you gift in an event we call the Secret Sewist Exchange.
(You can read about past secret sewist events here. We've been doing this for the past 4 years and it is so fun!)
To celebrate the team and say 'thank you', Tami treated the ambassadors to a fabric store credit to their favorite shops. First though, we decided to make it even more fun and create a little gift exchange or Secret Santa event out of it — we call it the "Secret Sewist" exchange. The ambassadors names were secretly matched, and then they selected the fabric AND patterns for each other. Today is the day their matches are revealed.
You can scroll down to the reveals, makes, and reactions for Secret Sewist, but if YOU are in the gifting mood too – make sure you snap up today's Feature Friday pattern: Compose Robe! It's the perfect pattern for sewing up and gifting to those you love – and because of the fit and style there is a lot of wiggle room for sizing. Pick their favorite color for fabric, whip up this quick pattern, and surprise your special people. Also, it comes in adult and kid sizing – and includes a freebie hair wrap!
And now for the big reveal!
---
Sequoia Bond shopped for Katie Kennedy
Pattern: Allegro Skirt
Fabric: Abstract cotton denim from Fabric Mart
This is what Sequoia said about fabric and pattern shopping for Katie:
"Happy Secret Santa Katie! I hope you enjoy shopping and selecting a pattern. Please feel free to sew anything that makes you feel like the amazing person you are. My pattern pick and fabric options are only suggestions. I love your style and the way you make everything look elegant. I can't wait to see what you sew next!"
Katie Kennedy says "Thank you dearly to my Secret Sewist! I literally had one of the chosen fabrics already in my cart at Fabric Mart, (everyone just leaves online carts full of fabric at all times, right? ????)so I went ahead and made it mine. Once I had it in hand, I realized that the weight is lighter than suited for the Glissando Skirt, so I veered a little off the pattern path and chose the Allegro Skirt instead. I wanted to stay in the spirit of the activity, but also make the best use of the fabric. I adore the front pockets and I added a back pocket for phone-holding purposes, too. I snuck in my last "Handmade" woven label from last year's SS exchange since I thought that was perfectly fitting.???? I also grabbed this muted green jersey to make my first long-sleeved Classic Tee. Because it is a cotton/recycled poly blend with no lycra, I had planned to bind the neckline, but in the midst of sewing I tried a little experiment with leaving the raw edge to roll (rather than turning it under and topstitching) and I think it's so great!
Huge thanks to Love Notions for throwing this fun secret sewing swap! I will wear my new set out and about with a lot of joy."
---
Katie Kennedy shopped for Whitney Luckenbill
Pattern: I'd love to see a Harmony Blouse mashed with the Saltwhistle square neckline, and perhaps also lengthened into a dress.
Fabric: I know you would look absolutely stunning in any of these salmon/rusty tones in viscose, rayon, and linen from JuneandLu
This is what Katie said about fabric and pattern shopping for Whitney: "Whitney, I really enjoy watching your style videos and hearing about your best colors and how you plan your wardrobe. You made this so easy! I love seeing your beautiful contributions to the sewing community and following along with your beautiful makes."
Whitney says, "First, I would like to thank Tami and Tessa for setting up such a fun challenge and gift exchange! This was so generous and so much fun to be a part of! Second, I would like to thank my Secret Santa for nailing the pattern and fabric pairing as well as helping me to think outside the box. While the Harmony is one of my favorite LN patterns, I had never considered pairing it with the Saltwhistle neckline and sleeves, but it makes so much sense! I just love my new dress!!! I also love how clearly my SS knew my color palette and fabric tastes. This beautiful terra cotta rayon from See You At Six is just phenomenal and I am so glad I had enough to get a dress out of this beautiful fabric. Thank you so much to my SS for helping me to create a dress that I will wear to death!"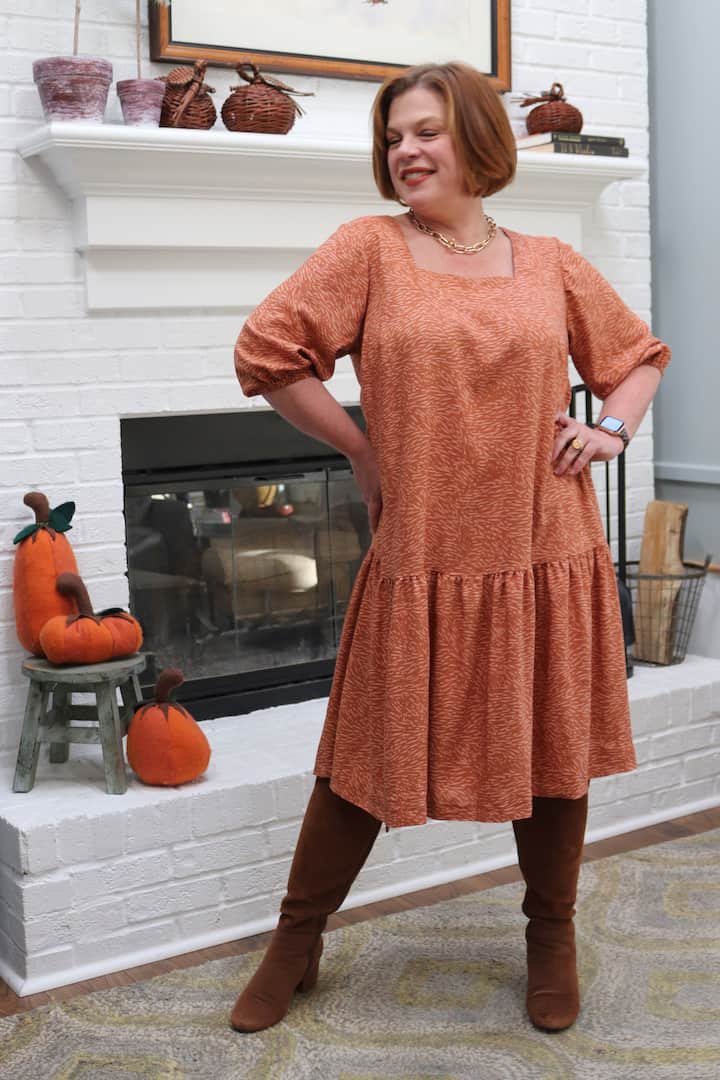 ---
Whitney Luckenbill shopped for Karina Trinidad
Pattern: Summer Caye Pants cropped with standard or cuffed hem & Tempo Sundress
Fabric: Casa Vista viscose
This is what Whitney said about fabric and pattern shopping for Karina: "I have enjoyed becoming Karina's friend for quite some time and was so excited to pull her name! I love how cleverly Karina uses interesting fabrics. I wanted to find something for her that was different than anything else I've seen. She always chooses colors that suit her so well and her craftsmanship is second to none! I hope she enjoys these two different options I've provided as I think she'll do amazing things with either!"
Karina says, '"I'm so touched that my secret sewist really knows my style and what I like! She chose the most perfect 100% rayon fabric in the perfect colors and print. One of the two recommendations was to sew the Summer Caye Pants. Whilst I wouldn't normally sew them in a print because I think the beautiful tulip hem would not be seen much, the border print was perfect. Yes, it took ages to pattern match and think up the way the fabric was going to lie, but that is my jam! so thanks secret sewing for giving me this fun challenge. I've paired my new bold Summer Caye pants with my navy Saltwhistle peplum top and I love the fresh look and feel."
---
Karina Trinidad shopped for Amii Mannings
Pattern: A Olympia dress in your choice of length and elbow length sleeves or a green knit Tessa Sheath dress.
Fabric: Mustard French Terry or Honeycomb Knit
This is what Karina said about fabric and pattern shopping for Amii: "Hi Amii, I love all the colorful happy prints on your IG page and specially love your multicolour Metra blazer. Inspired by it and your willow wrap dress (that looks amazing on you), I think a cute mustard Olympia dress and a Green Tessa Sheath dress would go along amazing with your Metra blazer. Thank you for your inspiring makes and contribution to happy colors in our sewing!!"
Amii says, "Thank you so much to my secret sewist. You have no idea how much your words and picks touched me. I was going through a very rough patch and it made my day ❤️
The french terry was sold out when I ordered but I was obsessed with the color and chose a solid mustard liverpool instead. I don't how you knew I wanted to try out the Olympia dress, but I am so excited you chose it. Thank you ❤️ Also, a special thanks to Tessa and Tami, I really appreciate you both and this community. ❤️"
---
Amii Mannings shopped for Chloe Hall
Pattern: Fraser Cardigan with hood or Allegros jogger option
Fabric: Fraser : Cashmere waffle or plaid flannel from Mily Mae Fabrics
This is what Amii said about fabric and pattern shopping for Chloe: "Chloe! You are so inspiring! Not only are you a sewing powerhouse, you are so incredibly kind to everyone. Cannot wait to see what you sew up!"
Chloe said, "My secret sewist can read minds! She picked out the Fraser cardigan, a pattern that lately I'm either sewing or wearing, if not both! On top of that, she is probably one of these friends you love to go shopping with because they always find the best stuff for you. The cashmere waffle from Mily Mae Fabrics is the perfect soft and lush sweater knit for fall. I made my Fraser in the gorgeous Gingerbread colour and paired it with a LDT in this pretty DBP. I love how the two makes share the same colour palette, and appreciate the thoughts Mily Mae put into their collection. I'm so happy with my new set and it's hard not to reach for them every day this season! I think that's a sign I need to make more of these, right? 😉 Thank you my amazing secret sewist! And thank you Tessa and Tami for your generous gift! Have a wonderful holiday season."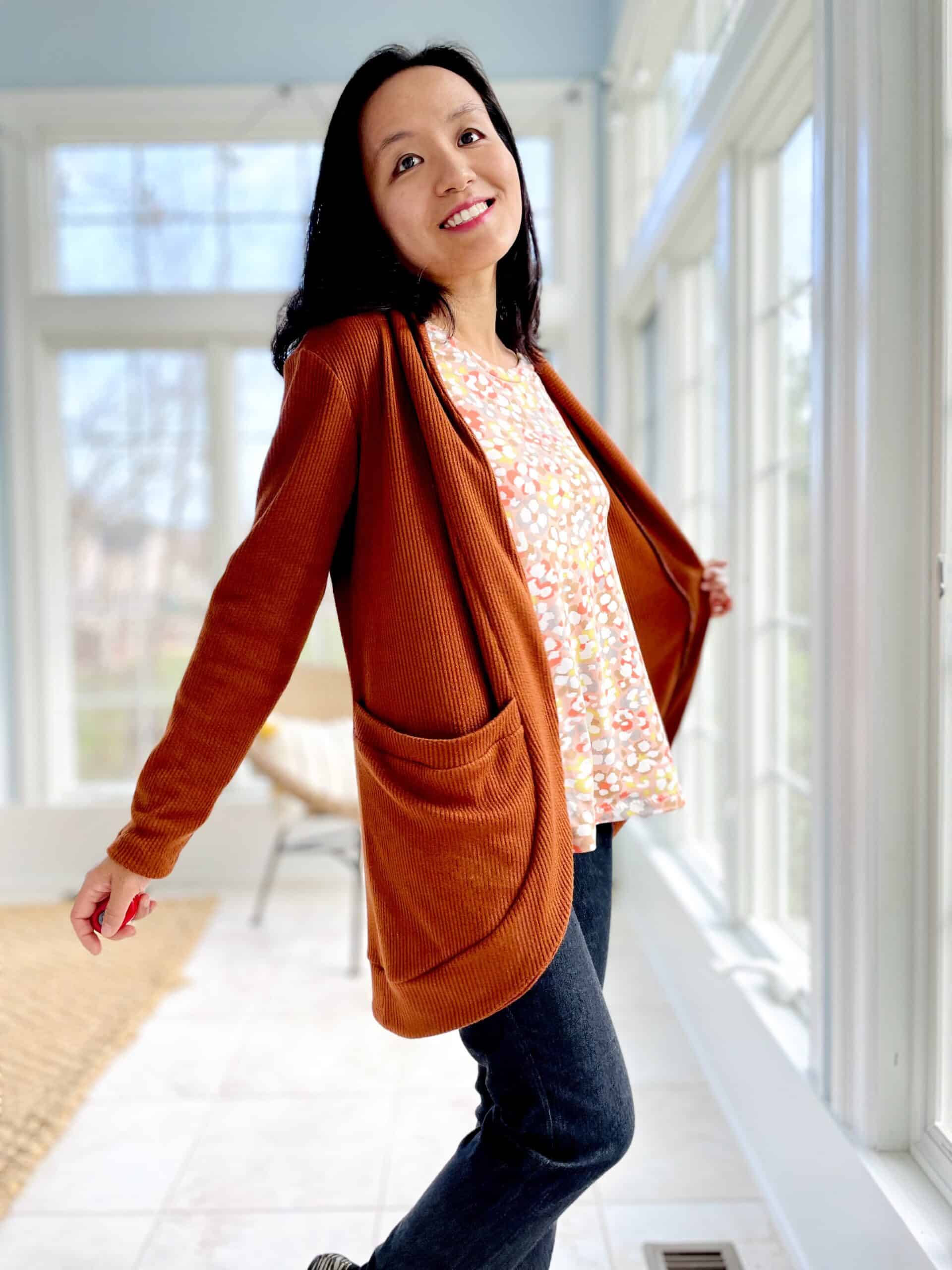 ---
Chloe Hall shopped for Anjori Halder
Pattern: Pretty dresses (Rhapsody, Lyric, Olympia, Saltwhistle) and practical separates (Vivace/Saltwhistle/Aria tops paired with Allegro/Resolution/Duet bottoms)
Fabric: Fabscrap a sustainable source that is on a mission to reduce textile waste
This is what Chloe said about fabric and pattern shopping for Anjori: "Hi Anjori, I'm a huge fan of your makes – especially your amazing hacks and upcycles! Your creativity really shines through them and I'm always so inspired! I picked the FabScrap shop for you because it reminds me of your unconventional and intelligent use of any material you set your eyes on. I would love to see what "fab scraps" you rescue and turn into gorgeous garments! Oh and last but not the least – the Lehenga you made for your sister's wedding is the most stunning sew ever – I'm simply speechless! Everyone should go check it out on your insta -Chloe
Anjori says, "Thank you Secret Sewist for what you said in your message, it truly made my day and had me smiling for days! I was so excited with the fabric you chose, it was right down my alley. So much so that my daughter claimed most of the colorful fabric for herself. And while they didn't have the maroon linen you had picked, I was able to get a similar color but in velour. I have always wanted to make with more velvety fabrics and being able to rescue this gorgeous color was perfect for me. Your pattern suggestions were spot on too – I went for the practical route and made separates because I want to wear my Olympia skirt all.the.time! The Aria was perfect to add some colorful embellishments from the scraps left after I made Lilli her Everyday Play Dress. She absolutely looooves the fabric. Thank you so much Secret Sewist, Tessa, and Tami for this wonderful gift!!"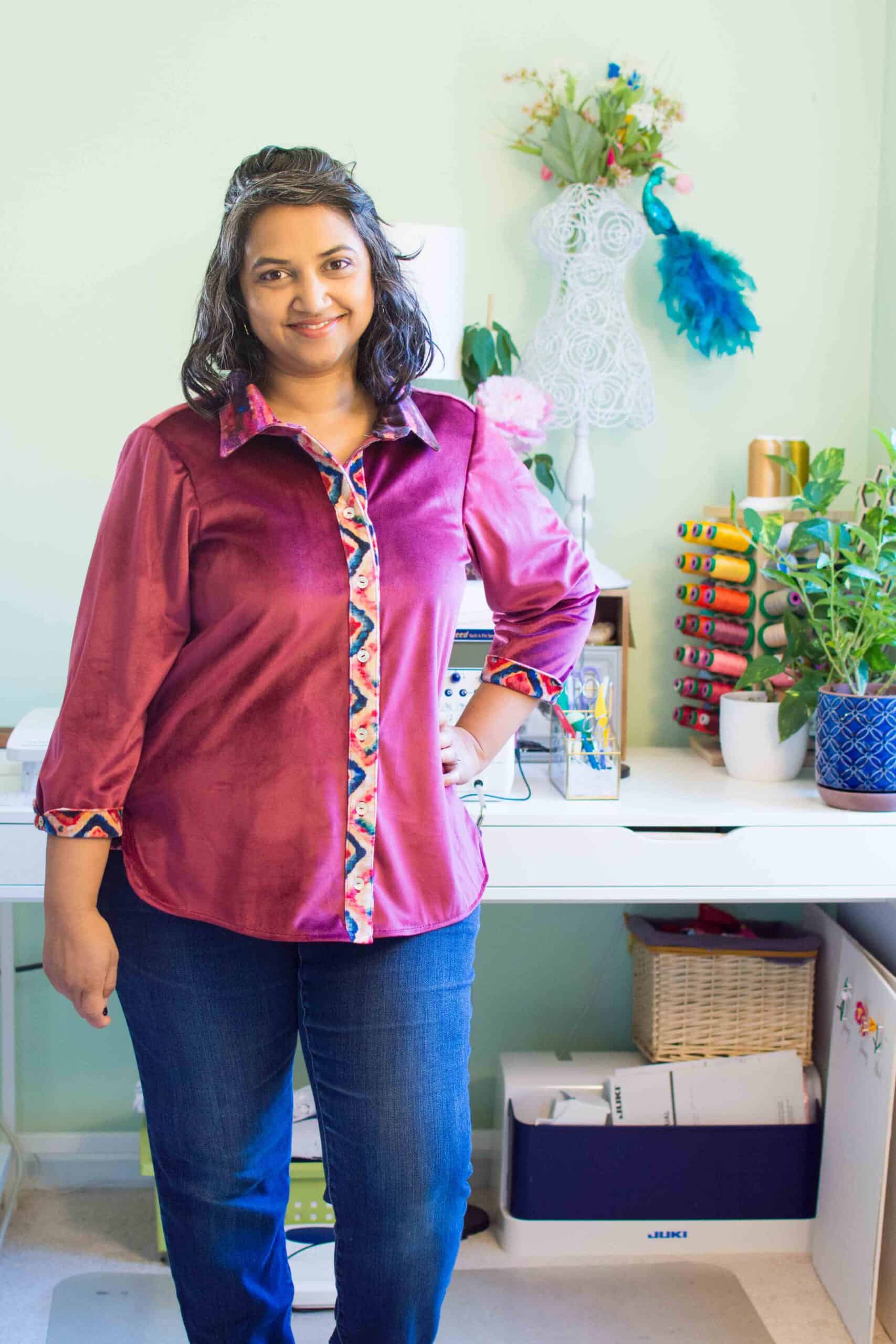 ---
Anjori Halder shopped for Marta Gloger
Pattern: I love your Tessa and Sybil hacks – maybe mixing it up with a Classic Tee or Terra Tunic mashed with a Sybil. Or instead of mashing, a Willow wrap with pockets would look great on you too!
Fabric: Athletic knit from Mimi Fabrics
This is what Anjori said about fabric and pattern shopping for Marta:
"Marta, I love your style. It is so fun and everything you make looks amazing on you. I love how you experiment with solids as well as patterns; and even hacking different patterns together. You being an English teacher means you are patient with kids and have a kind heart. Keep doing great things Marta, you are awesome!"
Marta says, "Thank you so much to my secret sewist! I absolutely love my dress and the fabric is perfect for me. It's such a versatile base and the print is just what I needed to cheer up the dreary winter days. Also, thank you for your kind words! I really appreciate them! ????"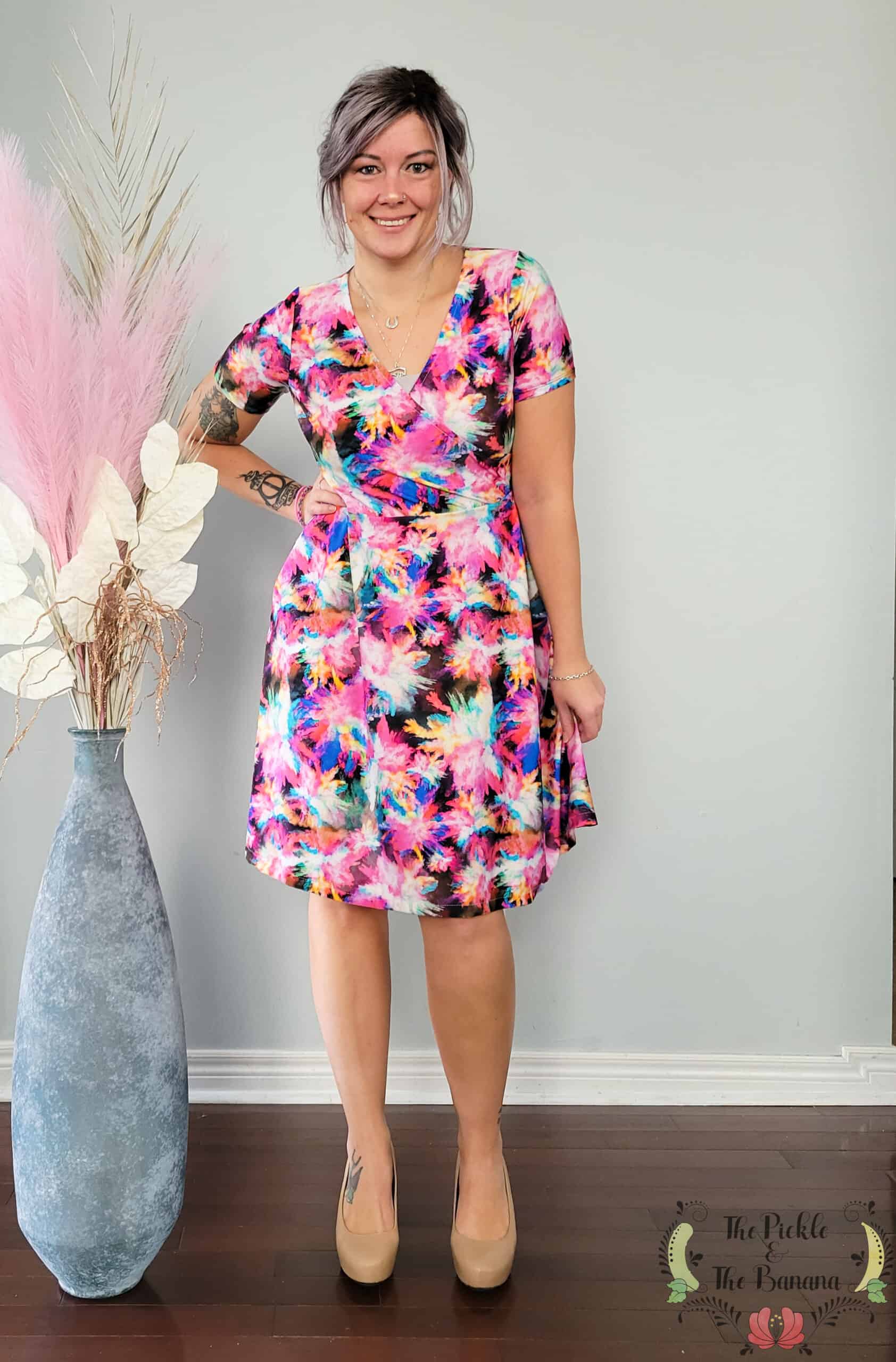 ---
Marta Gloger shopped for Annick Campenaerts
Pattern: The Willow wrap dress mashed with the Sybil swing in a knee length with Arlington bishop sleeves.
Fabric: Dark Petrol Bamboo Jersey from Destoffenmadam
This is what Marta says about shopping for Annick: "Annick, I absolutely love your style. All of your photos are gorgeous and so fresh and fun. I'm also very impressed with your mashing and hacking skills. Hopefully my suggested patterns will inspire you. I always love seeing your posts and can't wait to see what fabric you choose and the beautiful dress you make with it."
Annick says. "Thank you so much Tessa and Tami for all your generosity over the past year. It's so fun to be a part of the ambassador team! I would also like to thank my secret sewist for the kind words and for the excellent choice of both pattern and fabric. It's a gorgeous combination that's so me. I never get enough of the beautifull Willow wrap dress and with the many other Love Notions patterns you can make this dress so versatile! The dark petrol bamboo jersey from "Madeline De Stoffenmadam" is so supple and soft that it looks if it was made for this pattern. I am really thrilled by the result. So again: a big thank you!"
---
Annick Campenaerts shopped for Jess Wilcox
Pattern: Metra Blazer
Fabric: Scuba from Boho Fabrics
This is what Annick said about fabric and pattern shopping for Jess : "I looked at all those beautiful clothes you made with LN patterns. They are all gems. If I really had to choose, I'd rather see you in a Metra blazer. Hence my choice for you. Have fun with the fabric, , looking forward to see the result. X Annick"
Jess says. "This was so fun! Metra is one of my favorite Love Notions patterns and surprisingly, despite my many mustard colored LN makes, Metra wasnt one of them! This was the perfect time to make it happen! The scuba she picked out for me from Boho Fabrics was so easy to sew up and made the comfiest lightweight yet still warm blazer!
All the "cool kids" seem to be rocking the oversized blazer look so i thought id give it a try! I ended up making this Metra 20% bigger than my normal size and i love how it came out! Had to use every inch of fabric and almost ended up with ¾" sleeves (which, in hindsight, would have been fine since i cuffed it anyway!) Did it work, does it make me look cool? ????
Thank you to Love Notions for such a fun activity! Truly love being a part of this team with all these lovely peeps! ♥️♥️"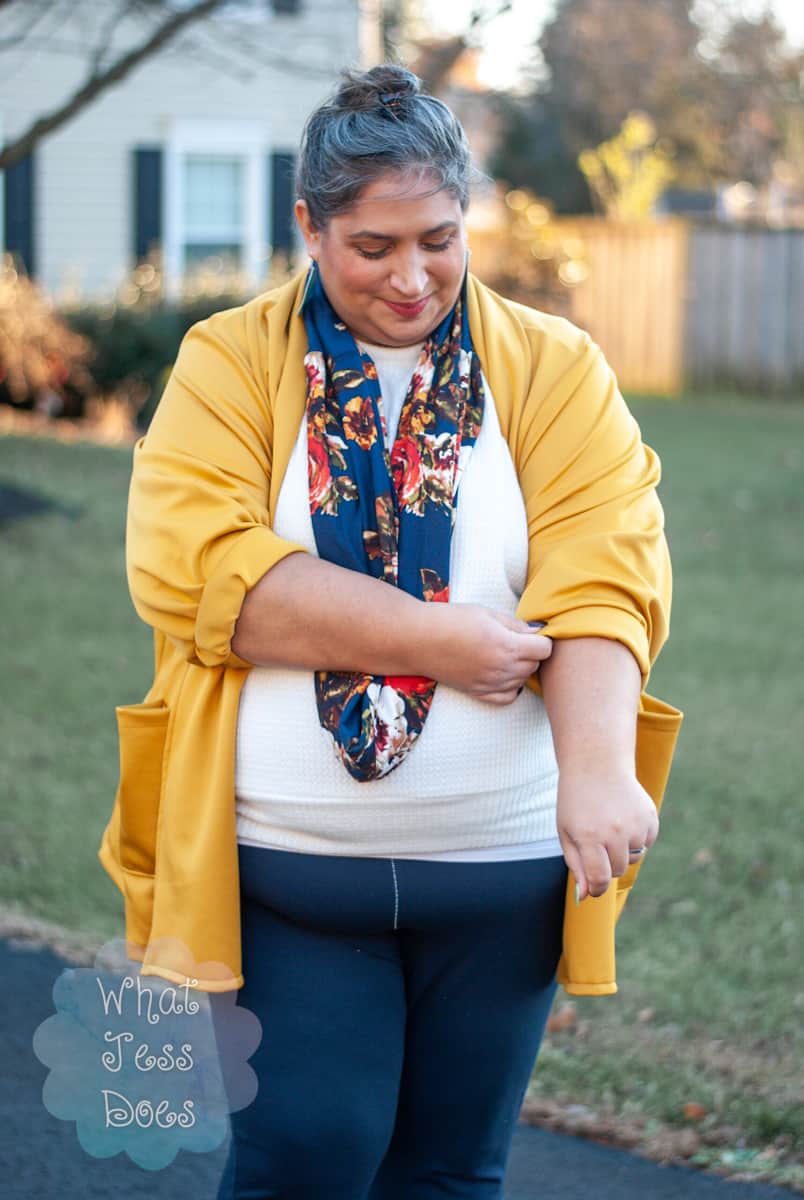 ---
Jess Wilcox shopped for Kim Koluch
Pattern: Forte view b Dress in floral rib (sleeve length as long as fabric allowance lets ya, bell sleeve optional!) And boyfriend cardi shawl collar duster (with pockets!) in waffle.
Fabric: Floral Rib and Waffle from Mily Mae Fabric
This is what Jess said about shopping for Kim: "Kim, you are just so talented and active in the sewing community, it was hard to pick patterns for ya! I hadnt noticed a lot of Forte dresses so i thought thatd be a fun option with the Boyfriend cardi for fall! Youve sewn and shared so much in the LN group and on youtube , it is obvious you are a very talented sewist and resource for other sewist to look up to! I hope you love your new fall outfit!"
Kim says, "My Secret Sewist did such a great job picking for me! View B of Forte is something I hadn't sewn yet, and I love how flowy and comfortable it is! I also LOVE daisies, so this choice of fabric made me smile. A boyfriend cardigan in waffle— yes, please! They were out of the pretty olive green she originally chose, but this taupe color will go with many things in my wardrobe. Thank you Tami for making this possible!"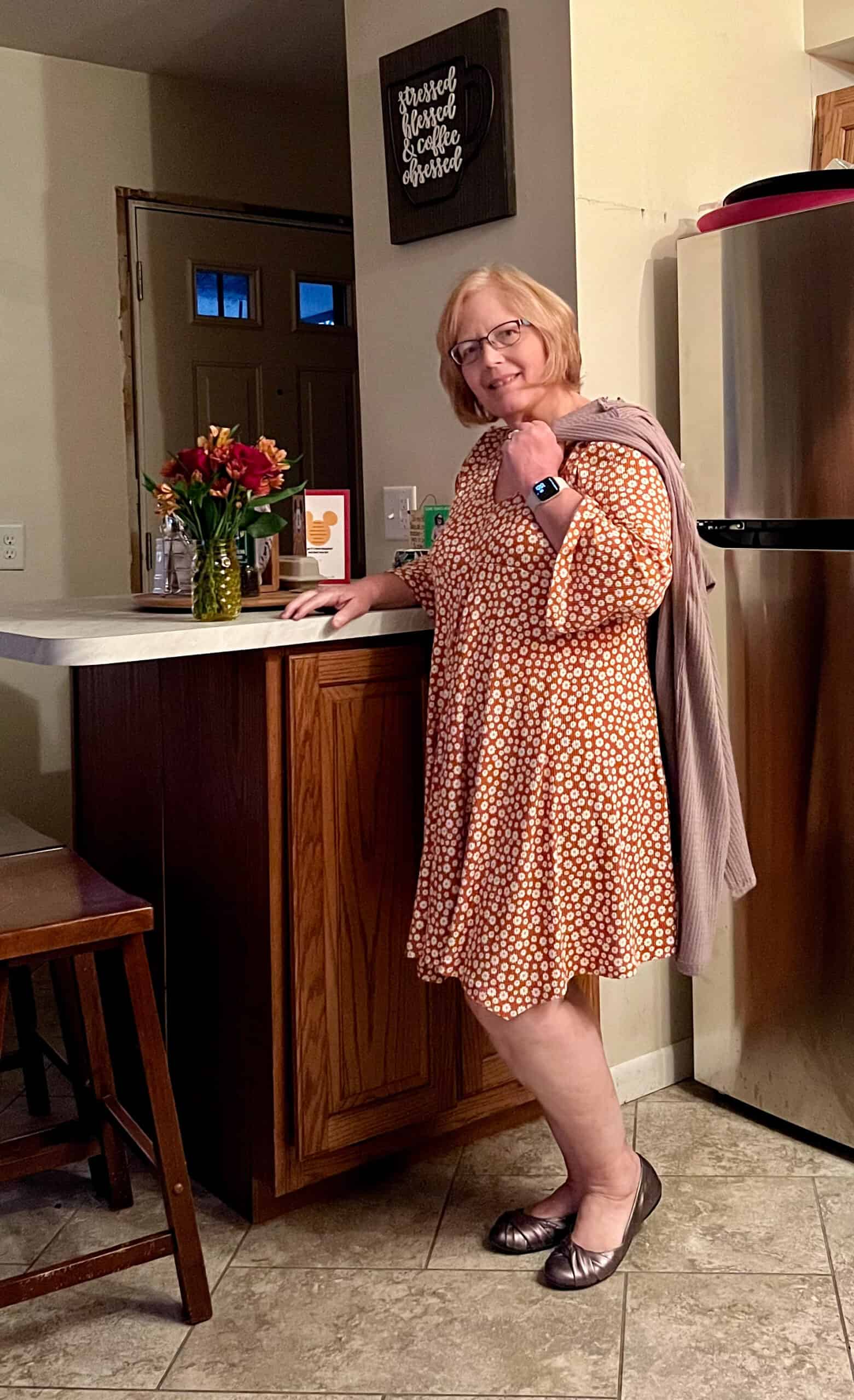 ---
Kim Koluch shopped for Sequoia Bond
Pattern: Pemberley Dress with Canyon Cardigan view A. I think the shaping of view A will look nice on you and show off your hard work getting healthy!
Fabric: Sweater Knit and Double Brushed Poly from Knit Pop
This is what Kim said about fabric and pattern shopping for Sequoia: "You are so very inspiring! You look so great in all your makes! It seems you love knits, and it seems to me you like florals, so I chose a floral in a deep jewel tone red for you. It think it would look beautiful with your skin color and dark hair. It would look beautiful with any dress pattern, but I think Pemberley would be cute and lend itself to wearing a soft Canyon cardigan over it on those Ohio winter days. I've enjoyed getting to know you and following your health journey in Facebook. I'm so happy to call you a friend! I hope you have a wonderful Holiday season!"
Sequoia says, "This event is one of my favorite surprises of the entire year! Waiting to see what my Secret Sewist would select for me was so fun and I loved the feeling of "They actually get me!" My SS selected a wonderful print and I smiled when I realized I had used the exact print in another colorway a few years ago. Obviously, we have great taste!
I loved the color of this sweater knit and knew that it would pair well with so many items already in my closet. Both patterns were ones I hadn't sewn before so that added a fun twist! I am thrilled with how everything came together and am so grateful for my new cozy winter outfit!
Sequoia"
---
Katie Grimm shopped for Keira Wood
Pattern: I'd love to see a pattern mashup or a hack- since that is so Keira to me! You get to pick but I'll throw a few ideas out there. Maybe Arlington, Olympia, Willow, or Tessa. And if you go the woven route I always love Sonata, Allegro, and Cadence!
Fabric: You always make the perfect fabric pics. So I included a neutral floral, a geometic, and a woven just for fun in case you decide to go that route! But please pick something you love – there are soooo many good options from Cali Fabrics
This is what Katie said about fabric and pattern shopping for Keira: "I couldn't possible pick something better for you than you'd pick for yourself! You are a pattern and fabric pairing genius and your bright smile and style are so inspiring to me and I'm sure everyone else! Thank you for sharing the beauty you create in the beautiful place you live. You are truly talented and I can't wait to see more Keira makes and designs!"
Keira says, "
My aim for our Secret Sewist program this year was to get exposure to fabrics I wouldn't usually pick myself. I tend to go for bright colours and prints and so I'm stuck trying to find tops to match my colourful bottoms and vice versa. I hinted to my secret sewist that I would like to incorporate more neutrals in my wardrobe and she obviously delivered on that front!
I have to say I was definitely pushed out of my comfort zone and even had a chuckle when I saw this fabric choice, as I failed majorly and burst open my chin trying to ride a bicycle as a kid. ???? That little giggle was enough to make me pick this one and embrace the challenge of turning it into something very 'Keira'.
My secret sewist wanted to see an Arlington hack.. well I thoroughly enjoyed cranking out this lovely Arlington cardigan hack. I paired my handles fabric with some grey cotton rib from my stash. Wowzer.. I am utterly and totally inlove with this make! Thank you to my secret sewist for sparking some creativity in me especially when I had lost my sewjo and thank you Tami & Tessa for this wonderful gift! I am already looking forward to next year!"
---
Keira Wood shopped for Rachel Ring
Pattern: I know you like hacking patterns and often take inspiration from RTW. I am challenging you to sew a color blocked top or sweater including the heathered burgundy and heathered mauve brushed sweater knits. Arlington: with the cowl and bishop sleeves will be absolutely beautiful in the purple twisted cable sweater knit.
Fabric: Sweater Knits from Surge Fabric Shop
This is what Keira said about shopping for Rachel: "Hey Rachel! You may pick up a theme from your shopping options. 🙂 It's because I think you look absolutely amazing in jewel tones and I've tried to stick to that type of color palette with my choices. I am also massively inspired by your hacks as I too love a good hack and try to see the pattern beyond the original line drawings. That being said.. feel free to hack away at any of the patterns I mentioned. I admire your sewing so much.. especially your makes for Posey too. Forget I'm an adult.. I want to wear all of Posey's clothes!! One of the things you've put me on to is that knit Rhapsody. Genius! Thank you for sharing your wonderful makes with the world!"
Rachel says, "Thanks so much to my Secret Sewist shopper, who clearly knows me well! I have had a sweater pinned in my inspiration folder for ages like the diagonal colorblocked one that you sent, so that was my first sew. I used the La Bella Donna bodice and hacked the Arlington bishop sleeves for a little volume. I used my projector to trace the LBD pattern and then sketched out the placement for the color blocking. So easy and I love the way the color blocked section drapes over my shoulders! Kayla over at Surge Fabrics was super helpful making sure that I got the hacci knits that you'd picked for me; I used three different shades of the same hacci, plus the coordinating rib in the hunter green. For the green sweater, I used the Arlington like you suggested and just added an inch of length to the body and shortened the cowl a bit per personal preference. I love how the different textures play so well together and both of these sweaters will be staples for me this fall and winter for sure! Thanks again for thinking of me, and thanks to Tami and Tessa for continuing this fun and generous tradition!"
---
Rachel Ring shopped for Nicole Kaczorek
Pattern: I'd love to see you make a cozy french terry Metra, since that's one of my favorite wardrobe staples and I think you'd love it too. I'm thinking a solid Metra with a pretty print underneath for the pop of color that you love – maybe a Summer Basics tank or a Classic Tee or even a knit Rhapsody?
Fabric: French Terry and floral print from Raspberry Creek Fabrics
This is what Rachel said about fabric and pattern shopping for Nicole: "Happy Holidays, Nicole! I've loved getting to know you through LN, and appreciate the kindness and warmth you always exude through the screen. You're such a fantastic source of support for all of us and I've learned so much from you myself as I've moved from sewing for my kids to sewing my own wardrobe over the past few years. I also know how our kiddos sometimes swipe fabric we intended for ourselves, so I picked a few ideas that I think are perfect for YOU – I hope you like them and I can't wait to see what you decide to sew!"
Nicole says, "I was so thrilled with what my Secret Sewist picked for me. I didn't even notice this print, but I really love it and especially the colors. The suggestion was for some clothing for work, which I definitely need. I just made my daughter an Arlington and Metra combination, and I wanted to replicate it. So, these suggestions were just what I was thinking about making. I am so glad to expand my work wardrobe with these beautiful pieces. Thank you Love Notions and my Secret Sewist!"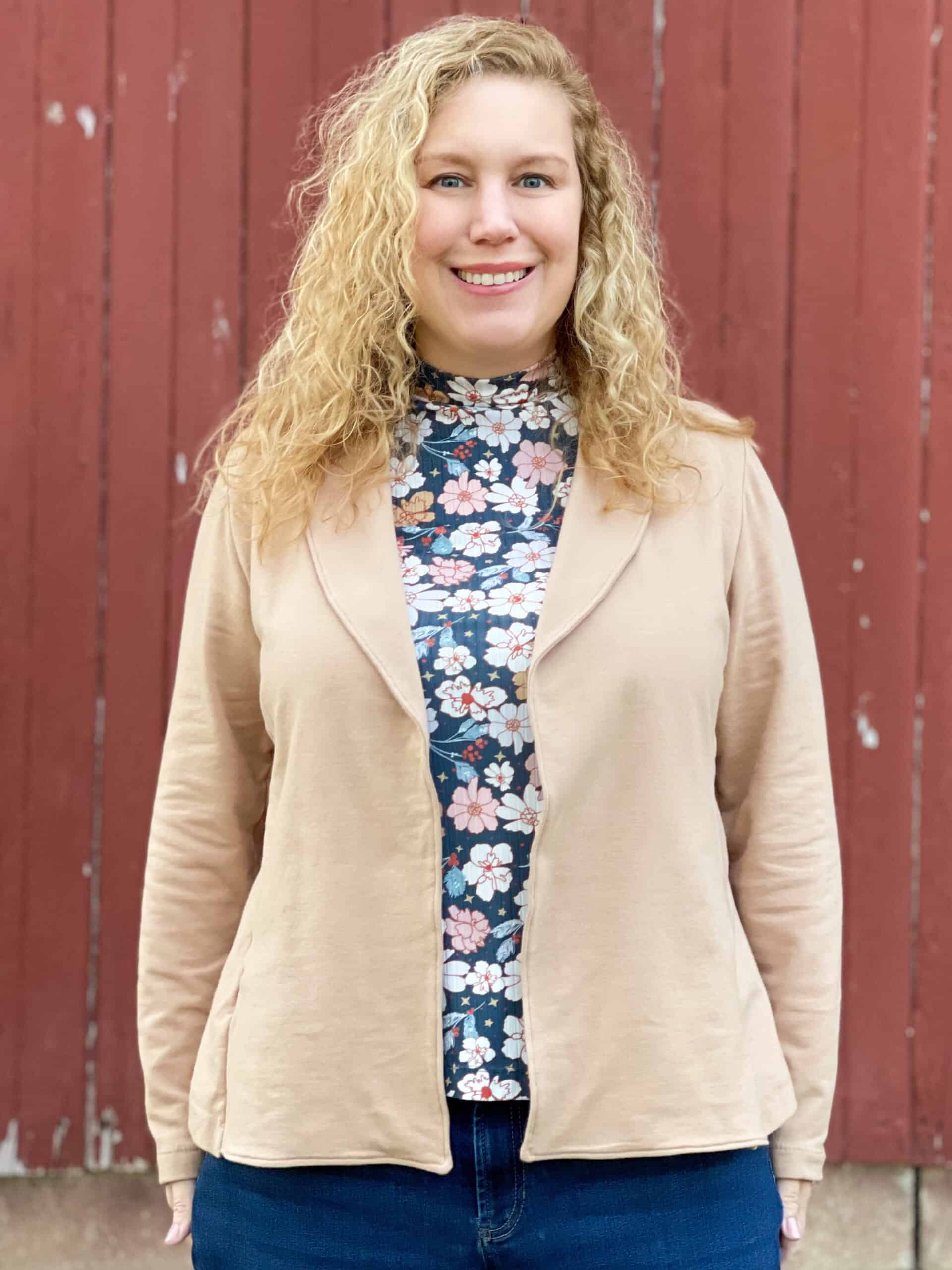 ---
Nicole Kaczorek shopped for Mary Anne MacLean
Pattern: I have options – Rhapsody Blouse or Arlington Sweater, or Short Sleeve La Bella Donna
Fabric: Jersey Knit with Anchors and Rayon Challis from Stylemaker Fabrics
This is what Nicole said about shopping for Mary Anne: "I am so grateful for you and all you contribute and share, Mary! You always post such elegant and classic garments. I see how often you inspire and support the sewing community. You are always encouraging and lifting up others. I really admire your style. Being from the Midwest US, your nautical prints are a joy for me to see. I also appreciate your creativity, for example all the great things you make with swim fabric. I'm so thankful that you are part of our community and you always brighten everyone's day."
Mary Anne says, "
My Secret Sewist made the perfect selections for me! She gave me 2 options to choose from and I really had a hard time picking which to make. But in the end, the beautiful navy and burgundy floral rayon challis sewn into a Rhapsody Blouse won! (Although I really did want the crimson rib sweater knit Arlington too!)
I was really blown away by the selections that she made for me! She nailed it! I actually had the exact floral rayon challis in my Stylemakers shopping cart in September! She also selected a bonus top for me ~ which I was so excited to sew! A short sleeved LBD in the cutest "Anchors Away" bamboo jersey is just perfect! I can't believe I never saw this fabric! It is soooo me!
Thank you Secret Sewist for really taking time to select fabric and patterns for me! They will both get a lot of wear! Your kind and encouraging words really made my day. (And every day I go back to read them!)
A super big THANK YOU to Tami and Tessa for gifting each of us our fabric and organizing our Secret Sewist event. What a fun game this was! I am so proud and happy to be part of this team!"
---
Mary Anne MacLean shopped for Katie Kimmell
Pattern: Boyfriend Cardigan + Arlington Sleeves and Classic Tee
Fabric: Urban Wave Rib and Garden Mushroom Knit from Mily Mae Fabrics
This is what Mary Anne said about shopping for Katie: "I love seeing all of your makes, but that Boyfriend duster cardigan was just so beautiful! I think it fits your personality!! Classic but with a little something extra!!!"
Katie says, "My secret sewist knew me for sure! They picked for me to make another Boyfriend Cardi mashup with Arlington puff sleeves saying it fit my personality. It's so true! While they recommended the Urban Rib knit in wine, I opted for charcoal since I have a wine cardigan already. I also felt the charcoal paired with the mushroom print they picked for a Classic Tee more. I love both items as they are fun and unique for my wardrobe. This was such a great way to get to research and know someone's style a bit more. Secret Sewist, you figured my style well!"
---
Katie Kimmell shopped for Debbie Groves
Pattern: Tessa knee length with the tie front hack
Fabric: Rib Knit from Olga's Closet
This is what Katie said about shopping for Debbie: "I love your style and especially your pink polka dot floral Tessa dress! Your use of color in your makes always brings a smile to my face."
Debbie said, "Thank You my Secret Sewist! You did a great job in listening to me and making the right choice – I absolutely love my fabric and the colour was spot on as it is my favourite! I have made a few dresses from this pattern before but never with the hack, and I totally enjoyed doing it. I was able to style it several ways so the dress will certainly get a lot of wear thanks to you!"
---
Debbie Groves shopped for Noreen Mays
Pattern: Breckenridge Shirt
Fabric: If you are able to purchase more to share with Zoe that would be awesome too!! Your favourite fabric is in limited supply in your chosen fabric shops, so I decided on a different base that I hope you will enjoy wearing. If you see something else you like though, go for it! I want you to be truly happy with your make! Rayon Spandex with Fuschia Roses from Knit Pop
This is what Debbie said about shopping for Noreen: "Hi Noreen, I was touched to read about you teaching your family the art of sewing – that is absolutely beautiful! I do believe they have an excellent teacher and mentor, who has great style choices and excellent at picking fabrics too! You always look so cheerful in your makes! Thank you for also sharing your expertise and gorgeous sews with the LN community so everyone can be motivated by your sews!"
Noreen said, "Thank you to my Secret Sewist who picked so well that one of the fabrics was already in my cart!! It was the perfect fabric to try a Breckenridge hack that I had been wanting since I saw a similar top on Instagram. It turned out so fun and feminine. I made another Breckenridge as they suggested in a rich teal and picked a fun plaid boyfriend cardigan to go with. Honestly, I needed these clothes and the joy that they bring. I can't wait to wear them! Thank you Tami and Tessa for such a sweet gift.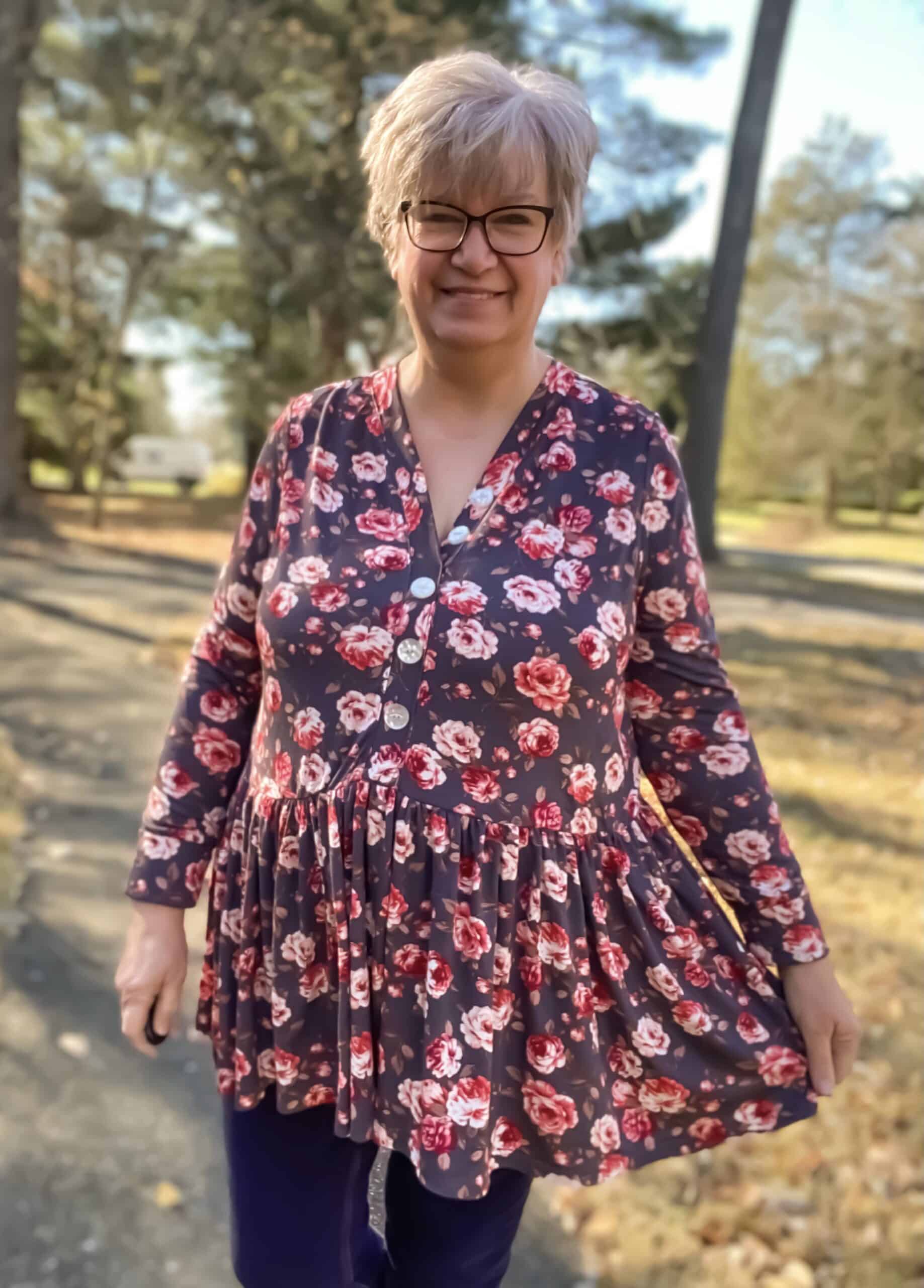 ---
Noreen Mays shopped for Jen Ballif
Pattern: I thought you might like some new tops to go with your new jeans! How about topping it all off with a Fraser Cardigan in a yummy rich french terry!
Fabric: Hunter Green Modal French Terry
This is what Noreen said about fabric and pattern shopping for Jen: "Jen I just love seeing your makes pop up across the sewing community! Thank you for sharing your passion for sewing. Your easy, classic style is truly an inspiration to me and so many others. While I suggested a few things, to be honest I can't wait to see what you choose to make because I know it will be amazing!"
Jen says, "What a fun project this was – Thank you Tami and Tessa, and a special thanks to my Secret Sewist!! It was almost like I was fabric shopping with a friend, who not only understands fabric but also understands my style 🙂 My SS suggested a few fabric options, and I completely fell in love with the Hunter Green Modal French Terry, which she suggested I pair with the Fraser Cardigan. I have actually never made the Fraser before, so I was very excited to try it! I did do a bit of a pattern hack to give the cardigan a dropped shoulder and I made it a little oversized. It turned out like a dream!! While I was fabric shopping, I also found this fun black rib knit fabric that had little flowers on it. The flowers had a touch of green that matched my french terry perfectly. I used that beautiful rib knit to make a long sleeve Arlington. They look so good together!! It will make the perfect outfit this winter season and I am so excited to wear it all the time!! Thank you so much!"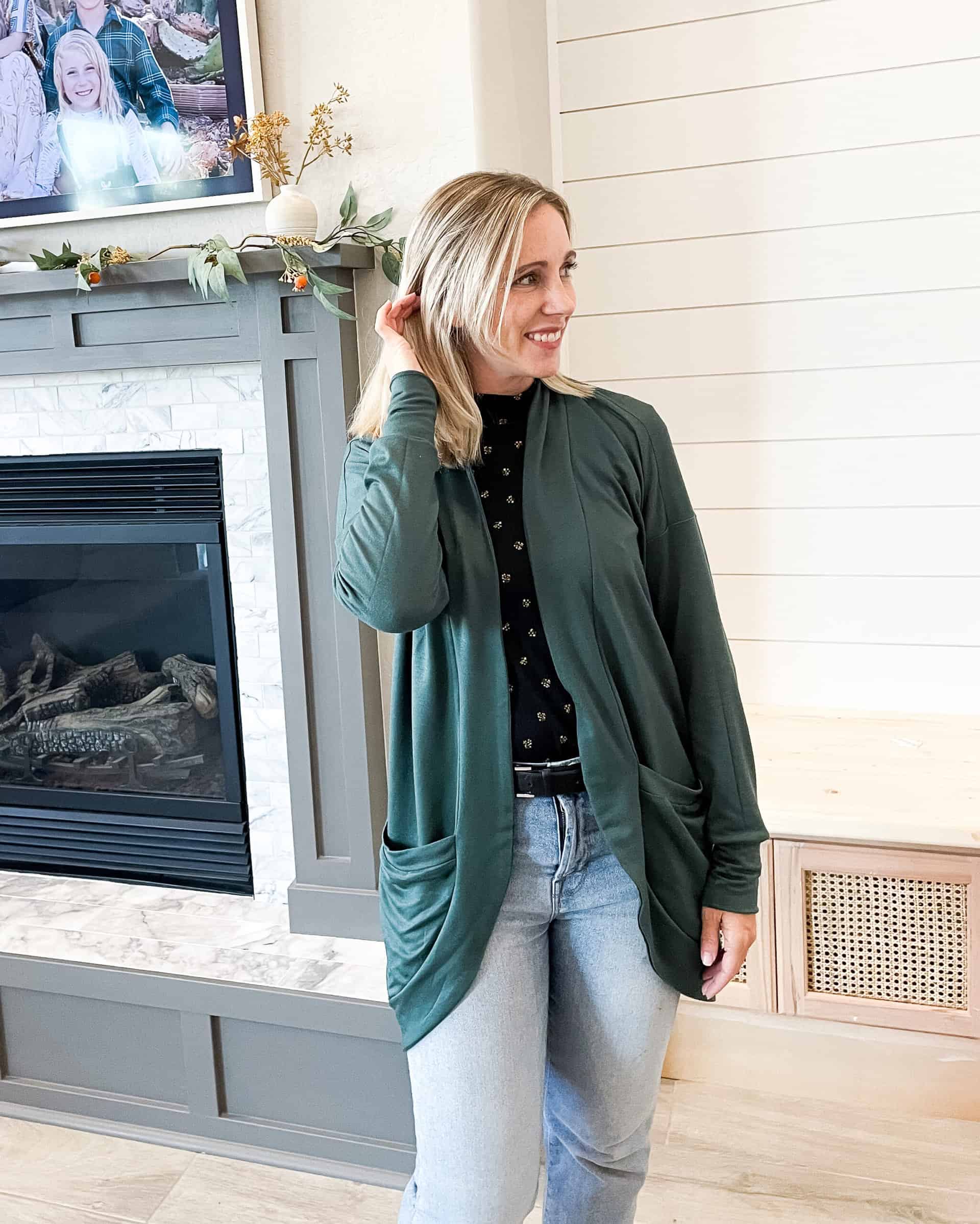 ---
Jen Baliff shopped for Katie Grimm
Pattern: Aria as a shacket!
Fabric: Robert Kaufman flannel from Raspberry Creek
This is what Jen said about shopping for Katie: "Katie, I absolutely love your style. I was very excited to be paired up with you because if I could take one person's closet to merge with my own – it would be yours 🙂 I am a terrible decision maker and I have seen you make so many amazing things, that I know you will do something incredible with any pattern. As for fabrics, I feel like we have similar tastes, so I just picked my favorites 🙂 I cannot wait to see what you make!! Have fun!
Katie says, "My Secret Sewist made my day with her kind words and fabulous picks! She must have read my mind because her suggestions were perfect! Thank you for your thoughtfulness- I will love wearing my new Aria. And thank you Tami and Tessa for your generosity ???? "
---
Caroline Gaddy Shopped for Alex Radu
Pattern: Forte Dress Seems wrong not to include Tidal! ???? Tidal, Forte, or Pemberley. Any length, any view. Do what brings you joy. I want you to have fun with it!
Fabric: Oh So Pretty customs Bamboo Spandex
This is what Caroline said about shopping for Alex: "The theme here is joy. I want you to have fun and enjoy this sew! So I've listed fabric and pattern options I thought you'd enjoy. You are such an amazing sewist, Alex. Your creations are so fun and radiant. And you always have the most fabulous shoes. ???? I want you to sew yourself something that makes you feel as vibrant as you are!
Alex says, "I absolutely loved the fabric and love my new dress! My Secret Santa did a great job!"
---
Alex Radu shopped for Ilse Lemmens
Pattern: Arlington dress
Fabric: See You At Six French Terry
This is what Alex said about fabric and pattern shopping for Ilse: "Happy holidays!! I hope you have an amazing season! I look forward to see what you create. ???? Love, Alex"
Ilse says "You can't believe how exciting this Secret Sewist event is for me. The thought of someone from the other ambassadors picking out a fabric for you. And then comes the ultimate question of whether she makes the right choice that suits me. Obviously this is mutual because I also had to make a choice for someone else. Exciting! My Secret Sewist chose a super soft French Terry for me in a warm color that really flatters me. And I don't know if she knows it herself, but she chose a French Terry designed by a Belgian designer See You at Six! So nice because I am a Belgian myself! Since the Arlington dress was still on my to-do list, I could tick off another dream. I'm really curious now who my Secret Sewist is…. Many thanks also to Tami and Tessa!
Warm regards, Ilse"
---
Ilse Lemmens shopped for Caroline Gaddy
Pattern: Sloane
Fabric: Surge Fabric Shop French Terry and Brushed Rib
This is what Ilse said about shopping for Caroline: Dear Caroline, I went looking for your favourite Love Notions garments and discovered that the Sloane and Rockford Raglan are at the top of your list. I picked out two beautiful, soft fabrics that go very nicely with your gorgeous hair. I hope you love them as much as I do. Enjoy them!
Caroline says, "I got extra of this super soft green sweater knit and am finishing up a tunic length Sloane! Love love love. Thank you, secret sewist! I appreciate you!"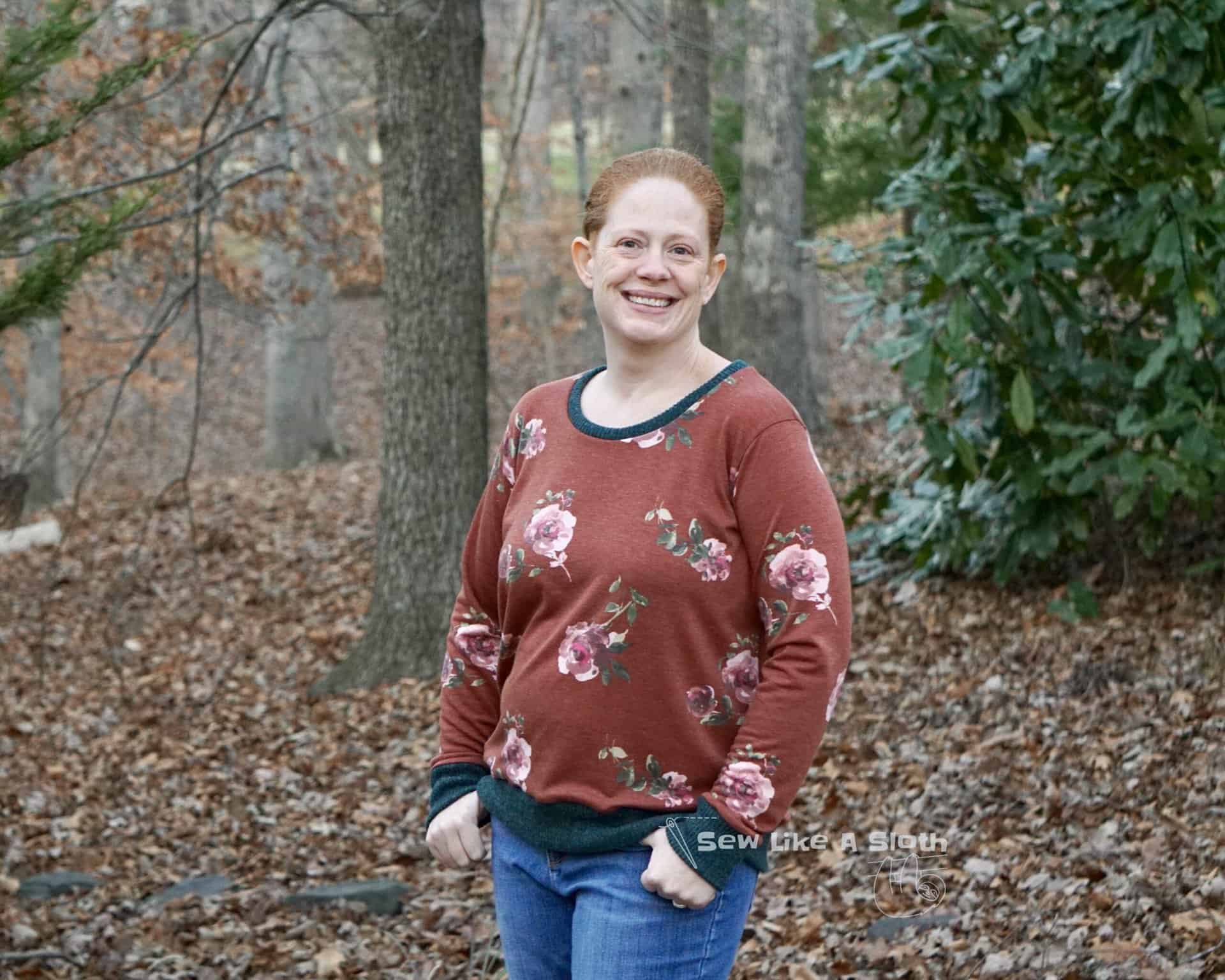 ---
Koe Truschke shopped for Allison Moroso
Pattern: The Serenity Sweater in either length with the long sleeves.
Fabric: Double Brushed Poly from Califabrics
This is what Koe said about fabric and pattern shopping for Allison: "Allison, I relate to your style so much! Each one of your makes is something I would wear myself. Your fabric choices are spot on and you literally look amazing in everything! I wanted to find something that would fit right in to your currated wardrobe and not look out of place. Hopefully I wasnt too far off. I can't wait to see your pattern and fabric choices. Have Sew Much Fun! Koe"
Allison says, "My secret sewist totally gets me!! She knew exactly the right print and pattern that I would like ❤️ We must have very similar styles! I actually love everything she picked out for me but decided to go with a print that I felt worked so well with the Serenity! She must have known that I've been trying to make that pattern for myself forever but just haven't had the time! I even had enough from Cali fabrics to make a very snuggly Compose as well! Thank you secret sewist! I soooo appreciate you taking the time to find something that I would really love and thank you Tami for this amazing gift and letting me be a part of Love Notions ❤️"
---
Allison Moroso shopped for Koe Truschke
Pattern: Game Day Jersey or Sunday Romper
Fabric: Multistripe Jersey Blend from Girl Charlee
This is what Allison said about shopping for Koe: I have really enjoyed getting to know Koe better through all of her contributions to this wonderful community! I have loved seeing her beautiful makes and energy she puts into every piece. I love to see her fun prints and bold colors. While looking through some of her photos this gorgeous blue romper really caught my eye. It absolutely brought out her natural beauty. I immediately thought of this color in a fun game day dress since she loves making and wearing dresses. Happy Holidays Koe! I look forward to seeing your beautiful makes in the coming year
Koe says, "It's just so nice and hassel free to have someone pick something out for you to sew. I completely love the sincerity behind it. My Secret Sewist picked this heather gray striped jersey double knit that is the most squishy, soft fabric I think I have ever felt. I wanted to wrap myself in this fabric Head-to-toe! She suggested I make the Game Day Jersey Dress because she knows how much I love dresses. I almost did just that, but with pockets, a waist tie and in a maxi length. Then I realized there was already a Love Notions Pattern that had all those things I was going to do to the Game Day Dress. It was the Sunday Maxi Dress! So I whiped that up lickety split and wore my new dress for the next 3 days strait! Thank you S.S. !!! This was just what I needed."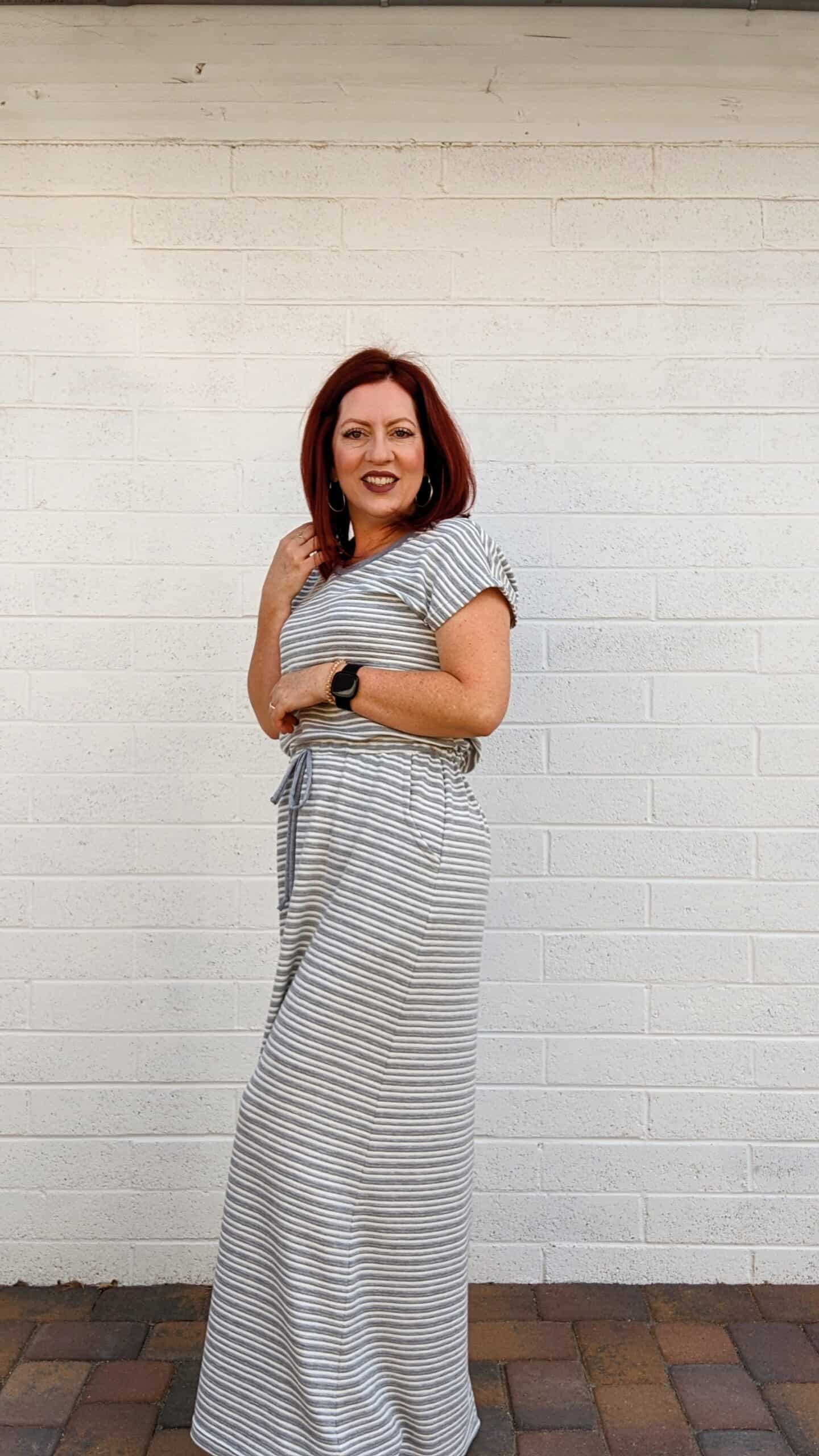 ---
Wanna save these fabric and pattern ideas for later? Save this post to your Pinterest Board!