Lengthening the Love Notions Lincoln Top
Who doesn't love a comfortable knit top? It's one of my favorite staples in the wardrobe. But what if we want it to be a little longer? Here's how!
---
Hello, there!
I'm Kristen and my channel on Youtube is The Dahlia Sewciety, where I talk about creating your own wardrobe! I'm so excited to share my tips in this blog for Love Notions newest pattern release, the Lincoln top.
The Lincoln top is an elevated sweater style top that encompasses comfort and style. With an addition of side buttons and a variety of two different lengths and necklines, as well as a sleeveless, vest style option, it really ticks all of the wearable boxes.
Elevated Style
Comfortable
Side buttons
Two lengths
Two necklines
A pattern that ticks all the wearable boxes.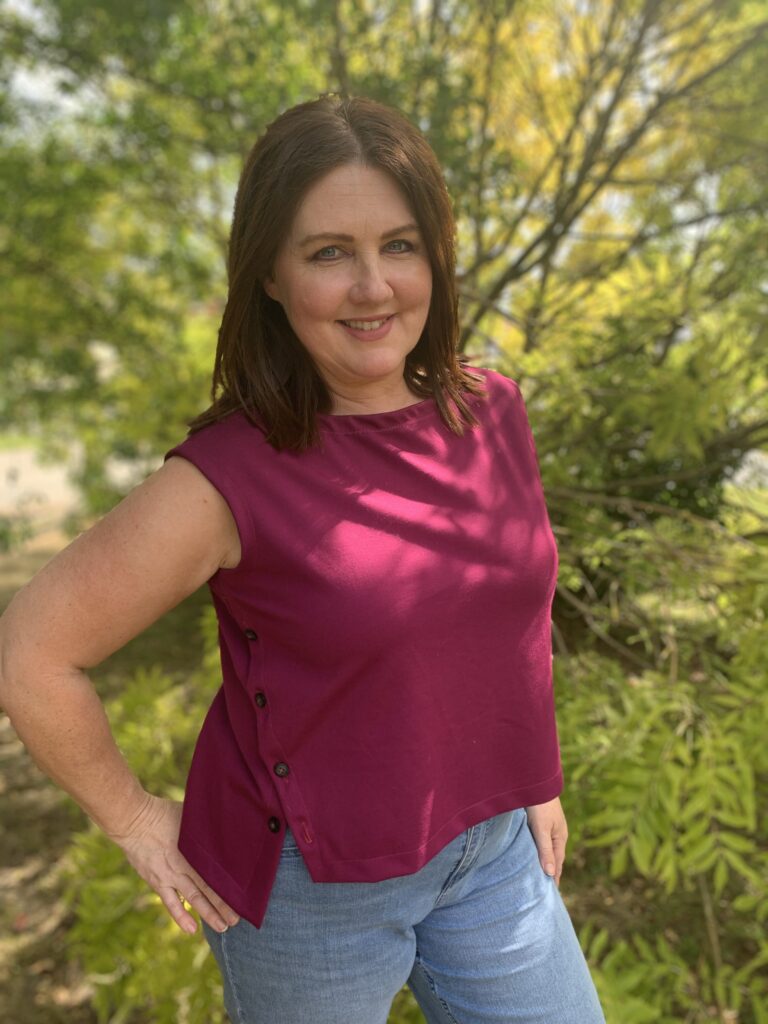 Lincoln Top Lengths
I love the crop style, especially teamed with my high-waisted jeans, but my heart will always lie with the longer-length top. I love the soft knit jersey fabric. It gives just enough drape with a hint of stability to help keep those angular lines in place and show the button detail to its best.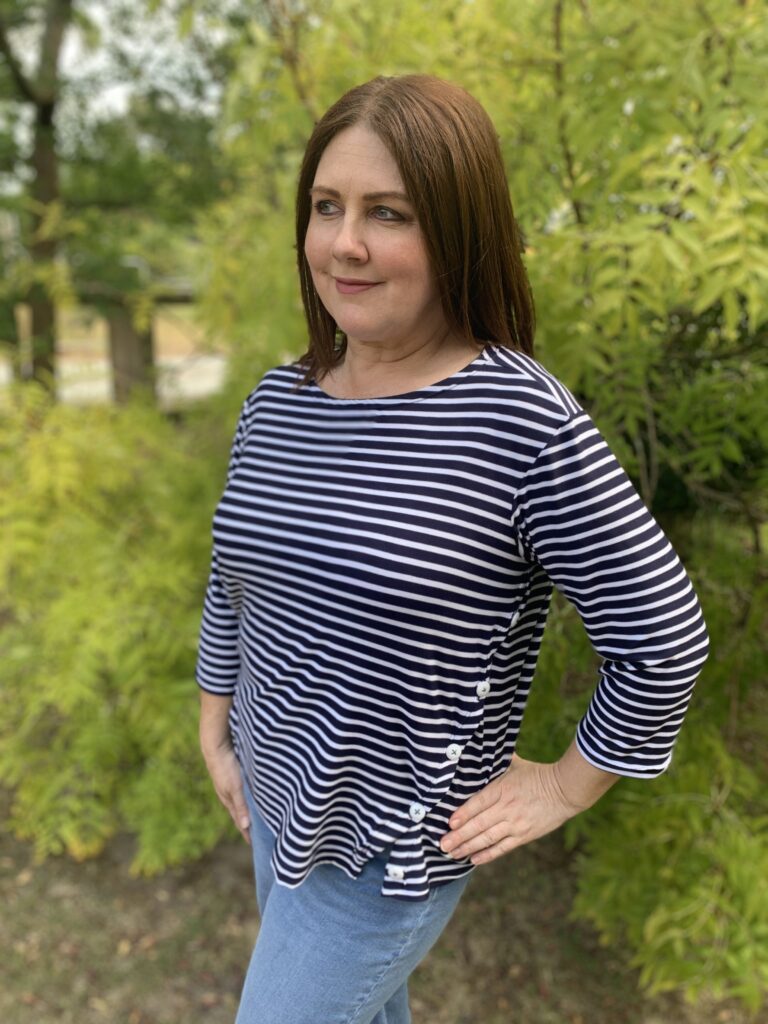 Intended Design Notes
Love Notions patterns are designed for the average height person of 5'5. Whilst I'm not that much taller at 5'6, I really felt that I could use a little more length to hit that sweet spot length (which is just under my butt and at the hip crease line). I also like to cover my tummy a little more, so I felt that giving the top around 2 inches (5cm) would give it just the right amount.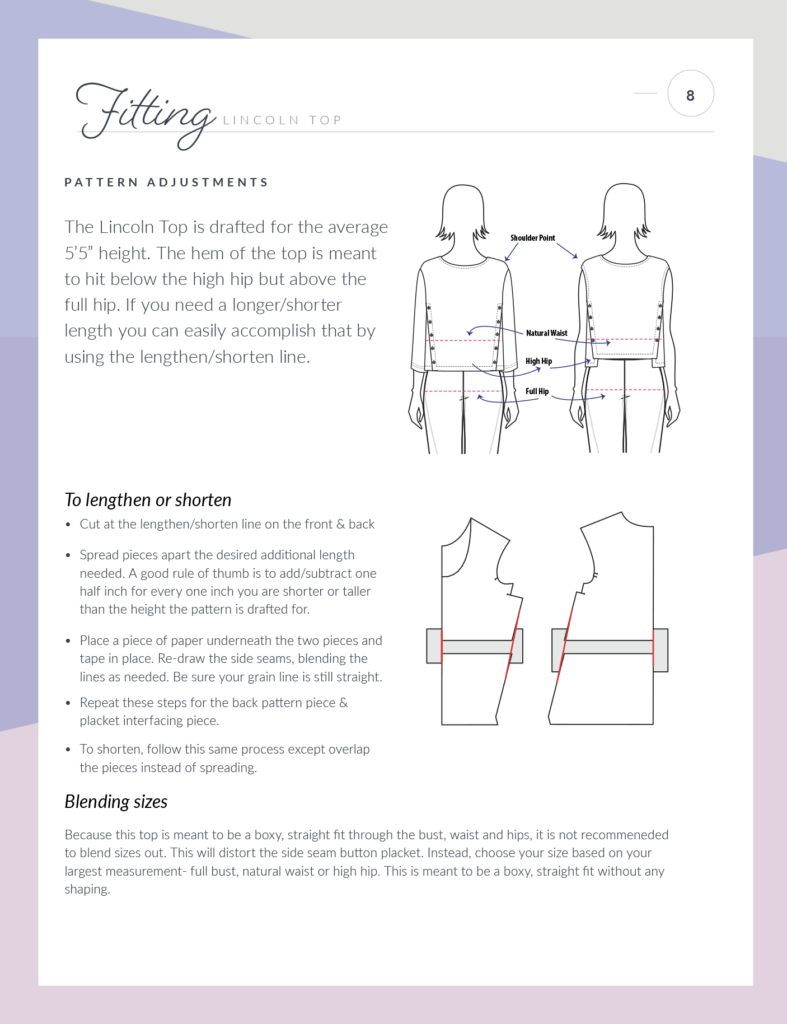 Use the Lengthen Shorten Lines!
That's why it's really important to look at the lengthen/shorten lines that are usually added to a pattern piece and use them to your advantage.
It's a really simple step that gives you plenty of scope for shortening or lengthening any pattern. I use it for lots of patterns as well as skirt and dress lengthening.
---
Here's how to Lengthen the Lincoln Top to your preference:
You'll need:
Paper (tracing paper or regular)
Pencil
Tape or glue
Ruler or French curve
Here is a quick overview of the steps: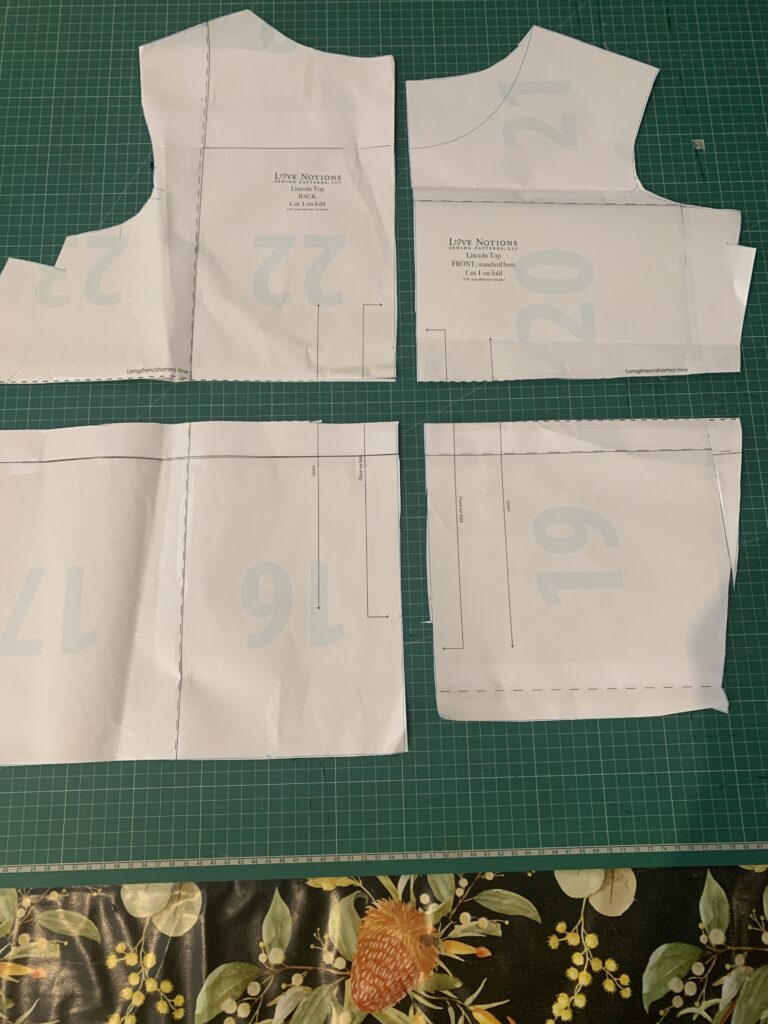 Step 1
Print your pattern piece and cut along the lengthen/shorten line of the front and back piece.
Step 2
Play with the desired length by adding a space between the top and bottom. Be sure to do the same to the back as you would to the front. Make sure you allow for the extra fabric in the requirements too.
Step 3
Measure the length and width of the extra "piece" by placing 2 halves of pattern pieces over a piece of paper or tracing paper. Another way is to measure and cut the exact piece you need and tape together the two pattern halves over the top.
Step 4
Follow the exact angle of the side of each pattern piece. This can be done with a pencil and ruler, a tracing tool, or a French curve.
Step 5
Cut off the excess paper with scissors and use the pattern pieces as normal.
Step 6
Be sure to use the button placement guide for the sides and allow for an extra button if needed.
I felt that I didn't need any extra buttons and the length was perfect for me.
Now you are ready to cut into that fabric!
Adding Length is a Straightforward Adjustment
Don't be afraid of hacking, there are so many ways to enjoy your new Lincoln pattern. Make it as versatile as your heart desires!
Think funky buttons and cool prints or even a cuddly sweater knit. The options are endless – just be creative!
I have a full review of this new Lincoln pattern over on my Youtube channel. I hope you can join me and see my versions up close.
You can purchase the Lincoln pattern here.
Happy Sewing!
Kristen x
Get your Lincoln Top Today!
Psst … Looking to add even more Length?
Here is a sample and inspiration for you. Haley added 5 extra inches to her Lincoln Top using the exact same method Kristen uses above. Doesn't this look great? She just needed to add a few extra buttons and she was in business.
---
Save this to your Pinterest Sewing Board