Hi my sewing friends!
Tami here, and I want to introduce the newest Love Notions pattern- the Lincoln Top! This style of top is a little bit of a departure from the designs I typically do so I thought it would be a good idea to give some more info about why we love it!
You can grab your copy here (it's on sale now!)
FIT
First you'll notice that it's a boxy, straight fit with no shaping. This style is totally on trend right now! The shoulders are meant to be the drop style so the seams shouldn't sit right on your shoulder bone like normal. This gives it a more casual look.
LENGTH
The next thing I want to point out is the length. The Lincoln Top comes in two lengths- the standard length is meant to hit right between your high hip and full hip. There is also a more cropped length where only the front of the top is meant to hit at your high hip level. We're seeing this style more and more lately, especially paired with the popular high waisted jeans. 
SIDE SEAMS
Next, you'll notice the side seams. They're diagonal! They feature a button placket so you can choose whether to keep them all buttoned or undo one or more buttons. If you don't love sewing buttonholes, no worries- you can just sew your buttons directly through both plackets. If you choose to go this route you'll need to decide ahead of time if you want to do all the buttons 'buttoned'.
SIZING
Now let's talk about sizing. This is a unique top with some unique guidelines for choosing a size. Because it's a straight, boxy fit and there is no shaping, you need to choose your size based on the largest measurement between your full bust, natural waist and high hip. This is so the straight fit will fit your largest measurement.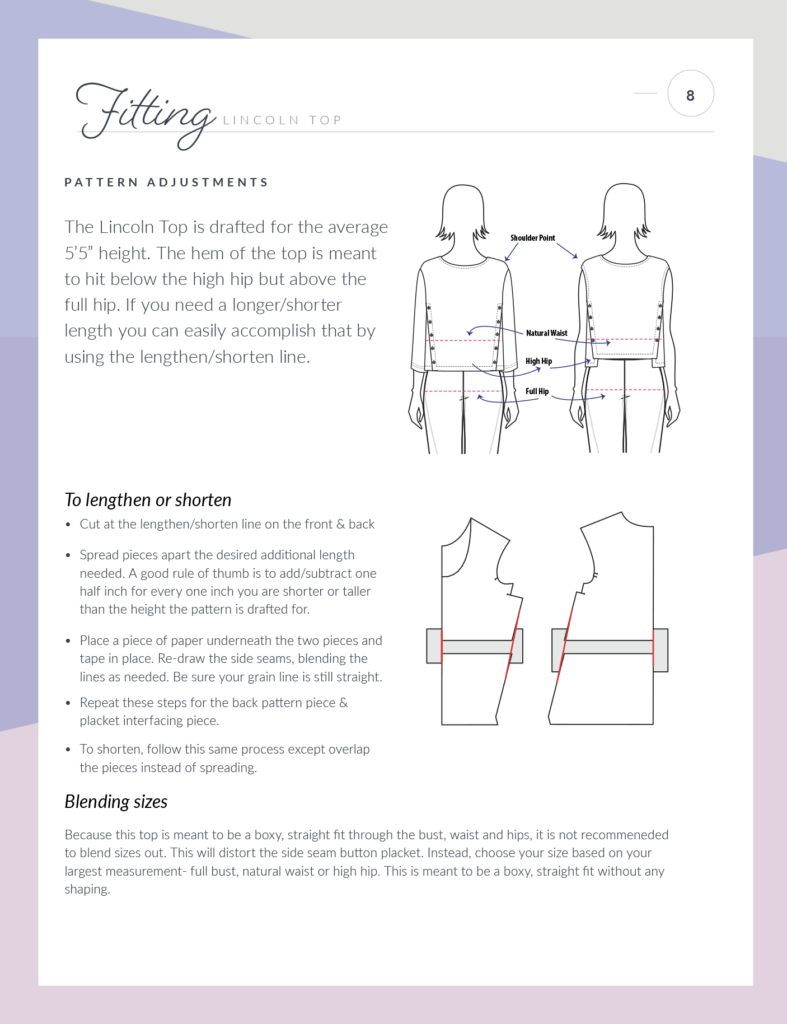 HOWEVER, If your hips are in greater proportion than the rest of you that might mean this top will fit bigger than intended at the shoulders. This is why I give you two options to choose your size. So you can also choose your size by your high bust to get that shoulder fit perfect and then just realize you'll have to leave a button or two un-done at the side seam. This is such a cute look!
Keep in mind that everyone is shaped differently, so you should be sure to take a careful look at the finished measurements chart and think about what sizing you will feel most comfortable in.
---
FABRIC
Finally, let's talk about fabric. Like with any pattern the look and fit of a garment can change drastically depending on fabric selection. I recommend light to medium weight fabrics with at least 25%, 4-way stretch.
Some good examples of these would be french terry, ponte, cotton/lyrca, modal, double brushed poly and even sweater knit.
Heavier, more structured fabrics will give the top a more pronounced boxy fit.
Lighter, more drapey fabrics will cling a bit more and flow around your curves more rather than standing out.
If you have any questions feel free to email or join our free FB pattern support group. If you make this top up share it with us! We love to see your makes.
Be sure to check out all of the *amazing* tester photos within the listing. Here are just a few that we are crazy about.
Get your copy here:
---
Save this to your Pinterest Board