Love That Look: Mommy & Me Swing Dresses
Hi – I'm Kasey from Ruby Rue Creations and I'm thrilled to be part of the Love Notions Blog, today!  Mother's Day is just around the corner.  This year I want to go to a fancy brunch at our favorite restaurant.  I spent several hours (okay, days) on Pinterest looking for the perfect dress.  Today, I'm going to share the Pinterest-Inspired looks we accomplished using (affil) Margot Peplum Top, Sybil Illusion Skirt Collection, Maggie Peplum Top and the girls Skater Skirt.
Truth be told, I'm normally pretty lazy and avoid mashing patterns as much as possible.
But, at the same time, I love a good challenge!  When I found this gorgeous mommy and me photo on Pinterest, I knew I had to recreate it!  My little Rue still loves to match with me, which makes this challenge even better!
https://www.pinterest.com/pin/224054150192340188/
Let's talk fabric first!  The fabric I chose was a thin, super soft knit from Hobby Lobby.  I almost fell on the floor when I realized it was nearly the exact color as the one in my inspiration picture AND they had the stretch lace to match!
My Dress
Because I knew it would need the most altering, I started with my dress. Using the (affil) Margot Peplum Top with the princess seams and the swing skirt option in the (affil) Sybil Illusion Skirt Collection, I only had to make a few small adjustments to the Margot bodice to achieve my look.  After readjusting the bust line, I held the front center panel up and calculated how much length to add so that the bodice would hit at my natural waist.  I then adjusted the center back and all of the side panels to match the new length of the front panel.
I didn't need to make any adjustments to the Sybil swing skirt to make it fit to the sewn Margot bodice!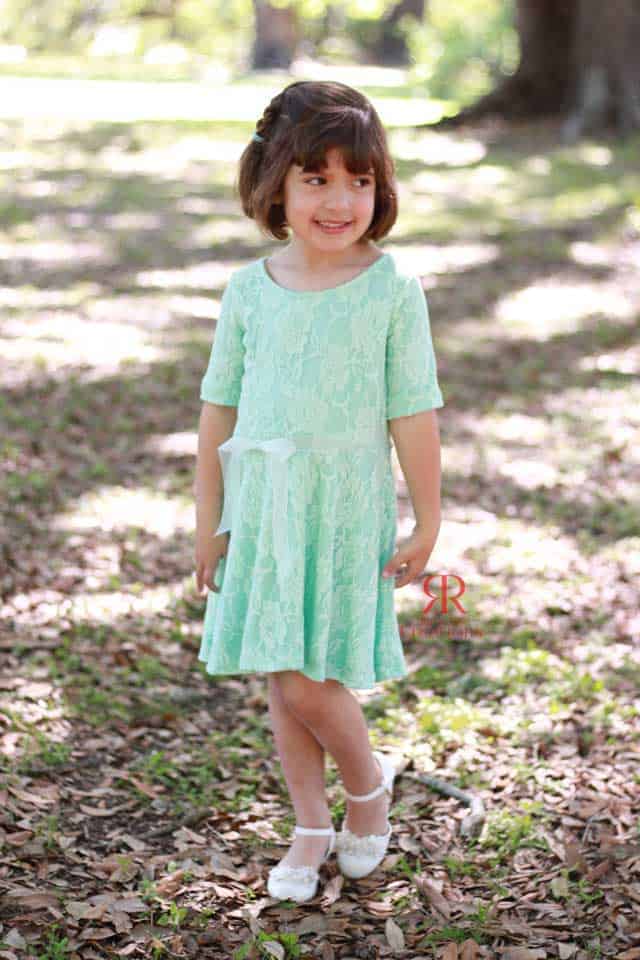 The Mini Me Dress
For my daughter's dress, I lengthened the bodice and side panel pieces of her Maggie Peplum Top to hit at her natural waist (just as I did for the Margot bodice above).  The Skater Skirt needed a little extra length, so I held the pattern piece up to her natural waist and calculated how much to add so the dress would fall just above her knee.
I cut the pattern out of the solid knit first, then cut it out of the stretch lace.  Before constructing the dresses, I laid the lace pieces on top of the knit pieces and basted around all edges.  This made the actual construction a breeze!
And there you have it – our Pinterest-inspired Mommy and Me Swing Dresses!  We Love That Look!
Sale!

Skater Skirt

Sybil Illusion Skirt Collection

$

14.50