Love Notions Patterns: Through Maternity…and Beyond! 
Hello again, Love Notions family! My name is Jessica, and I often sew and share as Hygmalion on Instagram, Facebook, and on my fledgling blog. I like long walks on the beach, karaoke, and tacos. I have three kids, a husband, and a dog…and, oh yes, I have been pregnant for eleventy billion years.

No, wait, that's not quite right…but it sure feels like it! I am expecting my fourth baby in about six weeks, and you'd think I'd be used to it, but I can't quite get over how long pregnancy takes! I mean, other people's pregnancies seem to fly by, but mine just drag on and on. The craziest part of it all is that I have to get dressed every. single. day…even though I'm pregnant! I'd like to speak to the manager about that one. Luckily, though, the *fourth* time is the charm for me, and I've practically become a pro at dressing myself throughout pregnancy!
 Much of the credit for that, of course, goes to a handful of staple Love Notions patterns…and most of these don't even require maternity modifications! I kind of loathe having to transition to a maternity-specific wardrobe, so I'm focusing on sharing makes today that should work before, during, and after pregnancy. I am thrilled that I have a number of pieces that I've been able to wear throughout my entire pregnancy, and which I will be able to keep wearing after the baby arrives. (If I remember correctly, I'll be getting dressed every day at that point, too…seriously, where is the manager?!)


Anyway, let's get to it! Here are some great Love Notions Patterns to take you through maternity…and beyond!
---
FRASER CARDIGAN

The new Fraser Cardigan is the perfect topper to so many maternity looks. My last trimester has taken me right through the winter months, so having a cozy layering piece has been an essential. Once I transition to nursing, that little extra privacy that a great cardigan provides will be everything! Wearing a cardigan over a tank or short sleeved tee is a go-to maternity look for me: you get a nice snug fit around the belly for everyone to admire and sometimes awkwardly rub, but not have to worry about your whole outfit being snug aaallllll the way around your body. The cocooned shape helps keep it from swallowing up your whole body, and the big pockets are perfect for stashing your phone, a pacifier, nursing pads…whatever you need! I made this one up in a medium weight rib knit and it is divine. You'll see it pop up a number of times throughout this post, it's so versatile!
MATERNITY BASE LAYERS
No matter when your pregnancy falls throughout the year, no matter what stage of pregnancy you may be in, having a reliable stash of base layer tops is essential to a functional maternity & beyond wardrobe. My go-tos are the Summer Basics tank, the Classic Tee, the La Bella Donna Dolman, and the Sloane. Each of these are designed to skim a non-maternal tummy with a bit of positive ease, which means you're starting with a little room to spare! When they're made in fabrics with good four-way stretch and recovery, you'll be able to wear them with ease through your whole pregnancy. Beyond that, if you finish the neckline with a band and are sure to use a stretch stitch, you should be able to easily pull the neckline down, which is nice if you're nursing during your fourth trimester!
Maternity Classic Tee 
I have three or four Classic Tees that are on a constant wear-wash-wear-wash rotation during this pregnancy! This vee neck is probably my favorite. It's made in a mystery knit, probably a poly rayon spandex blend, and doesn't have the best recovery, but is it ever stretchy! I made it a few months before I got pregnant with my fourth, but when I was still regularly nursing my third, so I can personally vouch that it is nursing friendly! The scoop neck version works just as well to pull down and nurse, too. It was perfect through the hot summer during my first trimester on its own, and is still serving as an excellent base layer in my wintery third trimester!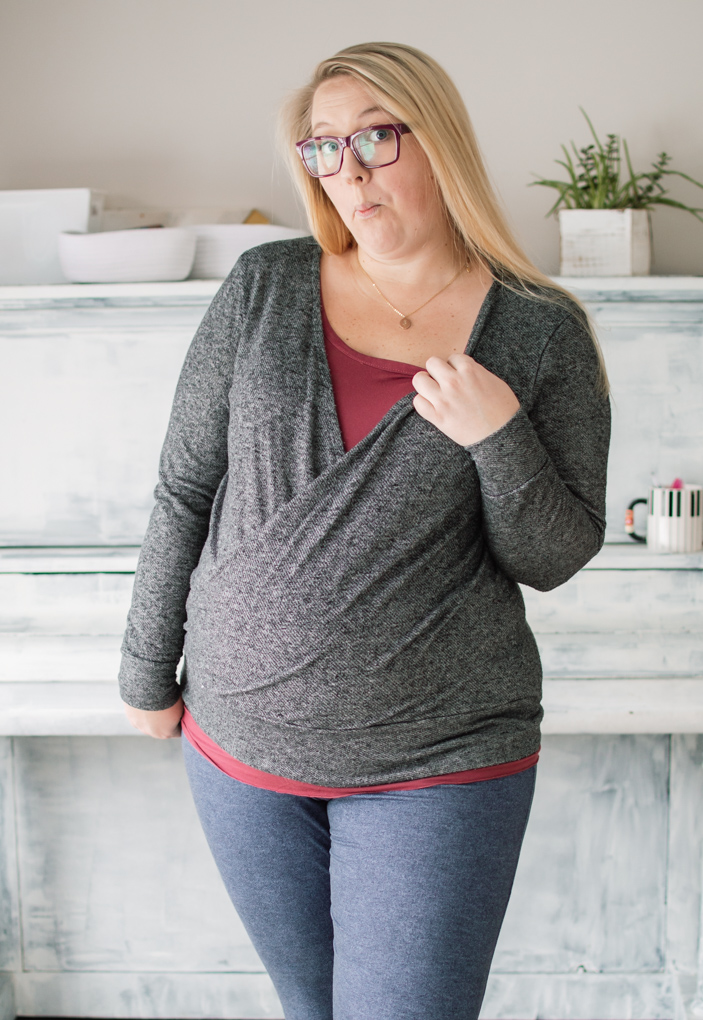 Maternity Summer Basics tank 
Ya gotta have tank tops for maternity and nursing! This particular Summer Basics tank is made in a really nice modal. I was working with scraps when I made this, and was not yet expecting, so this is actually sized down. But hey…still fits! I know I'll be wearing it even more often as a base layer when nursing, as it's another that pulls down comfortably at the neckline. I could use one for every day of the week!
Maternity La Bella Donna Dolman
The flowy, easy-going nature of the LBD makes it a perfect top for maternity wear. I have several that I shared last year on the LN blog, and made this one more recently as a base layer for a winter palette. This is a really stretchy and drapey rayon spandex that I had just a yard of–perfect for this pattern! It also sews up in about thirty minutes, which is juuuuuust the right amount of time for this momma. I opted to just turn and hem the neckline on this top, which means it doesn't have as much stretch to come down for nursing. But hey, if I layer it over a Summer Basics Tank…I could just lift it up! Problem solved!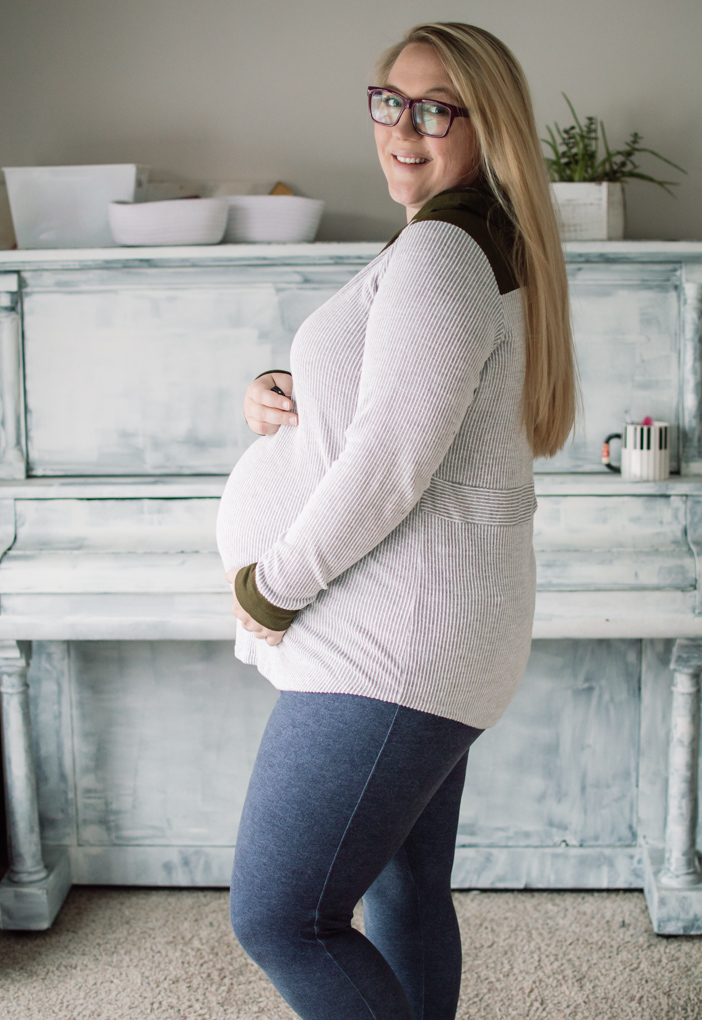 Maternity Sloane Sweater
The Sloane is probably my all time favorite Love Notions Pattern! I live in Michigan, so having a well-fitting long-sleeved top to reach for is needed for about nine months out of the year. The body of this hooded Sloane is made up in a cotton/poly rib knit with lots of stretch for an ample baby bump, and the cuffs, hood, and yoke are baby french terry. The other all-gray Sloane is from a nice drapey sweater knit, and I added a simple split hem and ruffle for some extra fun. I am always so comfortable and confident in my Sloanes, which is such a gift during pregnancy! 
---
EASY BOTTOMS
Second in necessity to easy-wearing tops are easy-wearing bottoms! These patterns have been my salvation this pregnancy; I can't get them through the wash fast enough! There are other LN patterns that work well for maternity (Like the Sabrina Slims, which include a maternity panel in the pattern!), but I wanted to highlight these two specifically.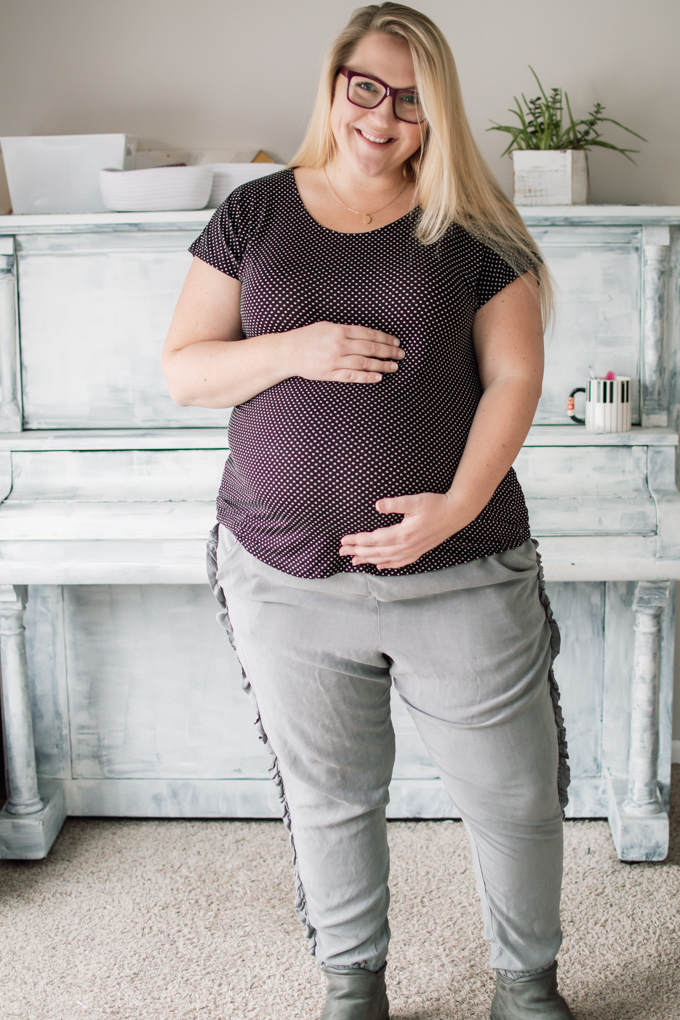 Maternity Allegro bottoms
I have been working a few days a week since August, and so have required some "professional" options in my wardrobe. I am SO grateful for the elasticated waistband on these rayon challis Allegros, which I made well over a year before I got pregnant, but which I've still been able to wear into my third trimester. The waistband rests comfortably below my bump, and the roomy fit throughout the legs keeps me comfy everywhere else! I have plans to make a few pairs in knit as well before the baby is born. 
Maternity Resolution Leggings
Leggings are a staple for every pregnancy, aren't they? I have given up all my other pre-pregnancy leggings, but these Resolution Leggings have grown with me and are what you can find me wearing nearly every day of the week. The purple pair are made in a lovely refined ponte with four-way stretch, and I love the way the moto panel brings a little extra polish to a super comfy pair of pants. The blue "jeggings" are made from a denim-printed yoga knit, and they're the perfect neutral bottom for so many looks. I couldn't have gotten through this pregnancy without my Resolution Leggings! 
---
PAJAMA/LOUNGE SETS

It's never more important to be comfortable at night than during those final months of pregnancy and first few months of postpartum. It's especially nice for those newborn days to have a few outfits that are cute and comfortable enough that you can wear them around the house as needed and not feel a push to get dressed…you just do that whenever you feel like it, and if that means pajamas for you and baby all day–so be it! For these items, use fabrics with lots of stretch that you know you LOVE to wear, and you'll be all set!

Maternity Compose Robe and Summer Basics Dress
I put a pretty high priority on having a nice, comfortable robe to use in the hospital, especially for after the baby is born. I had some complications with my first, and we got to hang out in the hospital for about a week after he was born–I wish I'd had this Compose Robe and Summer Basics dress set back then! I sewed these up in rayon spandex and they couldn't be softer or more comfortable. The Summer Basics pattern is especially perfect because it includes a shelf bra option, which I will need in the postpartum months for holding nursing pads in place throughout the night. I did go up one size and finished the shelf bra with a band instead of the elastic for ultimate overnight comfort. This set is really confidence boosting and practical, it would make a great gift for any expecting mommas, even if that's not you!

Maternity Summer Basics Tank and Allegro Shorts

I really do think the Summer Basics pattern provides SO much for a maternity wardrobe, and here it is again! Having a number of pajama options is good for me (because laundry), and I have to confess that having *cute* pajamas is really helpful when it comes to remembering that I am a whole person…not *just* a mom. I sized up for this tank, too, and finished the shelf bra with a band again. I had just enough of this green rib knit fabric to make a pair of Allegro shorts with a 5" inseam and a yoga waistband to finish the set. And of course, I had to top it with that Fraser cardigan again! An excellent cardigan often becomes a sort of house coat for me; I just love that cozy layer!
---
NURSING ACCESS
For those who nurse, having some clothing options with easily-opened fronts is a godsend. I love that I can wear these garments now, during my pregnancy, and that they will be just as handy in a few months when the baby is here!

Maternity/Nursing Lyric Dress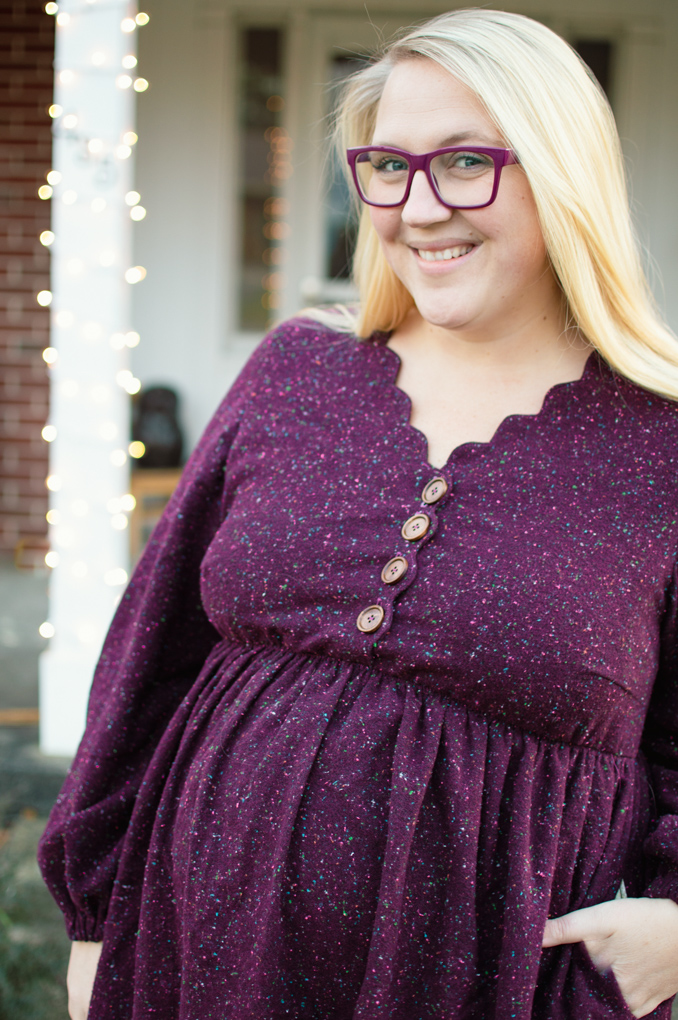 I have both summer and winter versions of the Lyric dress; they get a lot of use from this nursing momma! The button down front makes it a perfect option for a dressier look that is still accessible for the baby. I made this flannel version when I was just about thirty weeks, and kept it maternity-friendly by shortening the bodice to accommodate my belly and opting for the gathered skirt.
Maternity/Nursing Constellation Sweatshirt

The Constellation seems like it was designed with nursing in mind! The zippered upper bodice makes access a breeze. It's a great option for nursing in cooler weather. This Constellation's main body was made from a super luxe and stretchy bamboo fleece, so I can even wear it while pregnant. I don't have to wait for the baby to arrive to enjoy it!
Maternity/Nursing Serenity Sweater
The crossover bodice of the Serenity Sweater means that you get some great, cozy coverage while still having plenty of access for nursing. Layered over a Summer Basics tank or Classic Tee, the Serenity Sweater is a perfect option for your fourth trimester! 
---
Save this Article to your Pinterest Board