Olympia Dress + Separates Hack = Sewing LOVE! Today on the Love Notions blog we are pleased to introduce Livia from liviality.com. She's here to showcase the Olympia Dress and her take on this classic dress is modern and edgy but completely wearable and easier than you might think! She has created FOUR separate and completely different pieces from this single pattern, and we are in awe of her creativity and her style.
Olympia Dress Separates Hack
Hello!
I'm Livia from Liviality.com and I am super excited to share with you how to hack the Olympia Dress into separates.
The Olympia Dress XS-XXXL
If you're not familiar with it, it has a classic silhouette, features a gorgeous shawl collar and is flattering to any figure. The pattern comes with plenty of options:
5 sleeve lengths: sleeveless, short, elbow, 3/4 and long

2 skirt lengths: knee and maxi

side seam pockets

instructions for making it nursing friendly with a zipper
Olympia is this week's Feature Friday Pattern so you can snag it for $5, today only! Woot!
Olympia Dress: Classic Style with Shawl Collar
Ever since I laid my eyes on this dress I fell in love with the neckline and shawl collar. It's so classic and elegant, one of those pieces that will never go out of style.
In addition to being gorgeous, it's also very versatile. Depending on what options you choose and what fabric you use, you can have a casual dress for day to day life, a dressier version for a date night, or even a super elegant evening gown. The sky is the limit and I need all the Olympias in my life!
I Rely on Separates
The thing is, as much as I love wearing (and making) beautiful dresses, they're not my first choice when picking an outfit.
The main and most practical reason for that is: I live in the Netherlands and use a bicycle as my main mode of transportation during the week. When the dress is short, I get worried about what's showing while I pedal and when it's long I get paranoid it will get tangled on the bike. 😀
Olympia Dress Hack for Practical Separates
So how do I solve this "problem"?
I hack it into separates! A simple solution that will add yet another layer of versatility to the pattern.
Olympia Skirt Hack 
The first step is deciding what kind of waistband you'd like to have on your skirt. I considered 2 options, yoga or elastic, and opted for the latter.
The elastic I used was 2″ wide, so I added that to the pattern piece at the waistline. Because this extra added was going to be folded over, I cut it at an angle, like a contoured waistband or cuff.
The pattern already has negative ease at the waist, soI I cut the elastic to match its size. No need to stretch it when sewing.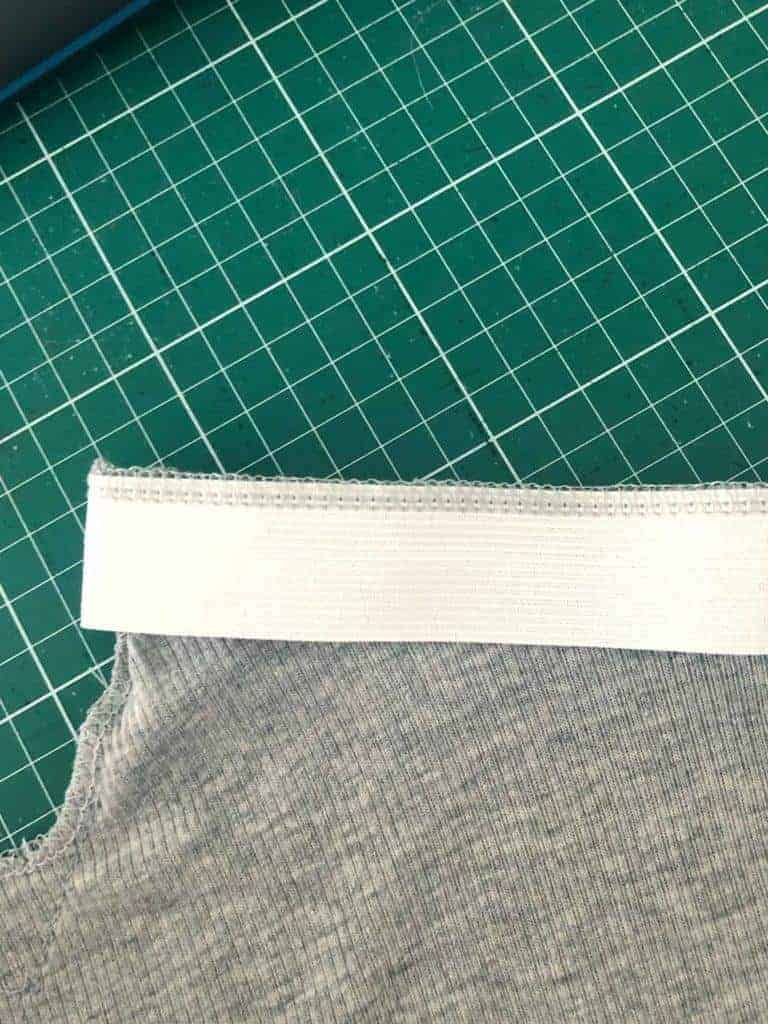 I then attached the elastic to the wrong side of the skirt, folded it over once. and stitched it in place using a zig zag stitch.
Tada! Elastic waistband finished.
Olympia Crop Top Hack
The top is even easier!
For the crop top, all I needed to do is add 1/2″ to the bottom of the pattern piece, sew it as per pattern instructions and hem at the bottom.
I really love how this set turned out! It will be a huge part of my spring/summer outfit rotation. The top will be super cute with high waisted jeans and sneakers. 😉
Oh, and I almost forgot to mention… I also shortened the short sleeves on this one.
 Olympia Full Length Top Hack
For the longer top, I lengthened the bodice pattern piece by about 6 1/2 inches, grading it out from the waist towards the hip.
If you don't feel like eyeballing it, you can use a existing shirt pattern you like as a guideline.
For this one I choose the elbow sleeves and the fabric I used is a rayon knit I purchased at a fabric market.
I'm obsessed with this one! <3
The only thing to consider when using a flimsier fabric for the Olympia is that the collar won't hold its shape as well as a sturdier fabric, making it a tad less "dramatic".
Olympia tops are the new darlings in my closet. I've been wearing this black one non-stop since making it and got a ton of compliments on it.
I already have a sleeveless one in the works, but life happened and I didn't manage to finish and photograph it for this post. But don't worry, you'll most certainly see it in the Love Notions Pattern Support Group really soon! 😉
If you're, like me, more of a top and jeans kinda person but love the Olympia, give this little hack a try! I guarantee that you'll have all the shawl collar tops in no time! 😛
Friendly reminder: You can grab it for $5 today!
Well, that's it for me today! <3
If you'd like to see more of my makes/hacks, you can find me at:
Instagram: @livia.jy
Blog: www.liviality.com
FB: Liviality
xxx
Livia