Hello Lovely Love Notion Makers!
I'm Crystal of the Crystalsewsandstuff.com and I am so happy to share my first blog post as a member of the Love Notions Ambassador team. I'm a wife and stay-at-home mother of three amazing children. I also use my skills from my prior career as an attorney to advocate for educational enrichment services for preschool and special needs children in my community. I began sewing soon after my youngest son was born (he's now eight) and fell in love with garment sewing a little over five years ago when I enrolled in a local sewing class. I live just outside of Baltimore, Maryland and enjoy creating garments for myself and my family. My favorite parts of sewing are styling and sharing my makes with the creative community on YouTube, Instagram and Facebook.
I love reading the amazing posts from all of the Love Notions blog contributors and am excited to make my first contribution to this knowledge base.
You can get your pattern here (aff. link):
About the Olympia Dress
The Olympia Dress is a versatile shawl collar knit dress pattern with options for a sleeveless, short, long, or three-quarter length sleeved bodice. It also has options for a knee-length or maxi- length skirt as well as bust cup sizing options. Side seam pockets are included along with a zip-front option for nursing ladies. It's available in sizes XS-XXXL for high bust measurements of 31 inches to 47 inches.
Sewing the Olympia Flounce Top with Chevron Bodice
The pattern instructions include dress versions of Olympia; however, today I am going to show how I made a top version as well as how I created a striped Chevron bodice. These are all fairly easy adjustments, but we do have to deviate from the normal instructions just a bit.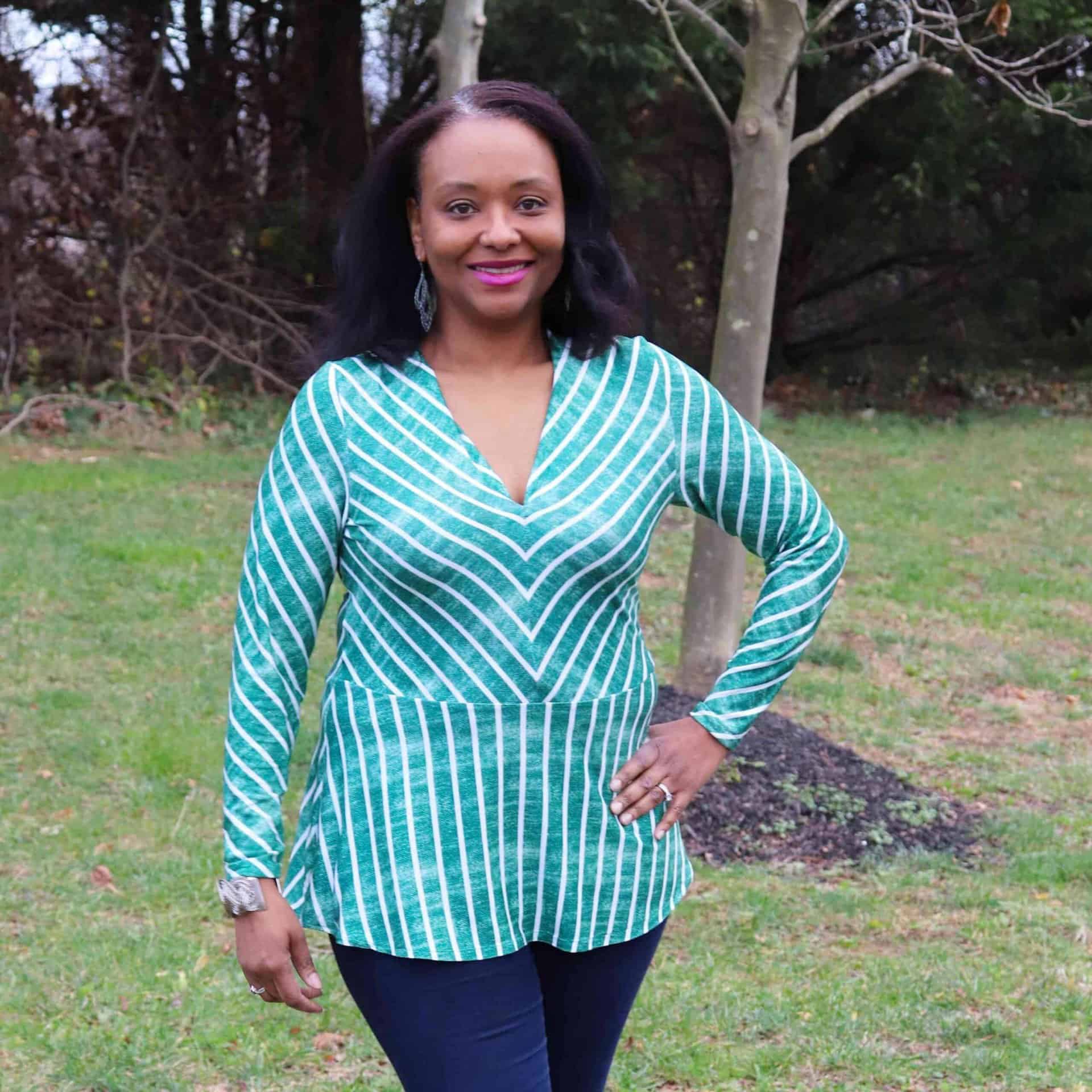 Here's what you'll need for a Chevron bodice Olympia Flounce Top
Clear Dressmakers Ruler
Curved Ruler
Cutting mat or ruler with markings for angles (you could also use a compass)
Striped knit fabric – Be sure to purchase an extra quarter yard or more fabric than the fabric requirements for your size. Stipes use more fabric when pattern matching.
Marking tool of choice (chalk, Frixion Pens, etc.)
Scissors or rotary cutter
Glass head/silk pins or clips
Colored Pencils (optional)
Pen or pencil for writing adjustments on your pattern
Chevron Bodice
Step 1: Mark out a forty-five-degree angle for bias.
A chevron bodice is made by creating forty-five-degree angles that intersect. First, line up your ruler and extend out the original grainline. Then, using your cutting mat markings or the forty-five degree markings on your ruler or compass, draw out a bias grainline at the forty-five degree mark. (Repeat for all pieces that you want to chevron).
Step 2: Determine which stripe will be your dominant stripe color.
Line up your marked bias line directly on that stripe. In my case, I decided to place my bias line on the green stripe. If you want your chevrons pointing downward, make sure the stripes are angling downward. If you want your chevrons pointing upward, make sure the stripes are angling upward. I like to use colored pencils to mark off which colors I am using when working with stripes.
Step 3. Lay out your fabric.
When working with stripes it is important to cut everything out in a single layer to avoid shifting. In addition, you will need to add seam allowance to all pattern pieced marked "cut on the fold." Ensure that all of the corner points have the same primary color as the dominant stripe when laying out your pattern on the fabric. This step allows your side seams to match up in your garment.
Step 4: Cut out your first piece.
I started with the back piece, since there are less angles. I added a 3/8" seam allowance to get a chevron effect on the back seam. Ensure that everything is pinned or weighed down with pattern weights, so the pattern pieces don't move while cutting.
Step 5: Mirror your first pattern piece to cut out the next piece.
After you cut out your first piece, lay it onto the fabric, right sides together, exactly matched. Double check the corner points and cut out your next piece.
Step 5: Repeat steps for all other pattern pieces.
Line up the side seams of your back pieces to the front pattern pieces to make sure the sides seams will match. Be sure to check that everything is lining up accurately after you cut out each piece. Use pins on the stripes to keep them properly aligned.
Step 6: Cutting the Sleeves:
Ensure that the front sleeve notch is matched to the same color as the bodice front sleeve notch before cutting out your sleeve pieces.
How to Create A Flounce Top from a Dress Pattern: Shortening the skirt
I decided to shorten the skirt piece into a flounce for my Olympia so that I'll get more wear from it due to increased time at home these days. In order to do this, I aligned my ruler to the bottom hem and made markings 13 inches up from the bottom. I then used my curved ruler to create a new shortened hem with the same curve as the original skirt piece. I folded in the pocket pieces to remove them for this look.
Additionally, I cut the flounce stripes vertically to create even more visual interest and to make the most of the fabric I had on hand. The side seams still create a cool chevron effect on the skirt's side seams since side seams are cut on an angle.
That's how to make a Flounce Top with a Chevron Bodice from Olympia Dress
This is such a lovely pattern that with a ton of options that I think you'd enjoy. Hacking it into a cute chevron bodice top is another great way increase your styling options with this pattern. Creating chevrons with striped fabric is a gratifying hack that you should give a try. In addition, learning to shorten and lengthen skirt pieces allows you to get even more use out of your existing patterns.
My affiliate pattern link is listed below so you can pick up this pattern and sew up a lovely top or dress of your own.
Until next time,
Happy Sewing,
Crystal
---
Pin this for later!