In honor of our extra special Feature Friday, we invited Ilse from Sew Sew Ilse on to the blog to share her Margot peplum styling ideas, as well as a tutorial for a darling sleeve tie!
Margot Peplum Styling and Sleeve Tie Hack
Hi, I'm Ilse from Sewsewilse and today it's my privilege to highlight the Margot peplum and demo a sleeve tie hack for today's Feature Friday. I wanted to show you my love for this Margot peplum top and also my love for Sly Fox Fabrics. Be sure to check out Sly Fox after you read the post.
Let's go!
The Margot Peplum appeals to me mainly because of the waistline; it accentuates my waistline and that's so feminine. Besides that, the Margot is an easy to sew knit top with three skirt styles included as well as two bodices : princess & solid. And with four sleeve lengths you can mix and match and make so many different styles!
Margot Peplum Skirt Styling
It is important to make the right fabric choice and that choice depends on which skirt style you choose. If you choose the flared or gathered skirt style, you are better off choosing a more drapey knit fabric such as a cotton lycra, rayon/jersey or modal.
If you choose the pleated skirt style, you'll do better with a more structured fabric such as ponte or scuba. I tried a few things.
Peplum Fabric Choices & Styling
I made the flared skirt version two times and the double brushed poly 'Cool Tropics' from Sly Fox Fabrics gave me the best result. If you don't like your clothes too puffy, DBP is definitely a good choice! It flares so nicely! The white, blue, green and aqua colors are so fresh for spring and summer!
My second Margot is in black cotton knit with hummingbirds. It feels so soft and as my SFF Margot I also wore this during my city trip to Madrid.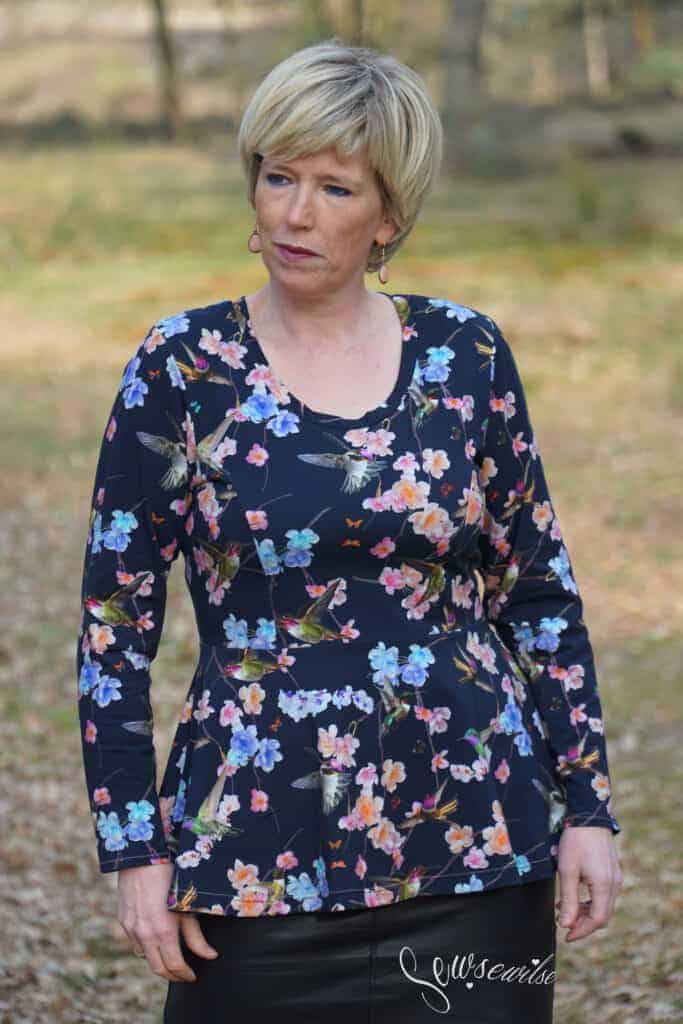 Three Peplum Styling Options
I especially love the Margot on a pencil skirt. So I styled my black flared Margot with a leather look pencil skirt. I'm sorry, it's rtw.
My white pleated Margot with ¾ sleeves looks good on white pants. And as you see I hacked the sleeve with a simple tie. Oh yes, I'll show it to you! Be sure to scroll down!
And last but certainly not least, I made a Sybil skirt with the same fabric as my Margot and now it looks like I'm wearing a dress! I'm so pleased with this outfit! What do you think? Making a full dress of it would be simple. After finishing the bodice you would simply sew the skirt to the top at waist height on the inside.
Margot Peplum SALE
Incredible but true! Not only the 'Margot', but also the girls version 'Maggie' are on sale for $5 today! The Margot will continue for $5 throughout the long weekend, and then it will go to regular release pricing at $8 until Thursday April 25th. So don't hesitate to get your copy!
And now my little Margot sleeve tie hack!
Just sew your Margot to the point where you need to finish your sleeves.

I cut out an elliptical form (as you see in the photo) and repeat it for the other side.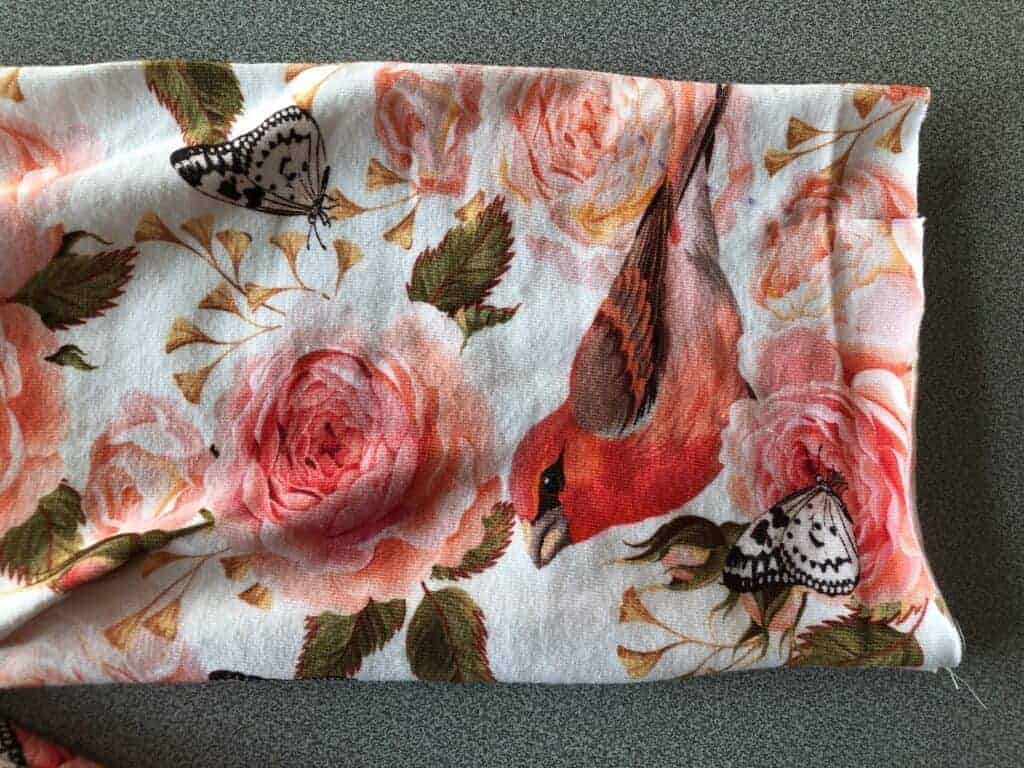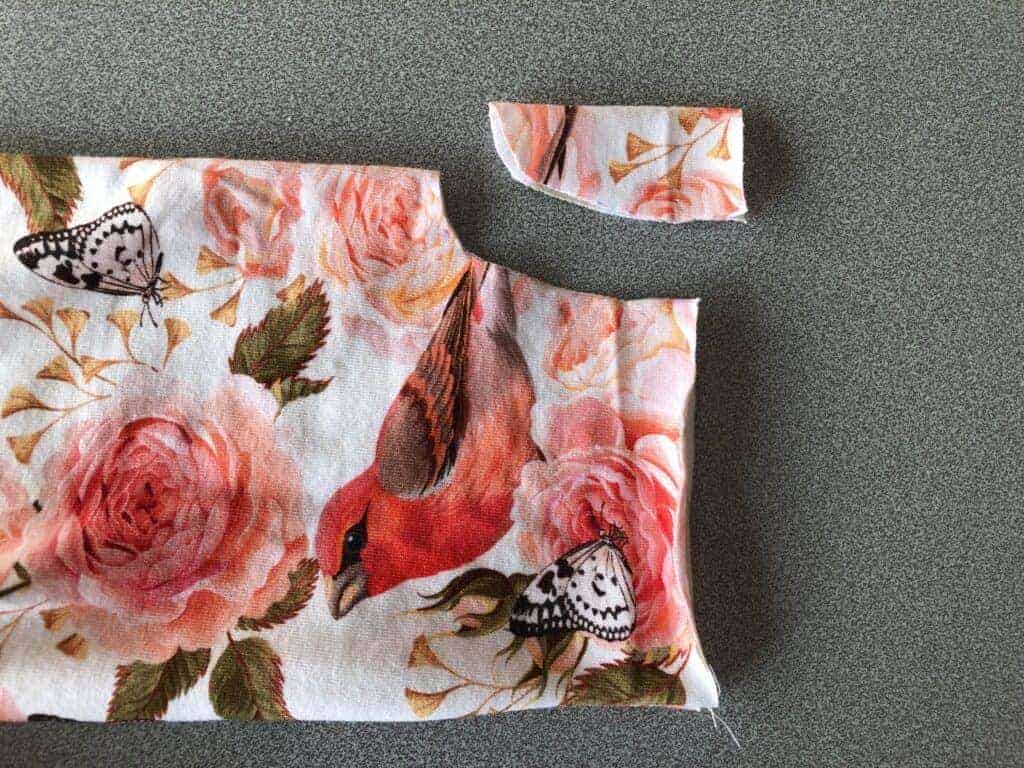 Fold the raw edge to the inside by ⅜ inch (wrong sides together) and stitch it down using a zigzag stitch.
Cut two rectangles for your sleeve ties. Width 5 cm/ 2 " – length 64 cm/ 25".

Fold one tie piece lengthwise and right sides together. Give it a press.

Close the tie but leave a gap in the middle of about 10 cm/ 4" to turn it.

Hand stitch the gap and press. Repeat for the other.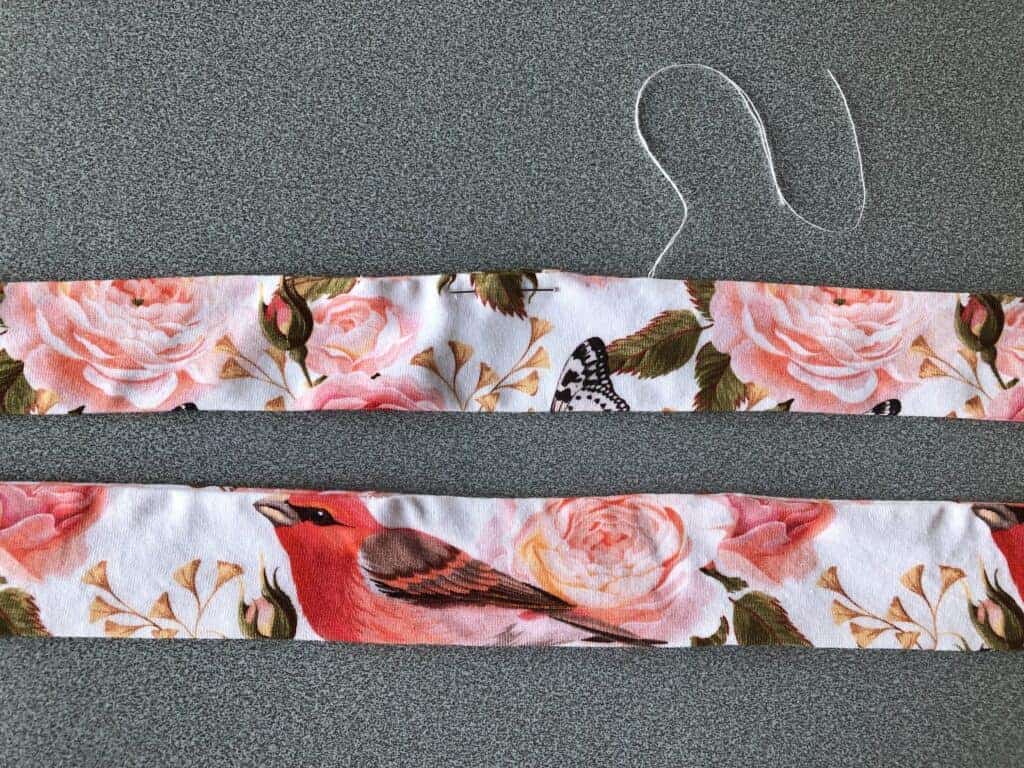 Pin the sleeve ties to the sleeve hem. Match them with the raw edge from your sleeve hem and stitch in place. You're ready!
Now it's up to you to choose your style! Plenty of options!
Click on one of the highlighted links above to get your copy.    
See you soon!  Ilse
You can find me here:     My blog : sewsewilse       My instagram : @sewsewilse