Here's a handy tutorial for installing a quarter zip hack in place of a half zip on a pullover! Thanks to Katie Grimm from madebykates for adding even more options plus tons of sewing inspo for a couple best-selling patterns: the North Star and Navigator Pullovers and Hoodies.
Quarter Zip Hack for Pullovers
PULLOVERS FOR THE FAMILY
It's sweater season again and the North Star and Navigator Hoodie and Pullover will make sure the men and kids in your life will be nice and cozy!  Be sure to grab these patterns HERE.
QUARTER ZIP HACK
I'm also excited to share my new favorite hack for these pullovers!  It's a quarter zipper pullover without the seam across the chest.  I'll let you in on a little secret- it's not as hard as it sounds!  In fact, it's just as quick of a sew as the regular pullover.  I love that it adds yet another option for this great pattern and is a quick way for my guys to look a little more dressed up.
FABRIC
For these pullovers and hoodies, I used fabrics provided to me from Raspberry Creek Fabrics.  Last winter I made one for my daughter out of hacci and french terry and it was well worn and is now too small.  So when I saw this adorable wildflower floral printed hacci, I knew we had to make another!
I paired it with some brushed french terry in dusty teal for a perfect coordinate.  It's soft, cozy, and cute!  I love the three piece hood – it has such a great shape!  It also matched big brother who is wearing the teal french terry as well with the quarter zip hack.
Raspberry Creek has started carrying the softest sweatshirt fabric around!  Like true sweatshirting, it doesn't have a lot of stretch, but it was no problem for this pattern. I just added ⅜" to the cuffs and bottom band to accommodate the lack of stretch.
I chose the solid black for my pre-teen and while he originally scoffed at wearing something I made, once he put that soft fabric on he immediately changed his mind!  He actually loves it and mentioned in particular how the collar height was just perfect.
For the hubby, I chose to use a black heathered french terry sweatshirt fabric.
This is similar to the teal, but not brushed.  He hates being hot and so doesn't wear sweaters often.  This fabric and style is perfect for him because he looks like he's wearing a sweater, but it's not nearly as heavy as something I would purchase, yet it still provides a little warmth.  It's a perfect balance.
Also, he is 6'4" and finding something that fits his broad shoulders and long arms can be tricky!  This pattern gives him such a great fit with my only alterations being to add 2 ½" inches to the body for his height.
And now, here's how to get a great looking quarter zip collar!
QUARTER ZIP HACK: Step by Step
Take your Front Upper and Pocket Lining pattern piece and overlap the seam allowance (⅜" on each piece).  The Front Upper piece will extend at the center front.
Remove the excess on the Front Upper by continuing the Pocket Lining center front line straight up.  This is your new front piece. 
Remove the same amount your removed from your Font Upper on the collar piece.
Cut out front and back pattern pieces and mark your center front of the new front piece.
Decide how far down the center front you would like your zipper to go.  Remember to take into account the length of your collar piece when determining how long your zipper should be.  You can shorten your zipper if it is too long.
On your front piece, draw a straight line from the center front to the length you would like your zipper to be.  Draw a box around that line, ¼" on each side of your straight line.  
Apply a strip of interfacing on the wrong side of fabric where the box is.
Stitch along the outside lines of your box, making sure to pivot exactly at the corners.  Cut along center line, stopping ½" from the bottom of the box.  From that point, cut to but not through to the corners, creating a little triangle.
Attach collar (or hood) as instructed in instructions. 
Place zipper right side together and stitch along zipper tape.  If your zipper has an extra wide tape, you will want it to hang over the edge of the front opening slightly.
Zip up zipper and mark the bottom of the opening as well as the point where the collar and the body meet up.  This helps so that your zipper and seams match when you attach the other side.
Attach the other side of the zipper the same way you did the first and zip up zipper.
Push the zipper through the bottom opening.  Flip it up so the small triangle is visible and stitch across to close the bottom opening.
If you need to shorten your zipper, you can do so now.  You can also cover the end of the zipper if you'd like.
Attach collar lining and binding as directed in tutorial and topstitch around zipper. 
There you have it!
A great looking pattern for all the men and kiddos in your life.  And if you don't already have it, be sure to add the Constellation Hoodie and Pullover to your collection!  It will complete your family of pullovers!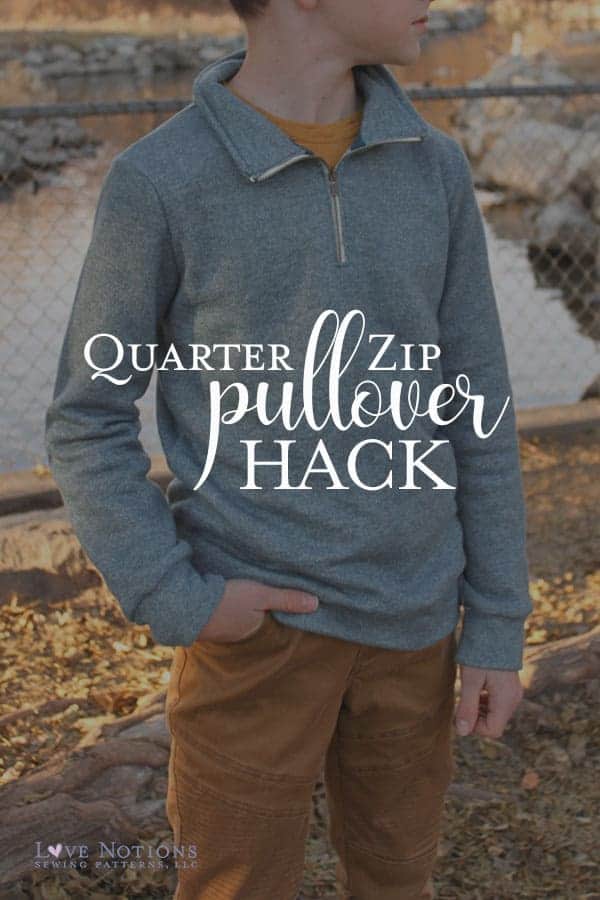 Want more?
Be sure to check out Kelly's Sew Along with even more options beyond the quarter zip hack, (including a full zip hack!) plus detailed instructions for every part of the construction. Just click here.