SECRET SEWISTS REVEALED
Welcome to the Secret Sewist 2019 Reveal (part one) AND a little sewing gift guide to get you ready for the holidays. Love Notions has had a fantastic 2019 and a huge part of that success has been due to the support of our ambassador team. They help to perfect the patterns, take incredible pictures, spread the news about Love Notions throughout the sewing community — and they are just all around super people.
SECRET SAN… ahem, SEWIST
So this year, Tami decided to say 'thank you' with a little gift: fabric from their favorite shops. First though, we decided to make it even more fun and create a little gift exchange or Secret Santa event out of it — we called it the "Secret Sewist" exchange. The ambassadors names were secretly matched, and then they selected the fabric AND patterns for each other. It was so fun to see all of their unboxing videos — check Tami's instagram highlights to see! In fact, they won't know who selected their fabric for them until they read this post.
SECRET SEWISTS REVEALED
What follows is part one of the reveal of each ambassador's "Secret Sewist" with pictures of their Love Notions makes using their gifted fabric. (Part Two is up now and you can read that here.) Each of the ambassadors has affiliate links for the patterns they used, so be sure to click on those to support them. They also recommended their favorite sewing tool (which Tami added to her Amazon store front) and those make great additions to your wishlists this year, too!
FABRIC AND PATTERNS FOR YOU, TOO
Many fabric stores were excited to be involved in the Love Notions Secret Sewist Event, either by offering Tami a small discount as she shopped or by offering our readers a coupon code. The coupon codes for you are at the bottom of the post. Also, be sure to enter the giveaway at the end of this post– you could win a $50 Love Notions store credit as well as your choice of the custom enamel pins designed from scratch by Tami and her husband (US and Canada shipping included!).  Be sure to enter with just an email and a few clicks at the end of the post.
[/et_pb_text][et_pb_image src="https://www.lovenotions.com/wp-content/uploads/Untitled-1-3.jpg" _builder_version="4.0.6″][/et_pb_image][et_pb_text _builder_version="4.0.6″]
Enjoy the Secret Sewist reveal and happy holidays to you and yours!
PAT ENGLISH
from Seamly Behaviour
Pat's Secret Sewist was… Alex Radu!
Pat says:
You can tell a lot about a company by how they treat their customers.  Concern and care for the people who buy their product shows how much attention to detail you can expect to find in their creations.  It was, therefore, quite in keeping with how Tami values her customers when she and Tessa proposed a Secret Sewist event to the Love Notions Ambassadors group.  I was so excited to receive my package from l'oiseau fabrics!  Inside the package was luscious bordeaux bamboo jersey knit and a length of pretty black cotton lace which my Secret Sewist had chosen especially for me.  The note from the person who had drawn my name asked me to sew a Forte, view B and to accent the top with the lace.  The result is a top that I will cherish for so many reasons – for Tami's generosity and Tessa's hard work and for my Secret Sewist who chose such beautiful fabric and trim just for me.  This Forte will always have deep special meaning to me.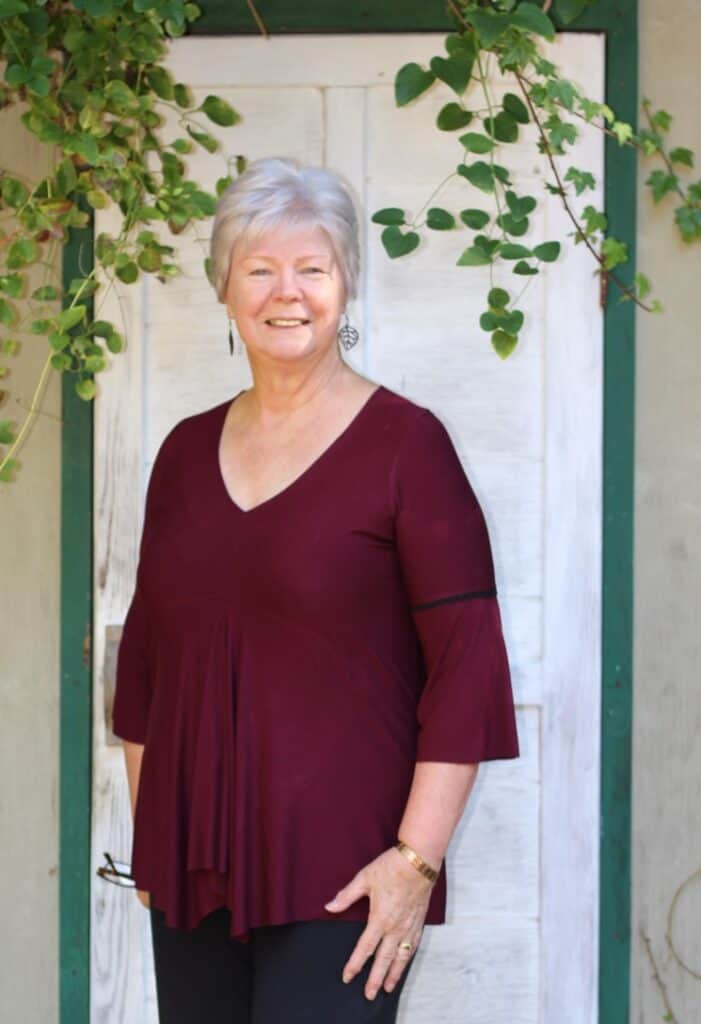 Pat's favorite sewing tool: "I am quite attached to the pressing clapper my husband made me…Gives you sharp pressing for hems and any seam that you want really flat. "
CHRIS SHAPIRO
from Sewjourns
Chris's Secret Sewist was… Rachel Ring!
Chris says:
I have been an Ambassador for Love Notions for about 9 months.  Being part of this team continues to be a joy and highlight for me.  When Tami came up with the Secret Sewist idea I knew I wanted in! What a cute twist on Secret Santa!  As soon as I was randomly assigned my sewist to shop for I set out to identify her style and find something fabulous to surprise her and put a smile on her face.  I must say I felt the pressure to pick "just the right fabric" and pattern suggestion for her because she is so fabulous and fun I wanted her to be thrilled! I hope she loved it!! My Secret Sewist who shopped for me was so very thoughtful.  I have a strong feeling that she has read my blog and remembered that I had mentioned in a previous blog post I had wanted to try some Rayon Challis from Raspberry Creek Fabrics. Well, she made my wish come true because I found this beauty in my mailbox. Teal/Red/Coral/Orange and Green Watercolor Floral Rayon Challis.
Tucked inside was lovely complimentary note stating that she would like for me to choose whichever woven pattern by Love Notions that I would love because any one them would look lovely on me.  How sweet is she?!!! Here's what I chose! The Rhapsody Blouse Pattern 
The Rhapsody Blouse was one of the few Love Notions Patterns I had yet to sew up.  I chose this because of the feminine curve on the body, the soft front gathering at the shoulders and curved hemline and with eight sleeve options I feel this is an every season pattern.  The finished Rhapsody blouse boasts fully enclosed seams on the back yoke and utilizes French Seams on the side so this blouse is as beautiful on the inside as it is from the front. I am in love with this make!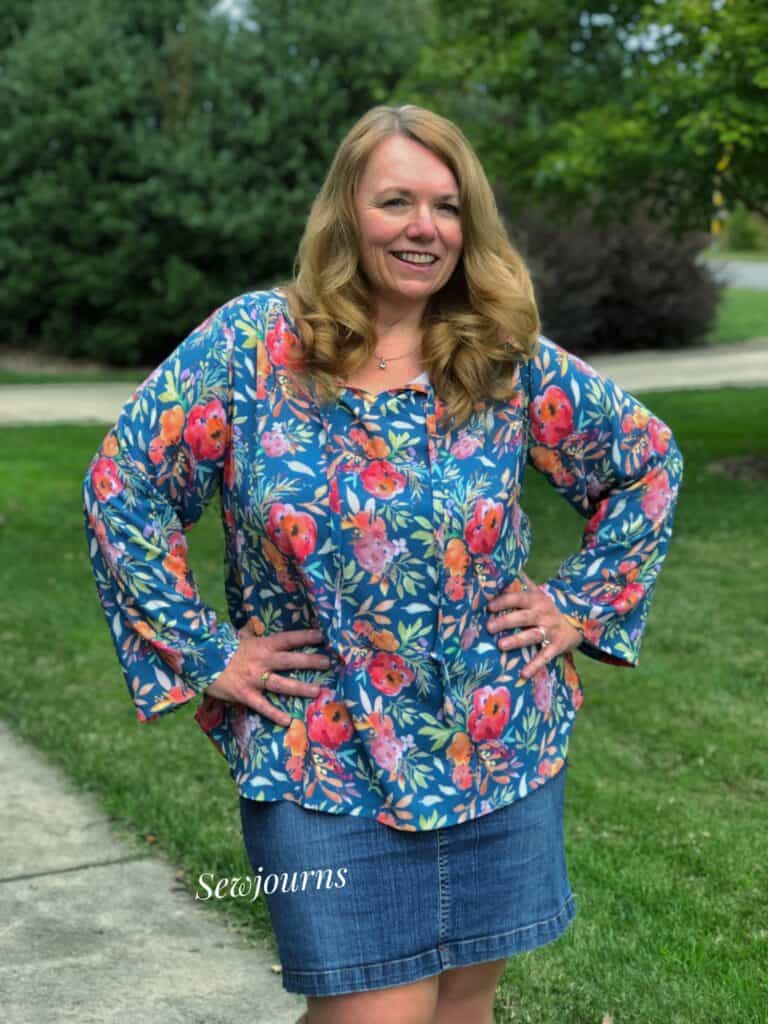 The Watercolor Floral Rayon Challis was quite lovely to sew with.  I have to say I found the quality and weight to be substantial and it was not at all fiddley to work as some thinner Rayon Challis can be. I couldn't be happier with the final result!  Every time I wear it I will be smiling remembering how much I love being part of the LN Ambassador team and thankful for the support and generosity of Tami and Tessa who are so lovely to work alongside.  Happy Holidays and I wish you and yours the joy of the season!!    
Chris's favorite sewing tool: Alex Anderson's 4-in-1 Essential Sewing Tool: Includes Seam Ripper, Stiletto, Presser, and Turner
ALEX RADU
Alex's Secret Sewist was… Livia Yonker-Yamada!
Alex says:
As soon as Tessa and Tami brought the idea of a Secret Santa Sewist opportunity to the group, I knew I wanted to join in the fun! Getting to shop for fabric for friends AND be surprised with pretties too…how could I say "no"? I was so excited to see who I was shopping for because she is an extraordinary woman who has always been supporting and who I admire a lot. It was only normal that I treated her with some luscious bamboo 😉 

A few days after we signed up for this fun project I received my  goodies mail from So Sew English. My secret shopper sent me the most beautiful note with my fabric so I wanted to share that with you: 
Hi Alex,
I hope you enjoy the fabric! I'd love to see you sew up Olympia dress (Short Sleeves and Knee length) or Willow Wrap Dress (Dress, Short Sleeves). I think it's so pretty and vibrant, it's the vibe I get when I see your gorgeous makes and photos. I chose Olympia or Willow because I think you'd look AMAZING in either one of them. Well I've seen you in an Olympia and already know that it's a stunning combination! I hope you like the choices I've made!
Happy Sewing!!
xxx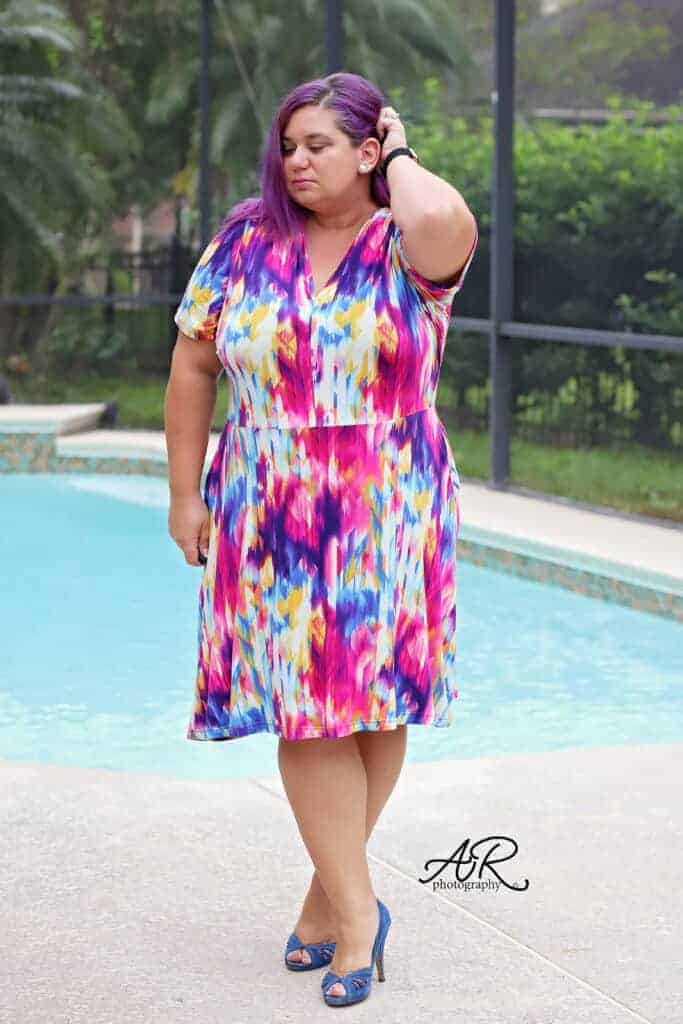 She bought me a gorgeous rayon spandex which is absolutely perfect for warm Florida winters and hot summers. I was so happy that she chose the Olympia or Willow dresses for me to make as they are some of my favorites. It was a hard choice picking between the two but I eventually decided to treat myself to an Olympia dress because the neckline is a little higher than the Willow Wrap dress so I love wearing it to school and to Church.  Of course I picked the short sleeve option as it's pretty much year round attire in my neck of the woods. The gorgeous drape of the rayon spandex, the stunning colors and the amazing Olympia fit quickly made this new dress a "first to grab" in my closet. 
I cannot wait to find out who was my Secret Santa Sewist so I can also thank them for my gorgeous gift. 
Happy Holidays! 
Alex 
Alex's Favorite Sewing Tool: The Gingher Rotary Cutter 
TAMI PETERSON
from Sewsophielynn
Tami's Secret Sewist was… Pat English!
Tami says:
I can't believe the day is here! I'm so excited to be joining in the Love Notions Secret Sewist exchange. Love Notions patterns and the Love Notions team has such a special place in my heart. I think Tami and Tessa are just about the sweetest people on the planet and I'm so grateful to get to work with them as an Ambassador. This holiday Secret Sewist exchange has been so fun to watch behind the scenes and I'm so thankful for their generosity. I received a beautiful floral double brushed poly from Sly Fox fabrics from my Secret Sewist with the Willow Wrap Dress as the recommended pattern to sew up.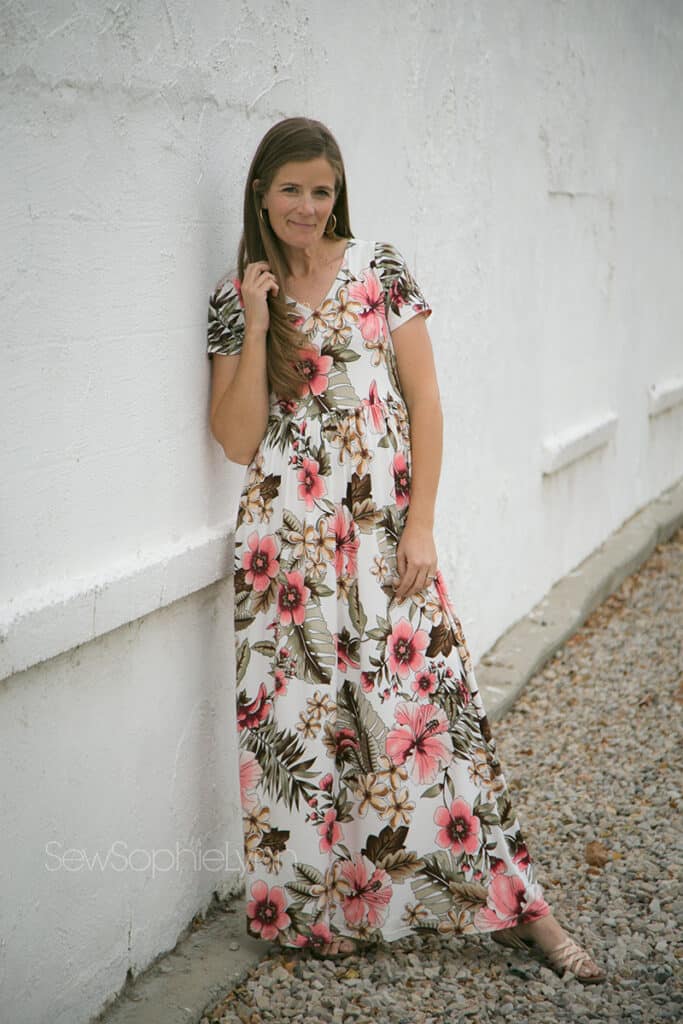 I love the colors in it and knew it'd be perfect for our upcoming tropical vacation. As our kids have grown, we have tried to make it a tradition to give them trips or experiences for Christmas instead of lots of presents that will soon be forgotten. This year, we're headed to the islands (shhh! it's still a secret until the big day!) and I can't wait to wear my new dress. I really can't get over how serendipitous it was that my Secret Sewist picked this fabric and pattern. The day I received my fabric package I had just finished sewing up another Willow Wrap dress using the Olympia maxi skirt. I was already dreaming of another maxi version and almost squealed when I saw her pattern recommendation. 
This time I used Katie's tutorial from the blog for a nice flowy version that will work for sightseeing and nights out. I can't help but picture throwing on this beauty after a long day at the beach and heading to dinner with the family. I want to give a huge shout-out thank you to my secret sewist and the Love Notions team. You guys are the best! [P.S. If you'd like to read more about this make on Tami's blog, click here.]
Tami's favorite sewing tool: SimFlex Sewing Gauge "I feel like I leveled up when I got one of these!"                  
MICHELE MATSUMOTO
Michele's Secret Sewist was… Caroline Gaddy!
Michele says:
What a special little treat to participate in this years secret sewist for Love Notions! My secret sewist sent me a beautiful deep purple brushed waffle sweater knit from Surge Fabrics. I had lots of suggestions from my secret sewist and among them was one I really wanted to try. The Whistler (affiliate link) pullover and hoodie. Dreaming of the hoodie version. I also decided to do cuffs and hem band option. Talk about making something ideal for the season. Need to make several more since this would pair perfectly with everyday jeans and I can spice it up for a cute casual evening out.
Michele's favorite sewing tool: Professional Pattern Weights "These are a must for your pattern making creation and for your samples cutting."
ILSE LEMMENS
From SewSewIlse
Ilse's Secret Sewist was… Michele Matsumoto!
Ilse says:
Being part of the Love Notions Ambassador group is so fun! As the other ambassadors I feel so appreciated and together we build on the Love Notions dream.
To thank us for our work, Tami and Tessa surprised us with a Secret Santa project. Our names were exchanged and you don't know how exciting this was choosing fabric for someone else! My Secret Santa did such a great job on choosing my fabrics! I mentioned I never sewed a Serenity sweater and I wanted so sew another Sabrina Slim and Willow top.
I still remember my package arrived on Friday and a few days later I got another package, how on earth was it possible! Another two fabrics! Because of the good conditions from Minerva Crafts, my Secret Santa could even order three fabrics with the given budget, wow! Thank you so much! 
The Textured Knitted Stretch Jersey in Mocha for the Serenity Sweater was a great additional on my wardrobe and great to match with the rest and yes I need more solids in my wardrobe! I love the loose drape of it. What do you think to match it with the Classic Pants. Simple but so stylish! 
The Floral Print Plaid Dress Fabric was so gorgeous and because it had just a tiny bit of stretch I decided to make a Cadence instead of Sabrina Slims. On the website I only saw so far summery versions so time to make a fall example! I think it's a very female dress. The bust darts giving it the perfect shape and as you know me I'm a fan of ruffle sleeves!  
The Black & White ponte plaid was ideal for the Sabrina Slim Pants. The slim fit and contoured waistband give me the suitable wearing comfort. Next time I have to match my print more precisely. I matched it with an rtw top but a black or red Forte would also be great with it.
Are you also so pleased with these fabrics and sews? Click on the highlighted links and they bring you to the pattern/fabric.
When all posts are out I will finally know who picked my stuff! And I hope that the person I chose fabric for is satisfied with my fabric choice and chosen pattern.
Greetings and thanks for stopping by! Ilse from @sewsewilse
Are you curious for more photos and info about the three patterns, please visit my Minerva blogpost. Today it will be published especially because of this Santa Secret event.
https://www.minervacrafts.com/blog/projects/thank-you-secret-santa
Thank you, Tami & Tessa! <3 
Ilse's Favorite Sewing Tool: Mini Steam Iron. "I don't have this but this little iron is on my list. Love it because it's compact and very useful to iron seams and little narrow places on your sewing project."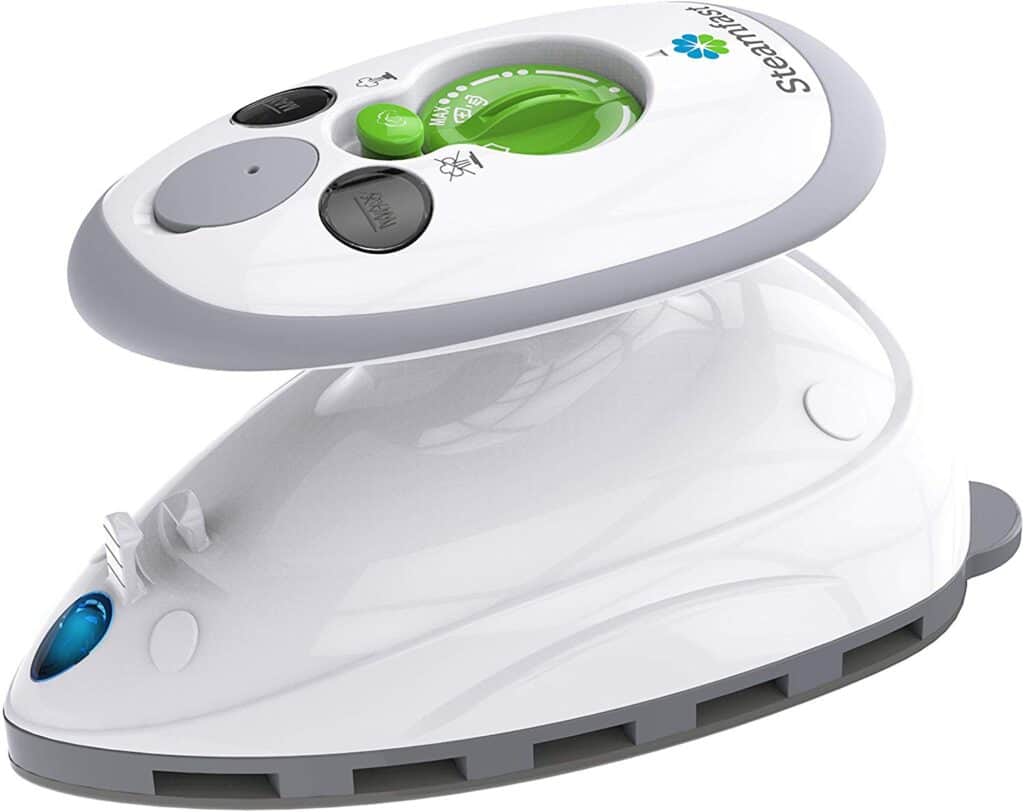 KARINA TRINIDAD
Karina's Secret Sewist was… Tami Peterson!
Karina says:
I have been an ambassador for Love Notions since the start of this year.  Before being an ambassador, I had been a member of the testing group since 2018.  The first pattern I made from Love Notions was the Sonata dress (that neckline is amazing!) and then fell in love with the style, drafting, and especially all the options offered in each pattern that offers an amazing way to customize to our own style.  This is very important to me… having a lot of options.  
Being part of the team is a blessing and I have been able to connect with other keen seamstresses, even though we are physically very far away.  Sewing can be a little isolating and being in a community is amazing for the sense of connection and to share our passion and love for sewing. 
The Secret Santa idea comes from Tami and it's such a generous and fun project! I was randomly assigned to choose a pattern and fabric for another member of the ambassador team.  I spent time studying her style on her Instagram account and on the Love Notions Support group.  
The fabric I received was me to a "T".  I'm sure she has me figured out because I would have totally chosen this fabric myself and paired it to the pattern she recommended I make: The Rhapsody blouse. When I received the fabric, I was totally enamored. It is a luxurious medium weight crepe with a crinkle texture and tropical print on black background.  The fabric was purchased in an online fabric shop in Brazil in order to have expedited shipping. 
I had 2 meters of fabric, so I decided to make the Rhapsody Blouse a dress by adding 13.5" to the hem, whilst keeping the original curved hemline design.  I hemmed the curved hem with bias binding to add structure and keep the shape smooth.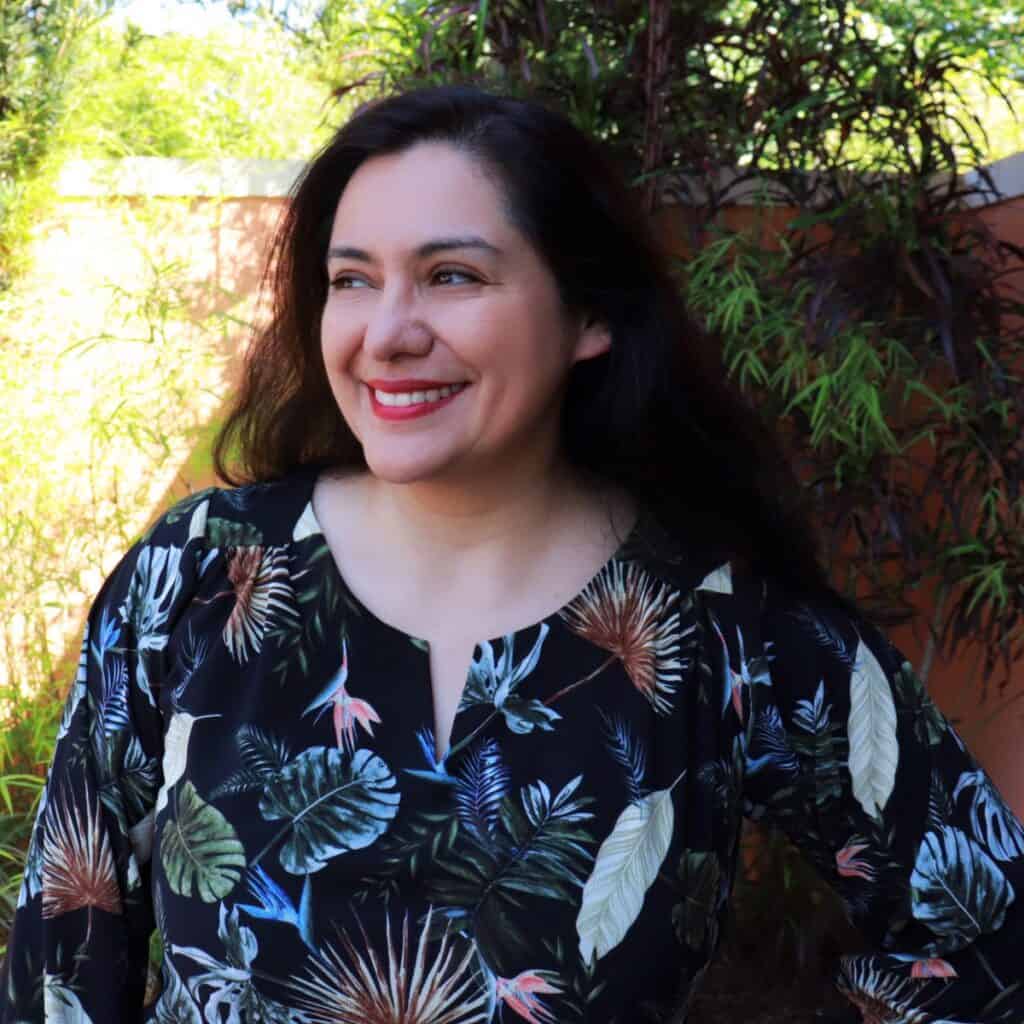 Because the fabric was a little more structured, I drafted a facing for the front neckline and interfaced it.  This different finish at the neckline makes the little V be an amazing feature.
Considering that this fabric is a "winter" fabric, I chose the bishop sleeves, but instead of the elastic casing at the wrist, I drafted a little cuff. I measured my wrist and added some ease to pull in and out, without needed a closure on the cuff (ended up being 10" by 6").  I gathered the sleeve excess into the cuffs. Fiddle galore but totally worth it. I had wanted this type of sleeve on a garment for a while and this was the chance. I love how the gathers look inside the slim cuff at my wrist.
I love my Rhapsody blouse "dress" and think it suits my style 100%.  I'm so happy to have received such a wonderful gift of fabric! Fabric is always the best gift isn't it?  Happy sewing friends. If you want to hear more from me, you can visit my sewing channel Lifting Pins and Needles.
Karina's Favorite Sewing Tool: Bias Tape Maker Set. "I keep sewing super simple and many tools out there, I have no use for…This has been a life changer."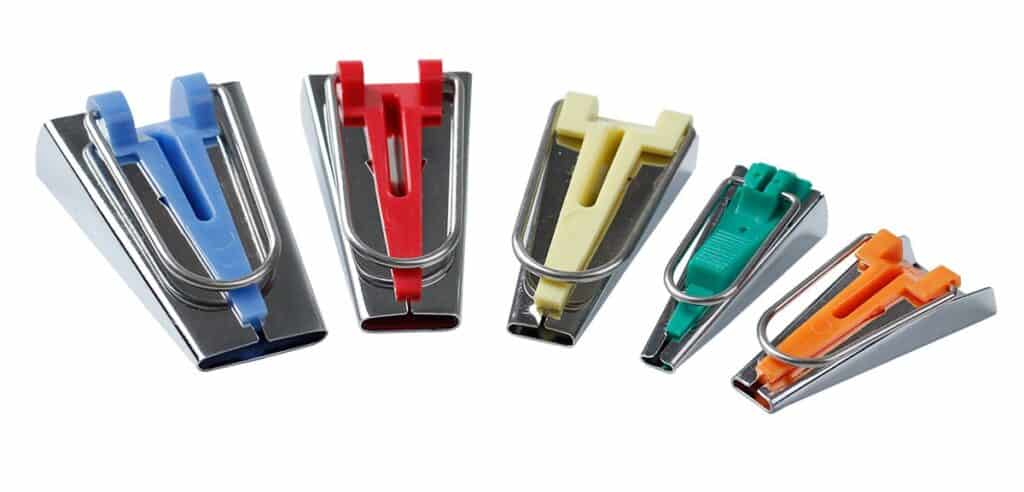 We hope you enjoyed getting a little glimpse into this holiday event for our ambassadors and hopefully you can take some inspiration from this post (look out for part two coming next week!).  Be sure to take advantage of those fabric coupon codes, enter the giveaway, and add those much-loved sewing items to your list. Happy holidays to the amazing Love Notions community!
THE SECRET'S OUT NOW
Read part two of the reveal here!