SECRET SEWISTS REVEALED
Welcome to the Secret Sewist 2019 Reveal (part two) AND a continuation of our little sewing gift guide to get you ready for the holidays for anyone who loves to sew, loves sewing notions, loves to wear sewn garments, or loves fabric. As was mentioned in part one of this two part series, Love Notions has had a fantastic 2019 and a huge part of that success has been due to the support of our ambassador team. They help to perfect the patterns, take incredible pictures, spread the news about Love Notions throughout the sewing community — and they are just all around super people.
SECRET SEWIST REVEALED, finally!
As you know from the last post, this secret sewist event has had all of the ambassadors itching to see who in the world was their Secret Sewist. If you missed the backstory, Love Notions owner Tami decided to say 'thank you' to her ambassador team with a little gift: fabric from their favorite shops. First though, we decided to make it even more fun and create a little gift exchange or Secret Santa event out of it — we called it the "Secret Sewist" exchange. The ambassadors names were secretly matched, and then they selected the fabric AND patterns for each other. It was so fun to see all of their unboxing videos — check Tami's instagram highlights to see!
So today the secrets will all be revealed! Enjoy this post and all of the ambassador's makes, and don't forget to enter the giveaway at the end of the post — you could win a $50 Love Notions store credit to scoop up these beautiful Cadence Dresses, Forte Tops, or La Bella Donna Dolmans as well as a custom designed Love Notions enamel pin.
FABRIC AND PATTERNS FOR YOU, TOO
Many fabric stores were excited to be involved in the Love Notions Secret Sewist Event, either by offering Tami a small discount as she shopped or by offering our readers a coupon code. The coupon codes for you are at the bottom of the post.
Each of the ambassadors has affiliate links for the patterns they used, so be sure to click on those to support them. They also recommended their favorite sewing tool (which Tami added to her Amazon store front) and those make great additions to your wishlists this year, too!
Enjoy the Secret Sewist reveal and happy holidays to you and yours!
SNEHA NIRODY
from Sewing Curves
Sneha's Secret Sewist was… Karina Trinidad!
Sneha says:
The secret of happiness is to give. But to give the right gift? Priceless! In the spirit of the season, Tami and Tessa so generously organized this wonderful Secret Sewist event. An event that gave us ambassadors a chance to show our special recipient how much we value and admire them. We were asked to choose fabric and a Love notions pattern for the recipient, a daunting task to be sure, because how well do we really know each other from online posts, right? It turned out that my Secret Sewist has me totally figured out. They sent me this wonderful 2m length of Red Bamboo Cotton jersey from Water Tower Textiles. Can you say SPOT ON?
First off, it's Christmas. Red is a no-brainer. Plus, I'm in Canada. Red is our color, eh? And on top of allllll that, they knew my secret – that I rarely, if ever, sew up a solid fabric. So they sent me a solid fabric and asked me to sew up a cardigan that would pair well with all of my prints! How thoughtful is that! I received a gift that suits my color palette, yet fills that gap that existed in my closet. I truly appreciate my present.
Here's the note that accompanied my fabric:
"Dear Sneha, The Boyfriend Cardigan or the Canyon Cardigan in this color could be a great layering piece to match prints. This bold solid color could work with the all the colorful prints in your wardrobe. I hope you like the color! ~Your Secret Sewist"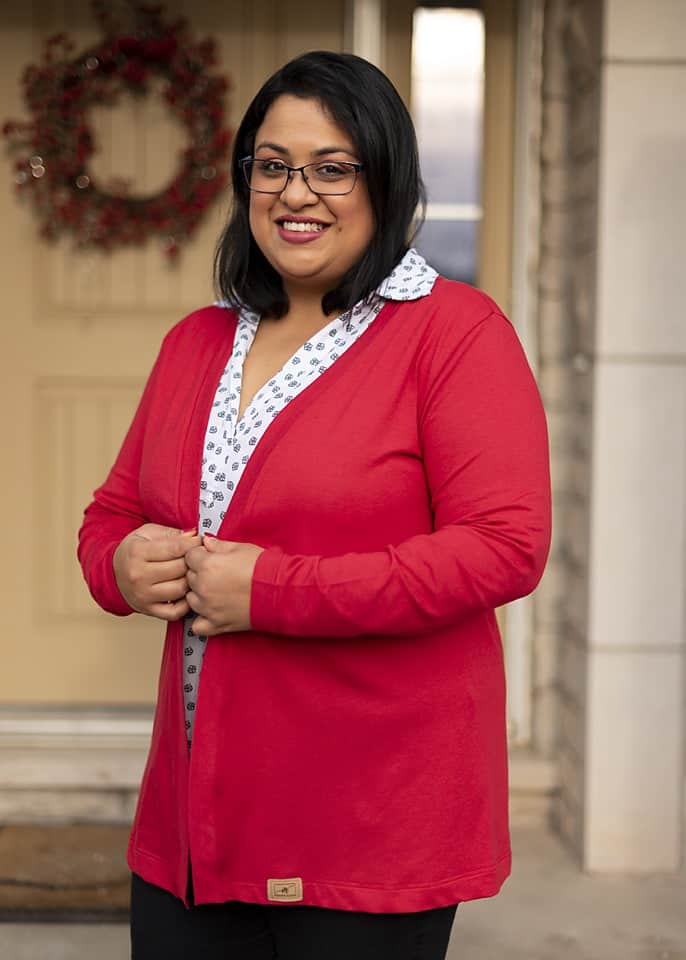 As it turned out, they were right – the Canyon Cardigan (affiliate link) looks incredible in this drapey fabric. It's lovely and lightweight, the perfect layering piece over summer tanks and winter tees. It is thin enough to wear a heavy parka over it, and vibrant enough to bring color into a stark winter wardrobe. I made the XL size, one larger that what I wear in tees to accommodate the layers below.
Above all, I am grateful for my friends at Love Notions, the ambassador team and the Love Notions Pattern Support group. I feel truly seen, and treasured. As I write this with tears in my eyes, I realize how lucky we are to have found in each other a sense of community, belonging and acceptance. We have a purpose, and we help each other make it happen. Tis the Season for Love, and Love Notions!
Sneha's favorite sewing tool: "Gingher thread clippers!! I loooove them!"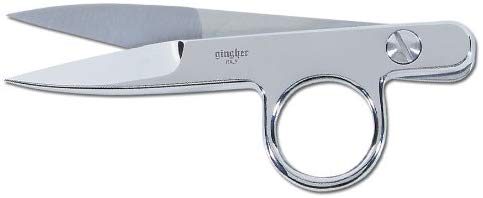 CAROLINE GADDY
From Sew Like a Sloth
Caroline's Secret Sewist was… Anjori Halder!
Caroline says:
When Tami and Tessa announced the secret sewist exchange, my heart said yes but my mind said no. I've been struggling with injury and autoimmune issues, and I've only been able to sew minimally over the last 3 months, and I was afraid I just couldn't sew. And their response? "You can drape the fabric on you and take a picture! That's okay." And that sums up my time with Love Notions. The LN team has always been really wonderful to me. They have taught me and encouraged me and supported me and inspired me. Kelly sat with me to show me how to sew a rhino horn at the first retreat. Rachel drove an hour to bring me fabric (and bagels! And presents for my kids!) because she knew it would make me happy. I have more stories like that about amazing, kind, thoughtful interactions with this wonderful group of people, but Tessa said I can only write two paragraphs. 😉 Suffice it to say, Love Notions has been a sewing family to me. I've been testing for Tami for about four years – the Sybil Skirt was my first ever pattern test! I can look through my catalog of sewing pictures and see life changes, body changes, my kids growing up, not to mention the evolution of my sewing ability (yikes). I feel tremendously grateful to be part of this team.
When I received my fabric in the mail, I was thrilled. I mean, who doesn't love fabric mail…but this fabric mail was extra amazing. It was my first delivery from Surge Fabrics and it was a package full of soft, delightful, mustard modal. MUSTARD!!!! Anybody who knows me knows my love of mustard. Though draping myself in this fabric would be delightful, fabric this gorgeous demanded to be sewn and worn! Thankfully, my secret sewist kindly and thoughtfully asked me to sew something simple, a (affiliate link) LaBella Donna or Laundry Day Tee. Someone posted a gorgeous tunic length LBD in the Facebook group recently and as soon as I saw it, I knew I wanted one for myself. (I admit I haven't hemmed it yet, because my body kind of gave out on me. But it's still fabulous, right?) So, thank you secret sewist! Thank you, Surge Fabrics! Thank you, person who sewed that awesome LBD! And thank you, Love Notions! I feel fabulous and comfortable in my new top because this modal is soooooooo soft, but also because this LBD is sewn with the love and uplifting I always feel from the Love Notions team. When I wear this, I will always remember that I am surrounded by sewing friends with beautiful hearts. I am lucky. 
Caroline's Favorite Sewing Tool:  "I love my kai scissors, wonder clips, and wonder tape."
RACHEL RING
Rachel's Secret Sewist was… Chris Shapiro!
Rachel says:
When Tami and Tessa approached the Ambassadors about their idea for a fun twist on a Secret Santa exchange, I was all in without hesitation! I've been testing for Tami since some of her earliest kids' patterns, and she's largely responsible for any sewing I've done for myself in the past 5 years and I'm so grateful for that. My confidence in my sewing – and my body – has grown tremendously through my work with Love Notions and I can't say enough about how much it means to be a part of this team. The annual retreat has been an amazing experience as well –  working with Tami and Tessa and Kelly (in person!) is something I look forward to all year long. 

I loved picking fabric for Chris Shapiro (although I'll be honest, she looks good in literally everything she sews, so it wasn't a huge challenge!) and the rayon challis I picked from Raspberry Creek Fabrics was absolutely stunning with her gorgeous hair. I'm so happy she loved it! My own Secret Sewist sent amazing choices from Surge Fabrics – this floral brushed poly is just beautiful, and the dusty rose waffle knit coordinated perfectly. She sent a sweet note suggesting that I make a set with a Ravinia skirt from the dbp and a Canyon Cardigan with the waffle, so that's what I did. 
I also used a burgundy mystery knit that I had in my stash to make a Summer Basics tank to go underneath. I tend to wear (and sew!) dresses more than skirts, so I'm glad I had the challenge to do something a little different. I widened the waist/hemline of the tank so I can tuck it in without it being too snug around my belly, and I absolutely love the finished look. I love that I can wear the cardigan and tank with a cute pair of jeans for a more casual look, too! This was such a thoughtful gift – thanks again to Tami and Tessa, and to my Secret Sewist. Happy Holidays to all! 
Rachel's Favorite Sewing Tool: "A pressing ham and wonder clips are my most used, along with frixion pens!"
NOREEN MAYS
Noreen's Secret Sewist was… Rachel Robinson!
Noreen says: 
I love this time of year!  Crisp evenings, shops and homes filled with lights and the smells of the season always make my heart especially grateful.  I have so much to be thankful for; an amazing family, great friends and yes, sewing! A few years ago after yet another excruciating and discouraging shopping trip, I came home and for the first time in years thought, maybe it's not my body but the clothes that are the problem and I have the skills to tackle this problem! It was one of those "never again " moments.  It had been years since I had made my own clothes but I determined right then that that was all about to change. I whipped up a good ole Google search (my kids would be so proud!) and found the world of PDF patterns, Facebook groups and Love Notions. That very day I made my first Laundry Day Tee and I've never looked back! My favorite things about Love Notions are the classic designs, the ease of construction and the way they flatter a variety of shapes, sizes and ages.  When we were given the chance to participate in the "secret Sewist exchange" I didn't even think twice! I absolutely loved shopping for my giftee and in turn it was so exciting awaiting the package from mine!  
I received a fun stripped Ponte and a warm, soft waffle knit from @cali fabrics.  I usually stress out a lot about what to make with fabrics (what if it's not perfect?) but I knew without a doubt this waffle knit was going to be a Sloane (aff link) and I couldn't be happier! Sloane's are easy-fitting, comfy and so fast to sew! (Psst..I can sew one faster that the legendary LDT!). 
The next fabric while fun, was not so straight forward.  Ponte is usually for dresses or skirts but I don't really wear them and this stripe I couldn't see in Sabrina Slims or Resolution Pants.  I just kept dreaming for more of those flouncy Forte sleeves. I decided to go for it and because the fabric has structure, I went for Forte(aff link), view C and it turned out better than I expected!  
Thank you, thank you to my Secret Sewist Friend for choosing these for me and thank you Tami and Love Notions for your thoughtfulness and for literally changing my life!!
Noreen's favorite sewing tool: "Hemostats! I panic when I misplace them. They are perfect for so many things including threading my serger, turning tubes and other small things."
KATIE GRIMM
from Madebykates
Katie's Secret Sewist was… Noreen Mays!
Katie says:
I've loved the opportunity I've had over the past year to be a Love Notions Ambassador!  From the pattern testing and Feature Fridays to the interaction with the other ambassadors, it has been such a great experience.  The Secret Sewist project has been so fun and I'm grateful to Tami and Tessa for their kindness and generosity. (Side note! I got to hang out with them both at the Love Notions retreat this summer and they are just as genuine and kind in real life as they are in the online world!)  The hardest part of the Secret Sewist project for me was the decisions!! I agonized over finding the perfect fabric to send to the ambassador I was assigned. I really wanted her to love it and was thrilled to see her post that it was a fabric she had been wanting.
The other hard decision was what I would make with my fabric!  I was so excited to see a box arrive from one of my favorite online shops- Raspberry Creek Fabrics.  I got two super soft and cozy fabrics which is perfect for me since I'm always cold.  But I had so many options to choose from! My note told me I could get creative, but gave a few suggestions.  I finally settled on the first suggestion – a Cadence with a cardigan.
I've never made a Cadence and decided it was time!  I am always looking for warm dresses in the winter so this viscose cotton flannel was perfect.  Plus, I love windowpane stripes and navy.  Could it get any better? I raised the neckline and cut the back piece on the fold so I wouldn't mess with the plaid and it worked great.  I also opted for a bias cut tie. I decided to make a Boyfriend Cardigan with the burgundy french terry and it layers perfectly over my Cadence dress!  The outfit has so many possibilities and I'm excited to wear it this holiday season and remember the kind act that landed the fabric in my sewing room. 
Katie's favorite sewing tool: "I can't live without my rulers! Seam gauge, French curve, etc. Even though these are for quilting, I use them ALL the time in garment construction! This is one of my favorite little sets."
ANJORI HALDER
From house of lilli
Anjori's Secret Sewist was… Katie Grimm!
Anjori says:
Ever since I learned about Love Notions, about 2-3 years ago, and learned about pattern testing, I had wanted to be on the testing team for Tami. And this year I got to not only test for her but also be on her Ambassadors Team! I'm so thankful for the opportunity to work closely with such talented people; and in this time, I have realized how different Tami is. She cares about her team. And to make us even more excited, she and Tessa came up with the Secret Sewist.
I loved the idea of someone else picking fabric and a pattern for me. I have come to realize that sometimes, it is beneficial for others to pick for you to open your eyes to new ideas. So I didn't give much direction to my secret sewist – just that I don't wear brown, plaid, and stripes. I wanted to see what they saw when they looked at me.
Here is the note they sent me:
Dear Anjori, I think you'd look beautiful in a Sonata (maxi length if you have enough fabric!) or a Rhapsody dress. But if you'd rather do a top, then a long sleeved Lyric peplum or Presto would be pretty too! ~Your Secret Sewist
I had already made a Rhapsody and Lyric, aaand had tried the Sonata last year without success. So this was my chance to finally make it. It took 3 muslins to get the fit right for the bodice but I finally got it! I did a few modifications – adding a waistband in a contrasting color, and making the front skirt with box pleats. Here is my version of the Sonata.
My secret sewist picked THE best fabric from Minerva.com. I had wanted to get this exact fabric back in May but decided against it because I had no immediate plans for it. It is viscose and has a lovely drape, very soft too. Now, I not only have the fabric but it is now a beautiful dress.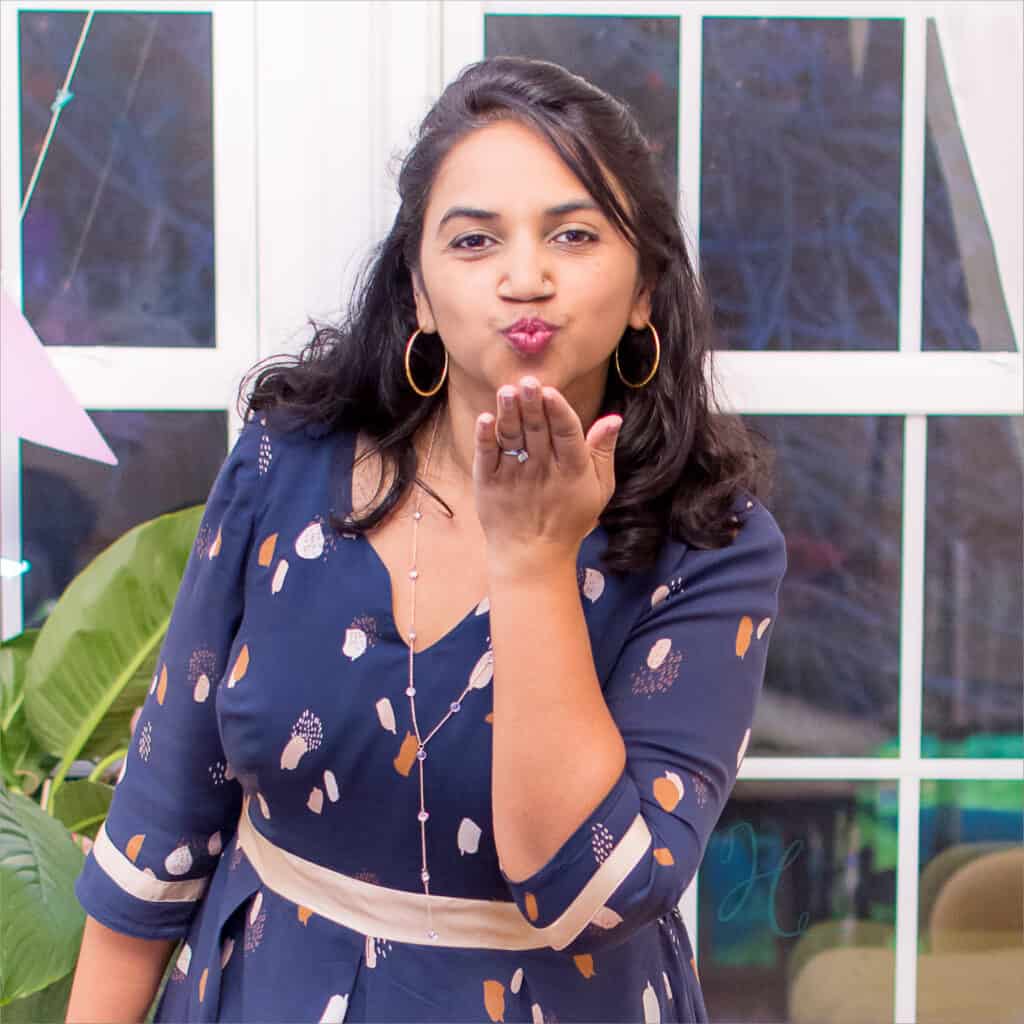 Thank you so much Tami and Tessa for all your hard work!
[P.S. You can check out Anjori's full blog post on her Sonata here!]
Anjori's Favorite Sewing Tool:  SN Designs, The Puts It "…a multi-purpose tool that I always use at either the sewing machine or serger."
RACHEL ROBINSON
from Little Fish
Rachel's Secret Sewist was… Sneha Nirody Monga!
Rachel says:
As the Holidays approach there is so much to be grateful for. This time of year is such a great opportunity to reflect on blessings and give thanks to our friends and loved ones.
It was such a fun event to be a part of the Secret Sewist exchange. Buying fabric for my secret sewist, Noreen Mags, was way too much fun. I've never really purchased fabric for anyone as a gift, so this was a fun opportunity to buy for someone who I know has the same sewing obsessions as me!
It was also so fun to receive my fabric! Fabric mail never disappoints and this was no different. The green/blue french terry fabric I got is butter soft and slinky. I made the Whistler sweater in this beautiful french terry and it's so fun. I made the shawl collar and banded option. This fabric is so soft on my skin and I love it! Thanks so much to my secret sewist!! What a fun event. Thanks so much for hosting this Tessa and Tami.

​
Rachel Robinson's favorite sewing tool: "This twill tape is on my christmas list. It's just cute and would be a cute accessory to a jacket or even to tie around a gift as a bow."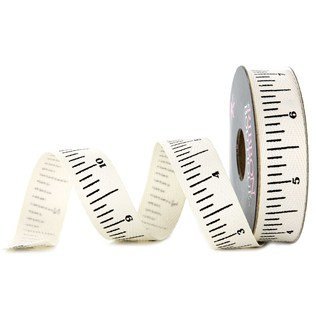 LIVIA YONKER-YAMADA
from Liviality
Livia's Secret Sewist was… Ilse Lemmens!
Livia says:
When Tami and Tessa announced the Secret Sewist Exchange I just had to jump in! What an amazing and fun idea!
It was so much fun researching my Secret Sewist and shopping for something that matched her style and personality. It was not a difficult task at all since I've been an admire of her for quite a while.
Then it was time to wait anxiously for my fabric and see what pattern and style was chosen for me. Ooooh… the excitement! When it arrived it really felt like early Christmas, the fabric and pattern chosen were spot on for me. Love love love!
The funny thing was that the two patterns chosen for me, Olympia and Willow, were exactly the same ones I had picked for my SS. 😀 Great minds and all that, huh?
I opted for the Olympia, one of my favorite patterns ever.
I'm obsessed with the higher back neck combined with the V neckline, it adds such an elegant feel to it. And pockets: gotta love pockets!
Thank you, Secret Sewist!
I'm so in love with how this turned out. It's the perfect Fall dress and now I feel the need to buy some brown boots. 😀
Thank you, Tami and Tessa for this wonderful experience and opportunity!
The LN team is fantastic and I feel very fortunate to be a small part of it <3
Xxx
Livia
We hope you enjoyed getting a little glimpse into this holiday event for our ambassadors and hopefully you can take some inspiration from this post (look out for part two coming next week!).  Be sure to take advantage of those fabric coupon codes, enter the giveaway, and add those much-loved sewing items to your list. Happy holidays to the amazing Love Notions community!
FABRIC SPONSOR COUPON CODES