Canyon Cardigan and how to sew with sweater knits
Anjori is here on the blog today showing us some great tricks on how to work with sweater knits. She's working with the Canyon Cardigan which also happens to be our Feature Friday pattern! Get it for $5 today only.
Hi there! Anjori here from House of Lilli. It's December already?! Anyone else think the year goes slowly until we get to December? 
The Holidays are upon us and they remind us to give to others. Giving comes in many forms: love, time, service, or gifts. And while I am consciously giving throughout the year, when Christmas comes, I shower those close to me a bit more.
Of course, most of my time and love goes to my 4 year old daughter! But this year, I wanted to say thank you to my younger sister, Ragyi. We have just two years separating us, so we have a unique friendship. And to say thank you for being there, I have been wanting to give her something that came from my sewing studio since the beginning of this year. With no deadlines imposed, it always got pushed back. But no longer!
I made a
Canyon Cardigan
for her, which is today's
Love Notion's
Feature Friday pattern.
The Canyon Cardigan has three different views, straight, gathered, and waterfall; sleeve lengths range from a vest, 3/4, to long sleeve. To add to all those customization, there are optional pockets and elbow patches. The size ranges from XS – XXXL (bust 33″ – 49.5″; hips 35.5″ – 51.5″).
My personal favorite is the waterfall style, and it turns out that Ragyi liked it too. This one is 3/4 sleeves with the pockets.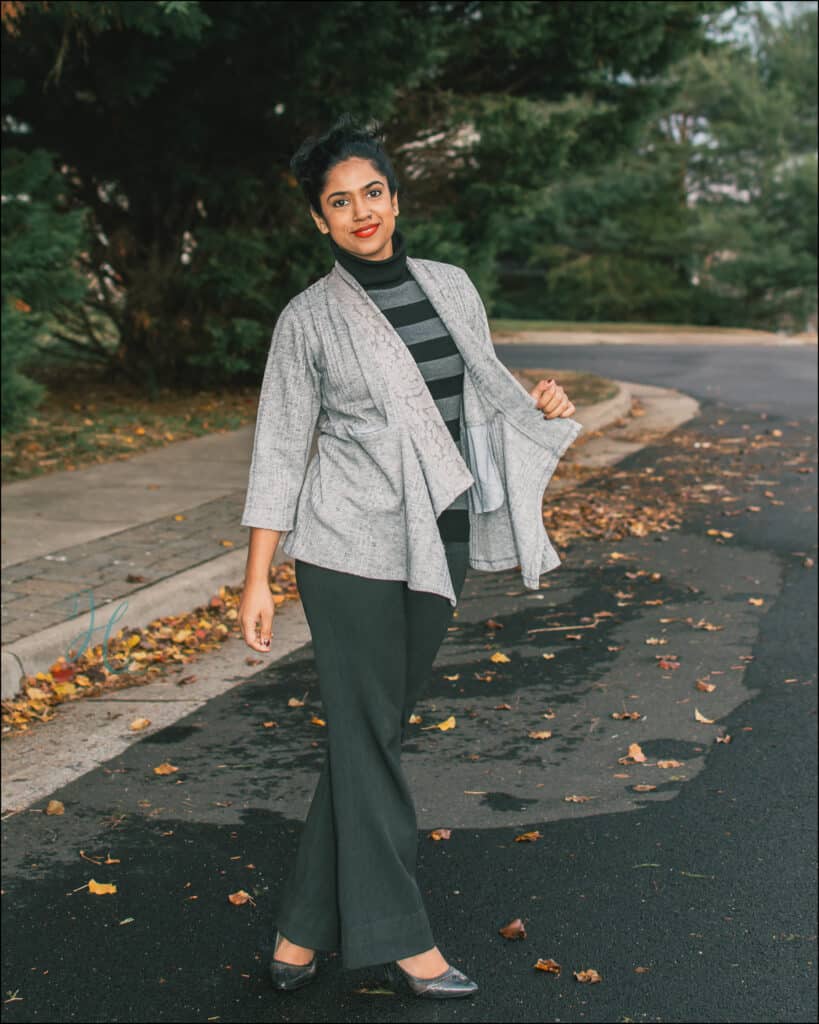 Trying to be more conscious of my purchases, the fabric came from my "fabric library". Doesn't that sound better than stash? 😉 I found a grey rib sweater knit that would work well with this pattern. But as with a lot of my fabric library, it was a remnant piece; which meant there wasn't a lot of it, a yard at most. So to compensate, I made the back out of another remnant, a grey lace.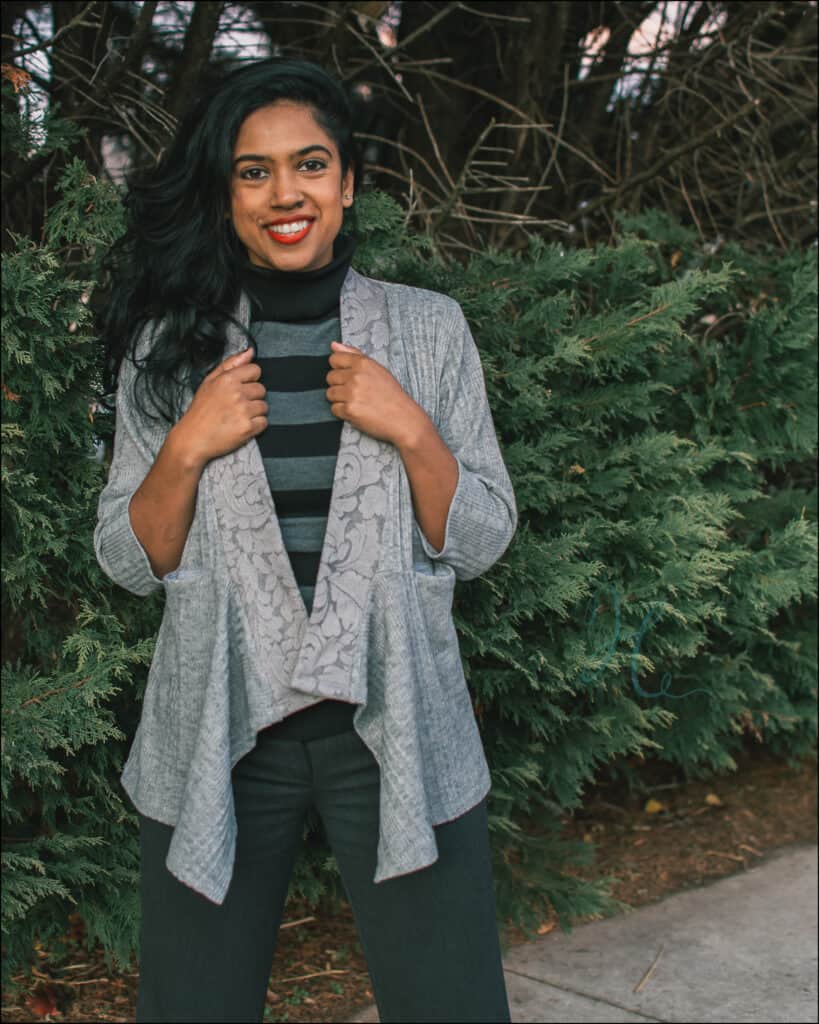 To really highlight the lace, I initially decided to forgo the seam on the back bodice, but lesson learned. It did not fit right, so I drew a dart that resembled the original back bodice piece and it fit much better. Both my sister I have sway backs which make the back pieces just a bit longer; to compensate, I scooped out 1″ in height at the center back, blending it back to the original side seams.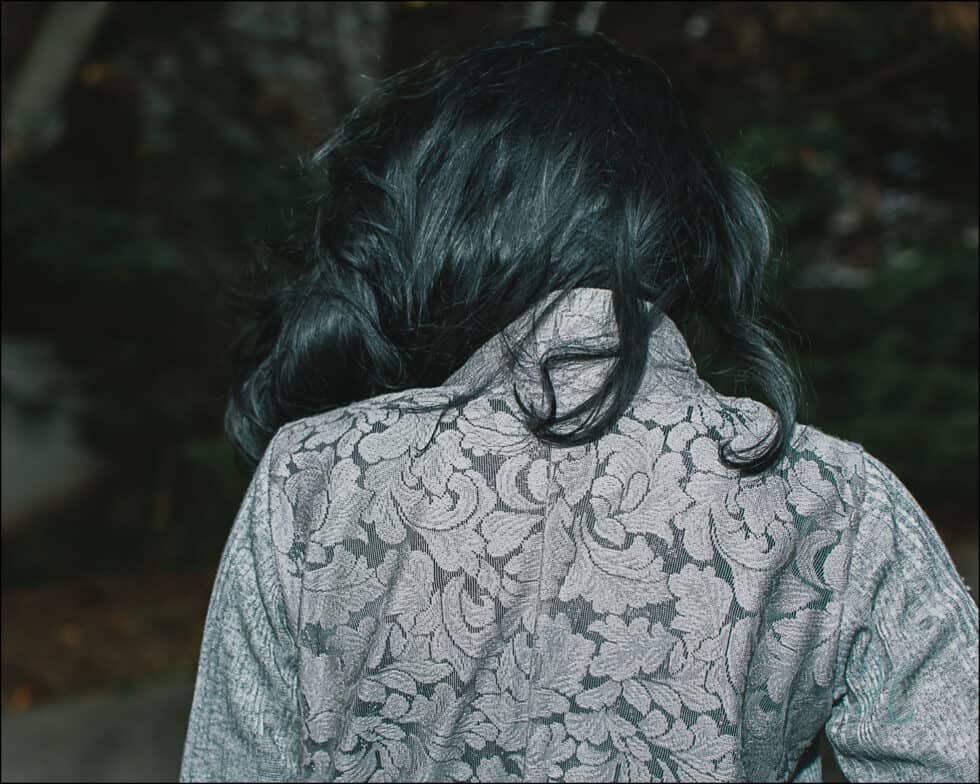 As I was cutting, I realized I didn't have enough fabric to do the neckband in one piece, so I cut the neckband in half, width wise, adding seam allowance to one side. Then I cut two pieces: one from the sweater knit, and another from the lace. I sewed the two together to craft a two sided band. It gives a nice effect, and ties in the back lace.
Sweater Knit Tips
While this isn't the first time I have played with sweater knits, it definitely was the first time I completed a garment out of one. And here are some tips for working with sweater knits that I used while making this Canyon Cardigan.
Do NOT cut on the fold.

If a pattern piece says to cut on the fold, trace out another half of the pattern and tape the two halves to cut on a single layer. Luckily the Canyon Cardigan had only one piece that is cut on the fold, so it was easier.

Use tailor tacks

to mark placement markings. I always have a roll of discarded thread ready for this kind of job.
Use woolly nylon thread if possible. If you have it, use it. The thread expands which helps keep the seams from raveling. But use it only one one of the looper threads. I used it on the upper looper. To easily feed it through, as it is a bit difficult – first feed regular thread through the looper, cut the thread before the tension discs, then create a square knot with the regular thread and woolly nylon. Pull the regular thread through the looper until the woolly nylon is all the way through.
Stabilize the shoulder seam with clear elastic or twill tape.

This will prevent the shoulders from stretching out. I used clear elastic as I was serging the seams.
Use clear elastic to stabilize

the skirt and pockets, as you serge seams. This is especially necessary when using heavy or loose weave sweater fabric.

Use water soluble stabilizer

to prevent the fabric from stretching out from the feed dogs. The stabilizer will help feed the fabric smoothly, and it will wash away on your first wash. I pre-cut strips of stabilizer to feed under the seams as I was serging.
Differential feed is your friend

. If you are lucky enough to have a serger, and that serger had differential feed, turn it to the lowest setting. Again, this will prevent stretching out.

Tie in those serger and coverstitch threads!

I'm definitely guilty of just cutting them off. But I made sure to tie them and feed them back through the looper threads to make sure they don't unravel.
You see, sweater knits are nothing to be afraid of, so get your Canyon Cardigan today for $5 and make one for yourself! I have already cut one for myself. If you purchase the pattern from the links in this post, I will receive a small commission from the sale, at no cost to you. ?
I'm happy that my sister got a new cardigan and we had a fun time with the pictures. Bonus, it was nice to be on the other side of the camera for a change! I hope you are able to shower your loved ones with lots of love and time this holiday season! ?? Be sure to check out my Instagram @houseoflilli!