Is anyone else wondering how the holiday season is just around the corner?! Every year I think I'm going to be ahead of the game and then I am scrambling at the last minute. I've put together a little Love Notions Holiday Guide that will hopefully be helpful as you do your holiday planning.
Plan for the Holiday with the Sale
All Love Notions patterns are 40% off from October 18-22, 2021. You can link directly to the sale HERE.
Site wide sales are rare, so be sure to stock up while everything is on sale. In this post, I've got you covered with pattern inspiration ranging from
what to wear to holiday gatherings
to what patterns to use for family jammies
what patterns make great handmade gifts
Throughout this post, you can click the highlighted links to go directly to the patterns as well. Let's get started!
---
Loungewear for everyone
While Love Notions does have some wonderful pajama specific patterns, there are so many regular patterns that can double up! Christmas pajamas have been a tradition for us for as long as I can remember. When I was in college, we even exchanged them as roommates! My kids know that they will open up a special pair of pajamas on Christmas Eve. Sometimes we coordinate, sometimes we don't! Sometimes I buy some (or all!) and other times I make them all. We had fun planning these pajamas using all Love Notions patterns and fabrics from Raspberry Creek Fabrics.
First up – the boys in the family. We used these patterns:
The joggers in the Moto Maxx set were perfect for my middle son. He was very specific in how he wanted the legs to fit and these fit the bill! Not too slim, but not too baggy. He likes the wide waistband and the pockets too. His are paired with a Sloane Sweater. He has several Sloane hoodies and loves how comfy they are.
My oldest son sometimes thinks he's too cool for clothes made by mom, but these got a huge thumbs up. In fact, he hasn't stopped wearing them! He got a pair of Thomas Track Pants in Flannel (I love that this pattern is for knits and wovens!) paired with a Dockside – yep – I had to go into mens sizing after he showed me his Driftwood no longer fit. He absolutely loves the fit of this t-shirt and gave the ultimate compliment. "I could wear this to school!"
Little brother got a pair of french terry Thomas Track Pants and requested a shirt "just like dads." The Driftwood is my favorite plain t-shirt for this guy! (The polo version is pretty cute too!)
My husband didn't get left out either! He got a Dockside long sleeved tee. We got a perfect fit for his 6'4" frame! The only change I made to the pattern was adding a few inches of length. I'm crossing my fingers for some mens Thomas Track Pants soon!
For the girls we used a few nightwear specific patterns as well as some of our favorite top patterns. We used ribbed knit for all of our pajamas and are in love! Raspberry Creek fabrics has custom printed rib knit and we love it!
I used this pattern for my pants and the set for my younger daughter. I omitted the detail on the bottom of the pants by drawing the line straight across on the pattern piece. These sew up so quickly and I added a lettuce hem with my serger to make them even quicker- no hemming!
My oldest daughter loves the fit of the Luna Loungewear pattern and has several pair of shorts. This pattern can be made with wovens or knits which makes it extra versatile. We extended the capri length to make long pants for winter and they are extra comfy.
The Breckenridge Henley is such a great pattern that can be worn so many ways. The unique placket design isn't tricky at all and is a great place to start if you've never sewn a placket. I love how it sewed up in this rib knit, and the long cuffs in a contrasting fabric look so good! Of course this pattern isn't just for pajamas, but is there anything better than a pattern that can be made for a variety of occasions?!
With it's dolman sleeve, this pattern is such a quick easy sew! This pattern could easily be in the "perfect for gifting" category too. This one is made in cozy french terry, but is wonderful in light drapey fabrics as well.
Resolution Bottoms + Classic Tee
Not pictured, but definitely worth a mention are the Resolution Bottoms and Classic Tee! The Resolution bottoms come with options for 5 different styles of pants including leggings, joggers, and yoga pants with a straight or boot cut leg. They have a cute yoke back and are comfortable as can be! If you are looking for the perfect t-shirt pattern, the Classic Tee is the one for you! In both womens and girls sizing, it sews up quickly and is a great tee pattern to have in your collection.
---
Dressing Up and Going Out!
If it were up to me, I'd spend the whole holiday season cuddled up in front of the fire in my loungewear. But if I have to go out, at least I've got some beautiful options to choose from! Best part is the comfort level of each of these outfits!
Because it was just released, the Arlington is not included in the 40% off sale – but if you haven't purchased it, I highly recommend adding it to your cart now! I've made 4 versions already and love them all. This black version in stretch velvet is going to be a workhorse in my closet! I can dress it up with a skirt or slacks (like the Allegros, Sabrina Slims, or Duet Trousers), or throw it on with a pair of jeans. This buffalo plaid version in a sweater knit is a favorite as well. I can layer a Boyfriend Cardigan over it for even more coziness!
These might be my favorite make of this whole collection. These are Allegro joggers in flannel. Yep – like they could be pajama pants, but they also look super classy with boots, a nice top and some jewelry. Nothing better than a pair of pants that is so versatile! I used a high quality Robert Kaufman flannel in a herringbone pattern for these and they are amazing. Maybe my dream of spending the holidays in my pajamas is a possibility after all!
I knew I needed a new Metra Blazer for the season as well. I've been wanting to try a cropped version and it turned out exactly as I'd hoped. I cropped the length 3.5" and cropped the sleeves as well for a chic looking jacket. Perfect for the office during the day or going out at night. I used a printed ponte and it's so easy to wear! It paired perfectly with these Sabrina Slims. Perfect for the office during the day or going out at night. They are stretchy like leggings, but have a little more structure which dresses them up a bit.
With so many options included with the Sybil Skirt, it's perfect for dressing up for the holidays. This swing version paired nicely with the Arlington and I'm thinking I need a new pencil skirt version as well.
This outfit is the epitome of comfort, yet the floor length skirt gives it a look of elegance. I wasn't sure how I'd like the pairing, but when I tried it on I fell in love! The Ravinia is made from a buttery modal, and the Cadence blouse is a silky rayon challis. I sized up the Cadence and added a neckline ruffle and back tie to make it a little more extra. For a tutorial on how to add a ruffle to the neckline, you can check out my video HERE.
Little ones like to dress up too and the Prisma in stretch lace makes a beautiful holiday dress. The Prisma pattern has several options including a pleated skirt and collar. For more details on this dress, you can check out my blog post here.
---
Handmade Gifts for Everyone on your List
Handmade gifts can be so meaningful and fun to give, but it can also be hard to know what size to make! Some patterns are easier than others to make for others due to the way they fit. Of course it's always best if you can get measurements for the recipient, but there are a few patterns that can be forgiving as well if you know their ready to wear size. Checking out sizing guides online and comparing them to finished measurements included in the pattern can be really helpful. I've put together a few patterns that I think would make great gifts and included a few ideas for ways you can gift without knowing what size someone is!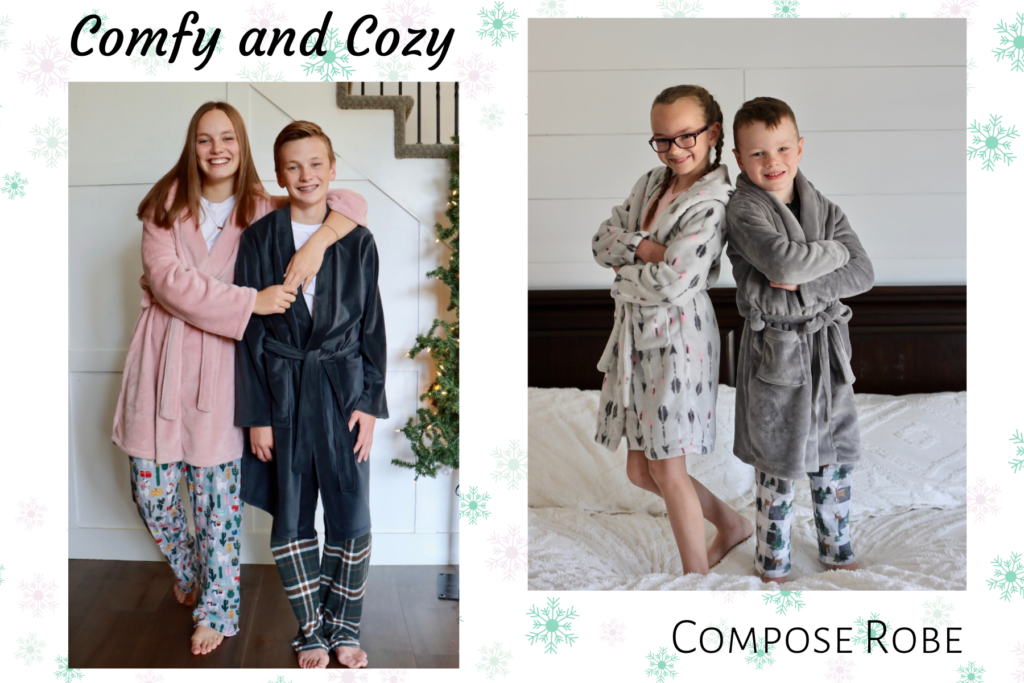 The Compose Robe comes in both Ladies and Kids sizing. The best thing about a robe is that if it is oversized you can still wear it! This pattern can be made with both wovens and knits making it super versatile. I've made a robe for all of my kids and from my teenagers to my littles, they love them! I used their ready to wear size and they all fit. For reference, my 14 year old son typically wears an adult small and I made him a Ladies XS. He loves it! Because of the generous sizing, the robe can be unisex – just be sure to check out the finished measurements. I love making this robe out of soft fluffy fabrics. I've got some tips for working with these fabrics on my blog post HERE. Bonus- this pattern comes with a free hair wrap!
North Star, Constellation, Navigator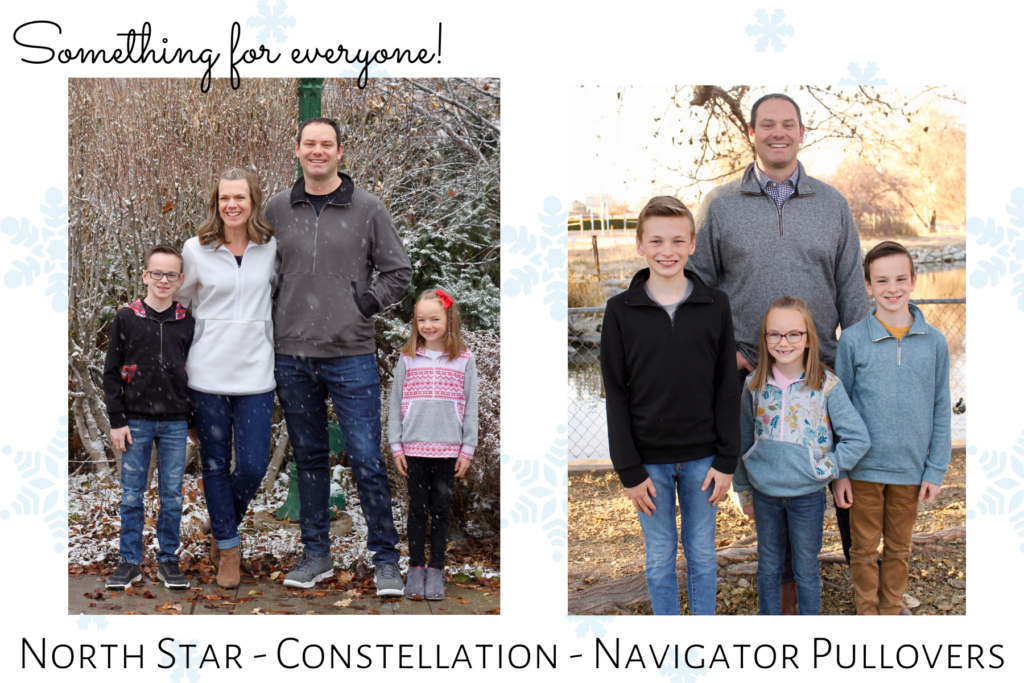 This trio of pullovers is sure to please anyone on your list! It comes in mens, womens and kids sizing and includes options for a hood or collar. My husband really likes the collar version and it looks so nice on him! It would make a great gift for grandparents and kids alike! The zipper installation is simple and the finishes look so nice. It's a great pattern for hacking as well. I've got a post on how to make it a quarter zip hoodie HERE, and a post on how to add a button or snap placket HERE.
Cardigans are another pattern great for gifting because the fit can be so generous. I gifted my mom a Boyfriend Cardigan in a super soft hacci for Christmas a couple of years ago and she loved it! They can be made out of so many sweater fabrics that are available this time of year and they are a fairly quick sew.
Did you know the Whistler is one of the most popular Love Notions patterns? With it's relaxed fit and options for gathers in the front, it's another pattern that is sure to bring a smile. It's a cozy pattern to wear – perfect for the cold winter months!
Even though the Octave looks complicated, it can be a relatively quick sew as well. The wrap style gives some extra ease in fitting and it has some great design features. I made one out of sweatshirt fleece and skipped the lining to gift to my niece and she was absolutely thrilled! I've got a blog post detailing how I added a zipper to my wool, fully lined Octave coat HERE.
One last pattern that has mens, womens, and kids version is the Game Day Tee. We love this pattern at our house – especially the ability to personalize it so many ways! I've found my dress version in french terry is one of my favorites and I find myself wearing it all the time! It's particularly good for traveling. This is a great pattern for scrapbusting as well.
There are so many great kids patterns that can be sewn up quickly in a fun print to suit each different personality. Here are a few of our favorite kid patterns:
More creative gifting ideas – no sewing required!
And if you want to think a little bit outside the box, here's a few other gifting ideas:
Print out and tape together the free Laundry Day Tee pattern. Pick out some pretty fabric and gift it to a sewist you know. You might even offer up a sewing date where you could make the pattern together. This would be a great gift for someone new to PDF patterns – or anyone really!
If you are unsure of which size or style to make, you could print off the pattern cover and wrap it up with a pretty piece of fabric. Let the recipient know that you will make them a custom garment! You can take their measurements and then make the garment for them. It will be like getting a gift twice!
Love Notions has gift cards as well for the sewists in your life! You can purchase a Gift Card HERE and the recipient can pick a pattern for their collection. It's always fun to include a little notion or sewing tool with a gift card as well.
---
Phew! So many amazing patterns- and many more I haven't mentioned. Love Notions has you covered for the holidays! Don't forget to shop the site-wide sale October 18-22 for your holiday needs – and maybe even drop a few hints of your own around the house! Feel free to share with someone who might be looking for the perfect gift for YOU!
Be sure to follow me on Instagram at @madebykates to enter to win a Love Notions pattern and sewing machine or serger and you can check out my blog here.
Watch to see all the options!
---
Save this article to your Sewing Pinterest Board: