Mary Anne MacLean
Love Notions Sewing School~ Thread Basics
Happy Friday Love Notions Sewing Friends, Mary Anne here from the SewMaryMac sewing blog!  I'm always happy to be on the Love Notions Blog "teaching".  Today it will be all about the basics of thread.  FYI~ did you know that I really was a sewing teacher?  I taught middle and high school students how to sew (along with cooking and child development) for 32 years!  I'm retired now, but I still love passing on my knowledge of sewing and fabrics to others!
Feature Pattern for Thread Talk
Before we move on to my "Thread Talk", let's talk about the Feature Friday Pattern for today. 
The Oakley and Acorn vests are both on sale today for $5 each  In anticipation of this Feature Friday, I sewed one (ok, two) up.  I have no idea why I waited so long to make this pattern!  I cut out  a "wearable" muslin to check for size, having no intention of finishing it off with all the bias tape and zipper.  Well, do you know what happened?  Yup, I finished it along with my planned make and I can't stop wearing them!  If you want to learn more about my Oakley vest makes, be sure to hop over to the Sew Mary Mac Blog.  Spoiler Alert:  This quilted knit Oakley vest has already become one of  my most favorite makes! Now let's talk thread!
---
Choosing the right thread can be intimidating to a beginner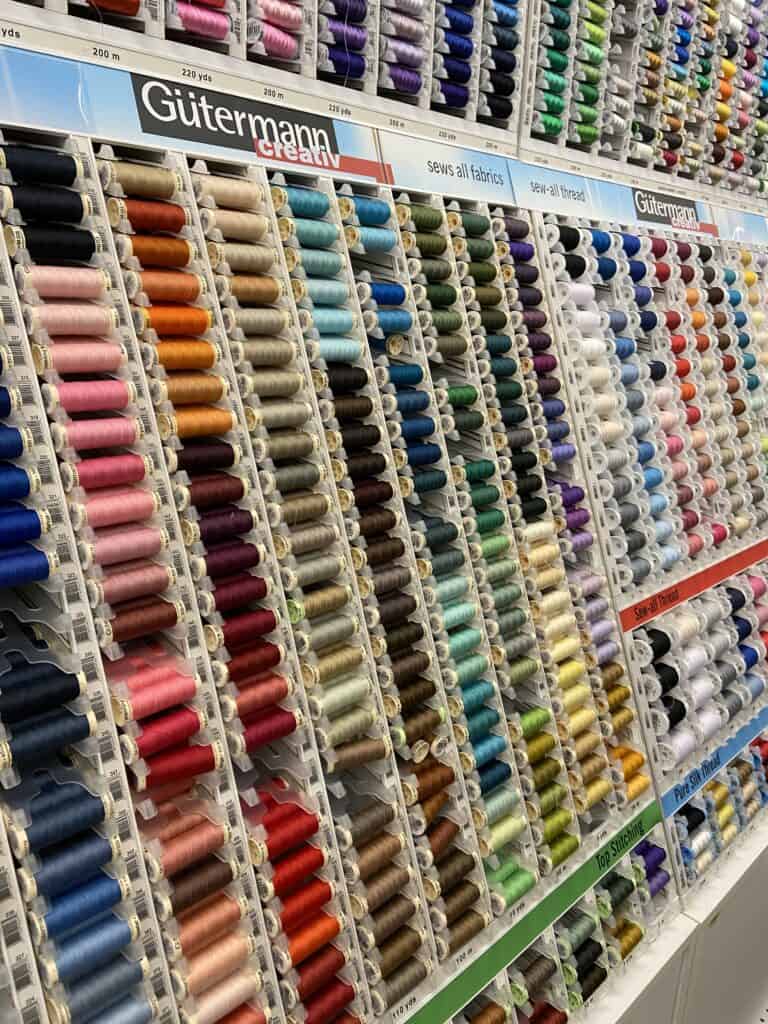 First off, I am in no means an authority on thread!  My intention of this post is to help beginner sewers select the right thread when sewing.  Those of us that are experienced sewers often don't even think twice when we go to the store to pick up thread or when ordering it online.  But to a beginner, choosing the right thread can be very intimidating!  That being said, I'm not going to go all nerdy and talk about how thread is made and I am probably not going to mention every single type of specialty thread out there.
Most Commonly Used Threads
All Purpose Thread
This thread is suitable for most sewing projects. The most popular all purpose thread is 100% polyester. This thread has a "slight give" and is suitable for sewing all types of fabrics such as; cotton, linen, jersey knits, double knits, denim, etc. It is also available in 100% cotton, which is used mostly by quilters for use on 100% cottons.
As far as brands, Gutermann, Mettler and  Coats & Clark are probably the most commonly seen in the US.  Preference really depends on which you can purchase easily or what your personal machine sews best with.  I sew on a 1984 Pfaff Syntronic 1229 and although I LOVE my machine, it only loves Gutermann thread.  Gutermann refers to this thread as "sew-all", while Mettler calls theirs "universal".   Coats & Clark labels this thread "Dual Duty XP".
Heavy Duty Thread/Upholstery Thread
This thread is thicker and stronger than all purpose thread. It is used for heavier weight fabrics such as canvas and upholstery fabrics. If you are sewing bags or pillows with heavier fabrics you may want to use this thread.
Serger/Overlock Cone Thread
This thread is a lightweight thread that is designed specifically for sergers. It is very similar to an all purpose thread. It is sold on larger cones. Some serger threads are too thin to be used for garment construction on a regular machine. It is generally 100% polyester. Many sewists use this thread on their conventional sewing machine, however this thread should be tested before being used in that manner. To test the strength of this thread, simply hold an end in each hand and pull. If it breaks very easily, it should only be used on your serger. There are several brands of serger threads out there. This is what I have found/used personally.
Toldi-Lock: breaks very easily when pulled, therefore I would only use it on my serger.
Coats & Clark SureLock:  Couldn't be broken very easily when put to the test.  I would use this thread on a regular machine.
---
Specialty Threads
Stretch Thread
EloFlex by Coats is a stretch thread that is NOT elastic. It is thin like a regular all purpose thread, but it stretches! It must be used on the top and bobbin of a conventional machine. When sewing knits, a straight stitch can be used, as the thread will stretch with the fabric. It is used primarily for sportswear and hems of knit garments.
SeraFlex by Mettler is another stretch thread available. I have not used either thread, however I have several sewing friends who have.
 On my personal sewing machine, I am able to sew a great double needle hem on my knits (this isn't always the case for some sewists).  When I do this, I use the Bulky nylon thread listed below.  If you struggle with sewing a double hem or  don't like the look of a zig-zag/ stretch stitch you may want to give this stretch thread a try!
Bulky/Wooly Nylon Thread
This is a "textured" overlocking thread.  It is often used in the loopers on an overlock machine.  It can also be used in the bobbin of a conventional machine when using a double needle.
Machine Embroidery Thread
This thread is usually made from rayon(viscose).  It is very fine and lightweight.  It typically has a pretty sheen to it.  It shouldn't be used for garment construction.  It can be used for decorative stitches on clothing.  
Top Stitching Thread
This thread is a thick, super strong polyester thread that is used for decorative top stitching. It is also used for making buttonholes and to sew buttons onto thicker fabrics.
Pictured below is Gutermannn Mara 30 thread.  This thread is specifically designed for jeans making, buttonholes and topstitching.    You can see how much thicker it is.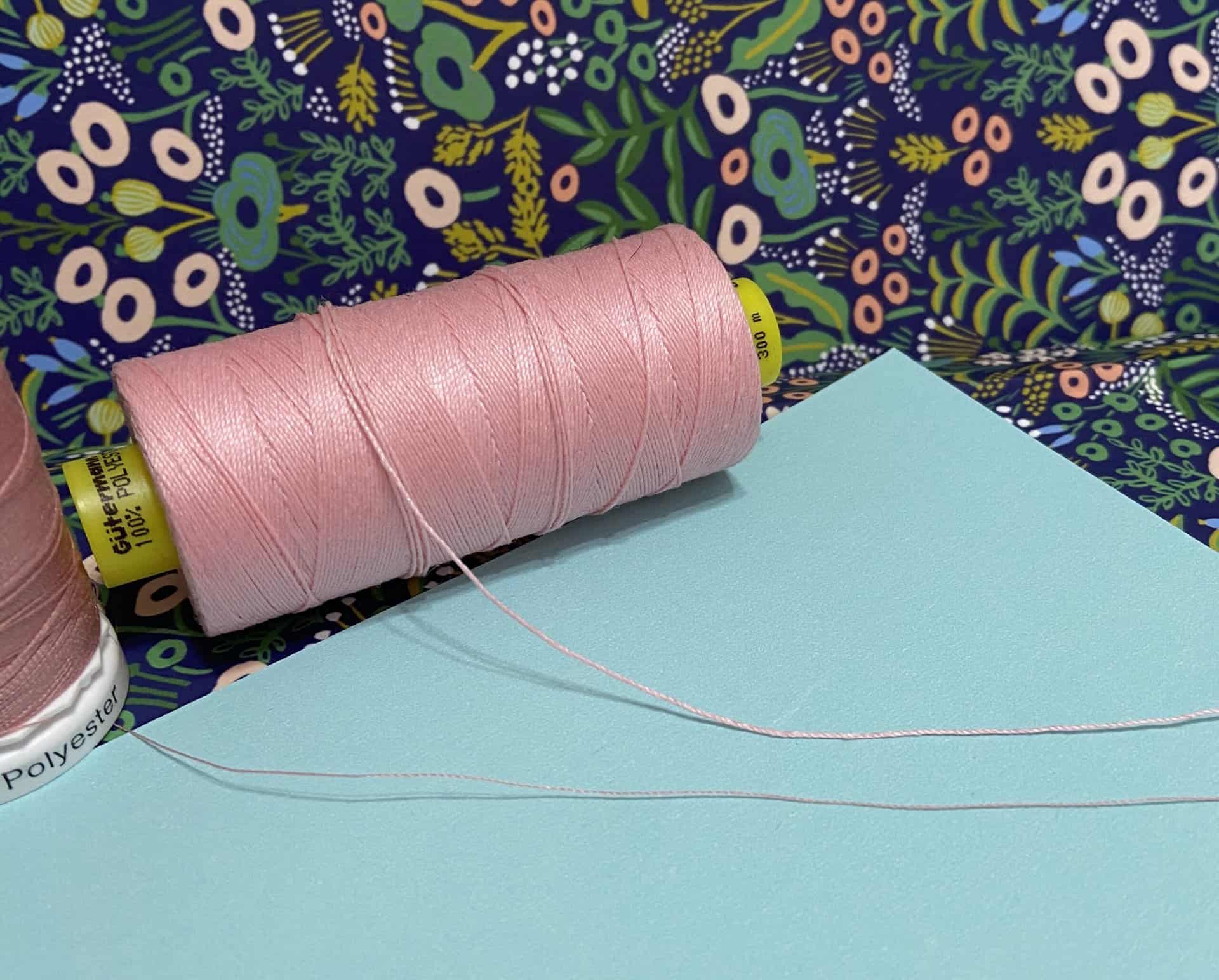 Elastic Thread
This is a thin round elastic thread that can be used in the bobbin of your sewing machine.  Its primary use is for shirring.  This is the technique used for the back of the LN Tempo Sundress.
Silk Thread
This is 100% silk thread that is used primarily for sewing delicate silk garments. It is very thin, yet strong.
Invisible Thread
This is a thread that looks like fishing line.  It is used most often for sewing sequins, beading or other types of embellishments.  It is generally used for hand sewing. 
---
Now a few Thread FAQs
How to Choose the Correct Thread?
Select your thread based on your project/fabric.
Select your thread based upon what machine you are sewing with.
Nine out of 10 times all purpose thread can be used.
Is My Thread Too Old To Use?
This is something I see pop up often in different Facebook groups and blogs.  The truth of the matter is, it could be!  Old thread can become dry and brittle, thus breaking very easily.  So if you inherited Great Aunt Rose's thread stash, you might want to check it before you begin using it for garment construction.  Sew a few seams with it and pull on the seam and see what happens.  You might want to just put that thread on a shelf to look at. (Like I did!)  If you really want to be able to use it, you could use it for gathering stitching and staystitching.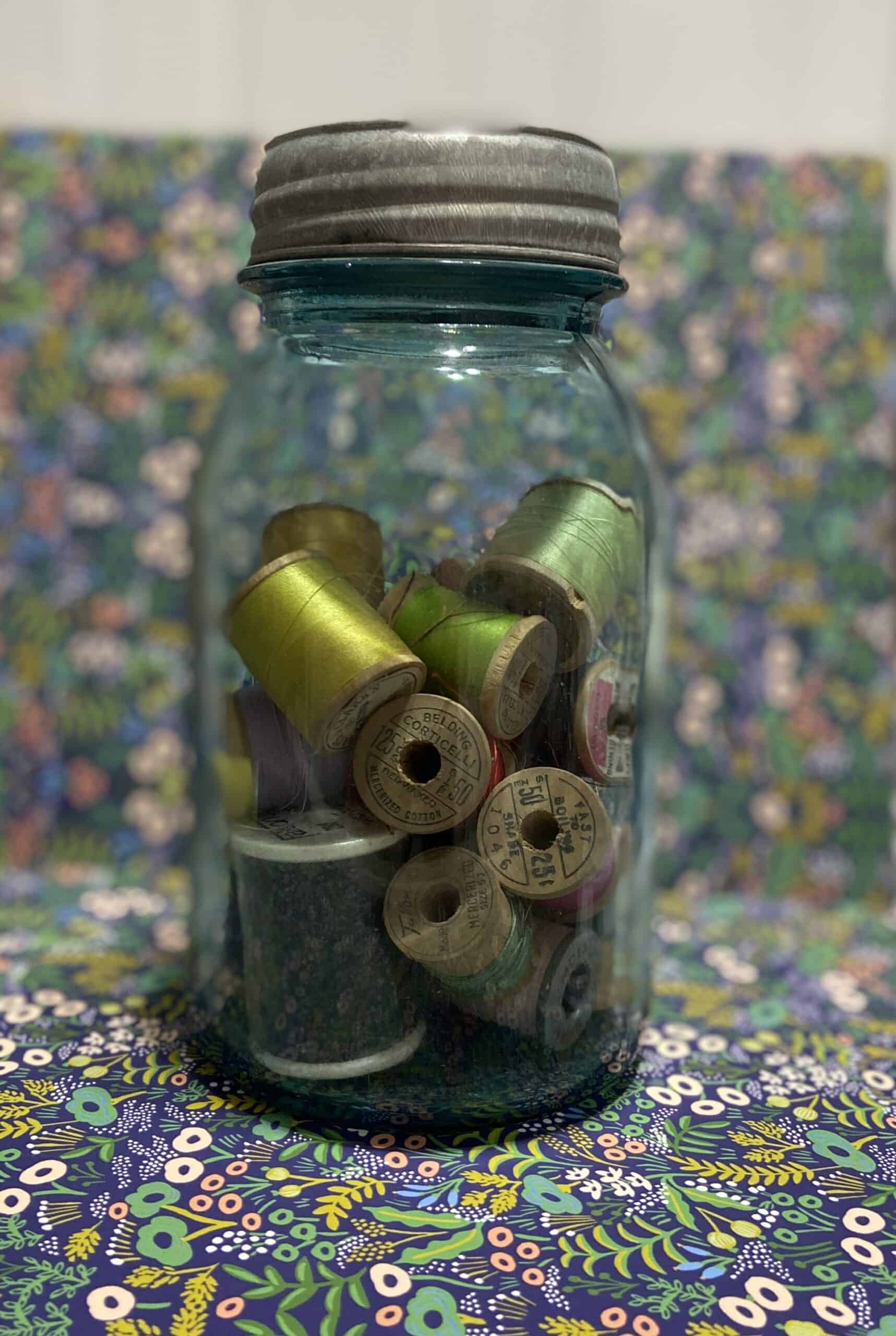 For more tips on selecting the best color thread for your sewing project, detailed information on the Oakley Vest pattern along with an additional discount code be sure to visit this  Sew Mary Mac Blog Post.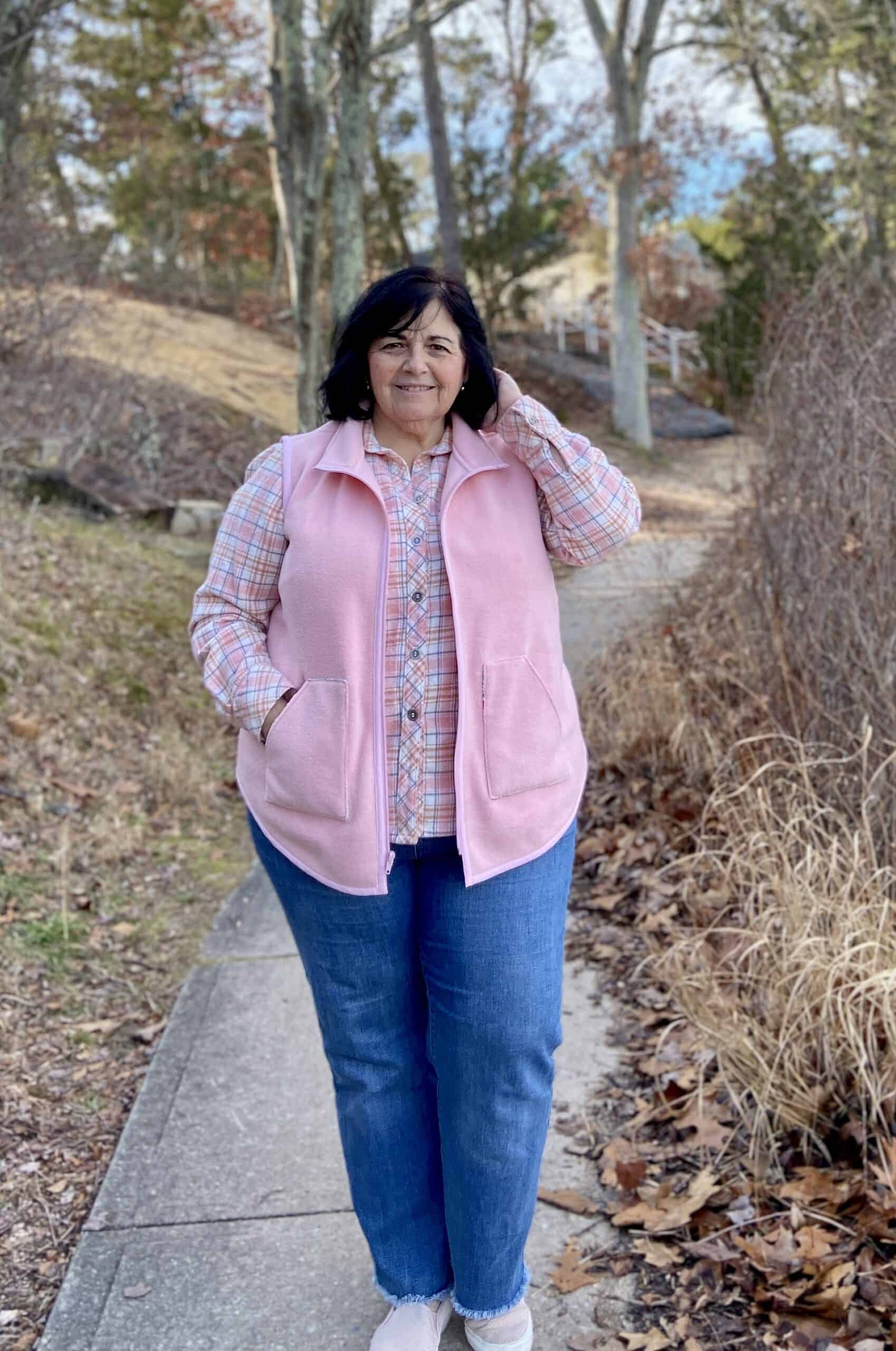 If you'd like to purchase the Oakley and/or Acorn vest patterns, please consider using my affiliates links HERE and HERE. This costs you nothing , but does help me to replenish my fabric stash so I can continue to test more patterns.
If you use Instagram, consider following me @sewmarymac to see all my latest makes. You can also follow/like my new Facebook page, Sew Mary Mac.
Happy Sewing!
Mary Anne 🙂