Hello, sewing peeps! Today we are talking about Projector Sewing and making it work in the space you have– but before we dive in, let's discuss the pattern I'm currently sewing using MY projector.
Today's Feature Friday is one of my favorite Love Notions patterns, the Forte Top and Dress! It is jam packed with options, with multiple bodices, lengths and sleeves! You can make it as a top or dress and is definitely a versatile wardrobe staple. I just love how extra the bell sleeves are, but you can tone it down and keep it simple, too.
When I was preparing for this blog, I pulled up the pattern on my laptop, turned on my projector and decided to give the top a try. I've sewn a couple of Fortes before and always done the dress. I had planned to make another but as I looked at the pattern, the top called to me… I really need more tops in my arsenal for day-to-day wear! But I had to add the bell sleeves to make it juuuuuust a bit more special and I am smitten with how it came out!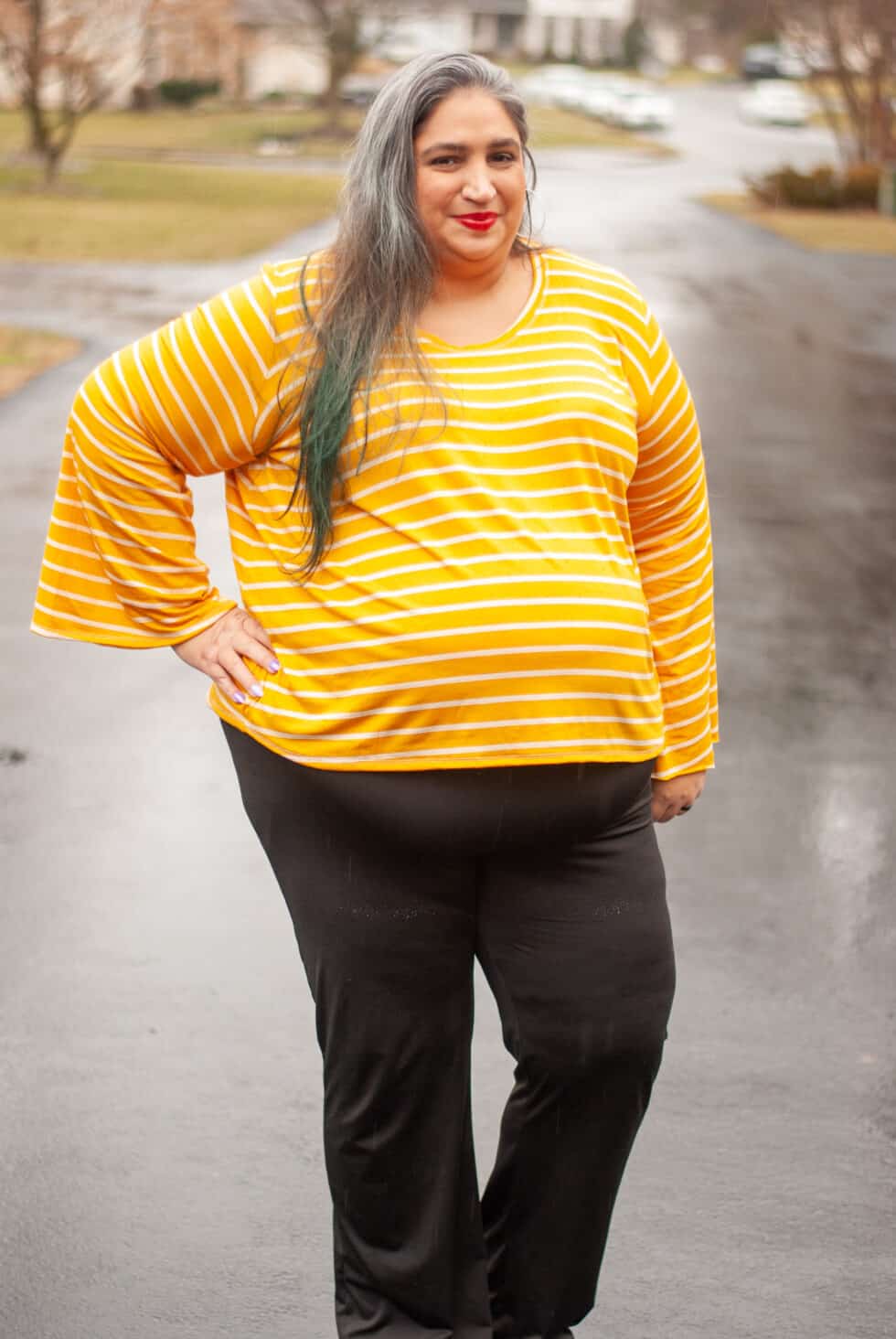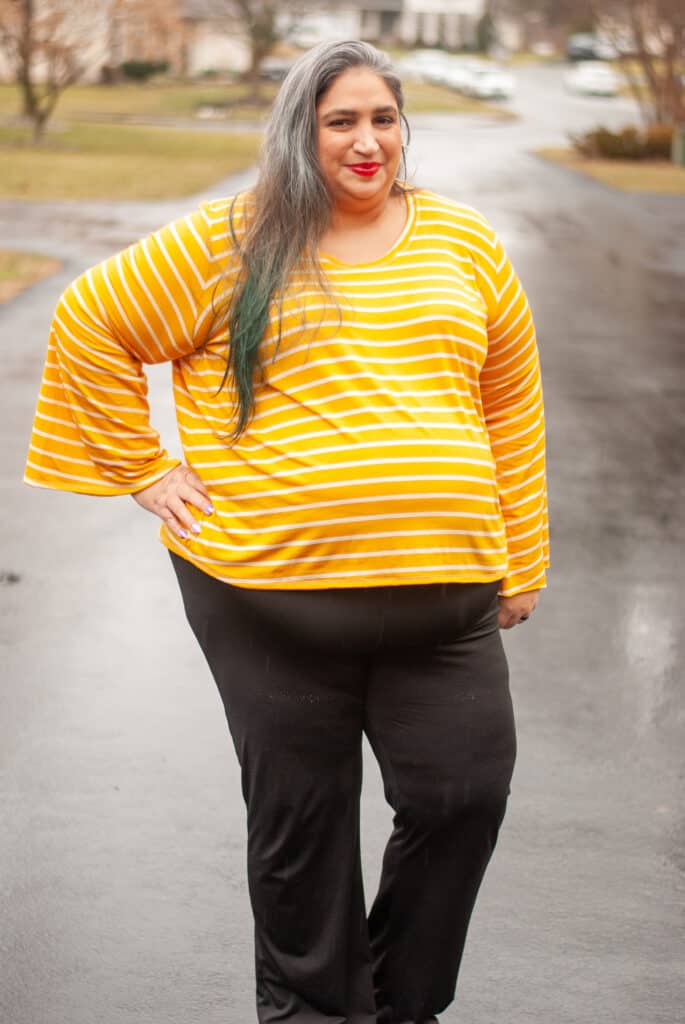 ---
Wait, what? Using a projector for sewing? What's that all about? Check out Katie's blog here! Go ahead, I'll wait. ????
---
Welcome back!
Let's talk Projectors and How to get them Set up in your Space/
As you can tell from my impromptu Forte sewing, one of the things I love about using a projector for sewing is that I can be indecisive up until the minute I'm about to cut. Yes, I'm not super great at planning out sews, ha! I've always been intrigued by using a projector for that reason, but it took me a while to be a full-time projector adoptee. What was the hold up? FEAR. OF. INSTALL.
Yes, the installation scared me the most. Because I know me—if it requires more planning than plug and play, it's probably NOT going to happen. I knew if I ordered a ceiling mounted projector, it would sit in the box and sit. And sit. And sit. And it would remain in its box until:
1. we moved and maybe I had a dedicated space to cut and sew
2. someone volunteered to do it for me
or
3. I ran out of paper, ink and suddenly had a huge stack of pattern tests due (but HP Instant Ink has my back for that, keeping me stocked on ink before I ran out [and now they offer paper, too!] so unlikely, woot woot.)
But as a plus size sewist, I HATED that every pattern I wanted to sew was So. Many. Pages. There HAD to be a way to make a projector work for ME!
There is a projector solution for most people
Well, my friends, there was. And there is for most people. As projector sewing has become more common, sewists have had to come up with creative solutions to their less-than-ideal spaces. Very rarely will someone buy a projector and have the perfect space ready for it. More often, folks will have to use a bit of ingenuity to make it work for the space allotted, and I'm here to share some of those ideas with y'all! Hopefully once we're done, you'll feel more confident considering using a projector for your own projects!
Now, when I say "permanent" solutions, I don't mean in a permanent way as you would install the projector normally. It's in the sense of, "here's a long term solution that should work as long as it's needed". And "temporary" situations can apply to any setting—for me, it's cutting on my kitchen table instead of a separate sewing-only table [hopefully that's not a permanent situation, at least!] For others, that might be setting up in a rental. Or a hotel room. Or on the road in an RV. Or maybe you just want the flexibility of using the projector for more than just sewing.
Easiest solution for most projector-averse sewist? The Ultra Short Throw
In the projector world, the Epson Ultra Short Throw (or UST) is probably the most common solution to avoiding a permanent mount. They require very little distance between the cutting mat and projector lens to get a decent throw—mine sits about 8" above my table. Most models are stable enough to stand on their own, eliminating the need for a mount. They're big but not so big that travel with them in impossible. And since they're very popular for use in schools, the used market is regularly restocked with them, making it an affordable option for most users. Brand new, they run in the thousands, but used, you can usually find them in the $100+ range shipped (at least here in the United States, but not uncommon for a deal outside the country as well!)
Calibrating a UST the first time can be finicky, as with most projectors. The biggest hurdle is a level surface-if what you're resting it on isn't level, it will be difficult to get your projector to project accurately. Usually I have to shove a folded bit of paper under one corner of mine to get it right, but the more stable and level the spot where it sits is, the faster/easier it will be to calibrate.
My UST sits on top of a stool with a craft crate under it and that works for me. When I have to leave it up long term, I strap it to the stool to help it stabilize (and so I don't have to worry about my kids yeeting it off when they sit to eat dinner.) But since we DO use the table I cut on regularly, my UST usually lives on the bench behind the table and I set it up as needed. Within 10-15 minutes, I'm re-calibrated and ready to go!
Other creative "seats" for USTs? I have one friend that uses a stack of books (at one point, I used old cookbooks, too! Ha!)
A few blocks of wood would also be sufficient. I've seen someone use an empty but sturdy box (like the dense, heavy produce boxes from the wholesale clubs!) My favorite solution that I've seen is giant cans of tomatoes. Two 28oz cans with a bit of folded printer paper to help it balance was high enough for most adult pattern pieces. Ha! Chances are, there is SOMETHING around your house that would be perfectly fine to support a UST, making it the most "plug and play" option out there.
Now, if you want something a lil more dedicated and sturdy, (for your UST or a regular ole' short throw too!) you could consider a mount.
Many folks use those mounts designed for tvs or computer monitors with great success! Some of these mounts just clamp to the table, others are on wheels and can be wheeled around as needed. Some sewists skip the mobile mount and use a shelf on the wall behind the table they're cutting on. Or if you're really pressed for space, you can always put it on a low chair and cut on the floor! Which leads me to my next "situation" that may cause hesitation:
I don't have anywhere to cut!
This one can be a bit trickier, but not necessarily without options. As covered above, UST can work pretty much anywhere, but I get not wanting to cut on the floor. If you have any flat/level surface, you can make a projector work. I've seen folks install their projector above their kitchen counter and cut there. Or suspended between bookcases over a desk to cut on the desk.
One sewist kept a piece of plywood under their bed and would lay it on the bed with the projector attached to a 2×4 piece of wood and a super basic foot bracket and project that way (I wouldn't use a rotary cutter for that option though, scissors work best in that instance!)
I love the solution that Tessa had for her smaller spaces—she mounted her projector in the laundry room and cut on her washer and dryer! We know how important it is for those machines to be level, and a board over them helped bridge the gap between the two for a nice, flat area for her cutting mat! So smart!
If you really have no stable surface to project onto, you always have the option of just setting the projector on a table, projecting onto a wall and tracing your pattern on tracing paper, cheapo vinyl table cloths or shower curtains, whatever giant medium you can tape to the wall temporarily!
---
Okay, but I don't want a UST but I also don't want to/can't permanently install anything to the ceiling! Do I have any options?
Why yes you do! Ultimately, you'll need to figure out what works best for your space, as most projectors need at least a 5 foot clearance to project effectively. But some ideas I found in the Projectors for Sewing group include…
Tripod with a boom stick
Tripod with a boom stick (like the kind they use in tv production to hold microphones above actors.) This will hold most smaller projectors high enough to project a usable image and is a very simple set up.
Handlebar Mount
A handlebar mount for Go-Pro cameras and a pet grooming stand. Isn't this clever? Leah Boyan posted this set up in the Projectors for Sewing group.
Backdrop Frame
Backdrop frame (like for photography studios) with a camera mount. This creative setup was courtesy of Adriana Hernandez and would work great if you've got really high ceilings!
Ceiling Vent in RV
This one was the most mind blowing for me—Alli Phelps mounted her projector in her RV by attaching it to her ceiling vent with a bungie cord! Takes very little time to set up, highly effective. How cool is that!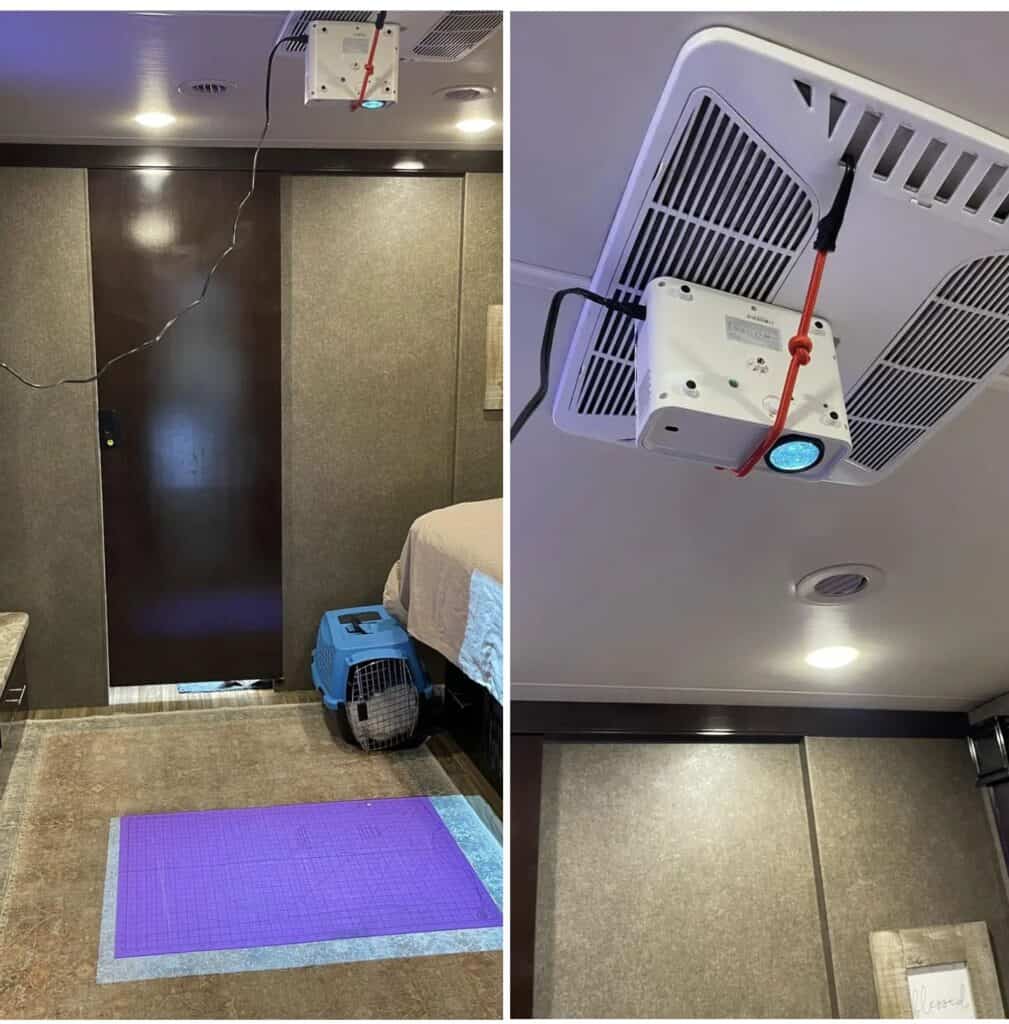 See? There are set up situation solutions for EVERY kind of space. If you want a projector for sewing, you can make it happen!
---
So, let's get sewing – projectors, or not!
These are just SOME ideas to hopefully get the creative juices flowing. I know some folks are perfectly happy with just printing/taping or gluing and cutting that way, and that's totally fine! I was that girl for a while. But for those of you who have been on the fence or just worry it will be too difficult to find a solution to your situation, hopefully we've provided some ideas to encourage you!
Til next time, I remain…
~jess
Follow me on Instagram @jessawilcox, my Facebook page, What Jess Does or on Tiktok @SuperJessBaby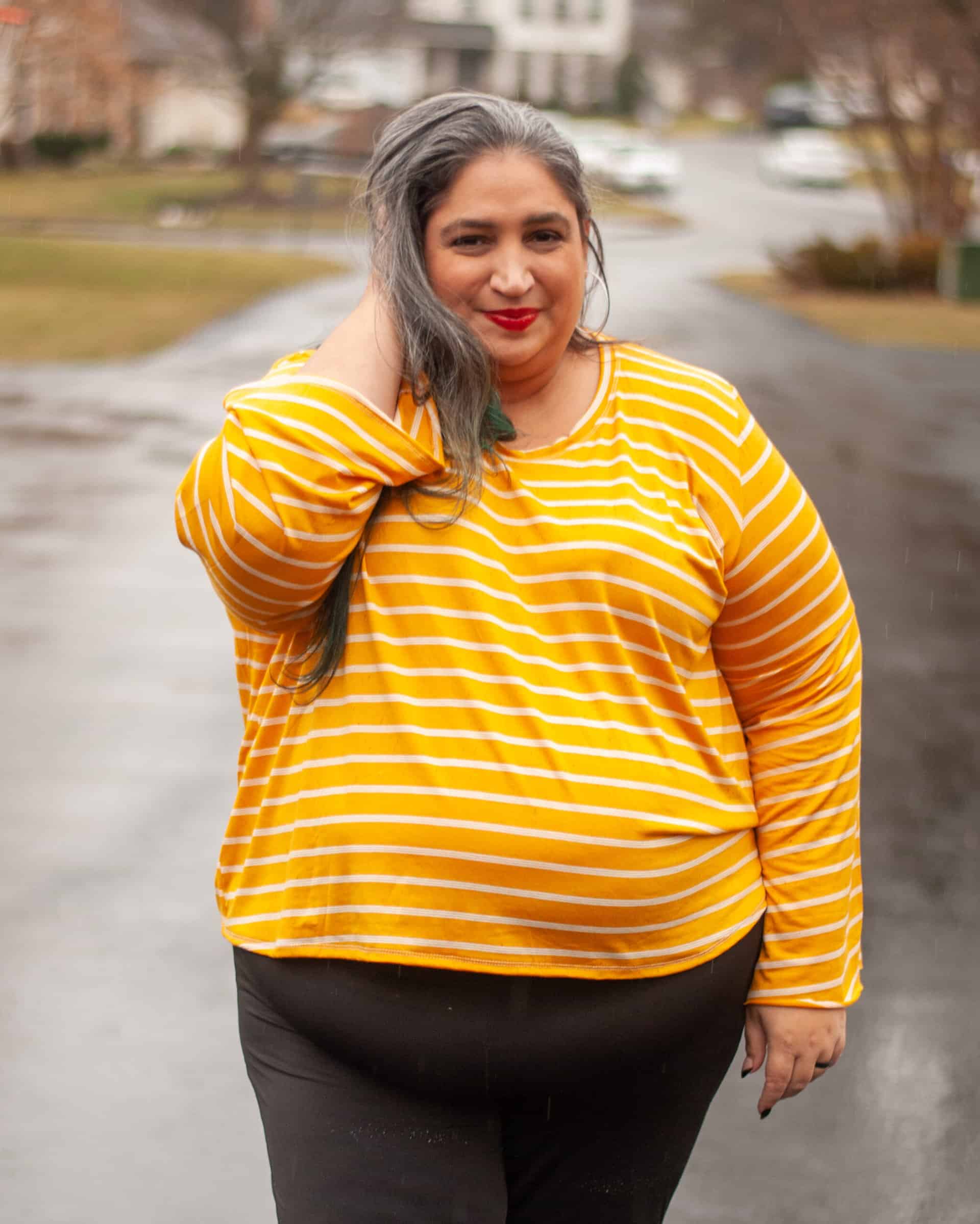 ---
---
Find more sewing patterns you'll love.