The Sloane Sweater love runs DEEP around here– and with this super cool gathered sleeves hack from Ilse, the Sloane Sweater has more to love than ever! Discover the magic of the Sloane for just $5 today only, and sew one up for yourself or your kid. This pattern was also recently updated to include 4x and 5x sizing. A big thanks to Sly Fox Fabrics who sponsored the fabric both in this post AND for the sizing update. Find the *perfect* Sloane Sweater fabrics at Sly Fox Fabrics.
SLOANE SWEATER WITH GATHERED SLEEVES AND ELBOW PATCH HACK
What's your favorite sweater? The Sloane, of course! Hi there, I'm so glad to be here again and to show you the featured pattern of the week! I must admit when fall is finally there I'm crushing on wearing sweaters! The Sloane was already a while on my list and I only needed THE perfect fabric AND hack idea for it. And do you know what??? The Sloane is –today only- on sale for $5!!! Be sure to claim your copy by clicking on one of the highlighted links! I'm so thankful to be an ambassador for Love Notions. It pushes me to create things beyond myself.  Let me show you my makes and special sleeves (I'm so enthusiastic!!).
What do you think of this sleeve? About a month ago I spotted this kind of sleeve on Pinterest and at that moment I knew what kind of sleeve I wanted to match with the Sloane!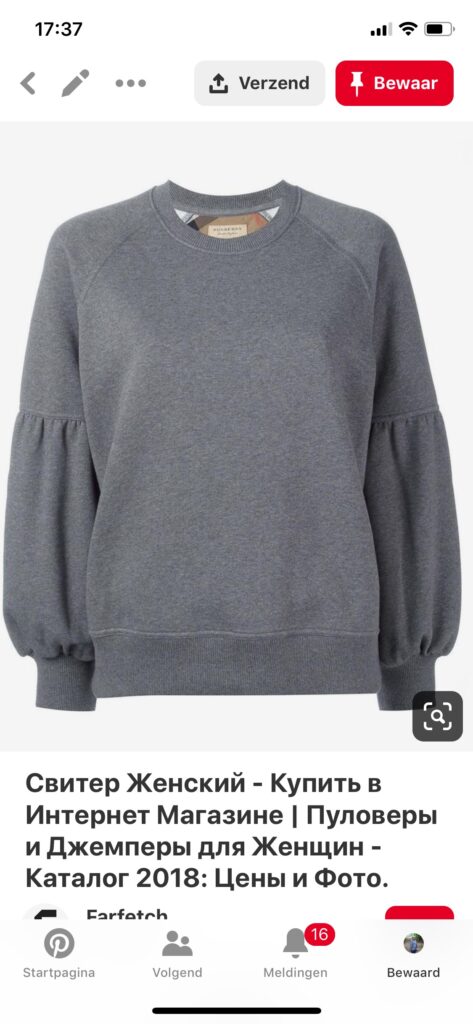 FABRIC FOR THE SLOANE
And with this gorgeous Brushed Thermal Waffle knit 'Pumpkin' from Sly Fox Fabrics my dream totally became true! I'm not the only one who felt in love with this fabric because it was sold out very quickly but now they restocked it, yeah! And you can buy it in different colors!  With its 200 gsm you notice it's more a lightweight sweater, so you better wear a cami under it. The drape is fabulous and it was perfect for the gathering.  Also, Sly Fox Fabrics is offering a special discount for Love Notions customers! Use this link to have the discount code added automatically OR use the code SLOANELOVE at check out for regularly priced fabric. They have a great selection of fabrics that are perfect for the Sloane, including more colors of my waffle knit and lots of French terry and sweater knit.
TO MY GATHERED SLEEVE HACK
:
Use your sleeve pattern piece and draw a line from the head of your sleeve down at 9". Cut.

Divide your lower part of the sleeve into 4 equal parts.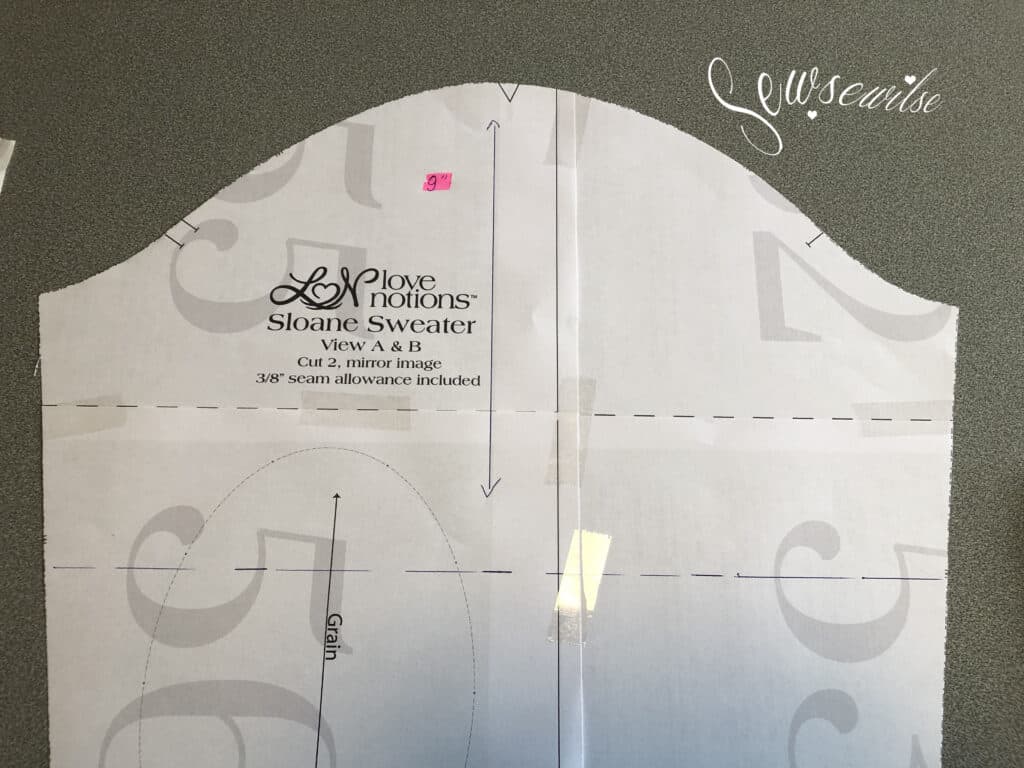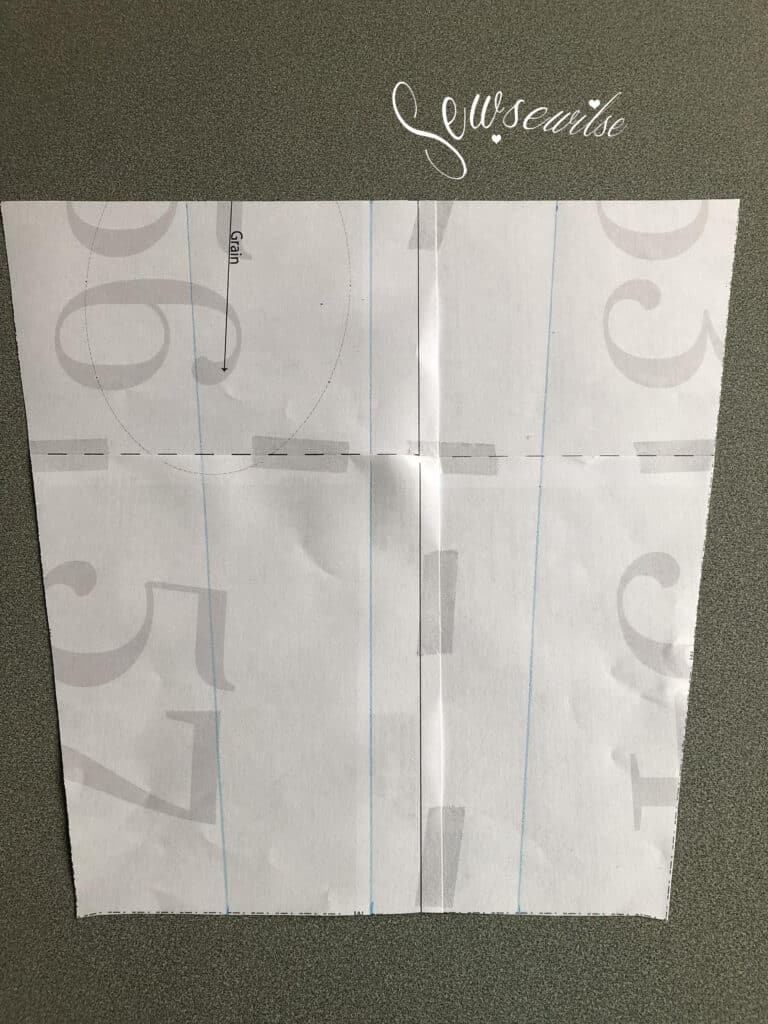 3. Cut the pieces. 4. Tape them on (pattern) paper with a distance of  2".
5. Cut out your new pattern piece. You now have this. Ready to start!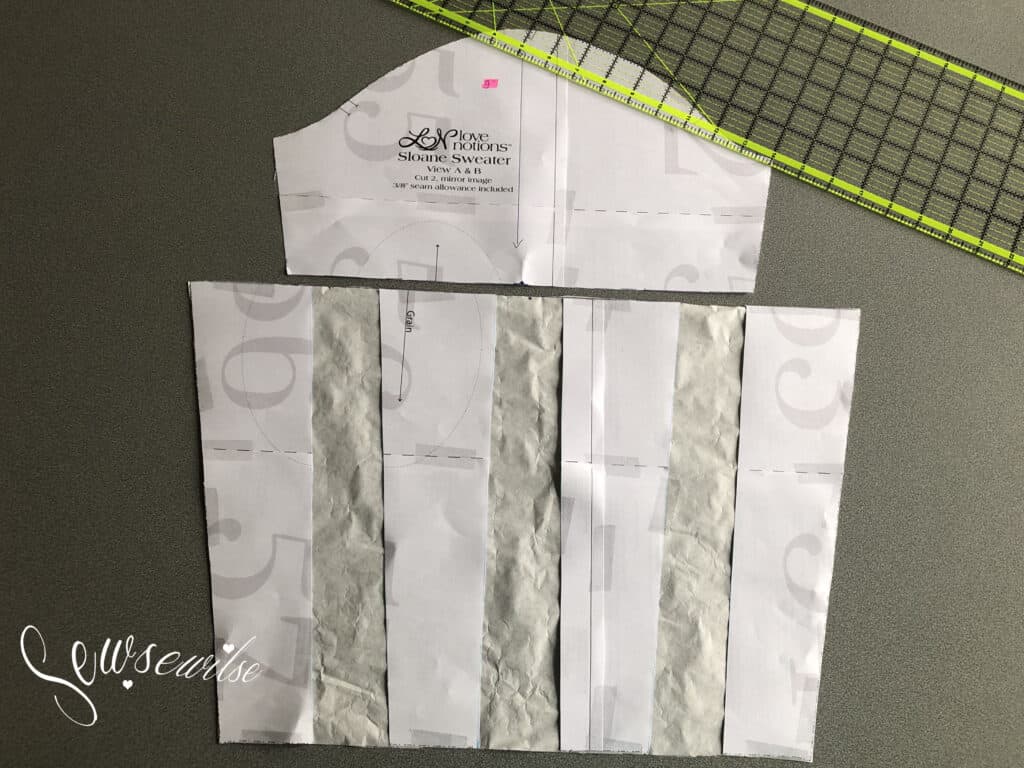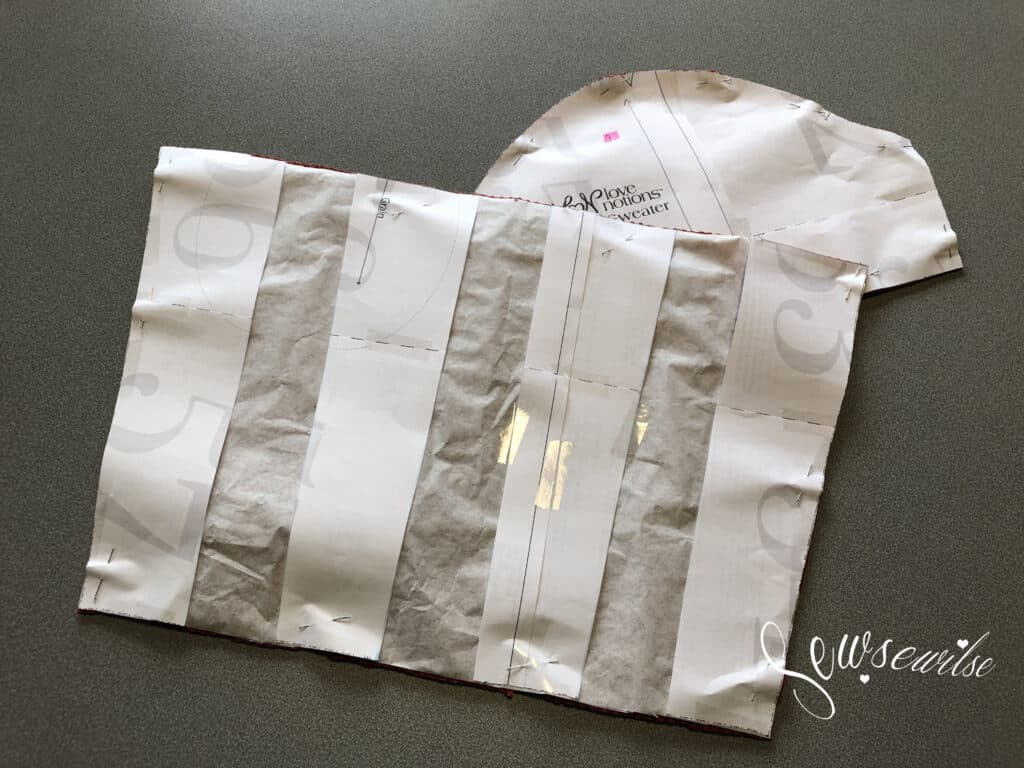 6. Sew the Sloane as per pattern until the moment you have to attach the sleeve. I did it this way:
Sew your upper sleeve to the bodice. 

Sew a basting stitch along the top and bottom of the lower sleeve.(I always baste two rows.)

Gather the top of the lower sleeve and pin it to the upper sleeve. Evenly distribute the gathers. Sew.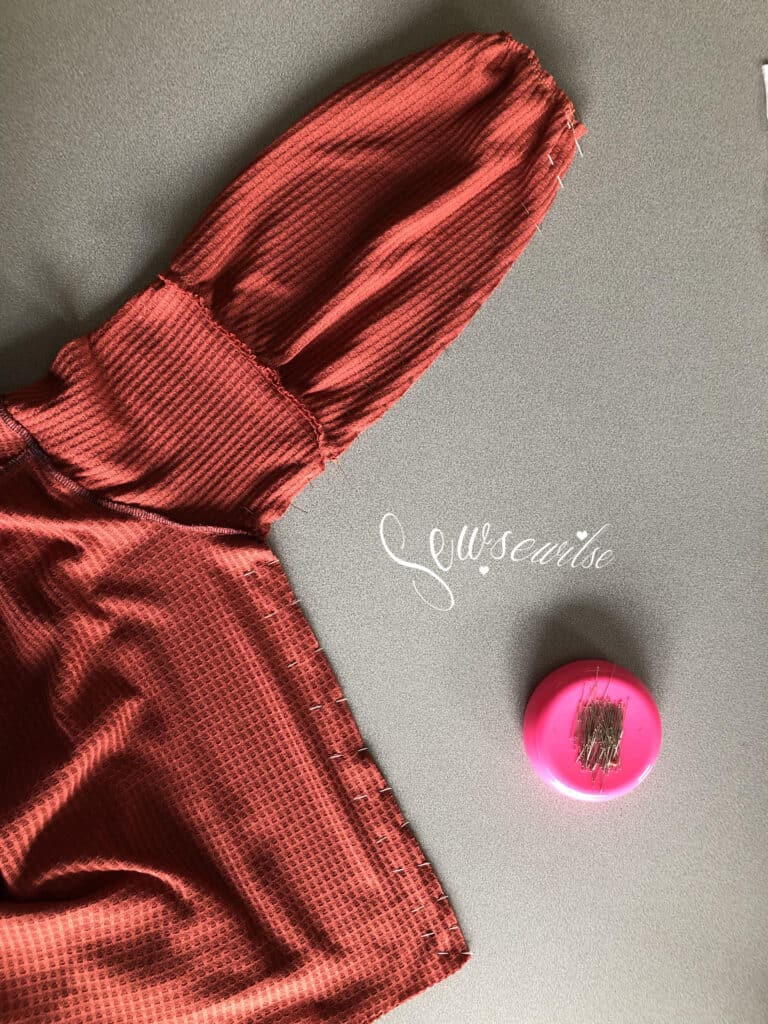 Close the side seam from sleeve to bodice/bottom end.

Sew the cuffs.

Now you have to gather the bottom of the lower sleeve and pin it to the cuffs. Evenly distribute the gathers.

Sew the cuffs on. Tadaaaa!
Ready for more Sloane fun?
MICKEY ELBOW PATCHES
I had this Mickey Mouse brushed sweater fabric about a year in my stash and the pattern pieces were already cut and hidden in a box, can you believe that! So you understand why I needed that kick under my … to also finish this Sloane! The inspiration for my elbow patches is new!  
I used the elbow patch from the pattern so my new patch (Mickey Mouse) didn't get too big. And then I pinned and pinned to find the right spot! And I love the result! What do you think?  How did I attach them? I used a regular stitch because knits/sweater doesn't fray. So easy! I bet my sweater will be a hit for my 9-year-old students when I appear in class with it ☺ Are you also a lover?
I love the combination with the black bands and cuffs. I topstitched it with 'cream' thread. And the most fun is my back of course!  
Should I walk backwards through the doors? ☺  <3 <3 <3 Thanks for stopping by Be sure to check my instagram @sewsewilse! Love, Ilse