Is baby's closet stuffed with clothing that's hard to match, ill-fitting, and uncomfortable to wear? Get inspired by these 7 patterns and create a coordinating, easy-to-wear and easy-to-style capsule wardrobe for baby (or for your big kid!). Stock up and save yourself some time, money and frustration with these quick and satisfying sews that are perfect for scrap-busting! 
MIX AND MATCH
With the changing seasons, my one year old daughter was in need of an easy, mix-and-match fall and winter wardrobe. She needed something that would be easy for her big sisters to pick from, or even for daddy to dress her without getting some major side-eyes from me. (Typically, he avoids dressing her himself because his selections are often… questionable.) So, this collection of interchangeable looks is just what the doctor ordered. 
SIZING
I've sewn up every Love Notions pattern with sizing that starts below 2T for my fool-proof baby capsule wardrobe. All of these patterns were sewn in the 12 month size for my 14 month old daughter, who typically wears 12-18 month in RTW. Take note that the starting size for these patterns ranges from 6 months to 12 months, so be sure to check the size requirements pages on the listings and compare your baby's exact measurements. It's also important to note that these patterns can create a capsule wardrobe for any kid — with sizing up to 14/16 for most patterns, this collection is good for everyone!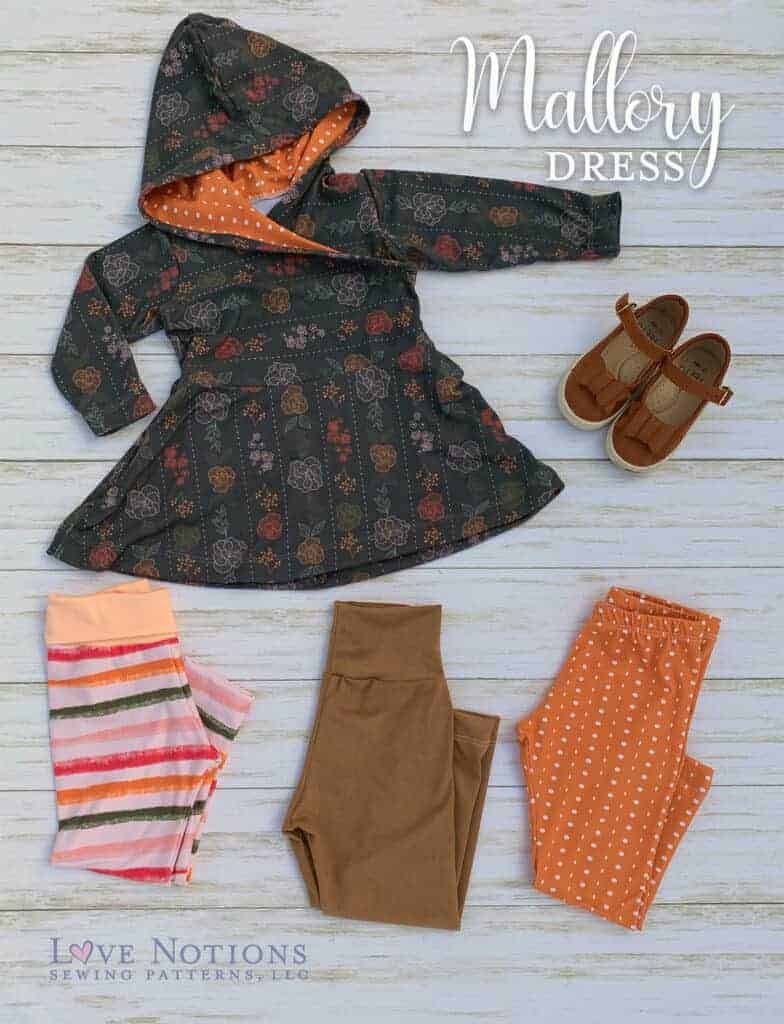 FABRIC
A big thanks goes to Raspberry Creek Fabrics  who sponsored some of this fabric and offers so many cute collections with coordinating prints, perfect for a baby capsule wardrobe. This collection was so much fun to create because I already had lots of baby-friendly prints from RCF in my stash and the extra fabric they provided was icing on the cake. I love that they offer ½ yard cuts which is perfect when sewing for littles. The fabric I used was almost exclusively from their CLUB lines, specifically the Winter Dream and Wildflower DBP collections.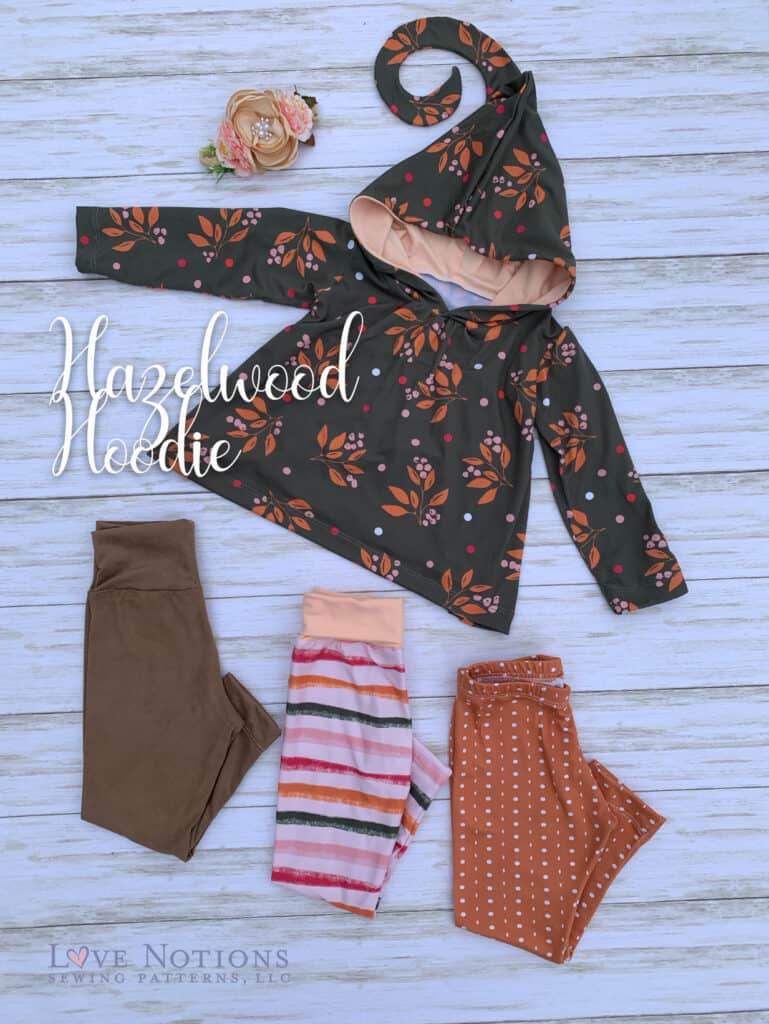 DID YOU KNOW IT ALL STARTED WITH BABY CLOTHING?
Now Tami has been drafting patterns for a while and Love Notions has come to be a trusted source for patterns that fit, especially for women. 
However, you might not know that Tami started her sewing business making clothing for babies! She started with custom cloth diapers when her daughter was tiny and then moved on to selling custom clothing for infants and small children. It was named "Dunk-n-Fluff" —  she dyed the fabric ('dunk') and diapers were called 'fluff'. There's your trivia answer for the day! Can you believe the facebook page for DNF is still up?!
Some of Tami's most classic patterns originated in her custom baby clothing shop and have been around a lot longer than any of her women's patterns. These easy-to-wear, adorable patterns all have sizing that starts below 2T and I used them for the majority of this baby capsule wardrobe.
FREE LEGGINS
One pattern that I used that was NOT in the baby sizes was the FREE Love Notions leggin's. I made up half a dozen of these in the smallest size (2T) and they fit my little one perfectly — I'm thinking that big diapered baby booty took up some major space. 😉 I did half with the yoga waistband and half with a quick elastic waistband — superrrrrr easy and they are an extremely quick sew! These leggings helped to create a mix and match wardrobe and now I have dozens of options within my capsule collection.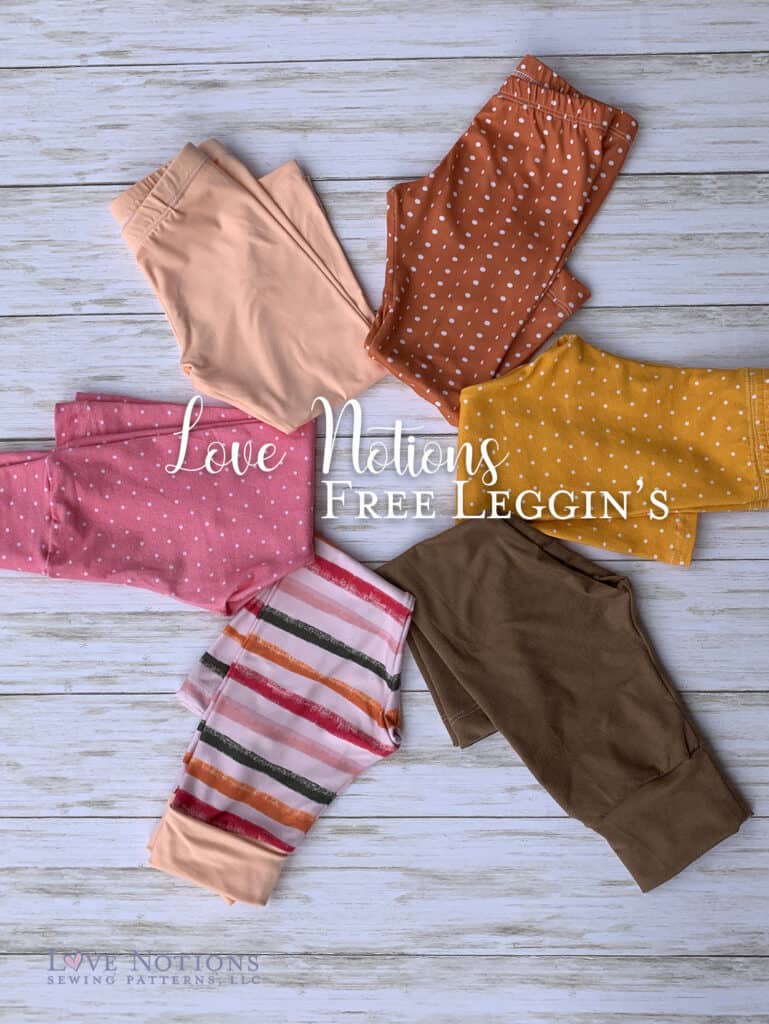 Without further ado, here are the 7 baby patterns I used as the foundation for my baby capsule wardrobe:
1. EVERYDAY PLAYDRESS
I love this versatile little play dress for sizes 12 months – 7/8. She can wear it to church with bloomers, knee socks, and Mary Janes or we can pair it with leggins and boots — either way it is so comfy and will match nicely with tons of other bottoms. I plan to make up another with the criss cross neckline ASAP!  I used the WINTER DREAM FLORAL plus some Coral and white pin polka dots for her leggins.
2. FREE DASHING VEST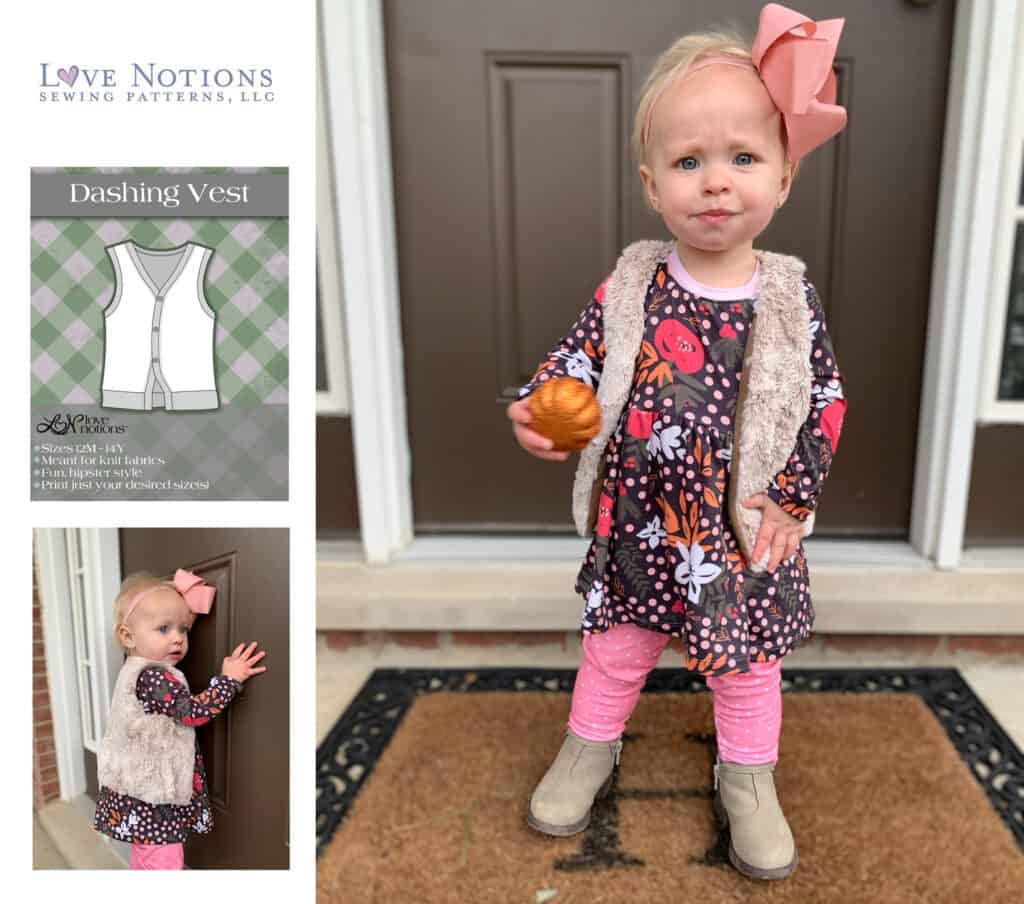 Another option for the Everyday Playdress look, or really any of these outfits,  is adding on the FREE Dashing Vest. Now this vest is intended to be sewn up with snaps and a hemband, but I get to do what I want when I'm sewing and I wanted a cute little faux fur vest to go on over all my daughter's outfits. So, I simply sewed this lined version up without the bands. The fabric was from Shannon and was included in the swag bag from the first Love Notions sewing retreat. It was so quick and easy and now this little one has an extra warm layer and a stylish little accessory that matches ev.er.y.thing.
3. MISS MARY MACK TUNIC
The Mary Mack top has tonssss of options including all kinda of sleeves and yokes, but I wanted to use up some scraps from another project so I opted for a short sleeve shirt for warmer days or to be worn with a cute little jean jacket. The fabric for the top is this DBP and the leggins are mustard polka dots (that match with sooooo much!). Check out this post for even more Miss Mary Mack goodness and a little discussion on the joy of sewing. For me, one of the most joyful things about sewing is the satisfaction it brings when I can take 30 minutes and whip up an adorable top like this. P.S. Is it apparent yet that we are a bow-loving family? Josie doesn't look quite like herself with out her signature headwear. These floral bows are from Amazon and I am currently obsessed with them as they match all of her new outfits so sweetly.
4. SAMSON SWEATER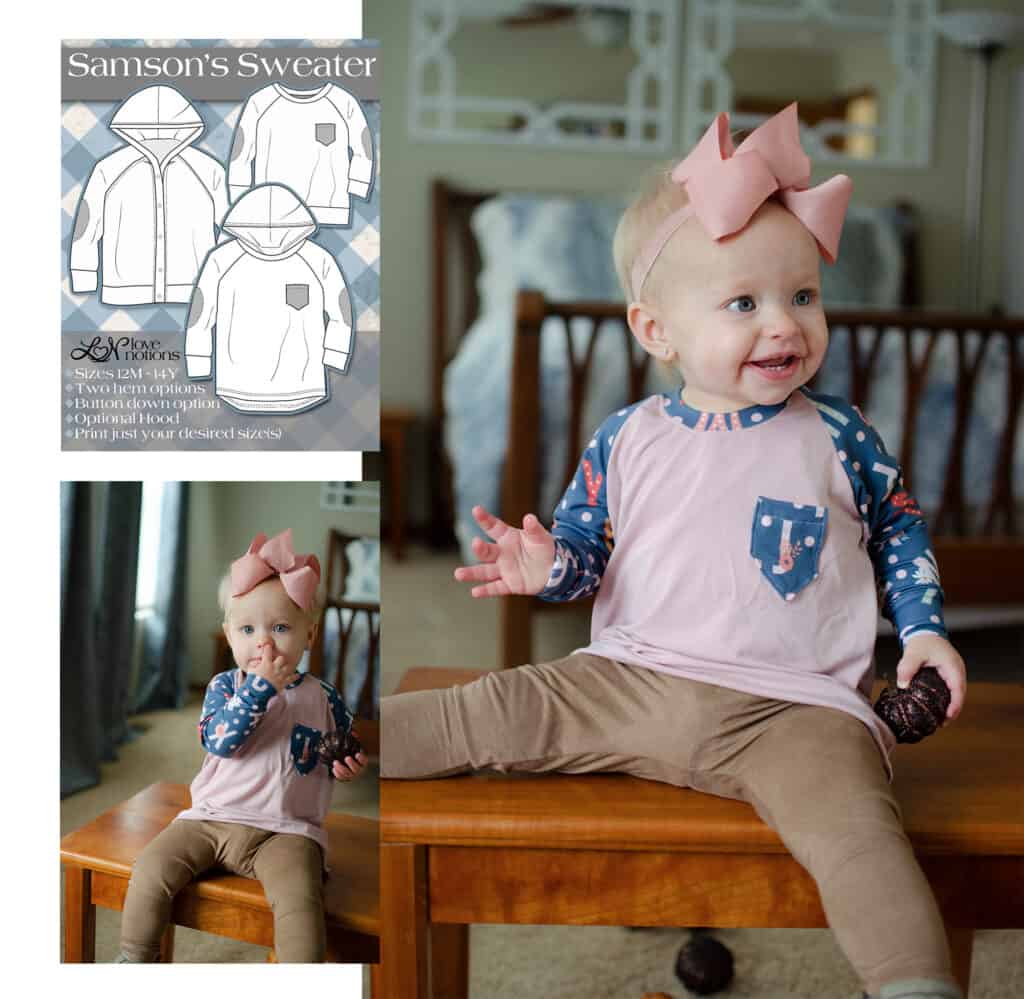 This Samson Sweater can be used for so much! Sweater, shirt, jacket– it can do anything. P.S. If you are looking for some big kid Samson Sweater outfit ideas check here. I love Josie's Samson with these Alphabet sleeves, plus did you notice that I cut the pocket carefully to highlight her first initial?  Customizing her clothes and adding these special little details is so satisfying — and it doesn't hurt that this project took less than half a yard total. The Samson Sweater is just about the cutest little shirt but it also makes a fabulous jacket. Here's one I made in early fall. I think my next one will be in a dusty pink french terry to coordinate with her new outfits and this capsule wardrobe.
5. MALLORY DRESS
This Mallory Dress is just darling! I am in love with the way it turned out and I especially like that it is so cozy for baby. The wrap front is ingeniously designed to show off the coordinating fabric AND let a big ol' baby head get through without too much fuss. Did you see those little bitty side pockets? They are just so sweet! This main fabric is from the Wildflower collection along with the rust colored stripes for the leggins. I think Josie might wear this for Thanksgiving as these colors are gorgeous for fall.
5. TUXEDO DRESS
The Tuxedo dress doesn't get nearly the love that it should! It is another one of Tami's designs from back in the day and the sweet details on it make it so different from many other baby clothing choices. The scoop neck "tuxedo" part is super easy to make and the pattern is ideal for combining prints and using up scraps. Here I made it in a tunic length by cutting it on the line for the bottom ruffle but then just finishing it off with a regular hem. For this capsule wardrobe, I was able to use up the scraps of a fun unicorn print I used for her older sister's game day jersey. Here we have a more fall look, but check out another version I made with ruggle and puff sleeves for a fun spring and summer dress:
(Also, if you love Josie's shoes as much as I do, you need to check out Monkey Feet — these actually STAY ON. We have three pairs and they are in constant rotation.)
7. HAZELWOOD HOODIE
This Hazelwood Hoodie might be my favorite piece in the whole collection. I just loveeeeee that little pixie hood (and it's soooo easy!). I think that Josie will be able to wear this throughout the holiday season and beyond — this RCF Winter Dream collection print will work as a festive piece for Thanksgiving, Christmas and the New Year. The coordinating leggins are in the vertical stripes fabric for that collection. I have made a few other Hazelwoods before this capsule wardrobe and they are my go-tos. Also, this set makes great gifts! Add in a few little labels like this and you've got a darling baby shower or birthday present for a special little one. My favorite labels say "you are loved" and even though Josie doesn't read yet, I love having that little sentiment in her garments. <3
7 CAPSULE WARDROBE PATTERNS FOR ALL
Whether you are looking for a little collection to sew up for a baby shower, a birthday party, or for your own little one, this capsule wardrobe is a great place to start. These 7 patterns are easy to sew, easy to wear, and (when you've got the right fabric) easy to mix-and-match! One of the best parts of these patterns is that all of them go up to at least size 8 and most go to size 14 or even 16. So you can get them for your little and keep using them with all the different options plus a new cute fabric for a decade or more — talk about "grow with me"! Be sure to shop the 40% off sale now and don't miss out on a fantastic deal for a capsule collection full of versatile, cute, and time-saving outfit solutions for baby.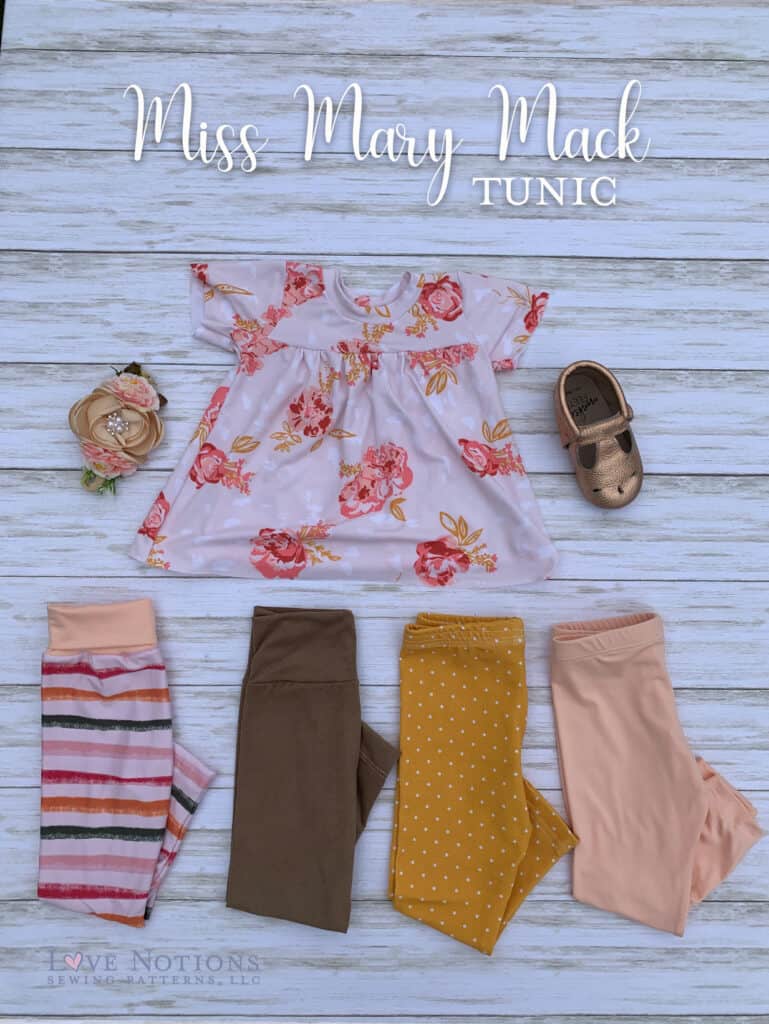 THANKS FOR READING
Thank you for reading! You can find me hanging around the Love Notions Pattern Support group on Faceboook or @tessadoes on Instagram. Feel free to share!
Be sure to follow @lovenotions on Instagram and use #lovenotions when you make up your next LN pattern. We love to see what you all come up with for your adorable littles!