Sonata Dress Update
Great news Love Notions Friends! The Sonata Dress has now joined many other exceptional patterns on the new size chart. This pattern is now inclusive through size 5x with 4 cup sizes to help you get your perfect fit. I was really happy when this pattern came to the top of the list. Let me also mention that it is today's $5 Feature Friday pattern!! So a pattern update and save 7 bucks!!!
Woven Fabric Friendly Pattern
For the last several months, I have been working on adding to my collection of patterns designed for woven fabrics. It all started when I fell in love with the Rhapsody and now I am not looking back. Today I am sharing a few different Sonatas and discussing how they look, feel, and sew up using three different types of fabrics. Please keep in mind that this pattern is drafted for lightweight wovens or stable knits so I did stay within those guidelines. I assembled these garments with my home sewing machine and finished all the edges with my serger.
A Sizing Update and more Cool Weather Ideas
I was lucky enough to be able to pretest the new size chart for the Sonata dress. We worked hard on getting a nice fit and now I have a few lovely versions to share with you. Anytime I am planning to make a pattern that has been previously released, I always browse the maker gallery. I look for color combos that pop, body shapes like mine, and what options I like and even those I don't. As I looked through the original pattern listing, it was pretty clear it was released during much nicer weather than what I am currently experiencing. The gallery was loaded with sleeveless or short sleeved versions, green grass and sunshine. (I was totally jealous.) All I wanted was a long sleeved version for myself because it is cold here. I actually had to break up my photo session because my fingers were going numb from the freezing temps! The maker gallery absolutely confirmed that I wanted to add contrast fabrics for the neckline facing as I LOVED that detail. An interesting neckline is always a hit with me especially when I can colorblock a bit. Have you seen the neckline on the Vivace? That V-neck style is at the top of my 'Love It' list.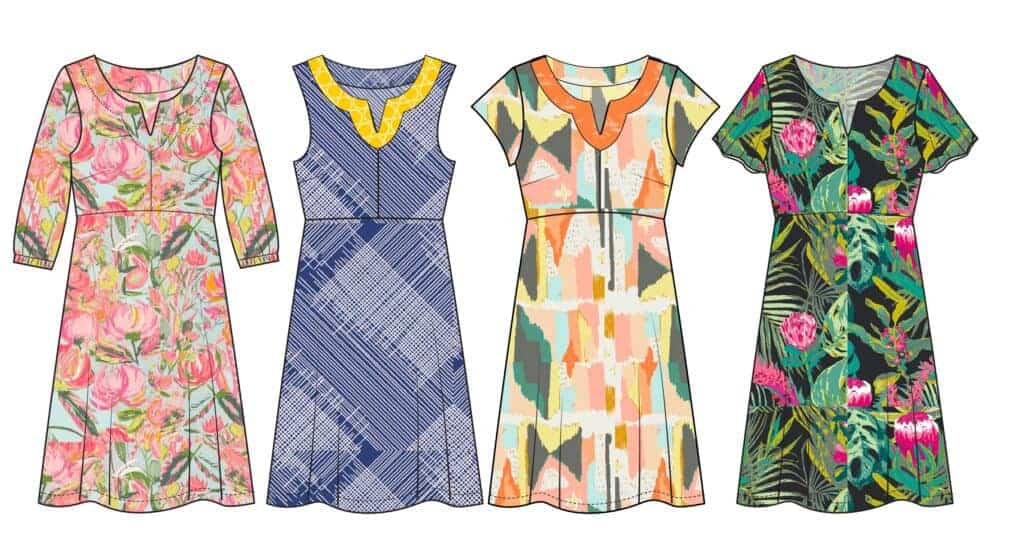 Today I am sharing three different Sonatas
Two of them are made per the pattern directions and the other, the magenta version, I made a few changes. I shortened the skirt length by 7 inches and added 3 inches to the sleeve length. I knew I wanted to try a tunic length to wear over my black and white ponte Sabrina Slims I made last year. I was really tempted to make myself a sleeveless one dress and pair it with the Ladies Boyfriend Cardigan as it would look really fashionable and I could still be warm. If you enjoy pattern hacking like I do, you may want to give my cropped Sloane hack a try as it too would work very well over a sleeveless Sonata. You can read that blog post here. I love coming up with creative ways to wear my clothing year around!
Fabric Affects Look!
My main reason to make this pattern using different weights of fabric was to show how much fabric choice really affects the look. I used a range of fabrics including a thrifted bed sheet which is a light slippery polyester, a poly cotton blend and a solid stretch poplin. While they all ok, they had some differences and some worked better than others.
1. Quilting Cotton + Light Polyester
The light teal print had the best drape and was the lightest in weight of the three. It sewed fairly easily, frayed a good bit especially when removing stitches, and it is cool to the touch which I like. I used quilter's cotton for the neckline contrast facing. The first time I made this, I used a lightweight interfacing between the layers of the facing. This ended up being a little too bulky. For this example, I used no interfacing. I think if I had used my main fabric for the facing I would have certainly needed the interfacing layer to provide some stability there. I found this version was a bit more clingy than the others, but it feels so nice against my skin. I used a lengthened straight stitch to hem the bottom hem.
2. Poly Cotton Blend
The black printed version is a poly cotton blend. This fabric sewed so nicely with very little fraying even when unpicking was needed. This version turned out to be my absolute favorite. I love this print and the vivid colors. It has enough drape to hang nicely, but I don't feel like the wind would blow it upwards. I like that it has enough structure to 'smooth' over my body and isn't clingy at all. I finished my sleeves with a rolled hem so the finish wouldn't change the flutter look of the sleeves. I used a blind hem stitch to finish the bottom hem.
3. Solid Stretch Poplin
The solid magenta version has the least amount of drape between the three fabrics and has some stretch across the grain only. I wanted to see if the stretch would change the feel at all. Do keep in mind this pattern will work with stable knits. While the fabric feels nice to wear and is wearable, the drape is a little bit too stiff for my preference in a dress. I am glad I had planned this as a tunic length because this as a dress would have been too structured. The extra weight of this fabric was very evident in the elastic casing in the back which looks and feels bulky. I used a lengthened straight stitch to hem both the sleeves and bottom hem. When you make your own Sonata dress, I suggest that you look for fabrics with a lovely drape as you will be most happy with the look and feel.
If you want to give the Sonata Dress a try, now is the perfect time to pick up this pattern. Today it is the $5 Feature Friday pattern! This deal will only last today, so feel free to shop my afflink here. This doesn't change the pricing for you at all, but I earn a small commission on any purchases made through my link. So I thank you. I look forward to seeing all of your beautiful Sonata dresses.
---
Save this to pinterest
---
[carousel_slide id=414175]
.