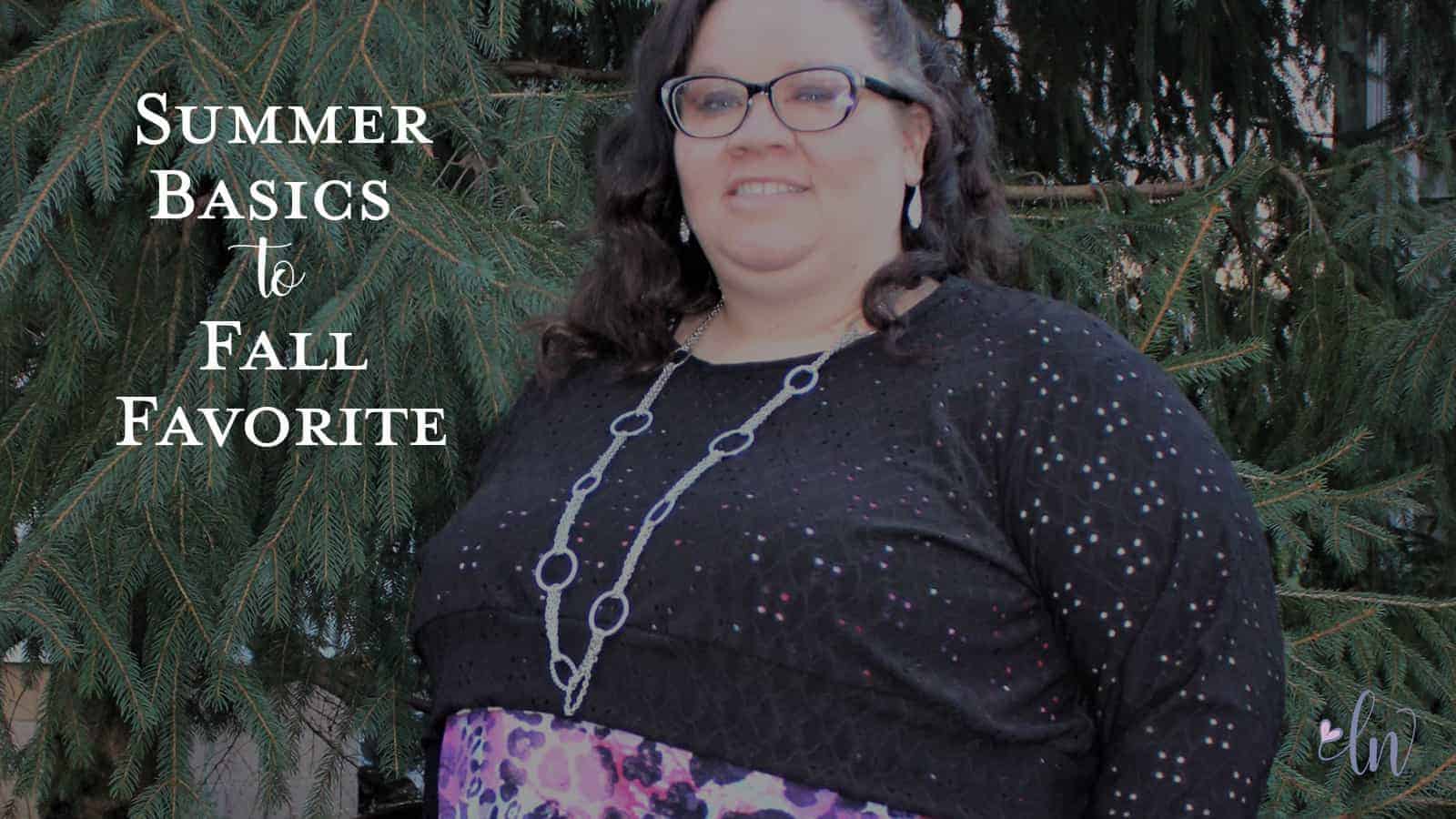 Summer Basic to Fall Favorite Dress
I absolutely adored the Summer Basic Maxi Dress I made when this pattern first came out. I still wear it with a cardigan as the temps begin to drop, but I wanted some more styling options.
The one thing I love about "basic" patterns is that they are perfect for pattern hacking. They essentially give you a silhouette to work with and you can add all the flair you wish. I started with the knee length Summer Basic pattern. I printed and graded the pattern as usual, per my body shape. I shortened the skirt length by 2 inches.
Now it is time to have some fun.
As soon as I began thinking about hacking this pattern, I knew I was going to play with the skirt. This skirt style is more fitted at the waist and flared out at the hem and I love that! I also love that the back pieces are cut mirror image which usually helps to save a little fabric, but in my new design that is where our adventure starts!
First things first – Supplies
A large piece of paper. I used gift wrap. You just need it to be as tall as the length of your skirt.
Something to write with
A tape measure
A long straight edge
A french curve or bowl
Lay out your paper and trace around your already printed pattern. Mark the grainline and pocket placement. I used a black sharpie so you can easily see it here.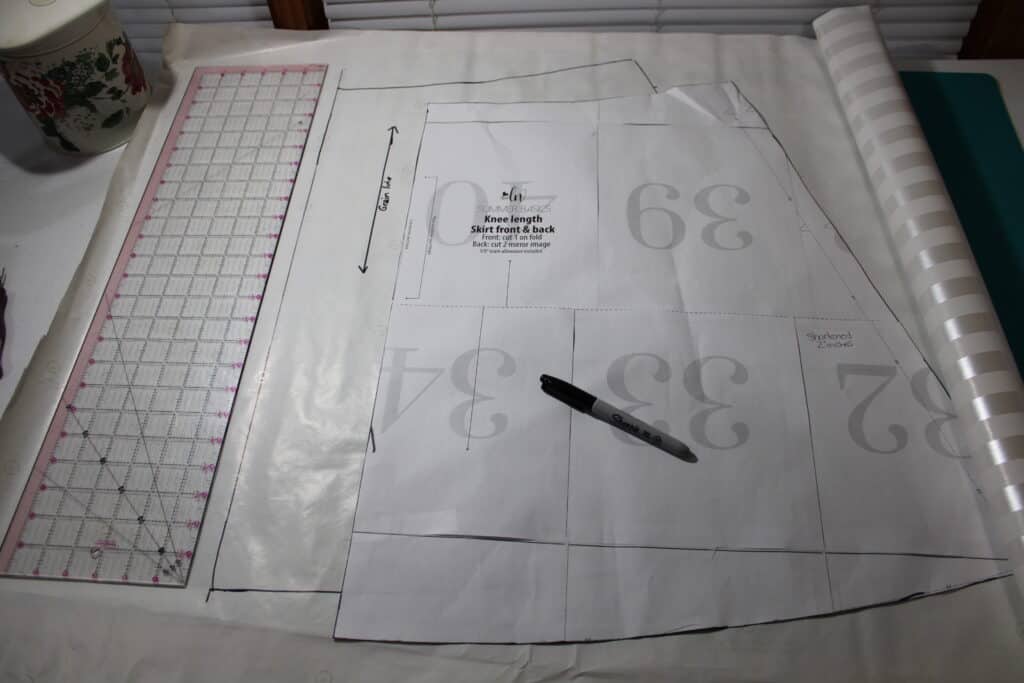 Now decide how far you would like your pattern to overlap. I knew I wanted my tulip skirt to overlap closer to my hip than the center front. I went with 7 inches as this would ensure my desired placement and good coverage should the wind blow. I measured 7 inches over from the top waist line and bottom hem line and connected these points using the red sharpie.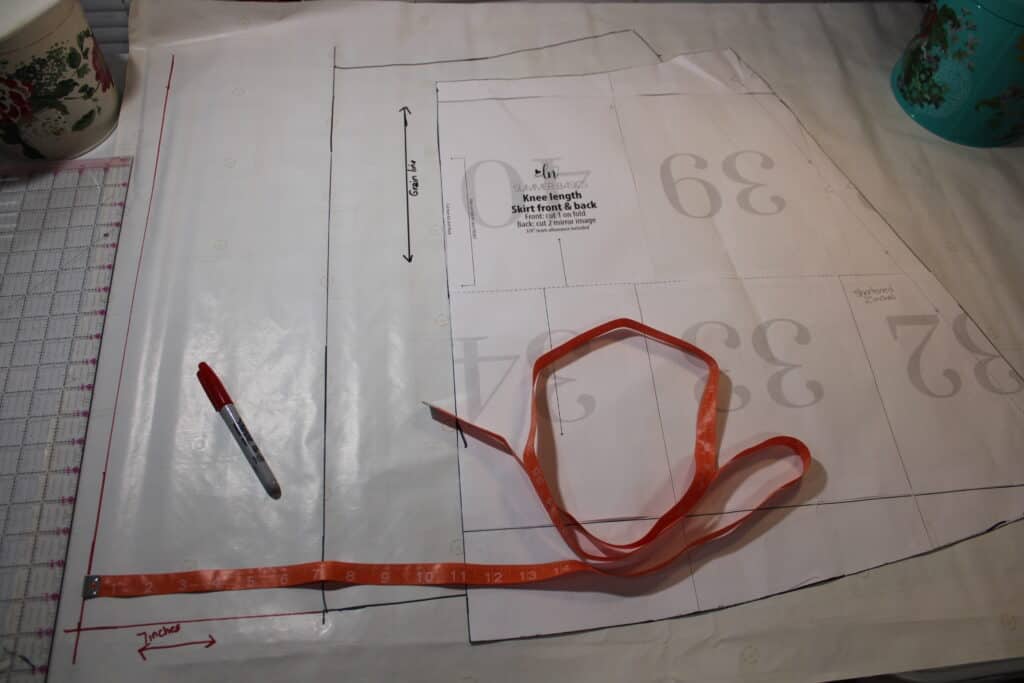 Use a French curve or another curved edge to round off the bottom corner. This can be as curved as you would like, but keep in mind that sharp curves are more difficult to get to lay flat when finishing.
To finish the waistline, just flip your original printed paper pattern over and line up the center of the pattern with the middle straight edge. Trace the waist curve over to your 7 inch mark. This will ensure that you have a symmetrical line across the top of your skirt.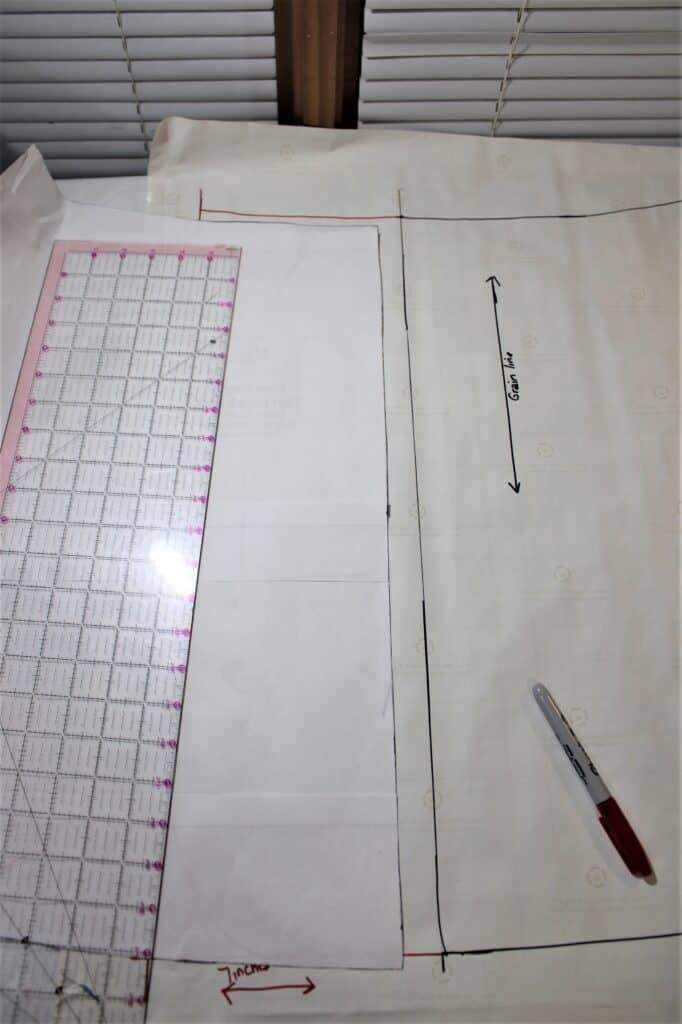 Now you have your new pattern piece ready! Cut 2 pieces from your fabric mirror image. You will also need 1 of the original skirt pattern pieces cut on the fold to complete the skirt.
You will treat the 2 new pieces as the new front of your skirt and the large piece is now the back.
If you are adding pockets, do that first. Follow the original pattern directions. Now line up your skirt side seams. Stitch together in your preferred method. Now your skirt is one long piece. This is where I decided to add picot elastic to the skirt edge. You can hem as usual if you prefer, but I liked the slight contrast of the black elastic and the edge of the tulip hem.
Find the center back of your skirt and mark it. Next, overlap your tulip panels the same amount as you added to your new skirt pattern piece and add a clip. Mine was 7 inches. Once these two panels are overlapped, mark the new center front of your skirt with a clip. If you wish, you can baste these front layers together, but I just left it clipped.
Now assemble your bodice according to the pattern. I again used picot elastic for my edges. Attach your new skirt and your bodice together. Be mindful that you are putting the front bodice and the front skirt together before sewing. If you still need to hem, that will be your last step! If you finished your edges earlier… TA-DA! You now have a completely new look for your Summer Basic Dress!
BUT WAIT!!!
I thought we were going for Fall Favorite?!?!
Here we go! Time to add some non permanent sleeves!
I added a crop top using the Sloane Sweater and can throw this on top of my dress so that it can easily go from summer to fall and beyond. This layering top addition could be done with so many of the "toppers" from Love Notions: Serenity Sweater, Canyon Cardigan, and Boyfriend Cardigan would all be great pairs with this pattern as well. Let's stick with Sloane Sweater because I want to show you a quick and easy way to hack this into a crop version — which pairs beautifully with the tulip skirt and balances the whole outfit while adding more warmth and coverage for the fall weather.
Grab your Sloane Pattern and print out View A in your size. Assemble and make any adjustments you require. I am using View A because it is the more fitted of the two views.
Grab your flexible tape measure and measure your side waist. Mine is about 8 inches, but I added 1 extra inch to be on the safe side. You can always remove length, but you can't add it back on! Slice your front and back bodices patterns at the magic number. I used 9 inches.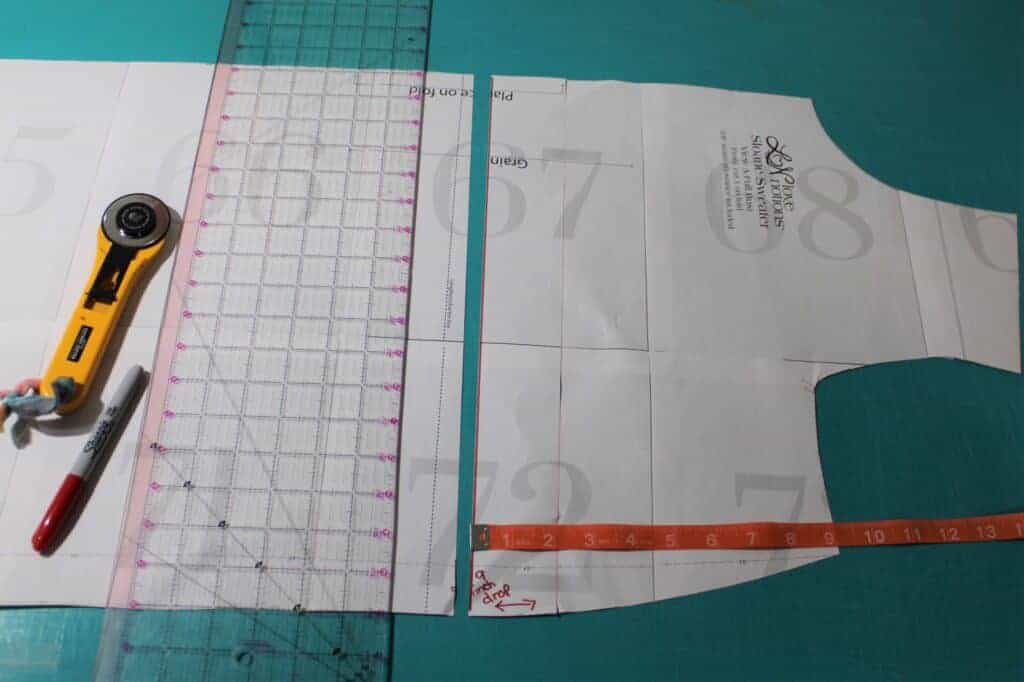 Now assemble your Sloane as instructed in the pattern except don't finish the bottom! Try on your Crop Top. It should be close to fitting at your underbust. If you have too much excess fabric at the sides, slim those sides in just a bit. If you need to shorten it a bit, now is the time! Finally, we need a band to bring it all together. Lay out your crop top flat and measure across the bottom edge. Mine is a total of 60 inches all the way around.
I cut my underbust band at 55 inches by 6.5 inches wide. You could also cut this band as two pieces and line up the seams at the side seams. Attach as you would any band. Now you are ready to layer your new Sloane Crop Top over your new Tulip style dress!
I hope you have enjoyed this hack as much as I have! I can't wait to see what you make! If you wish to purchase either of these patterns, I would be grateful if you used my affiliate links below. Also be sure to stop by SequoiaLynn Sews to see what else I have been up too!
Here are your patterns