You need two things to sew a garment successfully: a pattern plus some fabric. You know Love Notions has you covered when it comes to the pattern, but sometimes the trickiest part of the whole process is figuring out the fabric.
Fabric Guide
With that struggle in mind, here is a guide to all the common fabric types (or bases) that we regularly use or recommend for our patterns. The Love Notions ambassadors have each taken a turn to give you a little in-depth info about a different fabric type, including tips for sewing with it. The best part is that they recommend patterns that pair perfectly with that fabric type, too!
Need online fabric shop recommendations? Check out this post!
---
Click on the links below to learn more about each fabric.
Knit Fabrics
Woven Fabrics
---
Bamboo Spandex
Alex Radu
Bamboo spandex, commonly known as bamboo Lycra (BL) is a knit fabric with great stretch, both vertically and horizontally and excellent recovery. The best feature of this natural fiber is its breathability. BL feels soft to the touch and stays cool even in high temperatures.
Bamboo is one of the softest bases, even softer than cotton. It is hypoallergenic and very absorbent. Its moisture wicking properties makes it, in my opinion, the best fabric for year round wear.Bamboo Lycra is known for its drape, it flows so beautifully when worn.
How does it sew?
Bamboo spandex can be sewn with a sewing machine or serger. It sews similar to cotton spandex but with the added advantage that it does not roll! One of my least favorite parts of sewing with cotton lycra is the rolling edges, BL won't have those issues. As with any base, some tension adjustments may be needed depending on your machine. Don't be scared to sew with bamboo knit!
Which Love Notions patterns work with Bamboo Lycra?
As a medium light to weight knit fabric with excellent drape and 4 way stretch, bamboo spandex make the perfect base for dress patterns like, the Tidal, Breckenridge Henley, Vivace Dolman, Game Day Jersey, Summer Basics Dress and tank, Forte, Pemberley, Willow Wrap Dress and of course the free Laundry Day Tee. If you would like to feel uber comfortable while lounging or sleeping, I highly encourage you to try a Luna Loungewear and Namaste Nightware. The Ladies Sunday Romper, Canyon Cardigan, Ravinia skirt, La Bella Donna, Rockford Raglan and Trendy Tunic work beautifully with bamboo spandex. Let's not forget our littles, my boys absolutely adore this base (it helps us bear the Florida heat). All kids equivalents to the patterns listed above would work with BL, plus the Everyday Playdress, the Mallory dress and Sprint Muscle Shirt.
I hope you will give this fabric a try. I promise you you will love sewing and wearing it.
---
Cotton Spandex / Cotton Lycra
Keira Wood
Cotton spandex fabric is a mix of cotton which is a natural fiber, and spandex which is synthetic. Lycra is a brand name for spandex but it's the same thing. Cotton spandex has 4 way stretch and is a midweight fabric. Since it is a bit thicker, it doesn't have as much drape as lighter weight knits. It has a long life span because of it's high cotton content and it does not tend to wrinkle or pill which makes it great for daily wear. Cotton spandex is soft but has great recovery. It is often used in sports wear and under wear because of it's comfort.
Sewing with Cotton Spandex
Cotton spandex does not fray but the edges curl to the right side when cut. It may be helpful to use starch on the edges while sewing your project. It makes it just a little easier to work with. I prefer to sew my cotton spandex fabrics using my serger and then hem on my sewing machine with a twin needle. If you don't have a serger, I recommend using stretch or ballpoint needles, a walking foot or a knit foot. Cotton spandex is one of my favourite knit fabrics to wear especially for it's breathability in my hot climate. It's also a pretty popular fabric type so you'll come across many different prints and a large variety of solid colours as well. If you've never sewn with cotton spandex, I highly recommend you give it a try!
Patterns that are a perfect match for cotton spandex:
---
Cupro
Chris Shapiro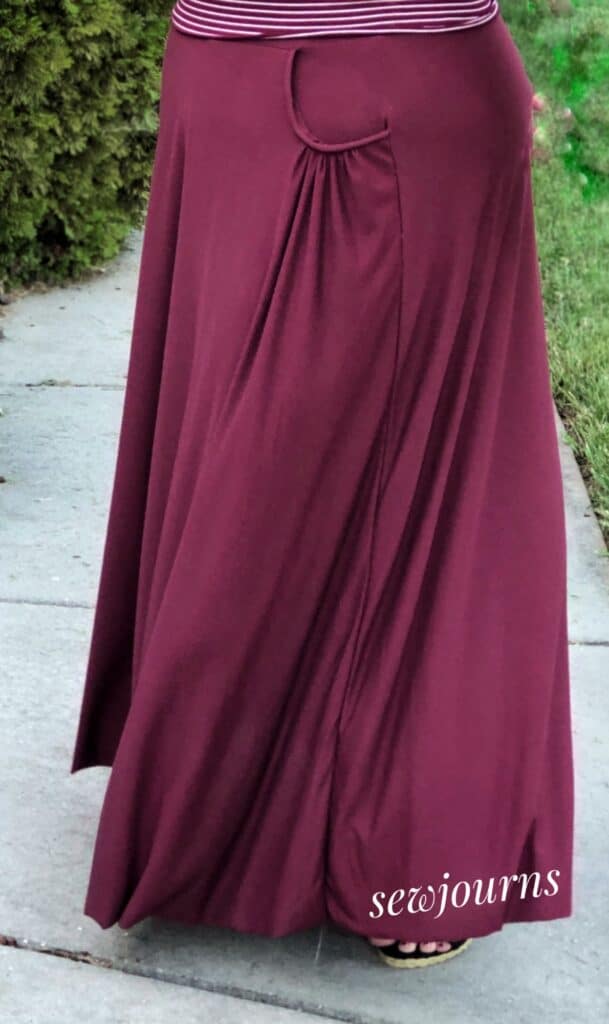 Characteristics of Cupro:
Cupro (also known as cuprammonium rayon and pronounced "Coup Row"), is a "regenerated cellulose" fabric made from cotton waste. Therefore it is biodegradable and that makes it a very planet-friendly fabric. It's in the same family of fabrics as Rayon, Viscose, Tencel, Modal, and Lycocell, which are all made from plant-based materials. It can be washed in water (either machine-washed or hand-washed), so there's no need to dry clean. Cupro easily takes dyes and holds onto its rich luscious color.
The fibers are very fine and one of my favorite things about Cupro is the silk-like hand and feel. Since it's soft, smooth, and doesn't contain any animal by-products, Cupro is also known as "vegan silk". It's a truly game-changing fabric because it's also hypoallergenic, anti-static, stretch-resistant, incredibly durable and, being thermo-regulating, it dries quickly. Basically, it combines the softness of natural fibers with the practicality of synthetic ones, without their terrible toll on the environment.
Sewing with Cupro:
Cupro with its little vertical stretch sews up nicely on your regular sewing machine using a stretch stitch and a ballpoint needle to protect the fibers. Cupro serges beautifully using a standard 4 thread overlock with a differential setting at N.
Recommended Patterns:
Cupro knits are lightweight fabrics with incredible drape and perfect for flowy garments like the Ravinia Skirt, jumpsuits such as the Sunday Romper, as well as all the flowy Love Notions Tops we love such as the Vivace Dolman, Summer Basics Tank and Dress, and the Forte Top and Dress. Because of its lightweight and natural properties, it is very lovely for sleeping and would be perfect for the Namaste Nightwear.
---
Double Brushed Poly / Single Brushed Poly
Kim Koluch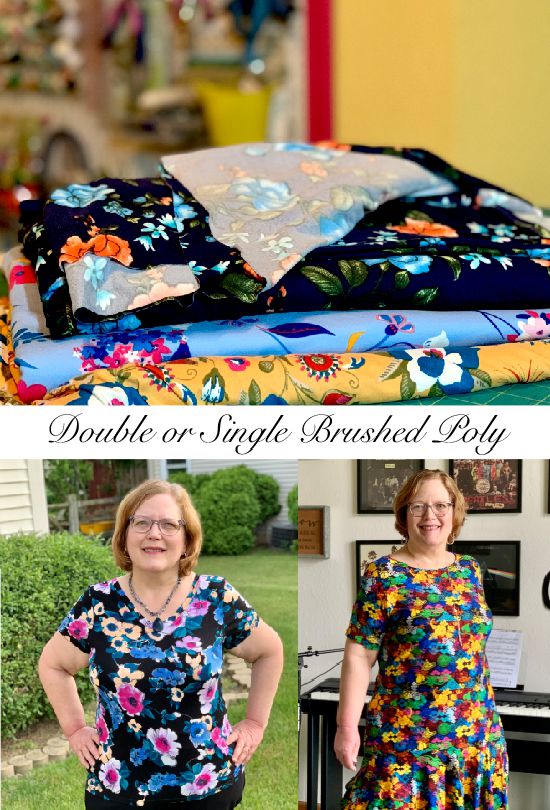 What is DBP/SBP?
Double/Single Brushed Poly is one of my favorite fabrics to work with. It is generally a lighter weight polyester with about 4% Spandex added for good 4-way stretch and recovery. Because it is brushed on either one or two sides (single or double), it is one of the softest, and therefore most comfortable fabrics to wear. It can be found in many beautiful prints and solid colors, and is useful for a wide variety of sewing projects including dresses, tops, tees and leggings. A downside to this fabric is that with the high percentage of polyester, it can be a little too warm for some people in the summer months. It has a beautiful drape as well.
Tips for Sewing with DBP or SBP
Using a ballpoint or stretch needle will help you to avoid skipped stitches on your machine.
I always say the key to sewing knits is to "Know when to stretch, know when not to stretch, and use a stitch that stretches with it." A serger is perfect for this fabric, but if you don't have one, a stretch or narrow zig zag on a regular machine will do fine.
Always test your iron on a scrap of fabric. Because of the synthetic content, it doesn't tolerate very high temperatures on an iron.
For hemming, use a coverstitch machine or twin needle on your sewing machine.
Patterns perfect for DBP/SBP:
Great Love Notions patterns for this fabric are La Bella Donna, Laundry Day Tee, Classic Tee, Lotus Blossom Blouse, Pemberley just to name a few.
---
French Terry / Baby French Terry
Caroline Gaddy
French terry is a fabric I reach for again and again. It is versatile, soft, durable, and comes in so many varieties! I use it and wear it all year-round. The feel, drape, and thickness of French terry varies by fabric content. Because French terry comes in so many different iterations, it's hard to define and talk about as just one type of fabric. I'm going to discuss a few of the most common types here. Luckily, French terry is easily identifiable because it has loops on the back side (except brushed French terry, which goes through a process of brushing the loops, making it super soft and fuzzy). So you'll know it when you have it! 🙂
Cotton lycra French terry (CL FT): This FT often has stretch and recovery similar to CL, with a bit more weight. Because it's thicker than CL, it also has a little more structure than CL. This type of FT is great for pants – especially joggers, hoodies/sweatshirt tops, lightweight jackets, hats, and skirts. I've used it for the Allegro skirt, Constellation/Navigator, Whistler, Thomas track pants, Sloane, and pencil and A-line views of Sybil. It would also be great for Sabrina Slims, Oakley, and Resolution bottoms. If you're buying FT from a custom fabric group, unless they say otherwise, it is likely CL FT.
Baby French terry: One of my favorites! Baby FT is called "baby" because the loops on the back are very small. This type of FT is a lighter weight. Baby FT is often a rayon blend. Stretch percentage varies, so make sure you check before you start cutting. Baby FT is soft, lightweight, and has nice drape. It does not have the same stretch or recovery as CL FT, and it has much less structure. It's excellent for tops, skirts, and looser pants/shorts. I've used it for the Rockford Raglan, Constellation, Sloane, Sunday Romper, Tabitha top, Terra Tunic, Margot peplum, Whistler, Dockside, Driftwood, and Luna Loungewear shorts. It could also be used for a Classic Tee, Laundry Day Tee (free code in the Facebook group!), Boyfriend Cardigan, Canyon Cardigan, or the yoga or jogger Resolution bottoms.
Bamboo French terry (BFT): BFT has been a recent, popular fabric trend and I am fully onboard. I adore it. BFT is lightweight, has excellent drape, has good stretch, and is oh so soft – it's like being wrapped in bunny snuggles, without overheating from being under a pile of bunnies. 😉 BFT is delightful for just about anything. It makes a lovely blanket or scarf, and is great for any pattern that calls for something with good drape. Not good for a garment that needs structure. Laundry Day Tee, Classic Tee, Breckenridge, Tidal, La Bella Donna top, Forte, Serenity sweater, Sloane, and Canyon Cardigan are all awesome in BFT. I also love it as PJs!
French terry is a wonderful fabric that is useful for so many patterns. I hope this information helps you use and enjoy FT for your Love Notions sewing projects. Share them with us in the Love Notions Facebook group!
---
ITY Fabric
What is ITY?
ITY stands for Interlock Twist Yarn and is a soft, slinky knit fabric. This fabric is tightly woven and does not wrinkle easily. It is quite thin and silky. It typically has lots of stretch both vertically and horizontally.
Sewing with ITY
When sewing ITY fabric consider your pattern choices carefully. This fabric doesn't have a lot of structure and is typically very thin, so it can be a little challenging to sew with because it can shift around easily. It is very slippery as well so take care when sewing and especially when cutting. I like to use clear elastic to stabilize certain seams, especially on longer skirts or dresses because the fabric can weigh down a seam. I have found that it is helpful to baste my seams before using a serger as the fabric can easily get stretched out. This also can help reduce any puckering within the seams or any issues with the fabric "growing" or stretching out as you sew.
Patterns for ITY
This fabric is great for patterns that require lots of drape. I like to use it for patterns that skim up against the body but still have lots of drape or gathering. I love it for the Forte Top and Dress and the Summer Basics dress and romper (read here how I made a gathered skirt version in ITY).
---
Interlock Jersey or Double Knit Jersey
Ilse Lemmens
What is Interlock Jersey?
Interlock Jersey is so versatile to work with and there are so many Love Notions you could use it with! Interlock jersey or knit is a double knit. It's a variation of a rib knit and it's similar to jersey knit, but it's thicker; in fact, interlock knit is like two pieces of jersey knit attached back to back with the same thread. As a result, it has a lot more stretch than jersey knit. Additionally it looks the same on both sides of the fabric.
With its 50% stretch across the grain and a 120-250 gr/m2, you get a very comfortable fabric. There are various types of yarn fibres to make Interlock Jersey. There are rayon blends, viscose or polyester blends but also 100% organic cottons, 100% cottons or cotton blends. The variants with viscose or polyester will be more silky and slinky compared to the cotton versions.
This fabric has a lot of benefits:
the appearance is the same on the front and back
it's a very elastic knit
it doesn't curl
it drapes very well
it has a lot of choice in colors as well in patterns
what I should definitely mention is the softness!
for all those who hate ironing …it doesn't wrinkle a lot!
Here some sewing tips:
Needle : Use a jersey needle.
Thread : You can use an all polyester thread, but more suited is a cotton-poly blend thread.
Stitch : Use a zigzag stitch on your seams.
Interfacing : use a fusible interfacing for stretch fabrics
ITY does have one drawback when you sew with it. It can be a bit slippery when sewing. That feature may bring a little frustration out as you slow down a bit. The way to solve that issue is to put a tissue between your needle and the fabric. When you are done, tear the tissue away.
What to make with Interlock fabric?
You can't believe how many gorgeous Love Notions patterns you can make with it! The latest design, The Breckenridge Henley needs a knit with at least 40% stretch so Interlock Jersey is ideal for it. The Ladies & Girls Sunday Romper would also be so lovely. Even activewear is part of the options you have to choose from. The 2-way stretch allows you to bend or kneel as you need without making you uncomfortable. You did know the Vivace is both for woven and knits. The design needs knits with at least 40% stretch so Interlock Jersey is perfect for it! Maybe a Ladies Game Day Jersey / Kids or Men's Game Day Jersey in all kinds of colors for every member of the family? Or other tees : the Classic Tee, the Rockford Raglan, Laundry Day Tee. Why not a Summer Basics Tank or Dress ? Did you see the re-released Serenity Sweater, it's also for light to medium knit fabrics. Oh yes, this fabric is also suitable for the Ravinia Skirt! What do you think about sleepwear and loungewear? Be sure to check the Namasté Collection, the Ladies Luna Loungewear and the joggers and yoga pants from the Resolution Bottoms.
---
Liverpool
Koe Truschke
What is Liverpool?
Liverpool Fabric is quite possibly one of my favorite fabric types. Also known as "Bullet" Fabric due to its unique riveted/crepe-like texture on one side and a smooth, durable texture on the reverse. This medium weight fabric has a 4-way stretch and is made with a polyester, spandex blend which makes it quite easy to maintain. Its texture could also be described as spongey and although it is 4 way stretch, it is less stretchy than other double knits. It has some weight to it that makes it more structured and less flowy. However, it still has a very nice drape.
Sewing with Liverpool
I find that most Liverpool fabrics I have purchased have a wonderful print on one side and are white on the reverse. This makes sewing it with my serger easy as I don't have to change the lighter colored thread I typically have it threaded with. If you do not have a serger or overlock machine, no worries just use a regular sewing machine set with a narrow zig-zag stitch. A ballpoint needle or one that says "stretch needle" will work best as well. The wonderful texture of Liverpool fabric almost completely conceals a zig-zag stitch for hems. You could also use a twin needle for hems too. Just make sure to have your machine straight stitch set to a longer length so it does not get wavy.
Patterns perfect for Liverpool
Liverpool is perfect for skirts, cardigans, pants and some tops. A few of my favorite Love Notion Patterns ideal for Liverpool fabric are: the Sabrina Slims , the Luna Loungewear Bottoms, the Sybil Illusion Skirt and the Boyfriend Cardigan.
---
Modal
Pat English
What is Modal?
Silky-smooth modal fabric is a semi-synthetic fabric made from the woody fibres of beech trees. It's light-weight, stretchy, 50% more absorbent than cotton and yet releases moisture quickly so it's not trapped against the body making it a good choice for sports wear. It's very durable with impressive resistance to shrinkage and pilling. It's often compared to types of rayon like viscose or lyocell and while it's produced in a similar way, modal fibres are stronger, lighter and more breathable.
Sewing with Modal
Modal fabric can be found in a variety of weights. Micro modal, as light as 125 gsm, needs more care when laying out for cutting to avoid stretching and wrinkling. In weights of 200 gsm and up it's much easier to handle and sew. It's also available in French terry – around 270 gsm – which is even easier to manage. Wash modal in cool to warm water and it can be air dried or even tumble dried at low to medium temperatures.
Patterns for Modal
Modal has wonderful drape and lends itself beautifully to tops, dresses, pj's and underwear. It would be perfect for patterns such as the Breckenridge Henley, Classic Tee, Summer Basics, Namaste Nightwear, and the Sunday Romper.
---
Ponte
Sneha Nirody Monga
Let's talk about my favorite fabric in the whole world – Ponte.
Ponte knit fabric, also called Ponte di Roma, or even Ponti knit, is a double-knit fabric that flatters the figure and holds its shape quite well. It's a stable knit, so it's really easy to cut and sew with. It also has good weight and structure making it perfect for beginner and more advanced sewists alike since it doesn't curl or slip while you sew it.
Usually Ponte is a blend of rayon, spandex (elastane) and either nylon or polyester. While the polyester blend is slightly lighter and has more drape, it tends to pill quite quickly (within the first few washes) and shows wear in high friction areas like between the thighs of pants, or under the arms in jackets and tops. The nylon blend version is practically indestructible, though. I had made a pair of green Sabrina Slims from nylon/rayon/spandex ponte during the first release of the pattern 5 years ago, and I still wear them today. They have not faded, pilled, bagged/sagged, split or show any signs of wear – and that, in my book, is what makes Ponte so invaluable.
Tips for Sewing with Ponte
Just be careful while cutting and sewing, though – Ponte looks very similar on both the right and wrong sides of the fabric. Sometimes it is a little shinier on one side, so I like to make that the "wrong" side. My tip – when cutting out your fabric, clearly mark the body of the wrong sides of the pieces. I like to use sticky tape in a few different places, so that I can always be sure I have the correct sides facing each other when sewing. Too many times I've confused myself and then have half kinda-shiny, half matte pants. Not such a good look, you know.
What to make: I'd recommend Ponte for blazers, pants like the Duet Trousers, Sabrina Slims, Resolution Bottoms (especially the joggers, yum!), Sybil Skirt, and even some structured tops for women. For kids, check out the Vanguard Kit and Moto Maxx Set for boys. For girls, I love the Maxx-ine Pull on pants and the Blissful Blazer. I also like the Navigator Pullover, the Maggie Peplum and the Prisma Dress. Basically, I think Love Notions + Ponte = LIFE.
So give Ponte a whirl! And when you totally fall in love with it, make sure you give me a shout out, and I'll rejoice with you!
---
Rayon Spandex
Josie Magoola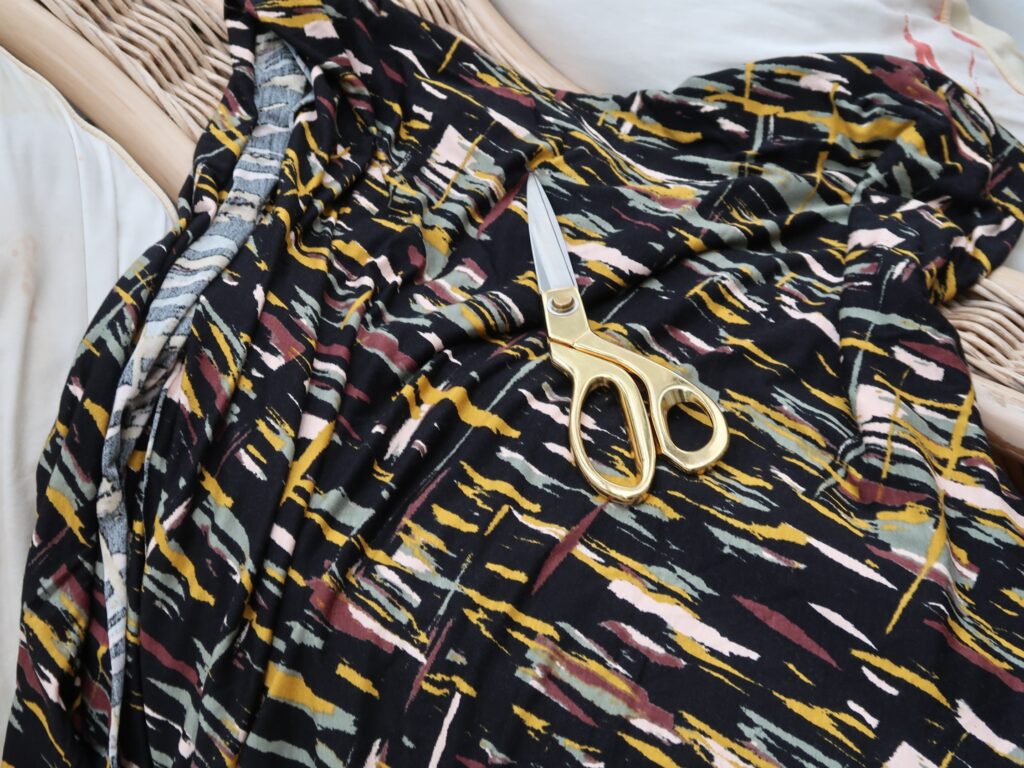 What is Rayon Spandex?
Rayon spandex is often used interchangeably with Viscose spandex. Although they are not exactly the same thing, they are more similar than they are different. Rayon spandex is a combination of rayon fibres with elastane / Lycra. Rayon is a natural-based material that is made from the cellulose obtained from wood pulp or cotton. It is a man-made fibre which may not be synthetic. Rayon spandex is a drapey and breathable fabric which is less expensive compared to other Jersey fabrics.
Sewing with Rayon Spandex
It is not the strongest of fabrics and care must be taken when working with it. It is advisable to use a brand-new stretch or jersey needle when sewing with it and to test out the stitches on a scrap of fabric first. It also helps to lower the presser foot tension to the lowest possible that can still feed the fabric with ease.
Patterns perfect for Rayon Spandex
The sewing patterns I would recommend for rayon spandex fabric include the Sunday romper, the La Bella Donna top and tunic, the Serenity sweater and the Breckenridge Henley.
---
Rib Knit
Katie Kimmell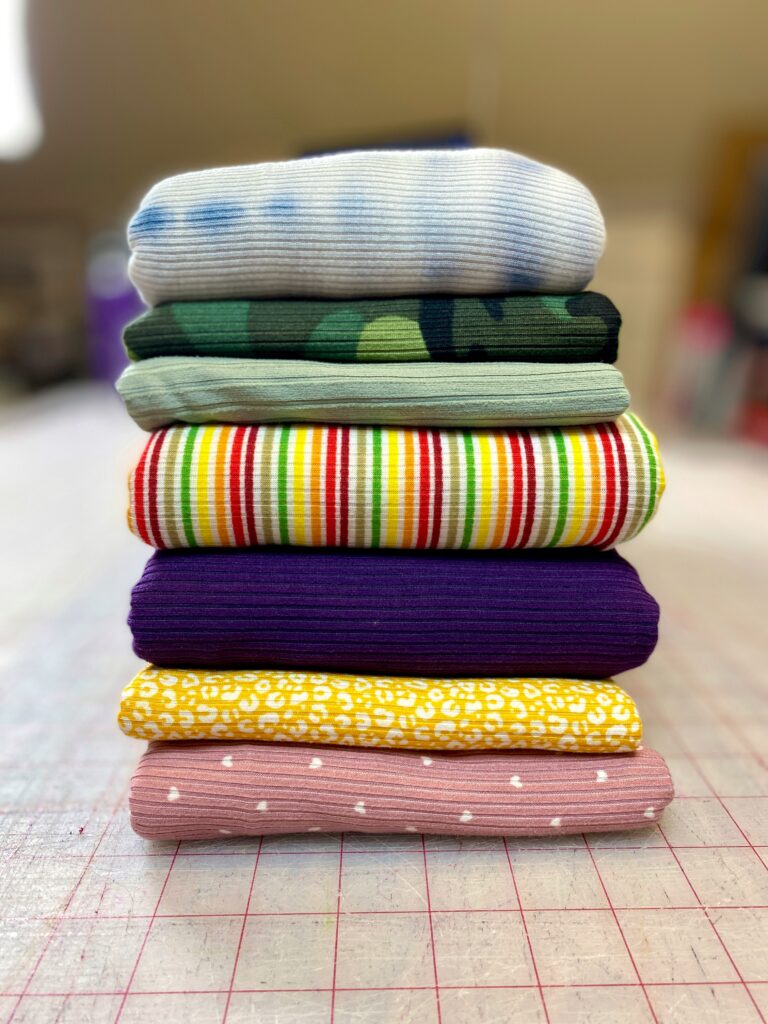 What is Rib Knit?
Rib knits are those created with varying size textured stripes or channels in the fabric weave. This type of fabric has come a long way recently and can be found in different stretch percentages, weights, widths and designs. One piece I do find consistent, is that rib knits have a lovely drape that lends well for tops and dresses.
Sewing with Rib Knit
I've quickly found that all rib knits are not the same so make sure you read the descriptions to give you more details with fabric content. First, check to see what type of stretch the rib knit has by looking at the 2-way or 4-way stretch qualities. Next, look at the size of the ribs and fabric weight. A lower grams per square meter or GSM means a lighter fabric which could result in a sheer garment. While the rib widths don't impact construction, the different sizes can change the look of your garment. Solid rib knits used to be most common but now you can find rib knits in florals, stripes, tie dye, animal prints, camo or anything else you can imagine. All of these rib knits are from Mily Mae Fabrics which is my go-to shop for rib knits.
Patterns for Rib Knit
I've made a fun teal cheetah Vivace Dolman, spot print Breckenridge, zebra print Summer Basics Dress, kids tie dye Samson raglan and a stunning floral Forte Dress all from rib knit recently. I think it would make a lovely Luna Loungewear set for cozy sleepwear, an excellent laying piece as a Canyon Cardigan or even a nice draping Serenity Sweater. It's one of my favorite fabrics to work with because of the versatility, drape and availability of prints you can find with rib knits.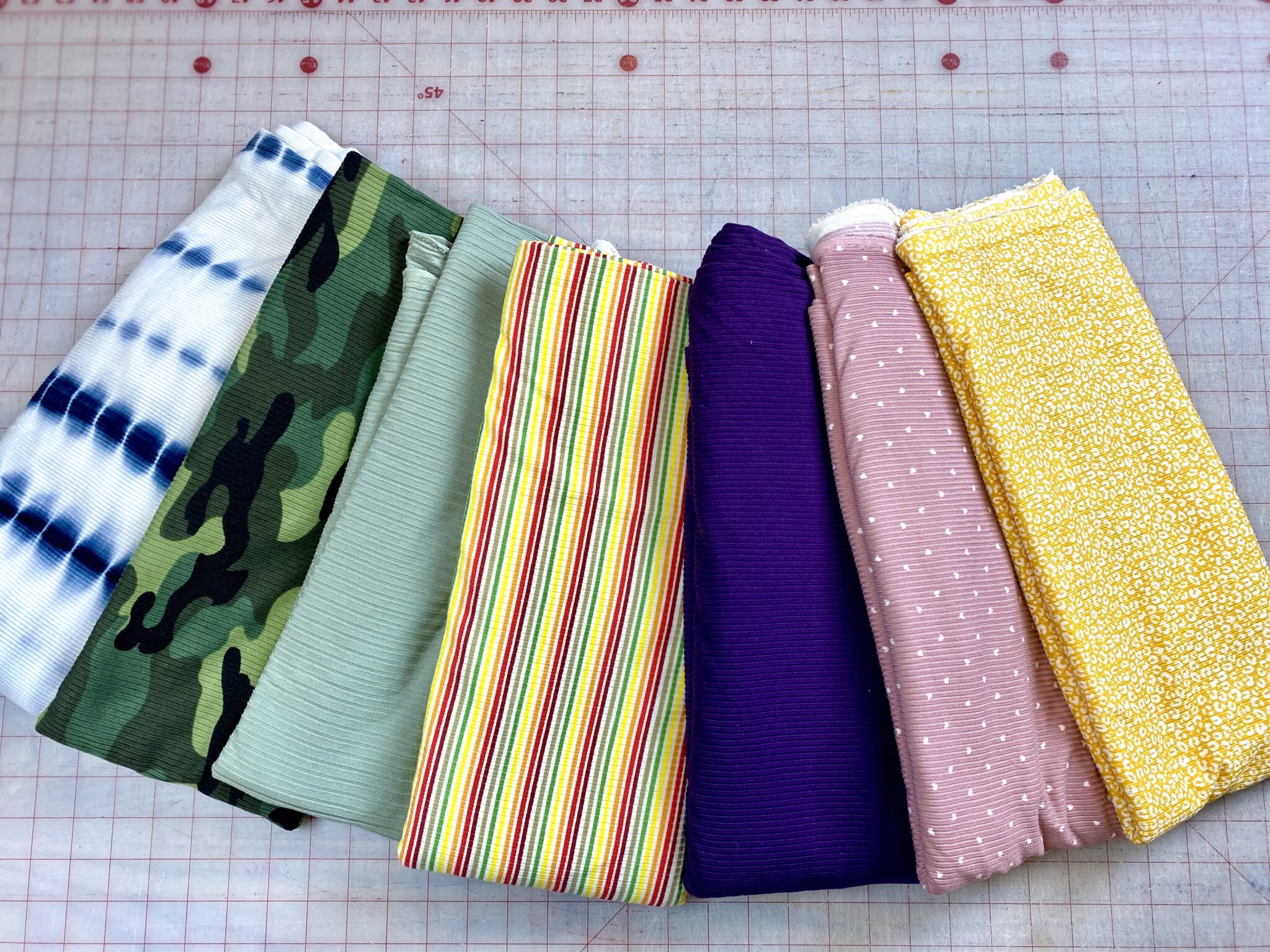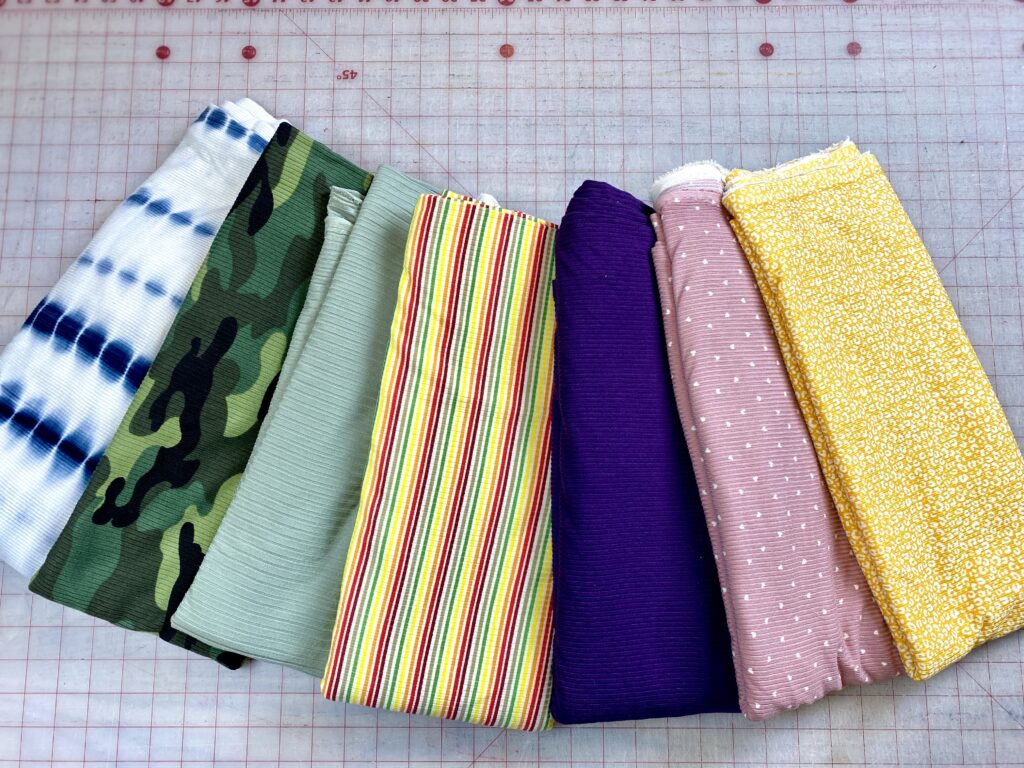 ---
Scuba
Marta from the.pickle.and.the.banana
What is Scuba?
Scuba is one of those magical fabrics that does what it's told. It is easy to work with and sews like a dream. Scuba is like knit and woven got married and had the perfect child. It has the structure and weight of a woven but it stretches and doesn't fray like a knit. Often, you will find that scuba only has two way stretch. It is possible to find four way, but two way is more common. So if you're using it make sure that the pattern will work for the amount of stretch it has. As with all fabric, not all scuba is created equal. There are definitely varying qualities. I have had some that is nice and thick and some that is see through.
Sewing with Scuba
One of my favourite things about scuba is how easy it is to hem. Because of the structure, it doesn't slip or move much. If you give your hem a good steam and clip it in place it will stay put. Just make sure to use a press cloth because scuba is synthetic and you don't want to melt that perfect baby.

Patterns for Scuba
Here are some patterns that would do really well with scuba: Tessa Sheath Dress, Sybil Skirt (the pleated version would be especially awesome I think!) Read my blog about mashing the patterns here. Duet Trousers, Olympia Dress, Margot Peplum, and Sabrina Slims would also be wonderful! I also sewed Sonata Dress with scuba, even though it's originally intended for wovens. LOVE it!

I hope this gave you some insight into scuba fabric and what it can be used for. I look forward to seeing all of your beautiful makes!
---
Sweater Knit
Sequoia Bond
What is Sweater Knit?
Sweater Knit, specifically Hacci Sweater Knit, is one of my favorite bases to sew with and I love wearing it during Fall and Winter. It is warm and cozy without the bulk you usually expect from a sweater knit. The main reason I love it is because it's so incredibly soft and perfect for layering. The second reason is because it doesn't wrinkle! Hacci comes in a variety of weights, prints, and colors so there are literally options for everyone.
Sewing with Sweater Knit
Hacci comes as either a cotton/wool or a cotton/poly blend depending on which one you buy. It isn't overly expensive and it easy to source. The weave is more loose than typical cotton knits and it has a beautiful drape. It is extremely easy to sew with using a regular sewing machine or serger. There are lot of other types of sweater knits that are more difficult to sew with like loose weave sweater knits for example. You can read about sewing with those here.
Patterns for Sweater Knit
Love Notions truly has a lot of lovely options for using Hacci fabric. I think Hacci would make a stunning Sloane Sweater layered with the Oakley Vest, it is perfect for the Canyon or Boyfriend Cardigan, or make a matching set for the family using the Constellation, North Star, and Navigator patterns. There are so many patterns that would look beautiful when sewn in Hacci so give it a try, I bet you will love the results.
---
Sweatshirt Knit
Katie Grimm
What is Sweatshirt Knit?
Sweatshirt knit is a knit fabric that usually has minimal stretch and a brushed underside. It typically is either a cotton/polyester blend or a polyester rayon spandex blend. It is soft and very comfortable to wear. A true sweatshirting only has about 20% stretch both ways so it is important to check your pattern for stretch requirements. It ranges from lightweight to heavy, and the brushed side can vary as well.
Sewing with Sweatshirt Knit
Using a ballpoint or stretch needle will give you the best results while sewing. You may wish to size up depending on how you want it to fit and you can either make your bands longer to adjust for the stretch, or use ribbing or a cotton lycra jersey for your bands. Another great option for sweatshirt knits is to use a woven pattern.
Patterns for Sweatshirt Knit
The Sloane Sweater and Rockford Raglan (or Samson Sweater) are fantastic patterns for sweatshirt knit. The Allegros Bottoms make a perfect pair of stylish sweatpants! Pictured are three different sweatshirt knits. The teal is a heavier, sturdier knit from Sly Fox Fabrics and the light burgundy and shibori stripe are more lightweight and drapey and are from Raspberry Creek Fabrics.
---
Waffle Knit
Leanne Fayard
What is Waffle Knit?
When it comes to knit fabric, one of my most loved substrates is waffle knit. Especially when it's fall/winter because there's just something so cozy about it, right? One thing I've learned over the years is not all waffle knit is created equally. You'll have some that has a looser weave and a smaller stretch percent, and vice versa some that are tighter woven, and a bigger stretch percent.
Sewing with Waffle Knit
I have never come across a waffle knit that has 4 way stretch (it mostly has horizontal stretch, very little/no vertical stretch), so I generally reach for this fabric for my looser fitting/flowy patterns. Like the stretch, the drape for waffle knit will vary from fabric to fabric. I've worked with some waffle knit that is stiffer and some that is soft and super drapey, it all will depend on the fabric you picked. That being said, I don't find the differences to be stark enough to deter me from using my intended pattern if I find it's not drapey enough/too drapey once I get the fabric in my hands. I would also suggest maybe using a different fabric for neck bands depending on what the stretch percentage of the particular piece of fabric you're working with is. I've had to lengthen neckband pattern pieces to fit when my waffle knits don't have enough stretch to fit as they're drafted to. My favorite patterns to use with waffle knit, are generally always shirts or cardigans.
Love Notions patterns to use with waffle knit:
Rockford Raglan (my favorite)
Sloane Sweater (the boxier view)
Boyfriend Cardigan (I don't currently fit in the size range for this pattern but a cardigan is always a safe bet for waffle knit)
---
Chambray
Tami Peterson
What is Chambray?
Chambray is a woven fabric that is made using a dyed warp yarn and a white filling yarn, meaning that a colored yarn is woven with a white yarn to create a fabric with depth. It is typically made with 100% cotton but lightweight tencel chambray has become widely available as well. When you think of chambray, you may go right to your favorite denim-look button-up but chambray has so many more possibilities!
Sewing with Chambray
Chambray is a woven fabric that is incredibly easy to sew. Because it is woven, you will need to finish the raw edges either by using a serger, french seams, or an overcast stitch. Fun, colored chambrays can really brighten up your wardrobe. Chambray is available in different weights making it possible to find a chambray that works well for bottoms and also one that would make a lovely blouse.
Patterns for Chambray
Chambray would be perfect for all views of the Allegro Bottoms. A Melody Top or a Lyric Dress would also be great choices for this fabric.
---
Crepe
Anjori Halder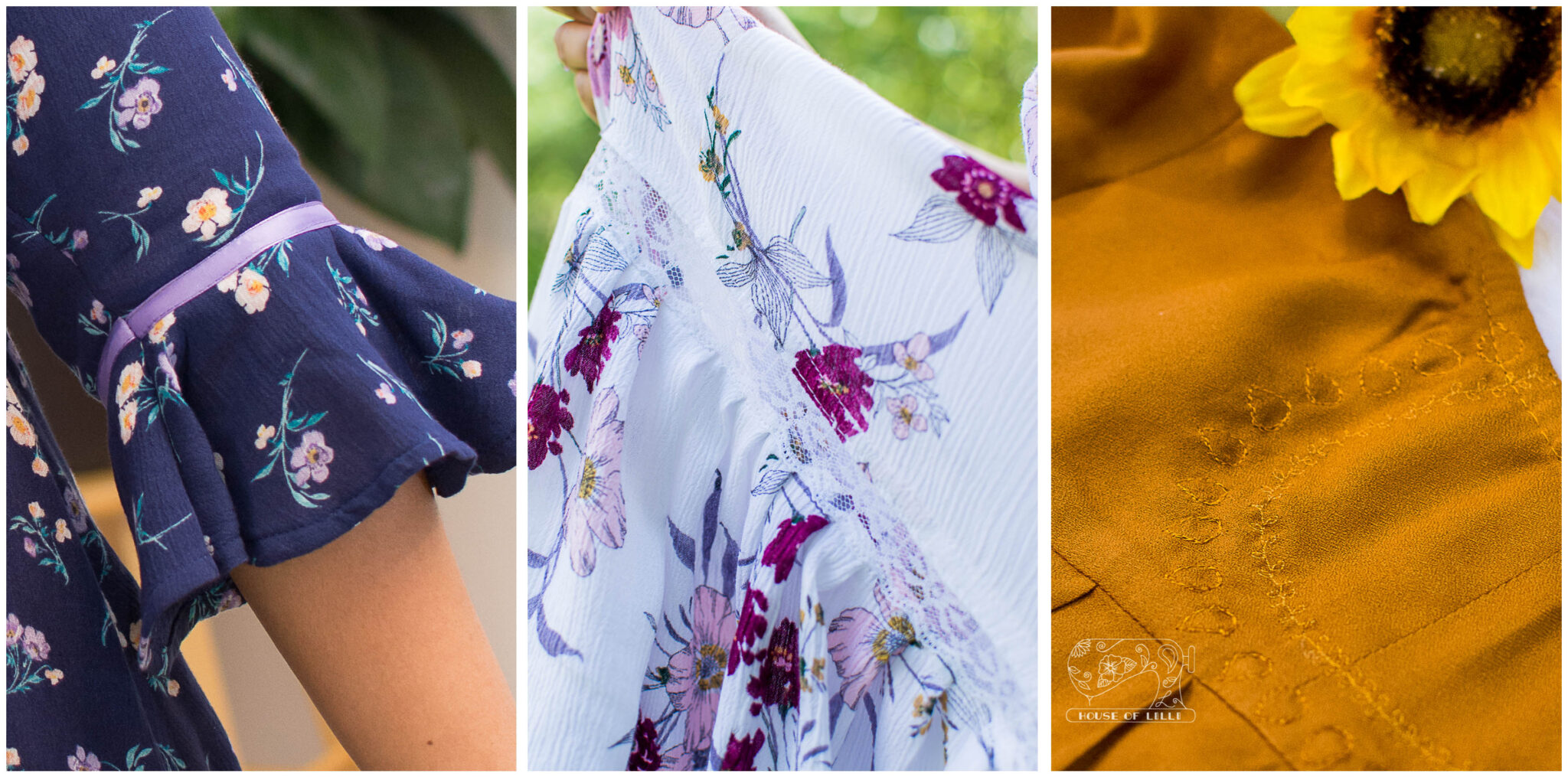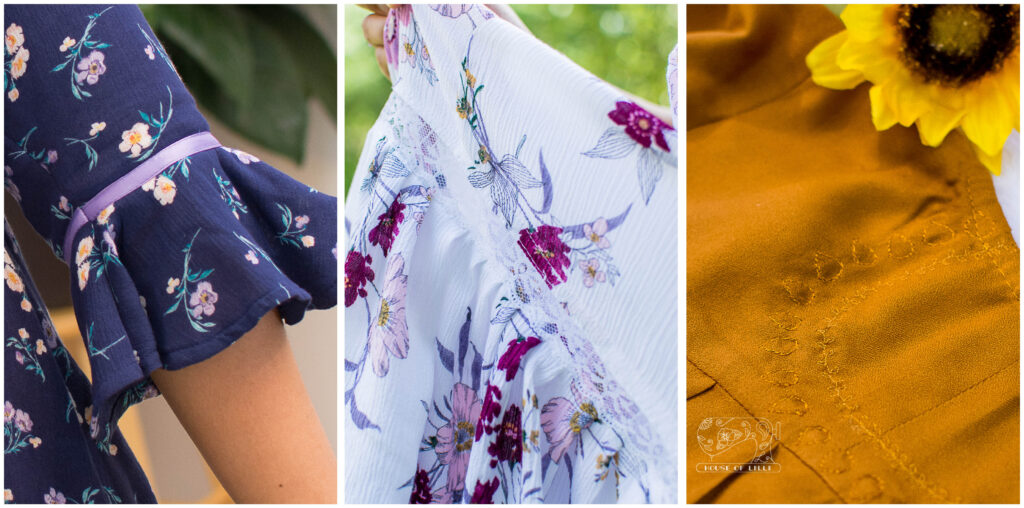 Anjori here from Bee Threadly, here to talk to you about crepe and not the type you eat!
What is Crepe?
When you want a slightly textured fabric that drapes well, crepe is what you are looking for. Crepe fabric is pretty distinctive with it's bumpy/wrinkled texture that is made by hard twisting yarn used for weaving. Once the weaving is done, the twisted threads want to unwind, thus creating the wrinkled effect. Crepe can be made from almost any material: cotton, polyester, silk, wool, rayon, viscose, etc. There are different types of crepe: crepe de Chine, crepe georgette, crepe charmeuse to name a few.
Crepe shrinks in the wash, so the preferred cleaning method is dry cleaning. When I washed the first crepe dress I made, unaware of what happens when it gets wet, I panicked when it came out 2-3″ shorter! I took a chance and ironed it back to original size. So, if you are like me and throw almost everything in the washer and are okay breaking a few rules, you can always iron it, otherwise – dry cleaning.
Additionally, the environmental effect of crepe is dependent on the materials used to make it, since crepe is more of a weaving technique rather than a product. So if you are concerned with the environmental impacts, my advice would be to buy less in the first place and research the materials used to make the fabric.
Tips for Sewing with Crepe
Sewing with crepe is a whole other matter. It grows and stretches, and the first few times, it was super frustrating to sew with. But, with some practice and tips below, you can be on your way in no time. As always, pre-wash your fabric as you intend to wash your garment before you start.
When cutting crepe fabric, the biggest issue is slipping of the fabric; to prevent slippage use starch, if possible, or place tissue paper underneath the fabric and cut both the fabric and tissue paper together. It's a good idea to cut single layers out – you can do this with "cut on the fold pieces" by tracing your pattern piece and taping the two halves together. At the sewing machine, use microtext needles and lower thread tension; and that tissue paper you used earlier can come in handy here too, once sewn, tear the paper off. And don't forget the magic of the walking foot, if you have one, use it, if you don't have one, consider investing in one!
Patterns for Crepe
Crepe fabrics, because of its delicate hand and cleaning requirements, is usually used to make special occasion garments, or as lining. I have made the Lyric Dress, Rhapsody Blouse, and Presto Tunic (hacked into a dress) with crepe. All are wonderful patterns for the drape this fabric gives. Other patterns that would do well made with crepe are Cadence, Vivace, Melody, Sonata and the Dolce Dress for girls. You can see my blog post about the Lyric here.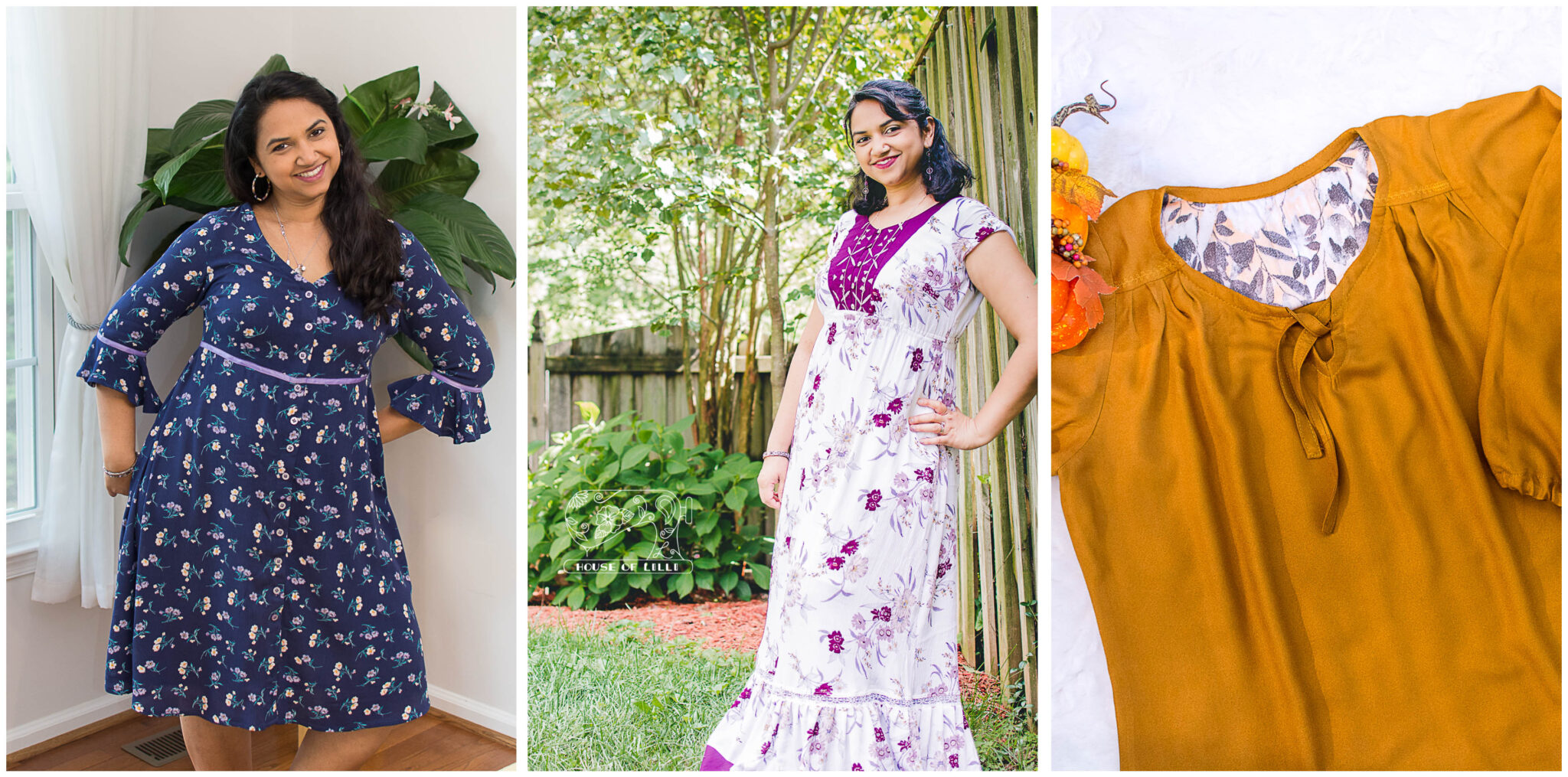 ---
Linen and Linen Blends
Karina Trinidad
Hi, I'm Karina from the sewing channel Lifting Pins and Needles and I'm sharing all about one of my favorite fabrics: Linen.
What is Linen?
The flax plant is the source of the fibers that are made into Linen fabric. Linen has many magnificent properties. It is comfortable to wear and has a unique aesthetic. Great trans-seasonal versatility makes linen a brilliant choice for classic pieces: fresh in the heat and warm in cool weather. It is also a very resistant fiber with great durability that dries quickly. Antiallergic and antibacterial properties are also given to Linen.
Sewing considerations for Linen
Sew linen with a universal needle. 80-100 depending on the weight of the fabric. Linen will shrink 10-15% vertically and less horizontally. It's a fabric that needs to be prewashed and pressed before cutting and sewing the garment. Linen loves to stretch out, especially on necklines, armholes, waistlines and waistbands. Stay-stitching these areas of our pattern pieces before sewing them together will ensure we conserve the original shape of our pieces. Linen is a natural fiber and our garment, when worn, will expand and stretch naturally against our body. If you are making a muslin for a pair of pants, try to achieve a fit closer to the body with your test version. Try not to use Linen as "muslin fabric" because it's a pricey fabric. When you make your final pair with Linen, considering that the fabric will give a little, your fit will not turn out looser than what you expected. Linen is wonderfully easy to work with, and a simple design will shine because the fabric on its own is so beautiful. Adorn the seams with some top-stitching for an extra dose of pretty.
100% linen is pricey, sturdy, beautiful but wrinkly. I would pair this fabric to the Glissando crops and skirt and for the top: The Cadence top and dress.
Linen / Rayon Blend is also beautiful, less costly, and feels softer than pure linen. It also has a lovely drape that rayon brings to the mix. The placket and collar details of the Presto tunic would look amazing, as would the Lyric dress. I have made the Allegro Bottoms, and Summer Caye Pants from this blend, all with great results. See exactly this brown fabric shown here made up below with the Glissando crops and skirt. The details shine and the top stitching highlights the seams.
Linen / Cotton can be found in shirting fabrics and is lightweight. I love this blend for the Melody Dolman. This fabric will hold the structure of the camp collar and button down feature beautifully. The red fabric shown is a Linen / Rayon / Cotton blend and its heavy and structured. The Glissando crops and skirt would be perfect for this fabric. Look at the texture!
---
Minky / Cuddle
Rachel Ring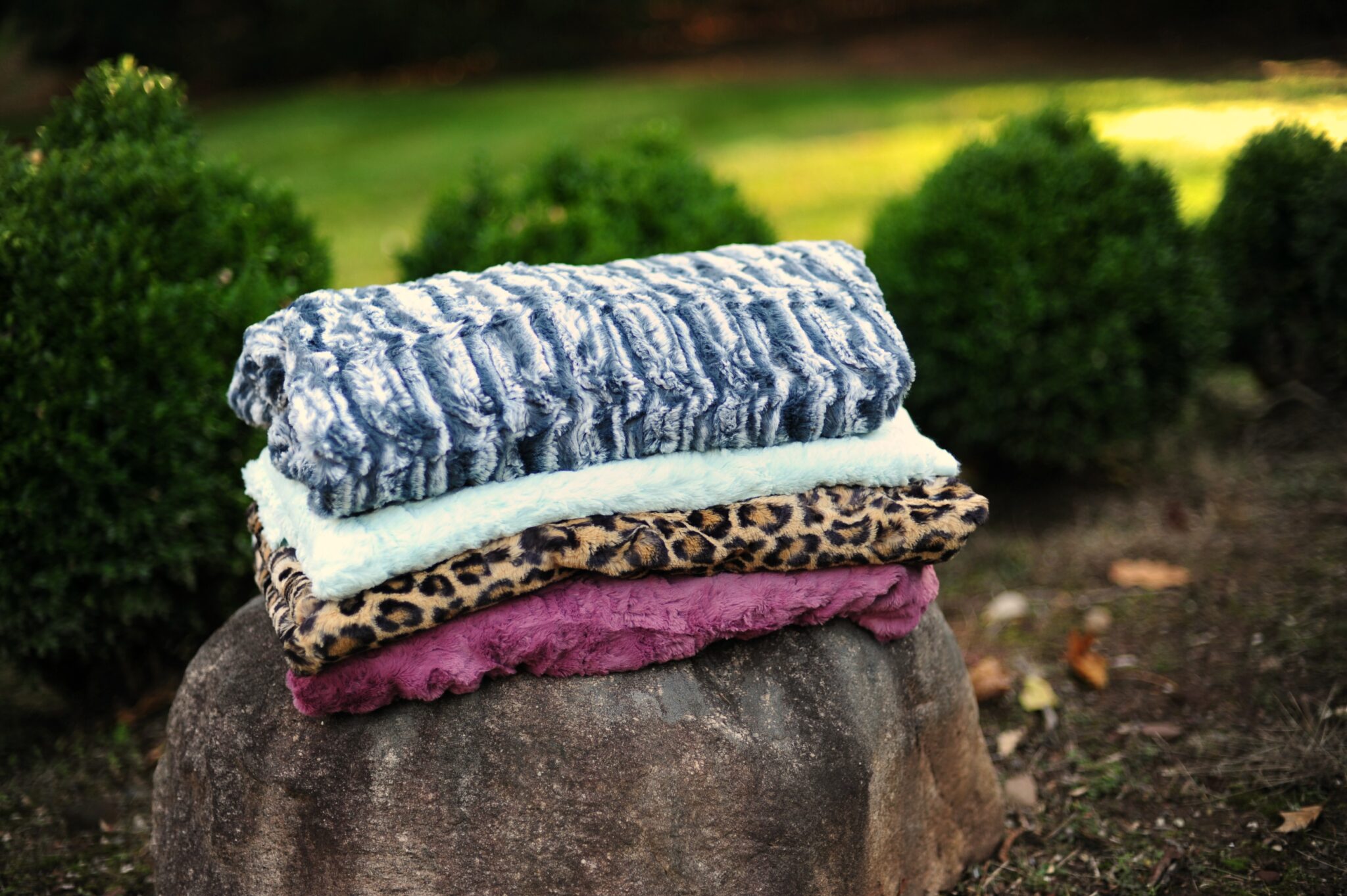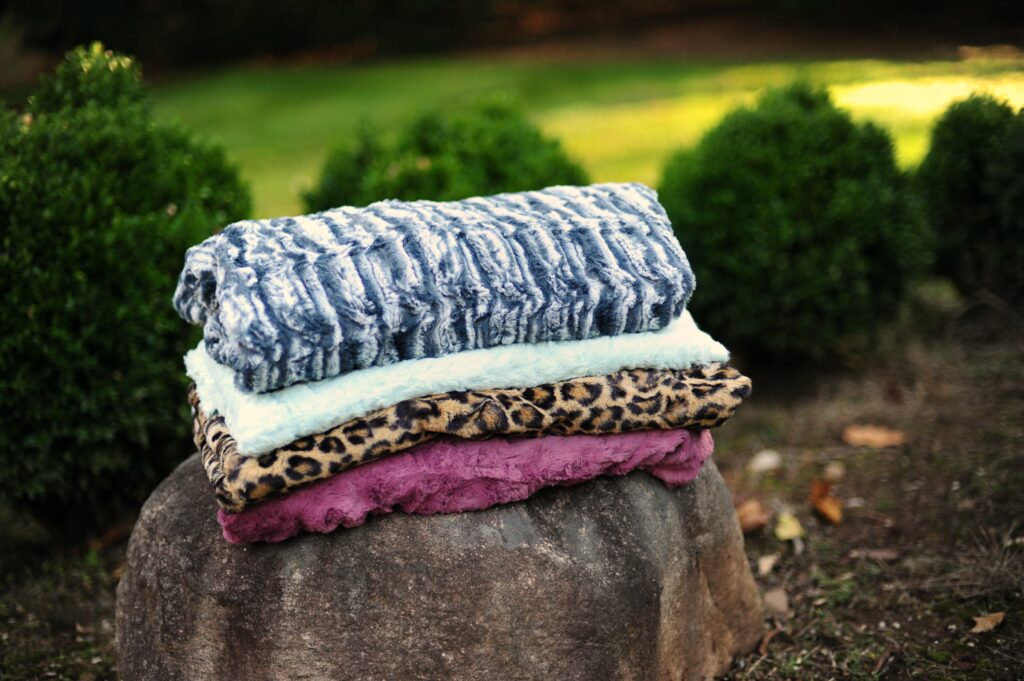 All about Minky
I'll admit, minky isn't always everyone's favorite fabric to sew with. It can be slippery, slinky, and that doesn't even begin to cover the mess it can make when you cut it! We've probably all had an experience with a piece that we thought would make an easy and cute baby gift until we mangled it from a square into some sort of wrinkly mess, leaving us to vow never to touch minky ever again. I'm sure I'm not the only one! Somehow I found myself giving it another try a few years ago, this time with a high quality Luxe Cuddle, and it won me over.
Minky is a woven substrate generally made from 100% polyester, with a thicker nap (the raised pile/fibers) on one side and a shiny woven backing. It can be machine washed and dried, but will burn/melt easily if ironed. It's famous for cuddly baby blankets and infamous for the shedding that happens when you cut through the fuzzy side. Minky has very little to no stretch aside from the slight mechanical stretch that runs from selvage to selvage.
Sewing with Minky
There is a clear direction to the nap/pile (although the length and thickness of the nap can vary widely), and in general it's recommended to cut your pattern pieces with the nap running down the length of the fabric. Quality of minky can vary widely and perhaps predictably, the higher quality fabrics will be easier to sew with and tend to feel more stable and less slippery. I've sewn with it quite a bit in the past several years, and this blog post about sewing with minky and faux fur has a lot of helpful tips. My most essential tips are to use a metallic sharpie to mark the pattern lines and notches as needed, keep a dustbuster or hand vacuum next to you, cut from the back side of the fabric, and immediately scoop up all of your pieces as you've cut them and transfer them to your dryer for a 20-30 minute cycle with no or low heat. Much of the extra fuzz from the cut edges will come off during this cycle and won't clog up your sewing machine. I use a universal needle, polyester thread, and a lengthened straight stitch (3.5-4mm) and a TON of wonder clips or flower head quilting pins when sewing minky.
Patterns for Minky
My favorite LN patterns to use with minky and cuddle fabrics are the Oakley and Acorn vests, and the Navigator/North Star/Constellation pullovers.
---
Rayon Challis
Heidi Polcyn
All about Rayon Challis
Rayon Challis is a wonderful fabric to use when sewing garments. It has a soft, flowy hand and drapes beautifully, adding a lovely detail that elevates your handmade garments.
Sewing with Rayon Challis
Rayon Challis is 100% rayon and typically very lightweight. It can very easily be distorted when cutting and sewing, so you will want to take a few precautions while handling this substrate.
To ensure your pieces are as accurate as possible, you may want to cut it out in one layer, making sure to cut mirrored pieces from your pattern. It is also helpful to use a cutting mat, pattern weights, and a rotary cutter. This minimizes any shifting during the cutting process and you will end up with a much more accurate result.
While sewing your garment, try to handle the fabric as gently as possible. No pulling the fabric through the machine! Let the machine do the work and just gently guide it with your hands. It is a good idea to roll your cut fabric pieces rather than folding them as you are working with them. This helps to prevent any accidental stretching.
I also like to use a very sharp needle. Make sure your needle is new, and choosing a microtex needle is also a good idea. A size 70 or 80 needle ideal.
Patterns for Rayon Challis
The options are endless when choosing what to make with your beautiful rayon challis! This substrate is available in so many beautiful prints and can be made into a wide variety of garments.
You can make gorgeous flowing tops, blouses, and dresses. One of my very favorite Love Notions patterns to make with Rayon Challis is the Rhapsody Blouse and Dress. But any of the patterns drafted for wovens will work beautifully! Check out the Vivace Dolman, and Melody Dolman for stunning blouse options.
Tops and dresses aren't the only options with this fabric! Use it to make a super comfy and breezy pair of summer bottoms with the Allegro pattern, or a flowy pair of pants or shorts with the Summer Caye pattern I promise you won't be sorry!
---
Sateen
Crystal Collins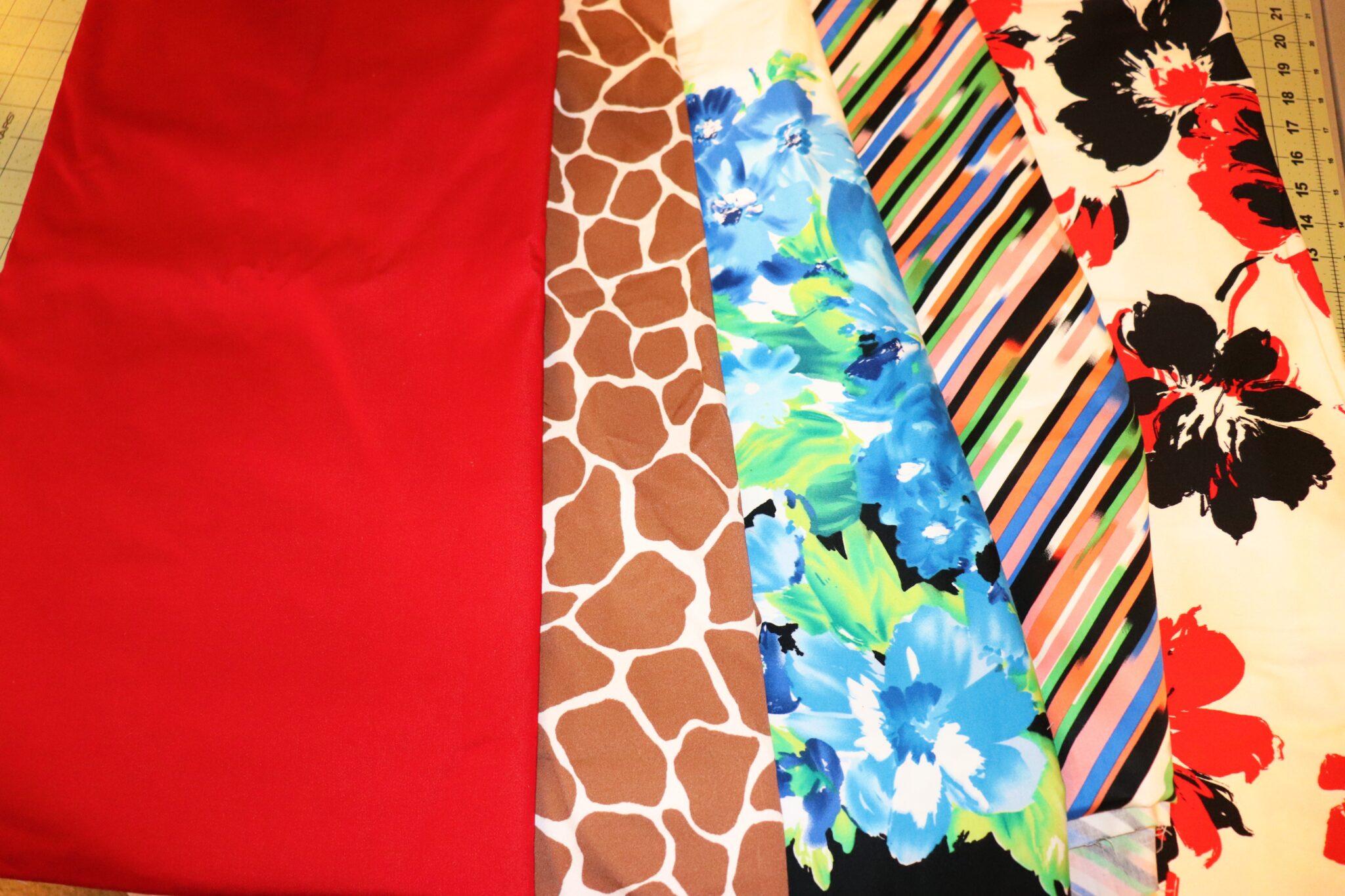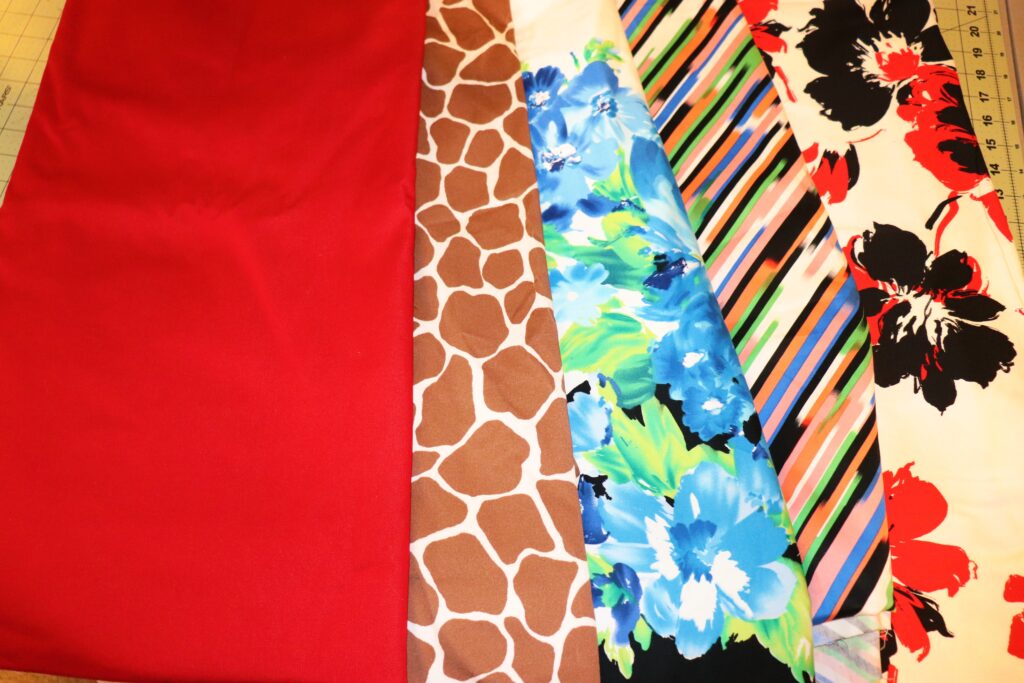 What is Cotton Sateen?
Cotton Sateen is a lovely stretch woven fabric with a lot of versatility. It's an easy to sew cotton blended with a bit of elastane (3% or less) to provide some give while maintaining the fabric's original structure. It ranges in weight from a lightweight shirting to mid-weight twills.
Sewing with Sateen
You should preshrink your sateen fabric by washing and drying it on medium/low heat. Fabric should be cut with the greatest stretch going around the body and sewn with a 70/10 or 80/12 machine needle. Some of my favorite things to sew with cotton sateens are skirts, pants, structured dresses and summer jackets.
Love Notions has some great patterns that would work well with cotton sateen including:
The Glissando Skirt: While the pants version is more suited for non-stretch fabrics, the skirt is perfect for cotton sateen because it provides the give you need to go over the curves of your hips. Check out my blog post where I share how I made this lovely skirt in a denim-look cotton sateen.
The Sonata Dress: The sleeveless and short sleeved versions work well in a cotton sateen because of the pattern's structured design. Two contrasting colors for the bodice and yoke pieces create a chic and unique look.
The Sabrina Slims: These are great closer fitting pants that mold to your body's shape. Sateen will hug your curves in all the right places without being overly tight.
The Maxx-ine Pants and Skirt for Girls: Cotton sateen tends to be durable and comes in gorgeous prints and pretty solids. The Maxx-ine Pants with its ankle zip, and the Maxx-ine Skirt with its trendy side-slit zip will work well for both young girls and teens alike in this fabrication.
Cotton sateen is an amazing fabric that I know you'll enjoy using for your next project!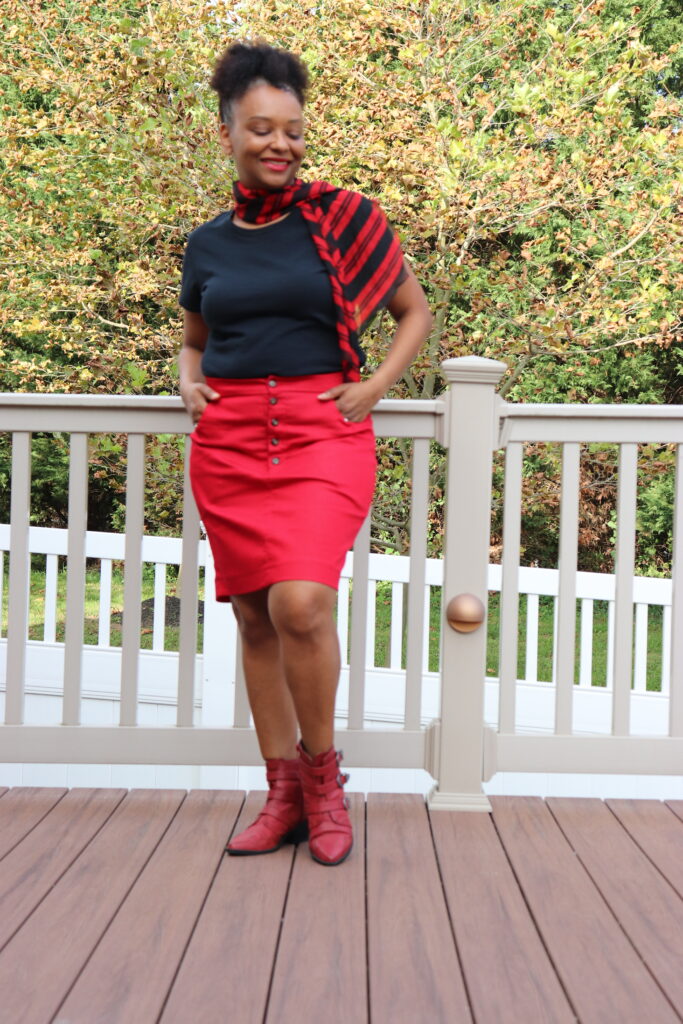 ---
Thanks Ambassadors!
Thanks to the Love Notions ambassadors for contributing to this article. We hope it is helpful for everyone in our sewing community. The pattern recommendations from the ambassadors do contain affiliate links which create no extra cost for you if you are inspired to purchase a pattern.
A little disclaimer — we are not certified fabric experts and this resource is a basic guide to the common types of fabric we work with. The fabric world is vast and full of more types of fabric that we can count — and each different base has even more variations within it. So, take this guide for what it is: general information and advice derived from the experience and expertise of home sewists.
---
Glossary of Fabric Terms:
Woven: Fabric that typically does not have stretch
Knit: Fabric that typically has stretch
Stretch: A way to measure how much the fabric will expand or bounce back. Knit fabrics typically have stretch to them and most knit patterns have specific stretch percentage needs which are noted in the pattern requirements page — for example 40% horizontal stretch.
Drape: Describes how well the fabric flows over your body. Knit fabrics will have some degree of drape that could be described as anywhere from fluid to stiff. Different fabrics naturally fall away or cling to the mannequin depending on the kind of drape it has.
---
Pin this guide for later!