If you are like me, you might think shopping for fabric is one of the most fun parts of sewing. I think a lot of us feel this way! However, with all of the options for fabric shopping out there, I've noticed that we often hear some version of this question: "Where should I shop for fabric online?" So this post is for anyone new to fabric shopping and includes tons of recommendations from our Ambassador team, who are expert fabric shoppers!
Where to Shop for Fabric Online
Online fabric shopping has exploded over the past few years. There are tons of options so it can be hard to know exactly where to go when you're investing in your collection. With that in mind, we decided to make a resource as you shop for fabric online. Tami gifted each of the Love Notions Ambassadors a fabric shopping budget as a thank you for their work this past year. (You can read about a similar event last year if you click here or here — the LN Ambassadors are the best!.) With this budget, the ambassadors selected an online fabric shop, ordered fabric, took a picture of their new pretties, and wrote up a review of information other sewists might find helpful as they shop at that store. You should know that all opinions are their own and reflect their own experiences. Additionally, links to patterns in this post include their personal affiliate link, so please use that as you coordinate your fabric and pattern purchases. Thanks for your work on this, Ambassadors!
We hope you find this resource helpful as you shop for fabric online. We weren't able to discuss every fabric company out there, and would love to hear about other places that you have found for fabric shopping online. Leave a comment with your recommendation at the end of the post!
---
Directory of Ambassador-Recommended Online Fabric Shops
You can use this listing for easy reference, but be sure to read through the ambassador reviews below for more info, specific shop details, and suggestions for pattern pairings!
---
1. Surge Fabric Shop
Recommended by Leanne Bagala

I know how scary it can be ordering fabric online. You really can never be sure what you're going to get until it shows up in the mail. There's nothing worse than excitedly awaiting fabric happy mail only to open it and be disappointed by what you got. That's why I love Surge. When you order with Surge Fabric Shop, you can be sure that you're going to get quality fabric that was picked to be in their shop for a reason. Shipping times for everyone have slowed down during everything that's been going on since COVID entered our lives, but Surge is still surprisingly quick. This fabric was ordered on May 25th (which was Memorial Day), shipped on May 27th, and was outside my door by June 1st. Not including weekends, that's a 5 day turnaround, which is pretty speedy regardless of any outside circumstances.  
Surge is well known for their athletic fabrics and stretch lace (I have so much of this in my stash just waiting to be made into bralettes), but I was surprised to see they also have a nice selection of woven apparel fabric as well. I find that a lot of indie online apparel fabric companies mostly specialize in knit, so I'm really excited to have Surge as an option, and I know it's a good company I'm supporting as well. I got the Denim Washer Linen and the Pear Washer Linen, and y'all…they're so yummy. The fabric is soft and has a really nice drape and I cannot wait to sew it up into some Allegros. I'm thinking the 5" inseam shorts with the denim, and maybe the joggers option with the pear color? What do y'all think? Pattern ideas for either fabric: Allegro (this would be my top pick and what I'll be using mine for!), Melody Dolman, Lyric Dress and Peplum,Summer Caye Palazzo Pants. Connect with me @threadyforit on IG.
---
2. Stonemountain Fabric
Recommended by Anjori Halder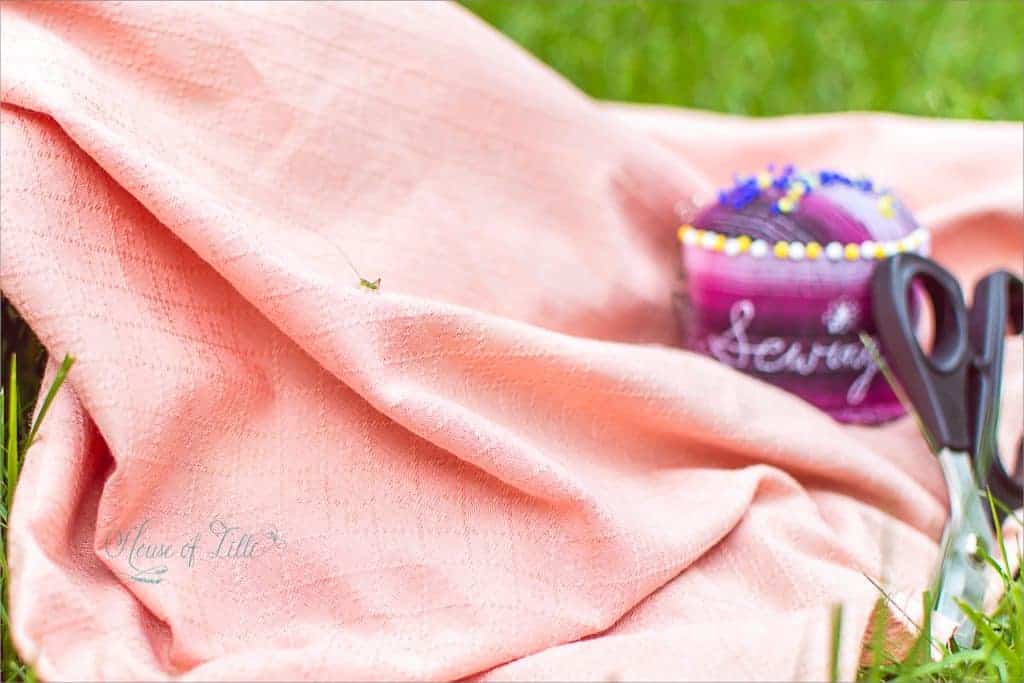 I came to know about Stonemountain and Daughter Fabrics last year when I applied to be on their Stonemountain Sewist team, actually through Michelle (another ambassador here at Love Notions). When it was time for my first project with Stonemountain, I found their selection of fabrics refreshing. There were many options to choose from, including many that are earth friendly, which has been important ever since I was a little child. Now as a 'Sewing Machine' with a few years of serious sewing under my belt, I crave to be more picky about the fabrics I purchase so that the garments I make lasts as long as possible. Stonemountain fabrics fit the bill for higher quality fabrics. My first order with Stonemountain was an imported Indian block print on cotton and I loved it so much that I decided to do another Indian import.
This time around, I got a 'Rose' colored yarn dyed cotton that was weaved in a textured diamond shape. It feels so soft even before pre-washing it and has a nice drape. There are more colorways available as well. Not only is the fabric great for garments but it is also certified Fair Trade, which means everyone from the farmers to the weavers were compensated with income sustainability in mind. I'm sure this fabric would be great as a Cadence Top, Melody Dolman , Harmony Blouse, Lyric Dress, Sonata Dress, Presto Tunic or even Summer Caye Pants. I think I'm going to attempt a Cadence Top with this one.
Not only do I love Stonemountain's fabric, but their packaging is also fun. Each order includes an assortment of stickers, postcards, and/or pencils. And as an added bonus, they recently switched to using plastic packaging that will fully compost in 1 year! Double yes!
I'm only two orders in, but I'm a total fan of Stonemountain and Daughter Fabric and will be getting more in the future! You can check out their blog, which is filled with projects from other Stonemountain Sewists, and follow them on Instagram to find out about new fabrics in the shop. 
---
3. Amelia Lane Designs
Recommended by Caroline Gaddy
Amelia Lane Designs is one of my most favorite fabric companies. I've used their fabric for so many projects! Their excellent customer service, affordable prices, and quality fabric always keeps me coming back for more. They also work hard to have a diverse and inclusive promotion team (of which I am a part), and that is something that fills me with joy. I am proud to wear my ALD garments because they are beautiful and representative of ideals I hold dear, like celebrating diversity. 
ALD  has a lovely selection of fabric and carries some really unique options (like the lavender pointelle in my photo). Pointelle is a lightweight jersey knit with texture and lovely drape. Fabulous for tops, PJ pants, or even a summer dress. I'm planning a simple Classic Tee with mine. One of those wonderful, go-to, basic pieces (that I never remember to make – ha!) to build your wardrobe. I have some in my stash that I plan to make some Luna Loungewear or pants with! ALD carries a wide variety of solids in a plethora of bases and prints that make my heart go all a'twitter. I especially love their French Terry (the brushed FT – oh my goodness, so soft), sweater knits, jersey/tri-blend, and swim fabrics. Their swim lining and power mesh is some of the best I have ever found. It's magically not a total slippery pain to sew! 
The shop regularly gets new pretties in. New Arrivals always have special pricing for a limited time. They're such a good deal! Let's just say that's why I have so much fabric. 😉 Their customer service is amazing and the quality of their fabric is sublime. Several people in my family, including me, have sensitive skin and sensory needs that can make some fabric a nightmare. But the team at ALD does such a great job of describing the fabric and demonstrating it in live videos in their Facebook group, I always feel confident ordering from them. I've used their fabric to make Sabrina Slims, the Tabitha top, La Bella Donna top, Vivace dress, and more. For their quality, unique fabric selections, inclusivity, and amazing service, I really cannot recommend Amelia Lane Designs enough. I hope I'll see you around the group! 
---
4. Boho Fabrics
Recommended by Chris Shapiro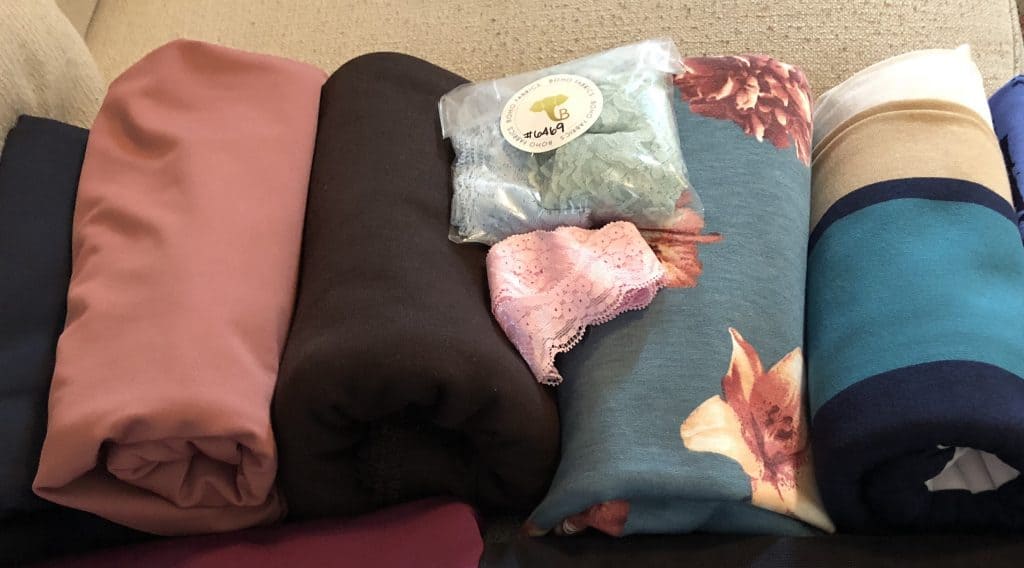 I have been shopping with Boho Fabrics since way back, when they were called Sew Vagabond.  Boho Fabrics has grown tremendously since then and Emily Pritts, the proprietor, has built a very special selection of fabrics.  With her knowledge of textiles, she seeks out the loveliest specialty fabrics that I can only find at Boho.  If you have a special event, or just want to feel special, then make your way to Boho Fabrics and enjoy the gorgeous selections of specialty, woven and knit sequined fabrics, velvets and more.  
Another very fun and unique feature at Boho Fabrics is their Fabric Happy Hour!  Fabric Happy Hour happens every evening.  Boho puts together special bundles with bundle pricing!  If you like the idea of being able to purchase a bundle of 3 fabrics that all coordinate without you trying to figure out what will work together, then the Fabric Happy Hour is for you.  The bundles range from sweater knits, French Terry and even swim bundles, which include swim elastic and lining! These coordinated bundles work perfectly for the Sloane Sweater, Rockford Raglan, and the Sunday Romper.
Boho Fabrics has the kind of customer service that draws you in and makes you feel like family.  Emily likes to give gifts to her family so every purchase comes beautifully packaged and there you will also find a surprise little bag with your gift. It could be a yard of FOE or some beautiful applique or a bit of pretty lace or even a fun colored zipper!  Such a lovely touch that just makes Boho Fabrics a special place to shop.   
I got a gorgeous stretch mesh that would be oh so lovely sewn up as an overlay on the Sybil Illusion Skirt. And I also snagged a large print French Terry which will look smashing right down the center of the Tessa Sheath Dress!
---
5. LA Finch Fabrics
Recommended by Heidi Polcyn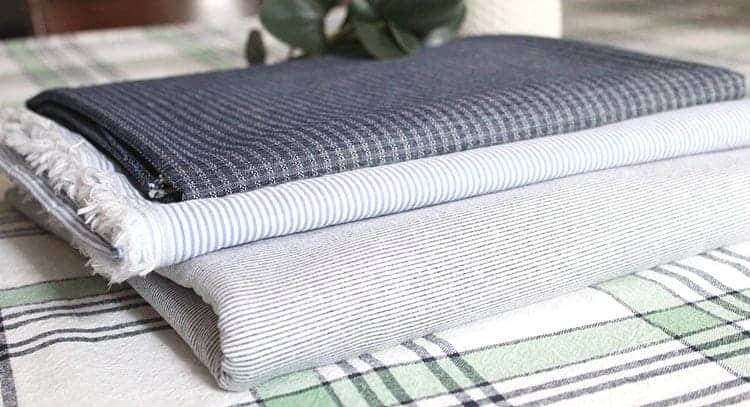 La Finch Fabrics is one of my very favorite online fabric shops to shop at! Whether I'm looking for something specific or just feel like browsing, they are always at the top of my list! 
I love their revolving selection of designer endcuts, you truly never know what you will find! For me, the thrill of the hunt and finding designer fabrics for amazing prices is what keeps me coming back, over and over. They have a huge variety of fabrics to choose from as well. A mix of wovens, knits, athletic & swim, bottom weights, and whether you prefer synthetic or natural fibers, they have it all!
Not only do they stock designer endcuts, they also stock well-known quality brands, such as Robert Kaufman and Cone Mills. But let's not forget their End of Bolt section! SO MANY amazing goodies to be found there!
I am asked the question a lot; "Where do you find all your good striped knit fabrics?", I do shop at a variety of places, but LA Finch is an AMAZING place to check for good striped fabrics!!
As you can see, with my gift from Tami, I obviously gravitated toward stripes! As well as, blue/gray and white, but that's a whole other thing, lol. The top fabric is Cone Mills chambray in a beautifully textured stripe! I plan to make a pair of shorts with this cut, most likely the tried and true Allegro Pattern! The middle fabric is an absolutely gorgeous designer Rayon Lawn. I'm imagining this to be the perfect Melody Dolman. 
On the bottom is another designer fabric in a medium/heavy weight knit. The exact contents were unknown, but it feels similar to a ponte knit, maybe a bit lighter in my opinion. It has an extremely soft hand with really great stretch and would work well for leggings I think! It would also work as a dreamy Sunday Romper or even a Summer Basics tank OR dress. So many good options! I'm still undecided on what I will be making with this piece, but I'm hoping to be able to squeeze out a pair of athletic shorts and possibly a color-blocked jacket! We will see what this beauty will turn into! Check out the results on @heidi_handmandefrenzy!
---
6. Sly Fox Fabrics
Recommended by Tessa Heiser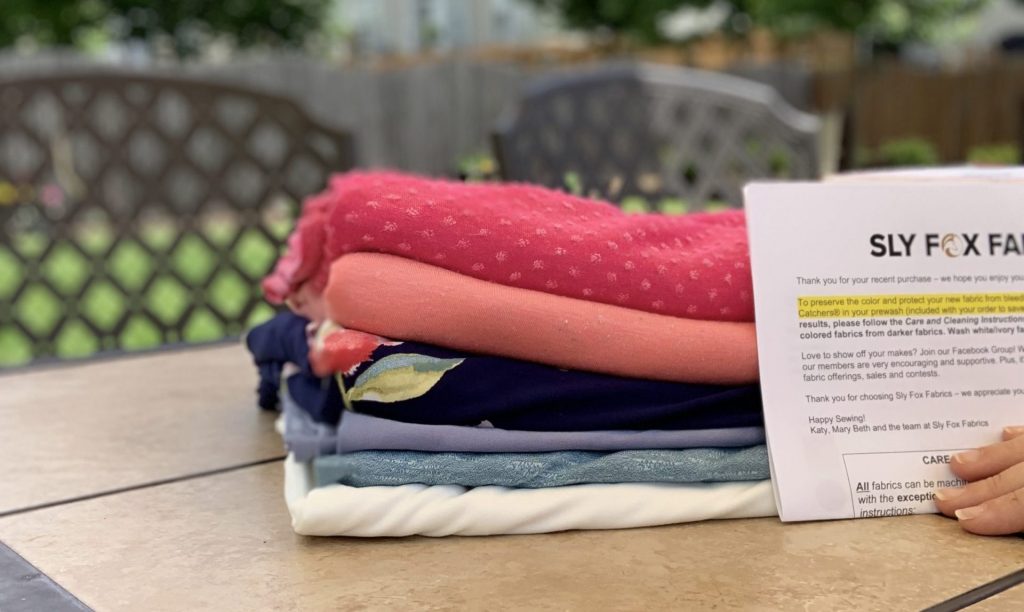 Sly Fox Fabrics is one of the first fabric companies I ordered from when I first started sewing and I've continued to rely on them for their fast shipping, great quality, and generous cuts. I first met owner Katy at the first Love Notions retreat, and after almost every scrap of fabric they brought to the retreat was scooped up right away, I knew that they were a reliable source. Over the past two years or so, I have probably placed over a dozen orders at SFF and here's what I have learned about them: 
First, they have incredibly fast shipping. If you are looking for that (almost) instant gratification, SF fabric will reliably be at your doorstep in less than a week, and usually it's shipped the next day. Secondly, they have a great selection of solids. Their selection of solids in Double Brushed Poly, Baby French Terry, Ponte, Modal, and Knub Jersey is unbeatable for a smaller fabric shop with such a fast turnaround time and lower price point.  Many of these have up to 36 different colors.  Thirdly, Sly Fox Fabric company pays attention to details. Everything I've ordered has been extremely high quality and arrives wrapped in plastic, with care instructions and even a Shout Colorcatcher! 
I have made MANY Love Notions garments in Sly Fox fabric, including Ravinia, Constellation Pullover, Willow Wrap Dress, Serenity Sweater, and Sabrina Slims. I highly recommend this fabric company and you can find out more about Sly Fox when you join their FB support group and watch their weekly Live Fabric Reveals.
Edit: Sly Fox recently sold their business to a new owner and re-opened under new management. I'm eager to see the new offerings!
---
7. Alyssa May Designs
recommended by Tami Peterson
Last summer I stumbled across Alyssa May Designs on Instagram.  It seemed like so many of my favorite sewists were snagging incredible fabrics from her shop.  I hopped over to her shop and was immediately hooked.  She carries a wide variety of apparel wovens, something I always struggle to find and I was blown away by her affordable pricing.  From georgette to twill and bubble crepes to swiss dots, she's always got the most beautiful prints and solids to choose from.   I picked these two prints and love them so much!  They're a little slinky and I think they'll be perfect for warm summer days.  Now how do I decide which Love Notions Patterns to sew up?  That ditsy floral needs to become a cute top but do I do a flowy Rhapsody or simple Harmony?  And that gorgeous teal floral…Can I be patient enough to hold out for the upcoming woven romper or sew it up quick into a pretty Sonata or Cadence dress?  Make sure you follow Alyssa May on Instagram for all the latest shop updates and fun sneak peeks of new arrivals.
---
8. Hart's Fabric
Recommended by Crystal Collins
Hi, I'm Crystal and I want to tell you more about the lovely fabrics from Hartsfabric.com. Hart's is an amazing fabric store with a wide range of fabrics.  I was first introduced to them when I won a giveaway on the That Sewing Blab podcast a few years ago. I made a cute tunic from one of their lovely Japanese cottons as well as my first pair of jeans with a wonderful white stretch denim.  I found the quality of these pieces exceptional and have gone on to purchase more from them including an amazing faux fur that I can't wait to use this Fall.
This Art Gallery Sunset rayon fabric is no exception to the quality that I've come to expect from Hart's. The color is beautiful, and I am loving its dainty floral print pattern. I can see myself making a lovely Rhapsody or Cadence Dress to transition from Summer to Fall. 
I highly recommend Hart's Fabric. They have a wide range of fabrics to keep your creative juices flowing. You should check them out; you won't be disappointed!
---
9. Amanda's Bundles (formerly So Sew English)
Recommended by Keira Wood    
Amanda's Bundles is like my fairy godmother of knit fabrics! We really lack good knit fabrics here in Barbados. The selection is so limited and the quality isn't great. I buy from Amanda's Bundles (formerly So Sew English) because I know I will get top quality every time and the variety is amazing! I can spend hours stalking their website!
The prices are so affordable as well and I just love their bundle deals. They pair different fabrics together and it works out a bit cheaper than if you were to buy them separately. A lot of the bundles have coordinating fabrics as well if you usually need a little help with matching. My favourite type of bundle to get is a solid and a coordinating print. This time I went for all prints and fabric types I don't have access to here.
One of my favourite knits to work with is double brushed poly. I love the way it behaves; it kind of sticks to itself when you put it right sides together and the drape is just gorgeous! I chose this blue dbp with stunning flowers in shades of pink and golden beige. This colourway is called periwinkle and as soon as I saw it I pictured a Summer Basics Tank Dress – maxi length of course!
I then picked two french terry knits because I just love how soft and cozy SSE's french terry is. It's a lighter weight than most I've felt before. Perfect for my tropical climate! I couldn't resist this Royal and Aqua tie dye one! Honestly I have so many ideas; a Serenity Sweater? A Boyfriend cardi? A Willow Wrap? This one is tough!
The other french terry I picked is definitely going to become Resolution Bottoms! Who doesn't need No Drama Llama lounge pants? I can see myself opening gifts under the Christmas tree wearing my fabulous llama joggers! The orchid colour is just so beautiful!
If you decide to go stalk the SSE website like I do, make sure you click checkout quickly! Stock goes fast for obvious reasons!
---
10. Stylemakers Fabric
Recommended by Michele Win
I can always rely on Style Makers Fabric for an extensive variety of great quality fabrics. They take the time to select fabrics that will last. There is also an option to select matching spools of thread with your order which makes my life easier. I know when I shop at Style Makers Fabrics that I don't question if  this is worth the price. Because every time I have ordered from them I have been impressed with the quality. I love getting their luxury rib knit fabric. It has the best stretch recovery I have seen. Patterns I like to use for this is the Summer Basics and Laundry Day Tee. 
---
11. Mimi Fabrics
Recommended by Marta Gloger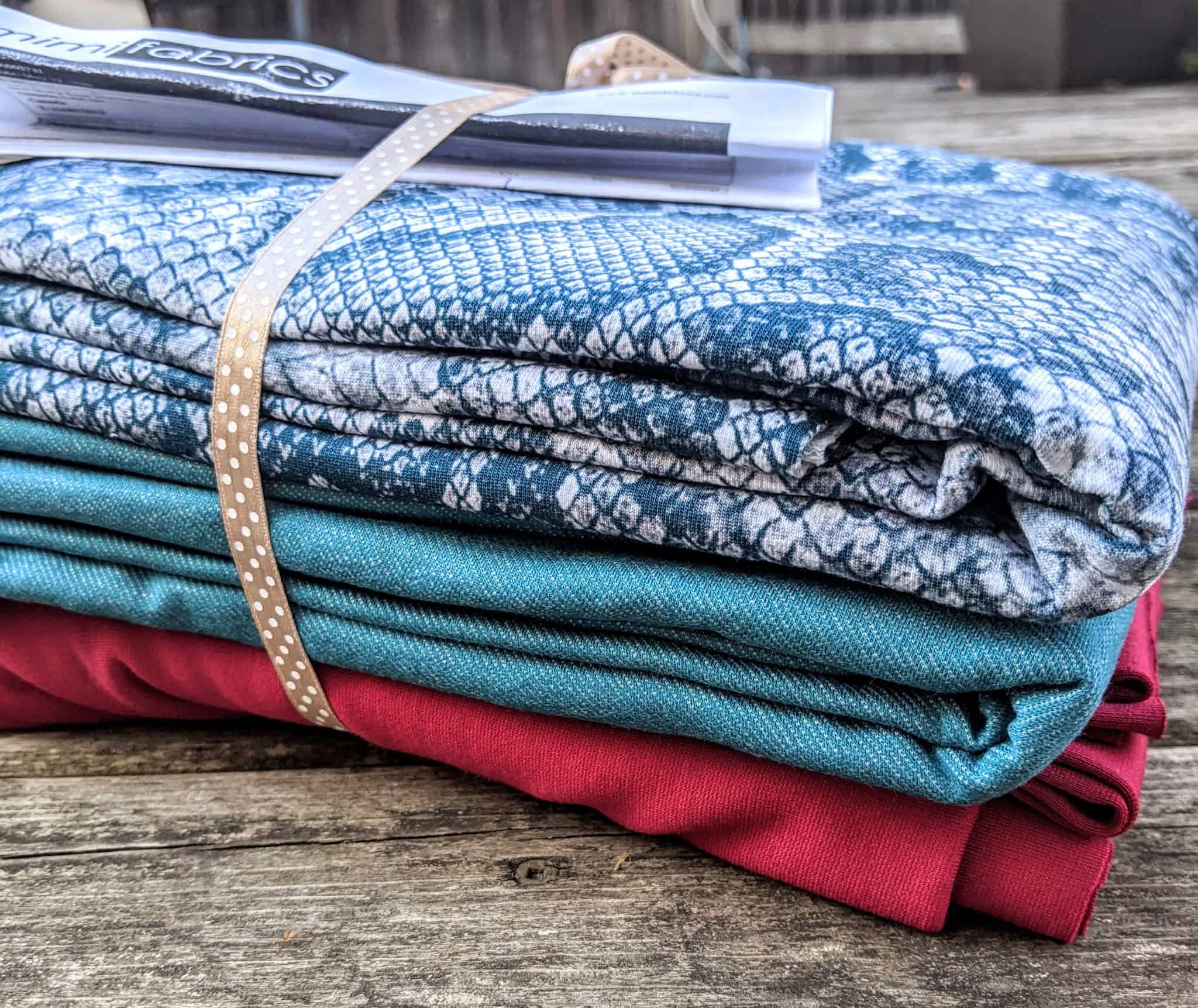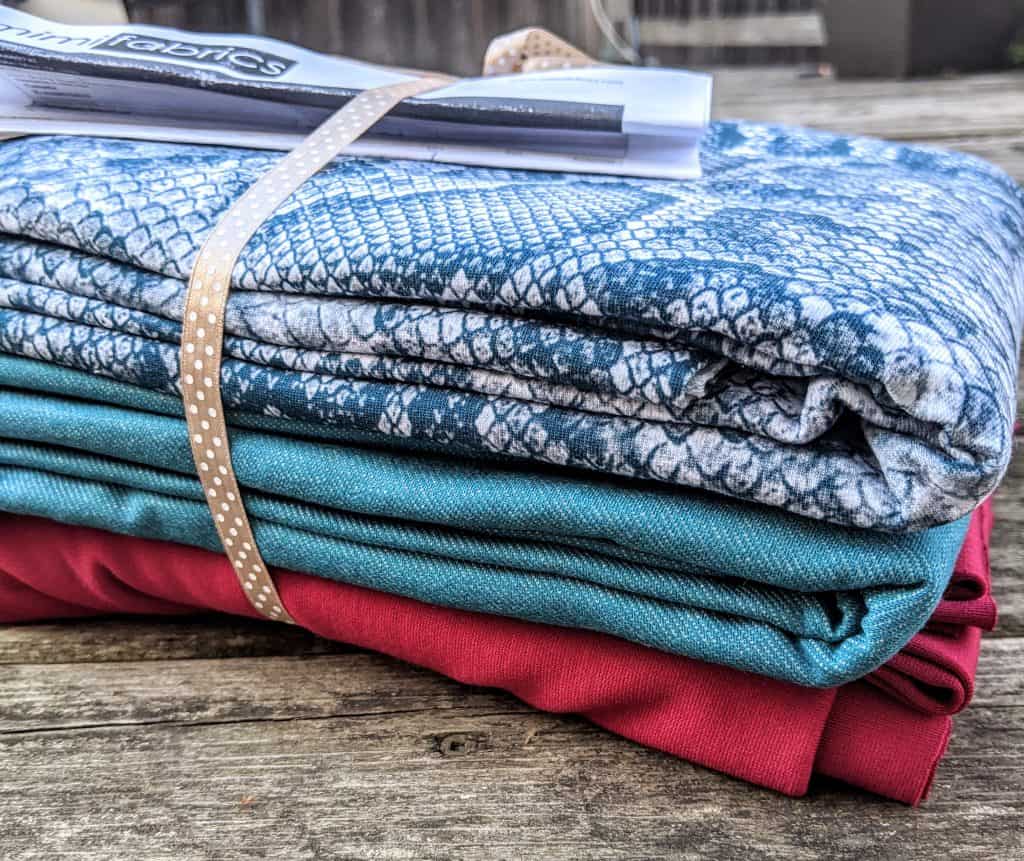 Hi!  This is Marta from @the.pickle.and.the.banana on Instagram and Facebook .  I'm excited to tell you about my experience with Mimi Fabrics.  This was my first time ordering from Mimi Fabrics and I was NOT disappointed. I have been eyeing up their fabrics for a long time.  Their team of strike sewists and brand ambassadors has always awed me with their creativity.  They are a Canadian store which, as a Canadian, is important to me.  They source really cool fabric AND notions.  I love that they are a one stop shop for most of my sewing needs.
When I went to place my order I got lost in the beauty that is the listing pictures.  There are so many amazing prints to choose from.  And not only is there a great variety of prints, there is also a huge variety of bases. I ordered this luxurious Fushia Ponte that is destined to become an Olympia Dress (aff link). I also got this super cool snake print French Terry that will become a Sloane  (aff link).  And this teal jegging knit for a pair of Resolution pants. (aff link) I was really impressed with their notions section.  SO many cool trims and elastics to be found.  I found this star elastic that I know my girl child will love.  I'm going to use it as the waistband for the (free!) skater skirt.  
I also love that their mailers are environmentally friendly.  It's nice to know that this is a priority for them.  
Overall I would highly recommend Mimi Fabrics.  Hop on over to their Facebook page   and check out all the cool things their team is making.  I'll be here sewing up all my new goodies!  I can't wait to share them!
---
12. Stitchin' Pretties
Recommended by Sequoia Bond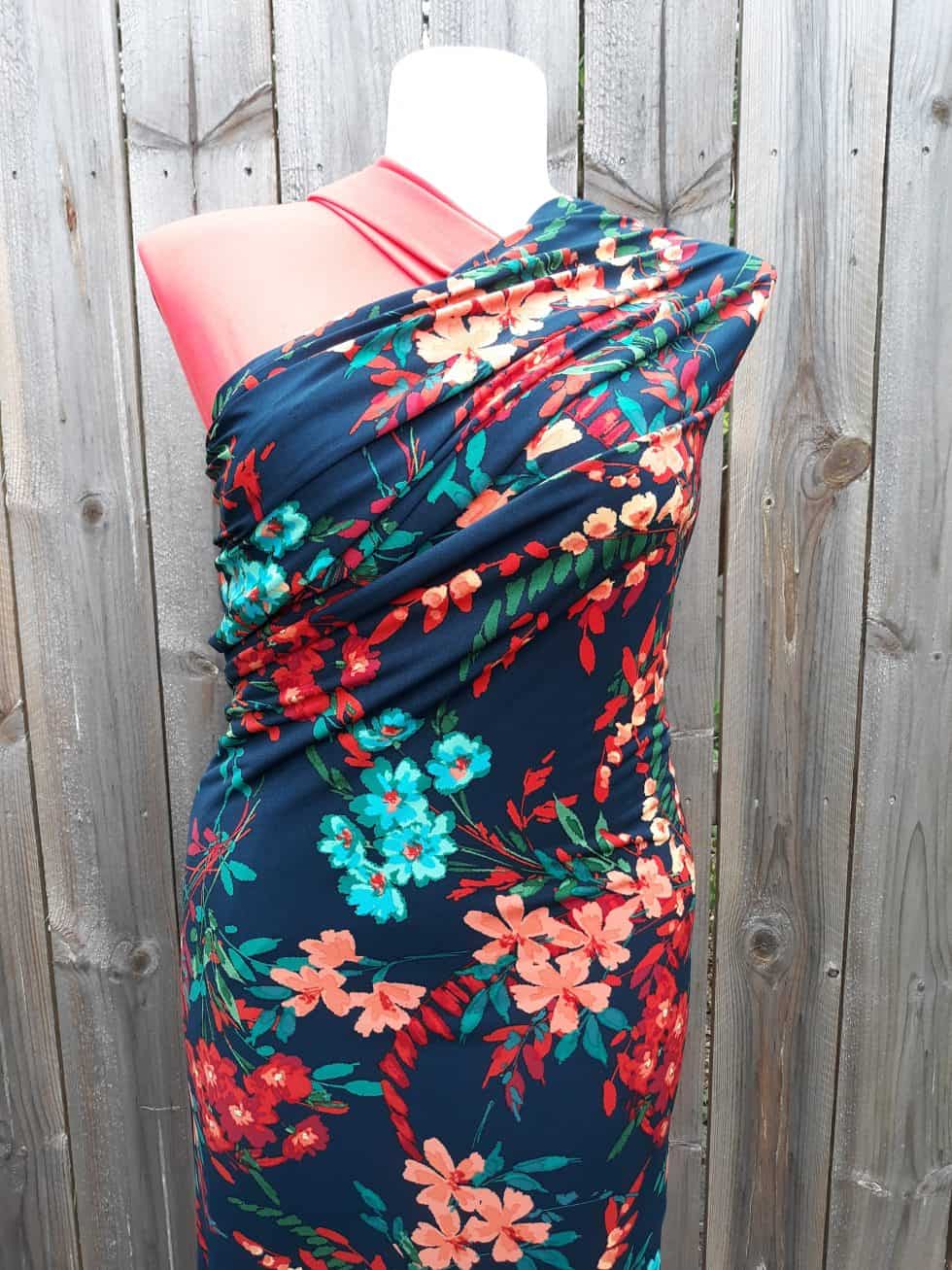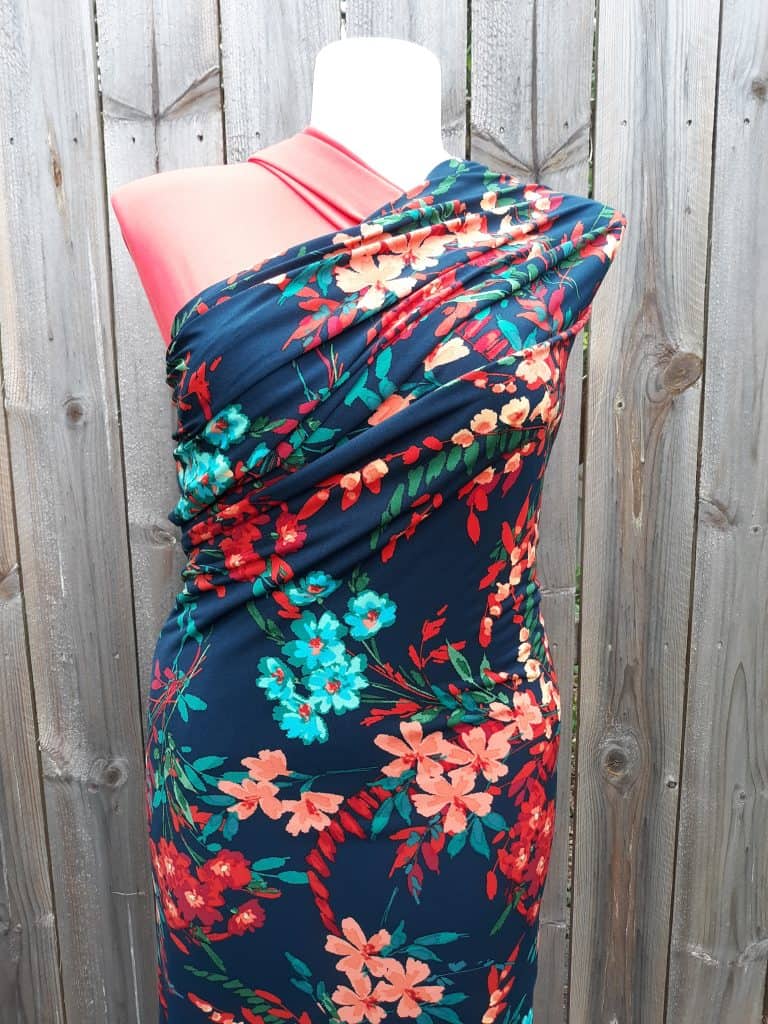 Here is the scoop, Love Notions had the great idea of writing a blog about different fabric companies including what they offer and why we love them. Then we can give some fabric suggestions for our favorite Love Notions makes. The Love Notions' BA team had the opportunity to pick any fabric company they wanted to write about and Love Notions generously bought our choice of fabrics from our company picks. I knew right away I wanted Stitchin' Pretties.
I linked up with Stitchin' Pretties fairly quickly after they got started and quickly felt at home. Laura Taylor is a one woman show, way up there in Maine, but is doing some amazing things! She has a great fabric selection, which has continually grown in the last 2 years or so. She offers great prices, frequent sales, mystery packs, and almost always has something in the clearance tab. Even though Stitchin' Pretties is a small business, turnaround time is typically 1-2 days with priority shipping.
I really adore Stitchin' Pretties for their top notch customer service. Laura is seen daily in her Facebook group and around social media, encouraging sewists and sharing makes. I love that no matter the time, either Laura or her team is available to answer questions, make suggestions, or tell folks how great their latest project looks.
Ok, Time for the Good Stuff…FABRIC! I selected Christa which is a beautifully, vibrant floral print on an ITY base. This fabric is a great quality and weight for ITY. I have found that some thinner ITY's, easily snags on everything and pills just from regular wear. I have worn my Laundry Day Tee a few times and it still looks perfect. I also ordered Judith, which is a lovely, bright coral ponte. I plan to use my ponte to sew up the perfect pair of Sabrina Slims to compliment my Laundry Day Tee.
I have used Stitchin' Pretties fabric to sew up several lovely Love Notion's patterns. The Summer Basic's Maxi Length Dress or the Willow Wrap Dress are perfect is Double Brushed Poly. So many knits will be great for Tessa/Sybil mash Ups. I have used DBP and Poly Rayon Spandex, but most knits with nice drape will look fantastic! I have made the Forte top is pretty much every single knit base out there which makes it a great choice if you are knew to sewing knits.
Next time you are looking for some great fabrics for your latest Love Notions makes, be sure to visit Stitchin' Pretties!!
---
13. Discovery Fabrics
Recommended by Pat English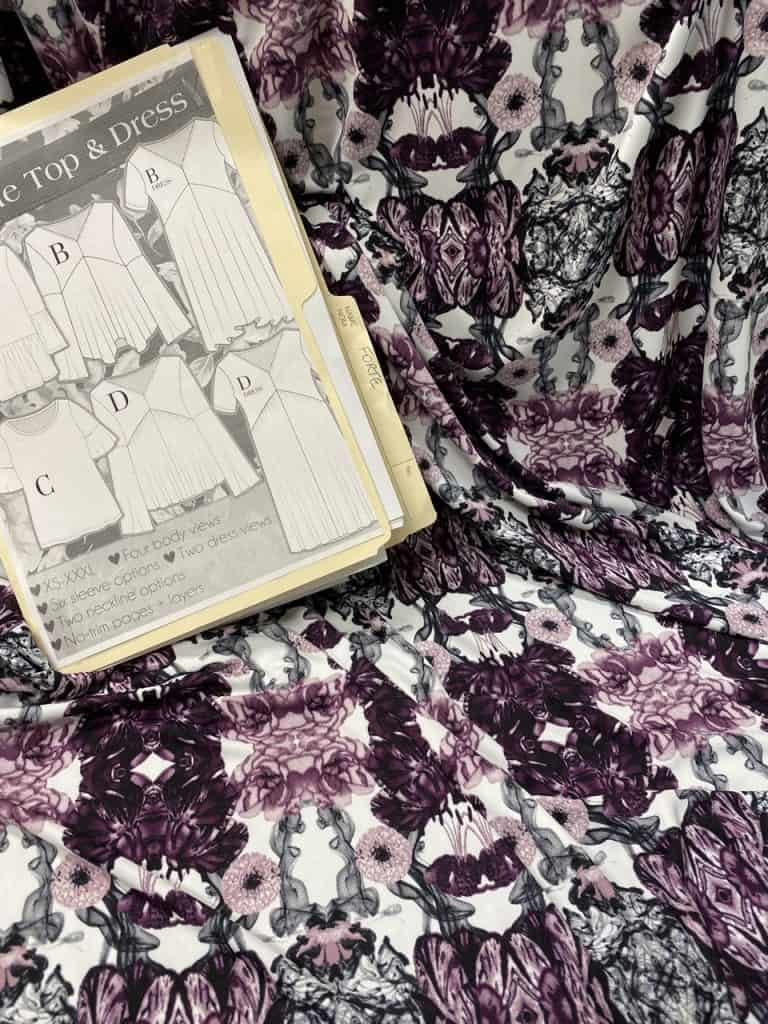 If you're looking for quality athletic fabric, this is the place to shop!  But even if you're not athletically inclined, you will find excellent fabric for just about any project here.  Discovery Fabrics is based on the west coast of Canada, but ships internationally (aff link).  They carry a wide variety of fabrics, from micro tencel and bamboo for a comfortable tee to warm outerwear fabrics like Polartec Power Wool.  And they are planning on expanding their customer reach, investing in several new fabric lines and technologies to offer what other stores don't while maintaining reasonable prices.  I used their Yoga Stretch for Duet Trousers, Mid-Weight Scuba for my grandson's favourite biking pants, Polartec Delta for running shirts for my son, and Windpro Stretch to make my Octave Coat.
I chose an amazing fabric called Chitosante Interlock for my project.  It's a polyester fabric made with Chitosan, which is biomass from crab or shrimp shells combined with textile fibres.  It's antibacterial, odor resisting, moisture wicking, breathable, fast-drying, anti-static, pill resistant and has UPF 50 – whew!  It exhausting just reading all the amazing properties!  Oh – and it doesn't curl and sews up a dream.  You could make shirts, dresses – it would be fabulous for sleepwear – but I'm planning on a Forte view B. (aff link) Learn more about it here!
As a company Discovery Fabrics are very responsive to any questions you might have and the service is fast and competent – there's a loyalty program, too!  Join their Facebook group, Sew Inspired DTO, to see videos that walk you through their fabrics, demonstrate techniques that will make your sewing easier and see how others have used Discovery's quality products to make amazing garments.
---
14. Water Tower Textiles
Recommended by Sneha Monga
Hello! I'm Sneha Nirody, from Toronto, Canada. I adore fabric, and I'm the Indiana Jones of printed knits – I will hunt down a pretty floral and laugh in the face of peril as I add a few yards to my shopping cart. My collection is legendary, and jealously hoarded. 
One of my favourite places to shop is Water Tower Textiles, based in Leamington, Ontario, Canada.  Always a delight to explore, wonderful sales and regular discount codes, curbside pickup (usually) for almost-locals like me – WTT as I call it, is a treasure trove! From brushed poly, merino blends and French Terry to the latest in textured knits like waffle and cable knit fabrics, there's tons to choose from. They even stock wool melton coating, activewear fabric, stretch faux leather and woven fabrics! My photo is of their stunning Knottingley Double Brushed Poly in BRIGHT BERRY, and I plan to make the new Love Notions Sunday Romper with it!
For coupon codes and inspiration, check out the Facebook group for Water Tower Textiles. I love seeing how everyone sews up their fabrics! My favourite Love Notions Sloane pattern would be so cozy in their Brushed French Terry. For my kids, I love the Moto Maxx and Maxx-ine patterns, which the Ponte/Jacquard double knits would be perfect for. Check out Water Tower Textiles and Love Notions Patterns, and see what fantastic combinations *you* can come up with!
---
15. Mily Mae Fabrics
Recommended by Katie Kimmel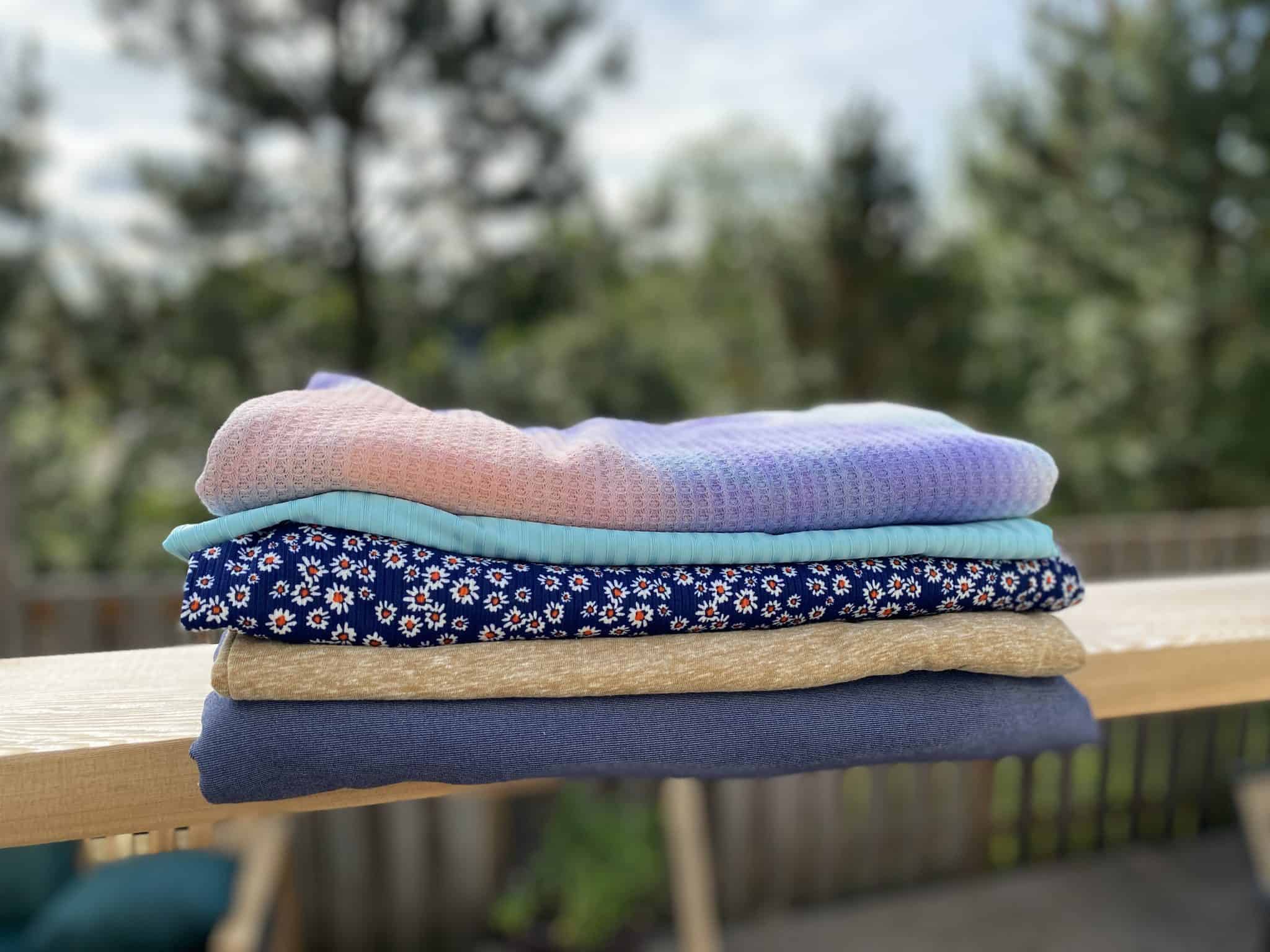 I love supporting small local businesses so when I found out that Mily Mae Fabrics is located in the Pacific Northwest I was beyond excited. Amanda, the shop owner, strives to bring in fabrics that are on trend and unique for her customers. The shop has a variety of fabrics from rib knits, swim, waffle knit, ponte and french terry to more unique fabric types like pointelle, sherpa french terry and stretch eyelet. There's so many fabrics to pick from that I don't find I need to shop anywhere else. 
Every week with a new stocking, there are new fabrics I'm excited about. My whole family enjoys wearing the fabrics and the items I make for them with Mily Mae Fabrics. So what do I order? Everything! With my gift from Tami, I picked up Ponte, triblend, waffle, and rib knit. The ponte was specifically for a pair of Sabrina Slims to look like jeans. I'm also hoping I can squeeze a pair of hacked Sabrina Slims shorts out of this cut too. As for Triblend, it's my favorite fabric and I think a classic tee will be perfect for it. Triblend is the perfect t-shirt weight and works well for men too though.
Rib knits have the most versatility in my opinion and work well for the Laundry Day Tee, Forte, Vivace Dolman and Summer Basic. It's going to be tough to decide which pattern to use for them! As for the waffle knit, I'd usually use it for a cardigan like the Boyfriend or Canyon. Instead, I have the idea for a Sloane as a mid weight sweater. Regardless of what I make with these fun fabrics, I know I'll be extremely happy. I love sewing beautiful fabrics with patterns that fit well. 
Wanna see what I sewed up? Here is a blog post all about it!
---
16. Girl Charlee
Recommended by Kim Koluch
I love to sew and wear knits.  Girl Charlee has one of the largest knit selections of the online stores in the US.  I have had nothing but great experiences with them.  I always know that my order will arrive timely, and the fabric will be good quality.  Their pricing is amazing!  Their fabric is always listed at 20% off retail, which for me means order more fabric!  My favorite selections on their website are their floral Cotton Spandex Knit Blends and their Solid Cotton Lycra.  Their selection of colors is vivid, and I've never had any colors fade or bleed.  My favorite fabric shop—hands down!  This black floral Cotton Spandex Blemd was perfect for my Classic Tee with the neckline borrowed from the new Sunday Romper.
---
17. Cali Fabrics
Recommended by Koe Truschke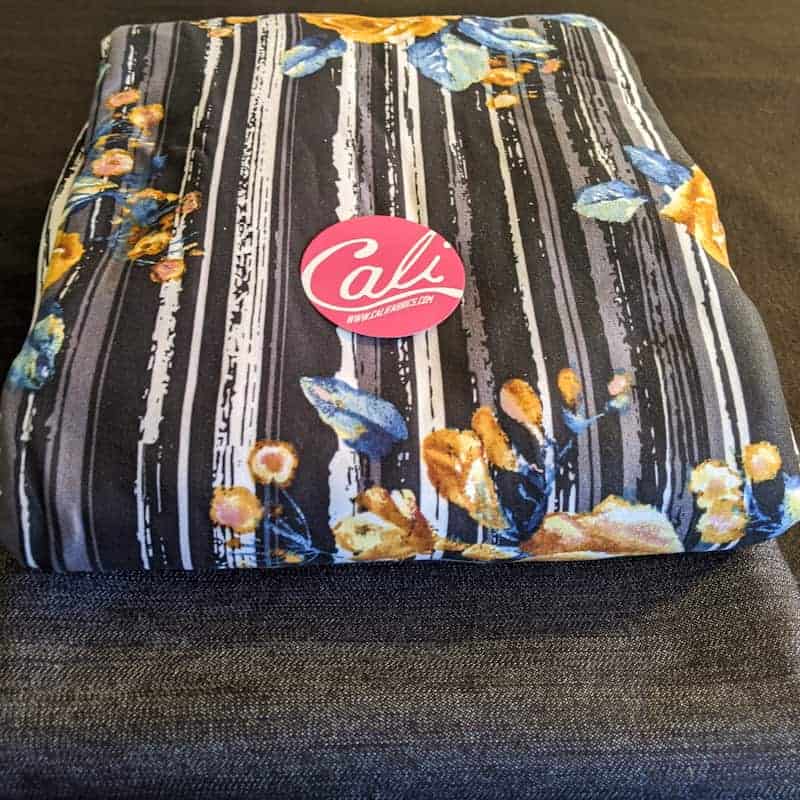 Cali Fabrics is one of the first companies I came across when searching for fabric on line. The thing that caught my attention about the company was that it's a family run and owned business. The owner is Ron Cooney. His grandfather started working in the fabric business shortly after he finished his service in the navy 40 years ago. Knowing that the family has been working in the fabric industry for so long really made me confident in the products they were offering.
The website is very easy to navigate and the pictures of their fabrics are fantastic; very true to color. My fabric always looks just as I imagined when it arrives, no surprises. Something that's super helpful on Cali Fabrics website is the fabric descriptions. There are usually two or more pics of the fabric after you click on it. Off to the side of the pictures is a brief description as well as a list of things you could sew, ie jackets, leggings, shirt, shorts, etc.  That's not all, below that is an "Additional Details" chart. That chart lists Fabric Content, Fabric Width, Pattern/Color, Weight, Stretch, and Washing Directions. Even with all that info, sometimes it's still hard to be sure if a particular fabric will work for you.  Because Ron wanted to keep the warmth and feel a family owned shop, he put a little question mark button right there on the page so you can click it and ask a question anytime. When you email or call Califabrics, you will really be talking to Ron or a member of his family! It's so nice. I've done it a couple of times and I can tell you, they are wonderful.
I send all my sewing friends there to order fabric because it's so easy to get the fabric quality you're looking for. Even if they are a beginner, they can find it. My sister who doesn't sew or even understand fabric, was able to order the perfect fabric for me to make her some shorts and a shirt.
I ordered this floral grunge stripe, Double Brushed Poly Spandex Knit. I love DBP knit! It's so buttery soft, stretchy and perfect for so many things! I have never had a problem with it being see-through either.  I had originally planned on making a Tessa Sheath Dress   or a Forte Top/Dress  but I'm obsessing over the Sunday Romper since its release so I may just make that!
I also ordered this 9 oz textured stretch denim in Dark Designer Blue. The Blue is so dark is could almost pass for black, which is exactly what I wanted. I plan on making some shorts using the Sabrina Slims pattern in the view with the seam down the front and back of the legs. I may even do the welt pockets on the back. I think this might work for some moto-style Resolution Bottoms, or some Allegro Shorts   as well. There are so many good patterns to choose from!
---
18.
St
offengalerij
Recommended by Ilse Lemmens
I'm so excited to introduce you to one of my favourite fabric shops in Belgium. In addition to a fabric shop, the Stoffengalerij also has sewing workshops and you can also go there for the personalisation of all kinds of textiles.
You'll find affordable quality fabrics with matching borders, a wide range of fabrics for boys' clothing, trendy children's fabrics and fashion fabrics used in famous pattern books such as La Maison Victor, Fibre Mood, Burda and Knippie. 
The biggest asset is certainly that Sabrina, the owner, puts her customers first. She is always available to give you expert advice, if you have any questions, she is there for you. 
She ships all over Europe. Be sure to send her an e-mail if you have any questions about this, because fast delivery and good service is her goal.
I have already used a lot of her fabrics and am very happy about the quality, the offer and the shipping! Did you already see my newest choice? It's a coral red viscose with beautiful floral print! I could make quite a few things from this woven fabric but a Melody dolman seems like the best choice. What do you think?
Be sure to take a look at the site. You will certainly find what you are looking for!
Greetings, Ilse
---
19. Raspberry Creek Fabric
Recommended by Katie Grimm
I always know that I can find the perfect fabric for any Love Notions pattern at Raspberry Creek Fabrics.  Not only do they print amazing designs in-house, they also carry a wide variety of other knits and wovens.  Their in house designs are called the CLUB collection and include prints on Cotton Lycra Jersey and French Terry, Double Brushed Polyester, Rayon Challis, Ponte, Sweatshirting, and Swim and Boardshort bases.  They regularly release new prints with major collections coming in the Spring and Fall and smaller collections added for Summer and holidays.  When a new collection is released, the old collection "retires."  These CLUB prints are so good for many of the Love Notions patterns.  The rayon challis is fantastic for all the woven tops and dresses that require drape such as the Rhapsody, Lyric, Sonata, and Harmony.  The ponte makes the perfect pair of Sabrina Slims or a Sybil Skirt, while the double brushed polyester has fantastic drape for knit patterns.  My favorite Classic Tees are made of RCF double brushed polyester.  The French terry and Sweatshirting make the coziest Sloane Hoodies and I'm always using up my adorable cotton lycra prints for all the Love Notions kid patterns such as the Moto Maxx Tee, Game Day Jersey,  Sunday Romper, and Driftwood Collection.  The CLUB collection also includes panels which are perfect for patterns like the Margot Peplum, Rockford Raglan, or Tidal Top and Dress!  In addition to the CLUB collection, there is a fantastic selection of solid knits (which coordinate with the CLUB prints) as well as beautiful linen blends from Robert Kaufman and fabrics from Riley Blake.  Whatever it is you are looking for, you can find it at Raspberry Creek Fabrics!
---
20. D & H Fabrics
Recommended by Katie Grimm
I always know that I will find beautiful, high quality fabrics when I check out D&H Fabrics.  With a slogan that states Quality over Quantity, I know that I won't have to scroll through dozens of pages to find high quality fabrics but I can always find beautiful fabrics on their page!  From linens to rayon to denim and jersey, there is something for all my favorite Love Notions patterns, especially the woven patterns.  I also like to check back regularly as the owner, Tammy, is always bringing in new beautiful fabrics.  
The beautiful linens and linen blends available are perfect for patterns like the Melody, Cadence, Harmony, and the Allegros.  The drapey viscose, rayon blends, and linen tencel would be perfect for the Lyric, Harmony, Rhapsody, Sonata, or Cadence.  And stretch denim makes a lovely pair of Sabrina Slims!  There is also jersey, rib knit, and french terry that is perfect for the Classic Tee, Sloane Sweater, Summer Basics, or Vivace, just to name a few.  There's also a great selection of fabrics from meetMilk – which is a brand of sustainable fabrics for makers who cherish high quality and eco-friendliness.   Shipping is quick and packages arrive in a 100% Compostable mailer with a handwritten note from Tammy herself. I highly recommend checking out D&H Fabrics! 
---
21. Myfabrics.co.uk
Recommended by Josie Magoola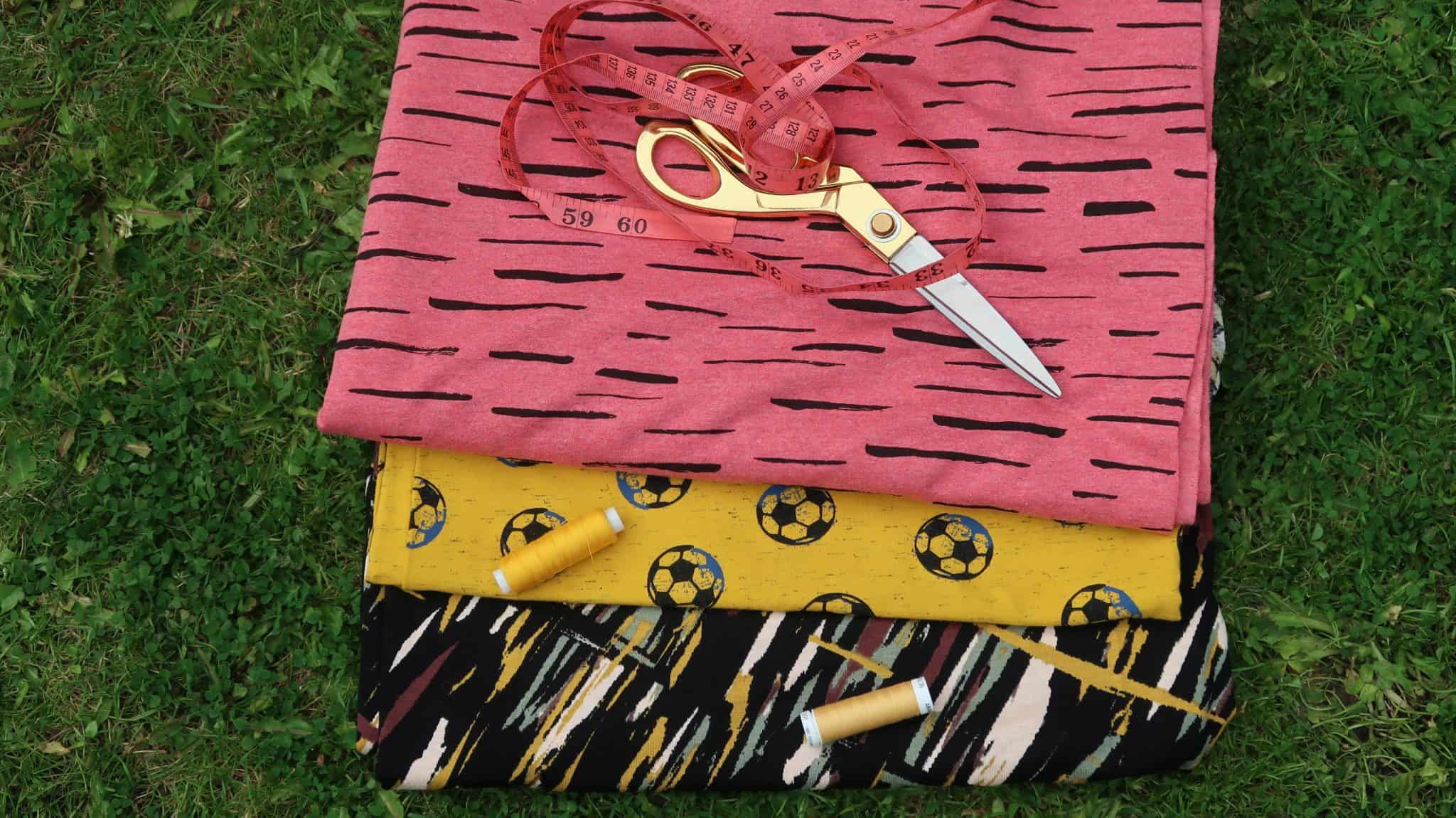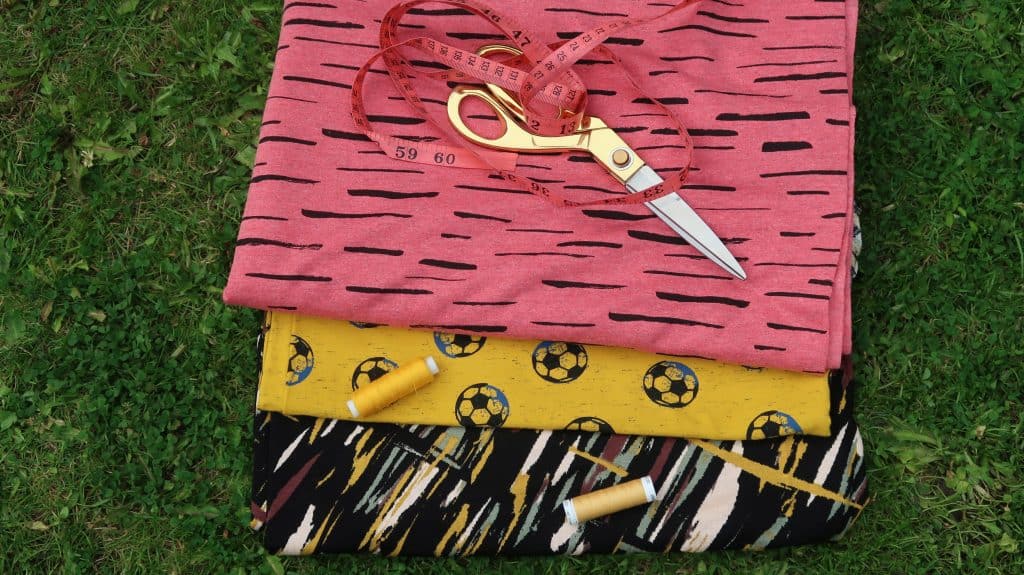 I would like to introduce to you all one of my favourite fabric shops, Myfabrics.co.uk.  It stocks a wide range of fabrics however I mostly gravitate towards their knit fabrics. They stocks such high quality and reasonably priced knit fabrics ranging from Sweatshirt fabrics, Cotton jersey, Viscose jersey and French Terry. Myfabrics.co.uk also offer free shipping for all orders above £50 within the EU region. 
I picked up three gorgeous knit fabrics which could be paired up with a few Love Notions sewing patterns. The Black Brushstrokes Viscose Jersey can be paired up with the Sunday romper or the Olympia dress. However, I picked up 2 metres of it with the intention of sewing up the Willow wrap dress. The football cotton Jersey is for my little man who is obsessed with football and I plan to sew up the Driftwood Henley and Polo with it. Lastly, the Comfy Sweatshirt brushstroke fabric (raspberry and black) is a perfect match for the Sloane Sweater for girls which will be for my little missy.
---
22.
Casa Boa Vista Tecidos
Recommended by Karina Trinidad
I love to wear and sew with woven fabrics above all.  Living in Brazil, I have found some online fabric shops and I like Casa Boa Vista Tecidos because they have a larger variety of woven fabrics, their website is a pleasure to navigate and for each fabric listing, they have very useful information there.  Aspects I would love to know when I cannot physically touch the fabrics are composition and weight and they are both there.  This site goes above and beyond and even recommends garment types the fabric is suited for, the type of drape and laundering/care tips.  I am confident to shop there because there is a lot of detailed information there. I honestly always prefer the in-person experience, but this is the next best thing.  
Descriptions and pattern pairings.
Light weight 100% polyester chiffon in geometric print and grey/orange tones.  Super soft and drapey and this fabric has the Rhapsody dress written all over it.
Medium weight Linen/Rayon blend in deep chocolate brown.  Soft and heavy enough to be made into a pair of Allegro Bottoms pants.
Medium weight Linen/Rayon blend with white, black & red stripes, a classic color combination.  This would be a beautiful Lyric dress with fun stripe play in motion.
Medium weight stretch woven crepe with texture.  Deep blue is a high contrast color I love to wear and I would make a Cadence top with this fabric. 
---
23. Minerva Crafts
Recommended by Noreen Mays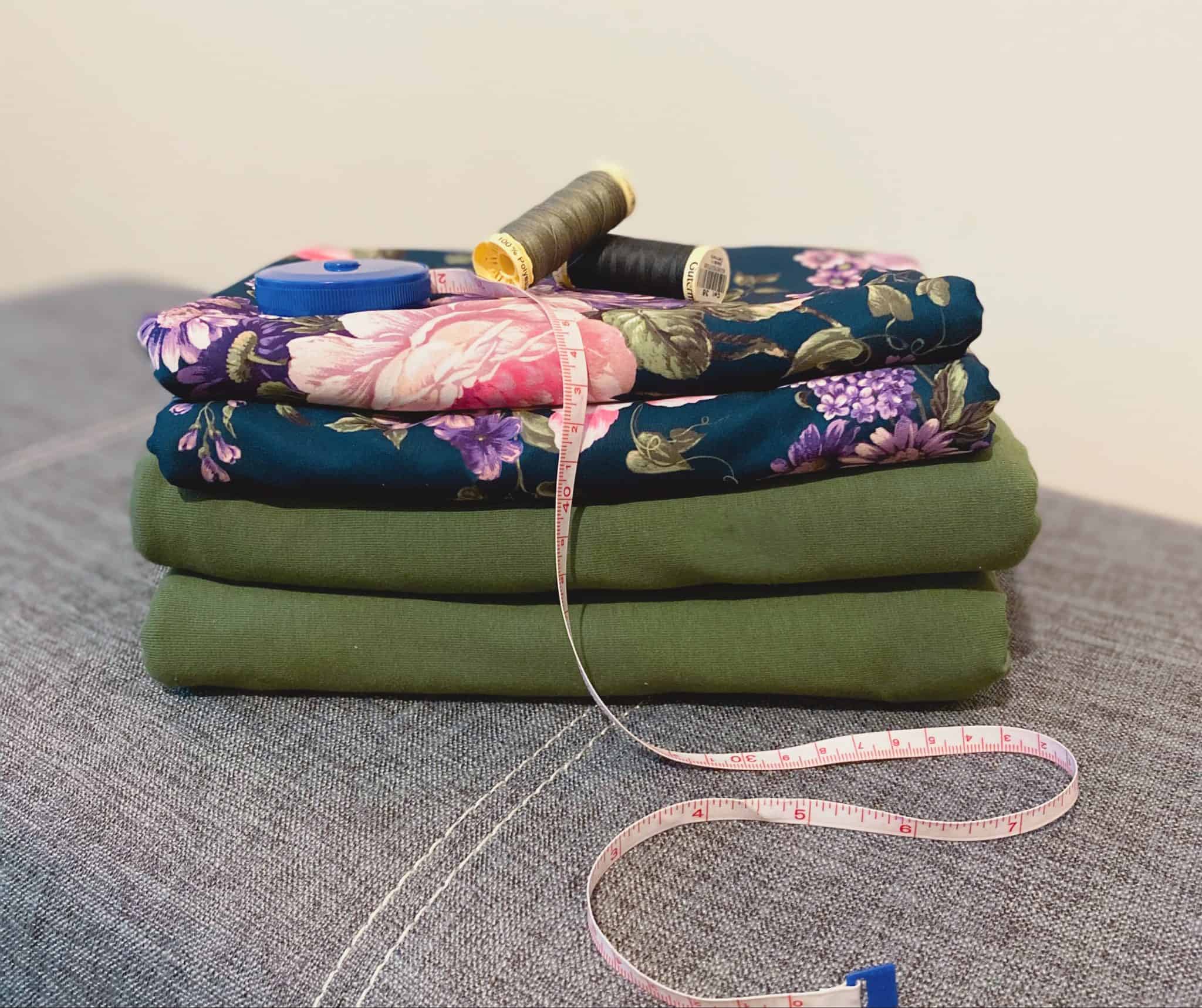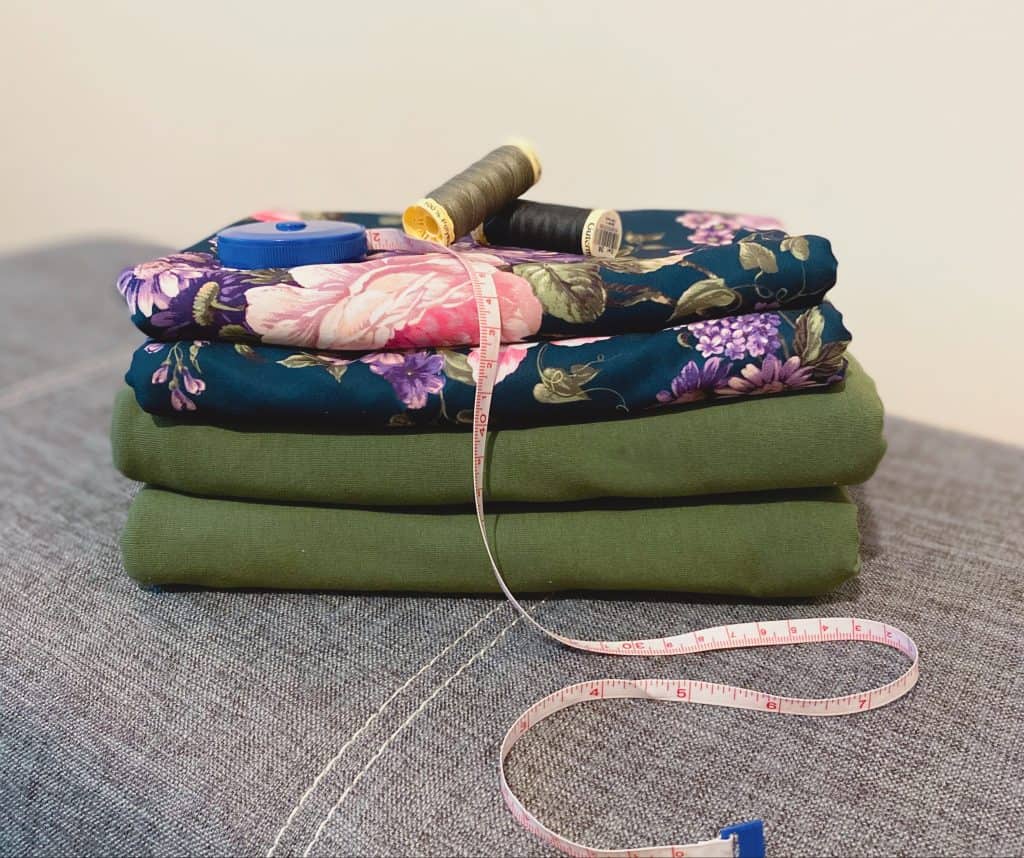 Jumping into the pool of online fabric shopping can often make a person feel more like they are lost at sea.  Not only is there a language and a terminology to be learned but for kinesthetic learners, not being able to touch and feel can make it even more stressful.  In my case, add to that a move to a whole new country plus a Pandemic lockdown and I thought my sewing would be dead in the water.  Then I remembered a friend mentioning Minerva Crafts and when I went to their website I was impressed!
Minerva Crafts in an online sewing, knitting and craft shop based in the UK and let me tell you, you can get everything you need for your project here!  The fabric listings are some of the most comprehensive that I have seen.  They have excellent photos and descriptions.  I especially appreciate the fabric weight and content that is included.  For those of us who need to touch and feel, they offer samples so you can check out any fabric before you buy your full yardage.  My favorite thing though is the videos they have in most listings.  It is so helpful to see, in motion, the drape and stretch (or not) and how the material gathers up and behaves.  Another really great feature they have is that when you do make a choice you can get matching thread for your project with just a click both in the listing and at check out.  I was so impressed that they have maintained all of this during our lockdown. All of these factors made choosing my fabric such an enjoyable process.  I can't wait to sew them.  I'm pretty confident that the floral is destined to be a Forte and the green jersey a Terra Tunic but then my brain goes into overdrive and they are Rockfords or Sloanes, with stripes added for accents…hmmm.   I am so grateful to have found such a great resource for all things sewing and craft related here in the UK.  Thanks to Minerva Crafts and Love Notions, my sewing is full steam ahead!  
---
24. Hawthorne Supply Co
Recommended by Rachel Ring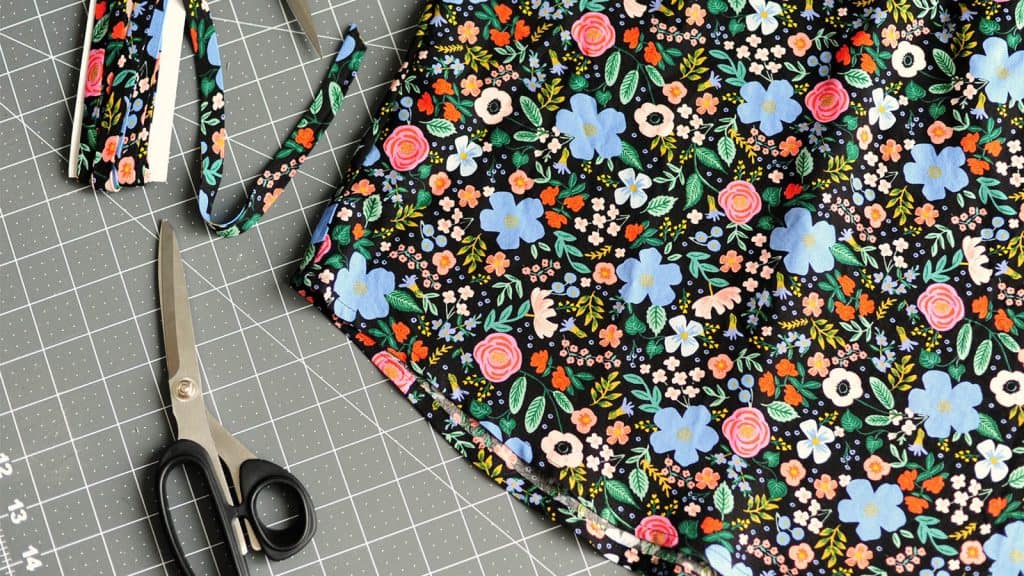 When Tami and Tessa generously sent fabrics to the Ambassadors for this post, I knew immediately that I wanted to venture back to one of my reliable go-tos for woven fabrics, Hawthorne Supply Company. They've grown a lot from their early days in Red Hook, Brooklyn, but have stayed true to their roots as an online shop that stocks full collections from companies like Art Gallery, Cotton and Steel, Cloud 9, Ruby Star Society, and others. They stock a fantastic assortment of apparel wovens from Robert Kaufman (Brussels Washer Linen and Chambray are perfect for a number of Love Notions patterns) and a great variety of rayon challis from various designers. Their search features are among my favorites of any fabric site, since you can search and filter by colors in the print (great for finding coordinates) as well as an exhaustive list of categories and themes. More recently Hawthorne also began printing some of their own fabrics, and you can select from both woven and knit substrates (including some organic bases) in several different widths as well. Their weekly e-newsletter looks like a curated collection, and they tend to be super quick to ship which is always a plus for this impatient sewist. I have been dying to sew with the Rifle Paper Co. rayon challis, and it did not disappoint. I picked this print for a new Rhapsody blouse, and it was a dream to sew. I even made coordinating bias tape for the neckline! (Also pictured are my new lefty Kai scissors – highly recommend!) Thanks again to Tami for your generosity – it was such a treat to make something new for myself, and I love the print I selected. 
---
Fabric Stores in the Southern Hemisphere
Additionally, many of our sewists in the Love Notions Community are from Australia and New Zealand. Here is a list of fabric shops for those areas submitted by our helpful customers in that region.
---
More Online Fabric Shopping Stores
Pinkmimosabyjacinta created a huge list of fabric shops, pattern companies, and more craft resources run by BIPOC or Allies. Please go check it out when you fabric shop. Thanks, Jacinta!
---
Pin this for later!
---
Need some patterns for your fabric?
[carousel_slide id='303884′]