Today is all about the bottoms of the Tranquil Nightwear. If you are sewing the nightshirt option, you have the day off! But you can still read on for tips for sewing an elastic waistband and to gaze at the pretty wrap hem of the pants.
Sew the faux wrap hem
Before we sew the waistband of the Tranquil Nightwear, you want to assemble the hem of your pants. If you are sewing the shorts, you will skip this part and hem your shorts tomorrow. Construct the hem of the pants just like we did for the sleeves yesterday. If you missed that post, you will want to go back and read up on it for my tips and videos!
After the hem is sewn, place the two pant legs right sides together with the front and back curves matched up. Sew them together. Let's be honest, the pants look really big right now. Don't worry!!! They will fit!! We need to get the elastic in place to pull everything down to size.
Sew your elastic into a loop. I like to butt the ends together and zig zag stitch them in place. You may need to adjust your elastic measurement if you do this because the cutting instructions allow for overlapping the ends 1″.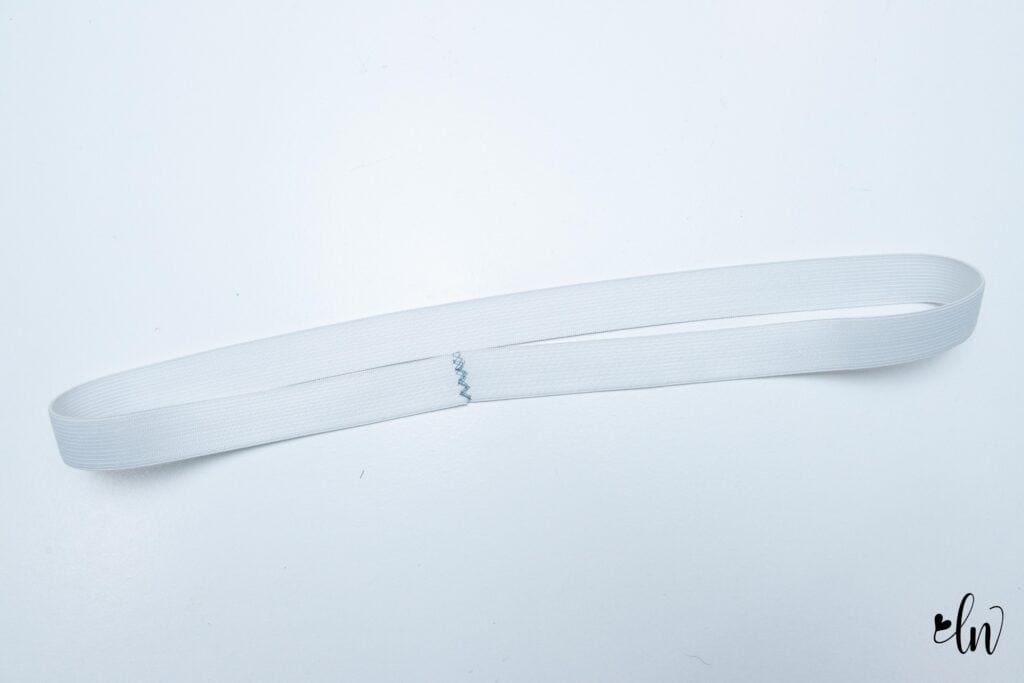 Either way you do it, take your loop of elastic and slide it onto the wrong side of the pants lining up the quarter points of the elastic and pants.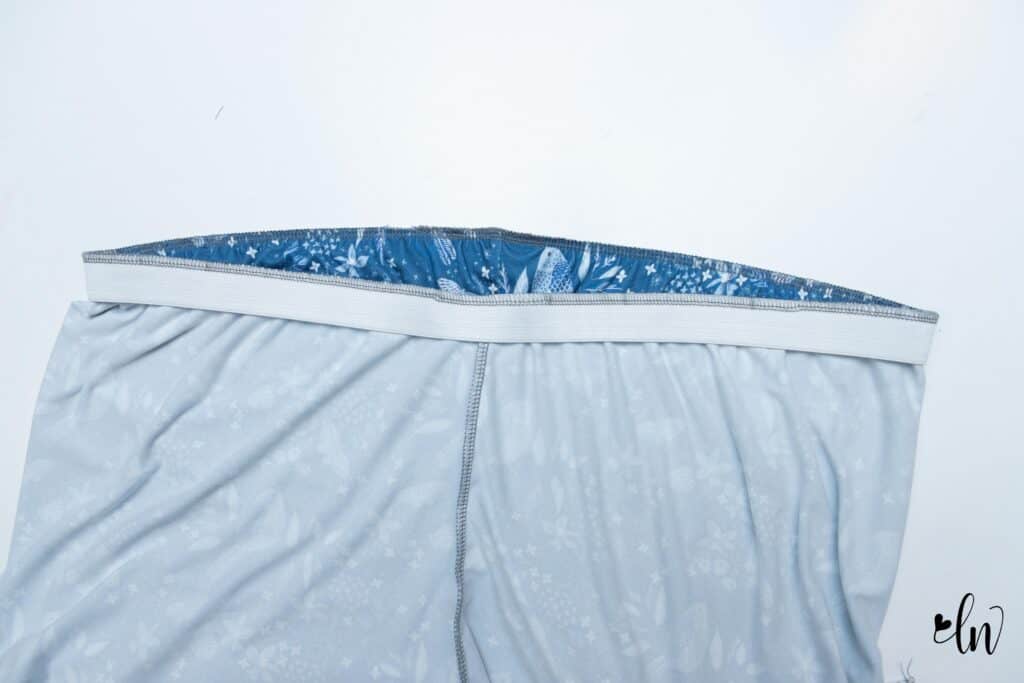 Fold the waistband of your Tranquil Nightwear down to the wrong side. This will encase the elastic into the waistband. Topstitch the waistband in place. You want to stretch the elastic while you do this. Just pull it gently straight, but not so much that you are stretching out the waistline of the pants.
No turn your pants inside out and line up the inseam. Be sure to line up the hems! Remember the tip I shared yesterday about basting the hem in place before surging the seam together. It really helps!
You made pants!
That's it! You did it! You made a pair of pants! Look at those beauties!! Tomorrow, we will hem our shirts, shorts, and nightshirts and then we can spend the weekend in our gorgeous, comfortable new Tranquil Nightwear!
Love Notions YouTube
Don't miss today's video on sewing the Tranquil Nightwear bottoms on our YouTube channel!
Are on you social media?
Sewing with friends on a common project is a great way to socialize and "meet" new people! Join our Tranquil Nightwear Sew Along Event happening in our Facebook Support Group. There you will get daily reminders for blog posts and YouTube videos, be able to ask questions in a friendly environment, and enter to win a prize at the end of the week! One lucky person will win a $50 gift certificate from Love Notions Patterns (good on all PDF patterns)
Tranquil Nightwear Sew Along Schedule
Monday: Fabric, adjustments, cutting
Tuesday: Sewing the neckline
Wednesday: Creating the faux hem/ sewing the sleeves, BONUS: banded finish option
Thursday: Sewing the elastic waistband
Friday: Hemming, BONUS: faux wrap nightshirt hem
Ladies Tranquil Nightwear Collection

$

12.50

Girls Tranquil Nightwear Collection

$

10.50
---
Save to Pinterest