It's getting hot around here and one of the best ways to stay comfy and cool is to ditch that regular bra! Here you can learn how to install the shelf bra add on piece to the Summer Basics tank and dress, a pattern that has just gotten a sizing update (XS-5X) and a shelf bra add-on. Katie K. is here to walk you through all the steps for that new batch of Summer Basics that you'll be wearing on repeat this summer! And she's got some amazing fabrics to discuss (as well as a coupon to one of our favorite fabric shops!).
Summer Basics gets an update & a shelf bra
This is my first time on the blog so I thought I should say hi! I'm Katie, mom of 2 young boys and avid seamstress. I enjoy spending time outdoors, reading, and crafts of all kinds. I found apparel sewing almost 4 years ago when my kiddo's pants didn't fit with cloth diapers. I decided to try making my own and haven't stopped honing my skills since then. I feel honored to be added to the Love Notions Ambassador team this year as I still have much to learn in my sewing journey. I live in Oregon where the sun teases us starting in March but our summer really doesn't kick off until July. We've had a few rare warmer days lately that have made me realize my summer wardrobe could use some help. Good thing I know how to sew my own clothes!
Summer Basics Updates
With quarantine the last few months, I realized I prefer to not wear a bra everyday. I approached Tami with the idea of adding a shelf bra to the Summer Basics pattern. Not only did she like the idea but she made pattern pieces to add to the pattern! Plus she updated the pattern to 5x too! So now everyone can easily add a shelf bra to their Summer Basics. 
Summer Basics Sale and Re-release
The Summer Basics is the Featured Friday pattern today only for $5, for the rest of the re-release week it will be on sale for $9. If you would like to purchase the pattern, my affiliate is linked. This pattern can be made as a tank, knee length or maxi dress. I'm drawn to the style but even more, the fact that most sizes can get the tank from 1 yard of fabric or a maxi dress from 2 yards (if non-directional print). The new shelf bra pattern pieces are available in both the standard and full bust sizing. If you already own the Summer Basics, you can download the updated files from your download section on the website. The fit has not changed otherwise.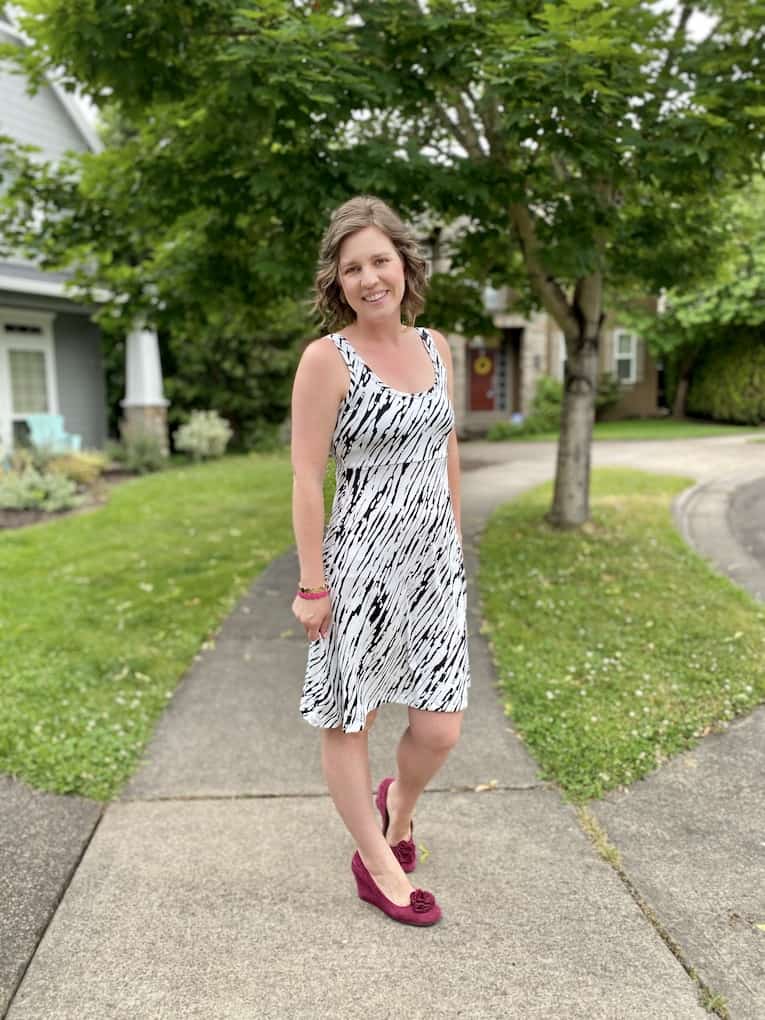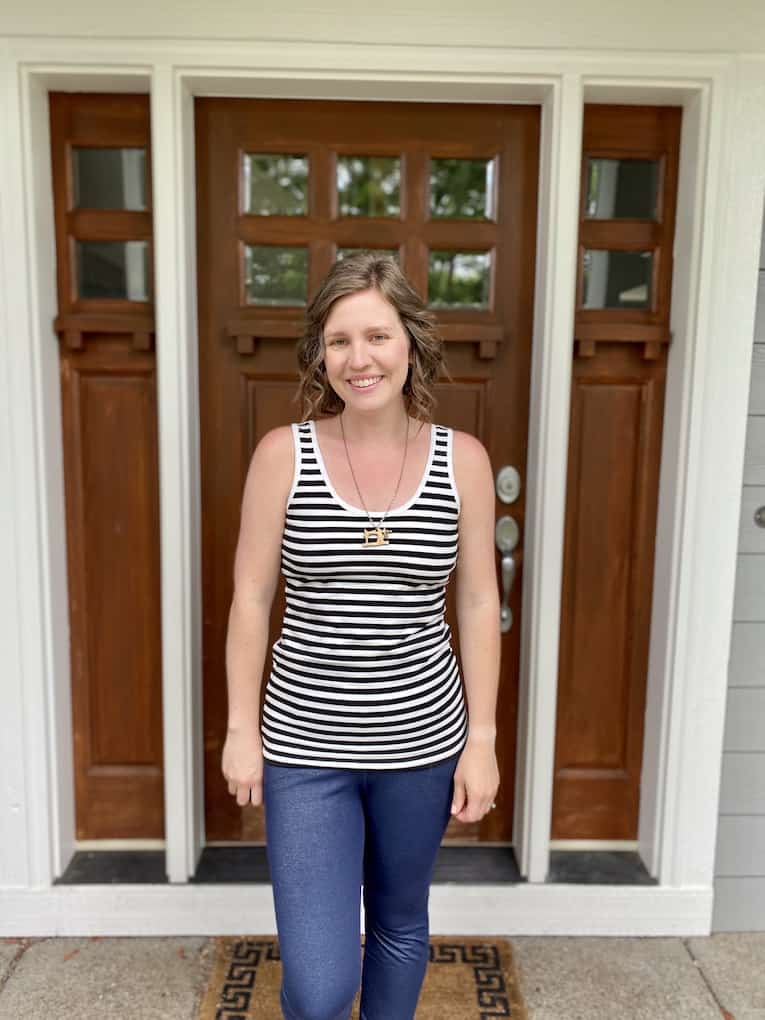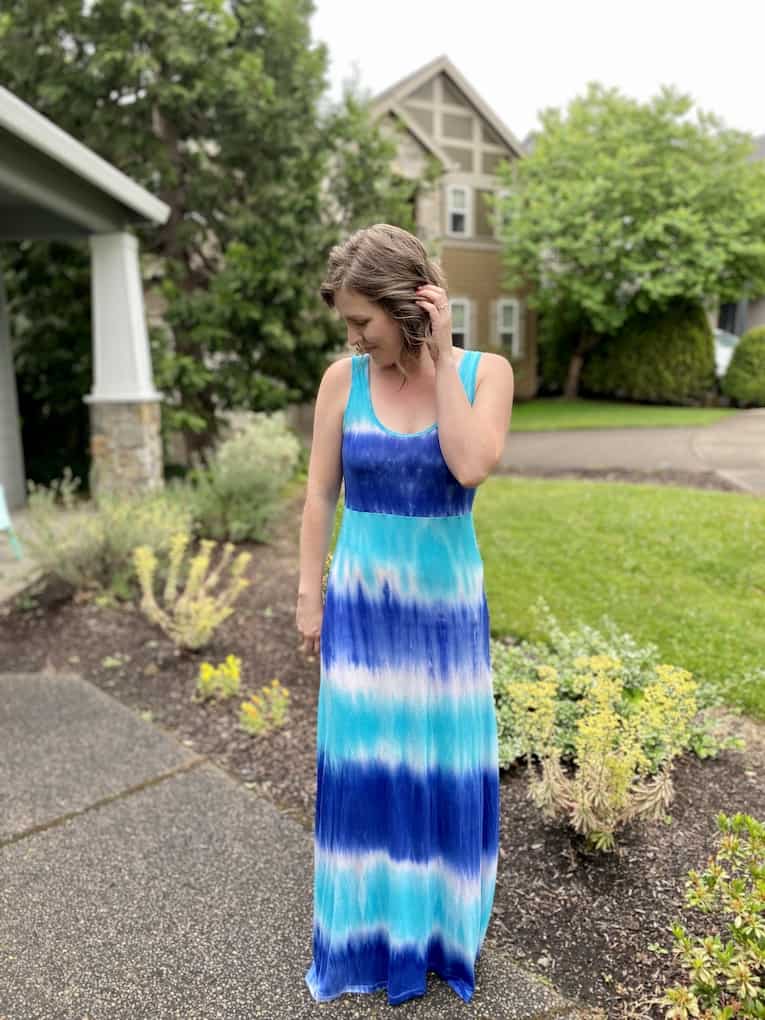 Fabric for Summer Basics Tank, Dress, and Shelf Bra
The fabrics I've used today are from Mily Mae Fabrics. Amanda, the owner of Mily Mae, strives to stock in trend fabrics that are unique and fun. I can't seem to pass up her rib knits but she also has rayon spandex, swim, athletic and basically anything else you're looking for. She's offering a 15% discount to make your own Summer Basics with code SUMMERBASICS through June 26th. 
Fabric for the Shelf Bra
For the shelf bra, you will need 4-way stretch high recovery fabric and 1" elastic. I've used different fabrics for each shelf bra for different fits. Recommended fabrics for the shelf bra include cotton lycra, supplex, swim knit, athletic brushed polyester and yoga knit. If you are larger busted, you can also use power mesh or power net for an additional layer of support. I would not recommend using a fabric that is 2-way stretch or doesn't have recovery such as bamboo lycra, rayon spandex, sweater knit or jersey. Personally, I think DBP doesn't breathe well enough for a shelf bra.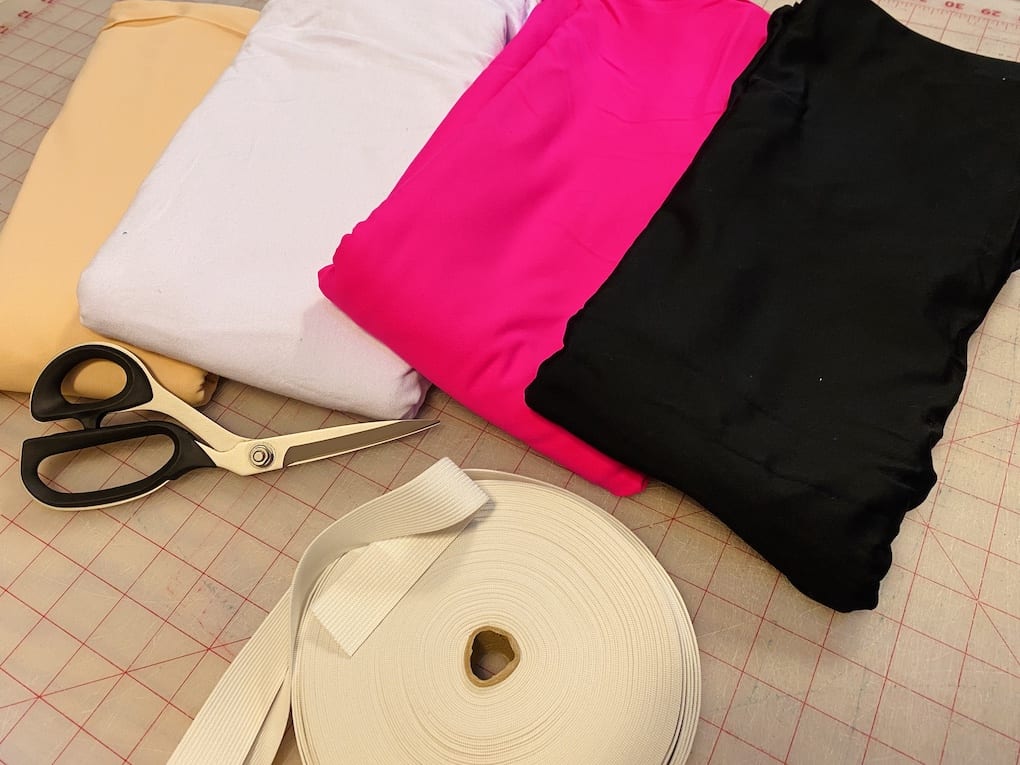 Cotton Lycra (white above)  was my first pick for the shelf bra layer. This is the least supportive fabric I used mostly due to the 10oz weight of it. I would consider it more of a lounging tank. Swim knit (tan above) is a great choice as it has high recovery and 4-way stretch. It's also moisture wicking so if it's hot and you get sweaty, the swim will breathe well. Of all the fabrics I've sewn, I find swim can be the trickiest to work with because of it's more slippery texture. Supplex (pink and black above) is the fabric I reach for when sewing sports bras so I knew it would be another suitable option for the shelf bra here. It's the thickest of these three fabric options and very supportive. I prefer the supplex the most because the thicker layer minimizes nipping while also providing compression. 
Shelf Bra Fit & Construction
I would highly recommend a muslin of the shelf bra to check fit before attaching it to your main garment. Since this is a bra, fit is key. I used cotton lycra for my muslin and found that since the difference between my upper and full bust is only 1" then shortening the shelf bra was needed. I was able to find my best fit by removing ½" of height from both the front and back shelf bra pieces. 
Looking for more support? You can cut both front and back shelf bra pattern pieces in power mesh or power net as another layer. Lay this support later on the wrong side of your shelf bra and sew like they are one piece. This will result in having 3 layers for finishing the neckline and armsyce though which will add bulk. Another option is using wider elastic rather than the 1" recommended. If you choose to use elastic of a different width, make sure to adjust the shelf bra by that difference. If you are using 1.5" elastic, add ½" to the front and back shelf bra pattern pieces. 
I love Tami's recommendation for serging or sewing the shelf bra to the wrong side of the main garment before adding binding. This was especially helpful with using swim knit that's slippery.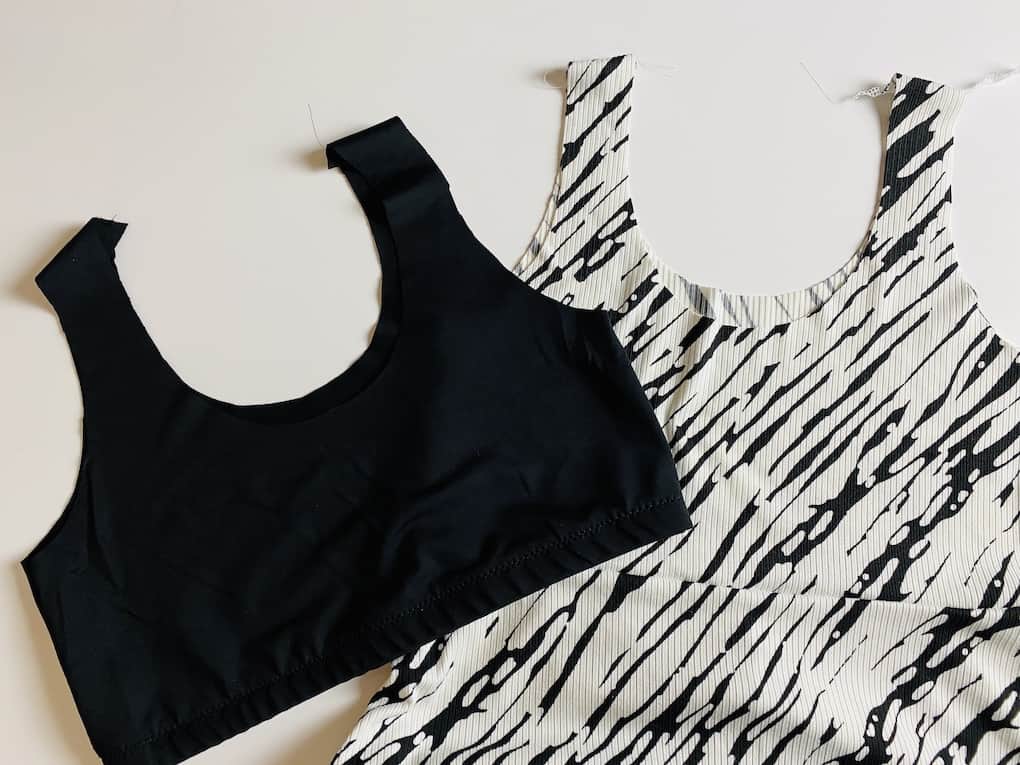 Although the pattern is written for binding, you can modify the finishing to use bands also. This may be something to consider if you are adding the extra layer of support with power mesh to avoid so many layers for binding. I wanted to see which finishing I preferred so added bands to my rib knit version with supplex shelf bra.
Summer Basics 3 Ways
To show the shelf bra in use, I thought it would be helpful to add it to three different Summer Basics in different fabric types. 
1. Summer Basics Tank in Cotton Lycra
First up, I used the black and white cotton lycra stripes with a cotton lycra shelf bra for a tank. With the cotton lycra shelf bra, the fit feels like an easy to wear summer tank that can transition to sleepwear. It's comfortable but on a support level only provides limited support.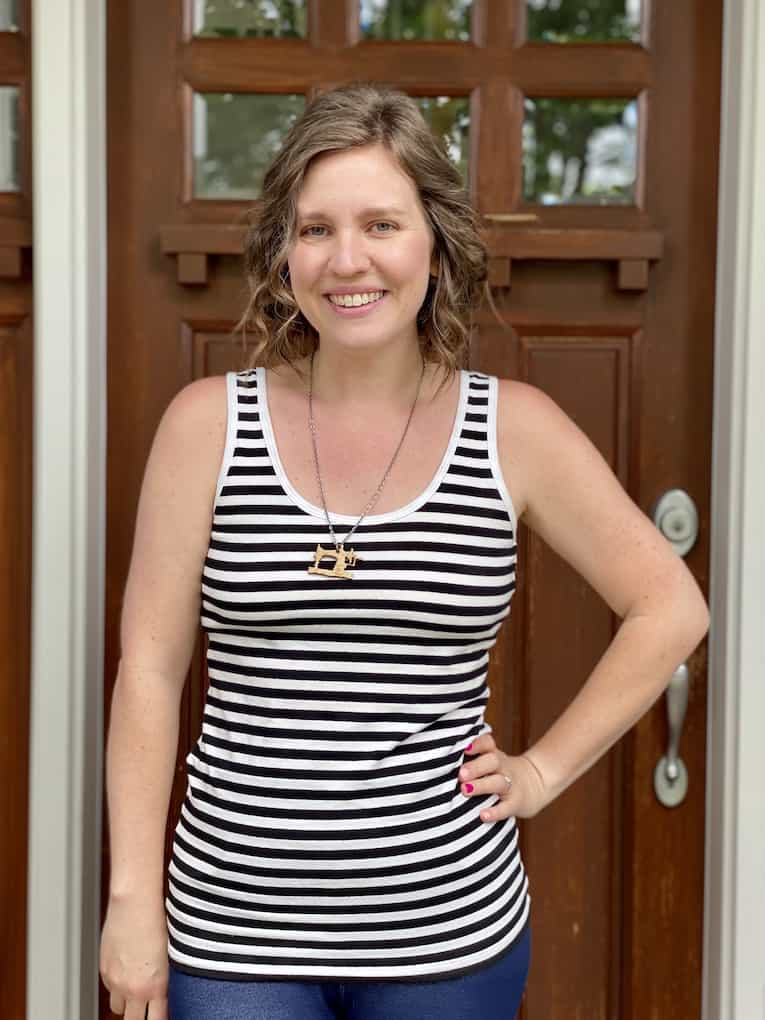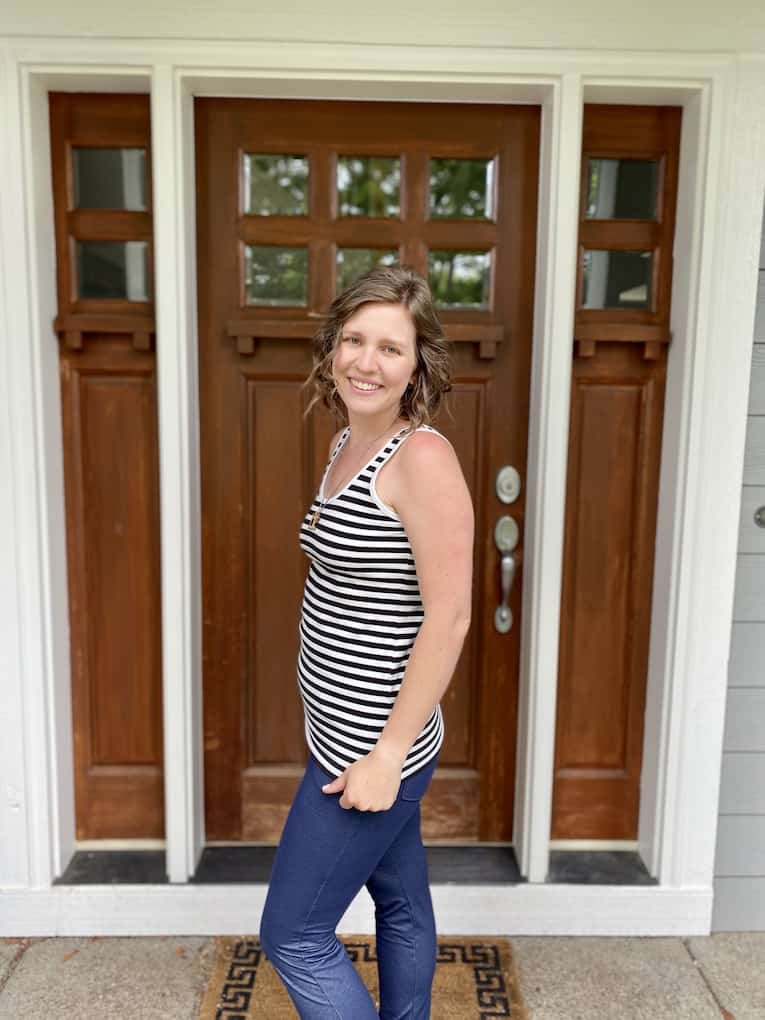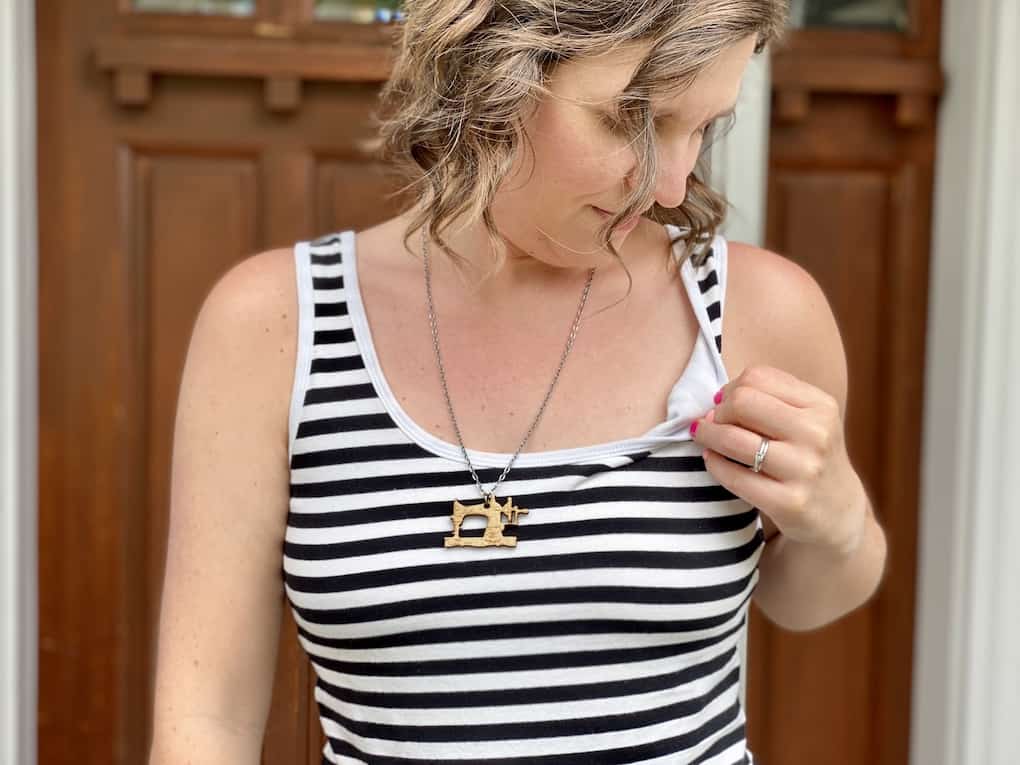 2. Summer Basics Maxi Dress in Rayon Spandex
Next, I just had to make a maxi. I love the flow and look of a maxi but can easily get overheated in the summer. Using a lighter fabric like this summer solstice rayon spandex that's lighter helps minimize warmth. As Tami recommends with more drapey and limited recovery fabrics, I did size down for this. My shelf bra is made from tan swim knit that blends under the lighter fabric but holds in place well. 
3. Summer Basics Knee-Length Dress in Rib Knit
Lastly, my knee length dress is anything but basic. It's a style I find is easy to wear all summer long. For this dress I used Zebra Stripe rib knit. Rib knits are one of my favorite fabrics to work with as they have recovery, stretch and a medium weight to avoid sheerness. I added a black supplex shelf bra under it.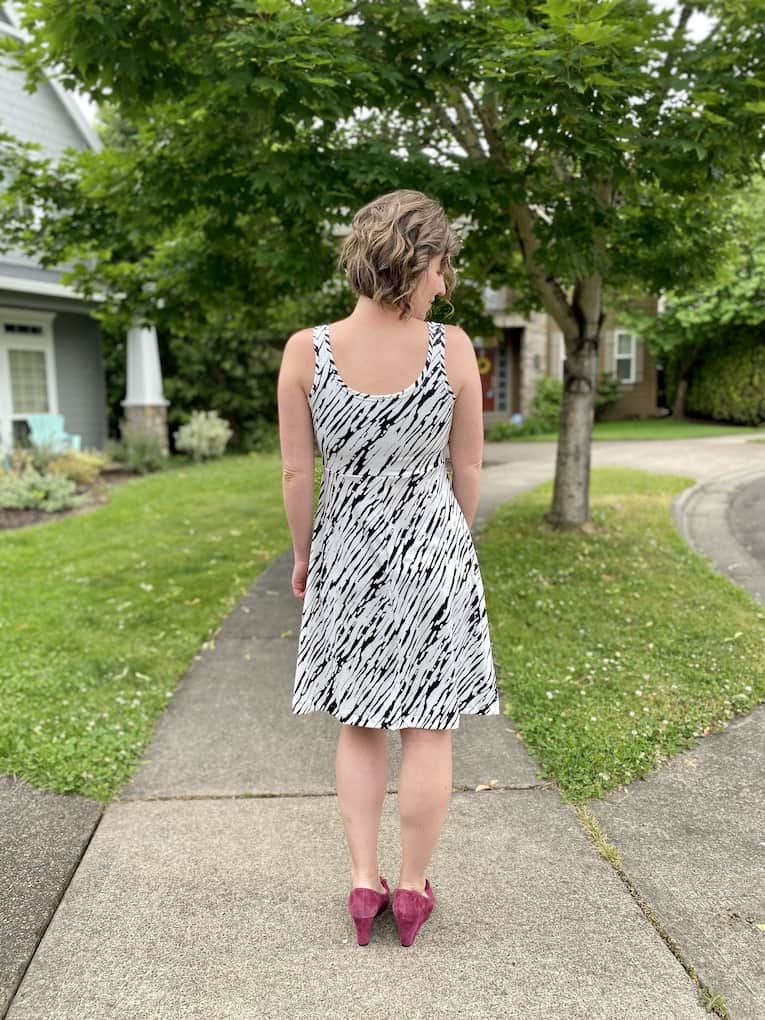 If you are thinking about adding to your summer wardrobe, look no further than the Summer Basics! This pattern is all you need for a tank style top or dress. I'm sure you will love it as much as I do! Don't forget to get your Summer Basics pattern while it's on sale for Feature Friday today then go find some fun summer fabrics at Mily Mae Fabrics!
Pin these for later!
Keep Shopping Dresses