Welcome to Feature Friday for the Summer Caye pants from Love Notions! Today on the blog, the talented Chris Shapiro has the ultimate garment for all your summer activities: easy, breezy palazzo pants made in long, capri and shorts lengths. She even shows how to use them as a swim coverup option!  Read on for an inspiring resort wear take on the Summer Caye pants. Join in the fun and grab a pattern for yourself or your little one.
The Summer Caye Pants: Four Vacation Looks
Happy Friday Everyone,
It's Chris from http://sewjourns.com/.   I am so pleased to be back here on the Love Notions Blog and sharing all about how I used one pattern, The Summer Caye Pants, to create four resort wear looks for my vacation!  Especially great because I only like to pack a carryon. No time to wait for luggage when the beach and a cocktail are waiting for me!!
A pants pattern for my summer vacation 
The Summer Caye Pants is the Feature Friday Pattern this week which means it is a special value of $5 for 24 hours only! (Also  included in the one day sale is the girls version here ) And what a value it is! The Summer Caye Pants Pattern includes full length, capris and 6- and 9-inch inseam shorts, as well as several different hemming options, including split hem, tulip hem, regular or cuffed hem for shorts. Pocket options include no pockets, front pockets and back pockets. As if that wasn't enough, Love Notions also included two widths for the pants, wide width or palazzo width. So really, I did not need to look any further for a pattern that will fill all the needs for my upcoming trip.
The Caribbean is our happy place. Every year for the last 11 years, my husband and I have traveled to the Caribbean for our summer vacation/anniversary trip. This year is no exception. This summer we will be celebrating our 36th wedding anniversary in the Bahamas!
The Bahamas consists of more than 700 islands, cays, and islets in the Atlantic Ocean. A caye, also spelled cay or key, is a small, low-elevation, sandy island on the surface of a coral reef. Cays occur in tropical environments throughout the Pacific, Atlantic and Indian Oceans.
Summer Caye Palazzo Pants
When I started sewing for our upcoming trip, I knew the Summer Caye Pants Pattern by Love Notions had to be on the list. I mean the name just made it so.
I love a palazzo pant! Palazzo pants are my go-to summer pants, whether in knit or a flowy woven, they are easy wearing, look great, and are cool and comfortable.
I wanted my palazzo version to double as a beach pant. I chose the palazzo width with no pockets and the split hem. This lovely tropical color of tie dye in rayon just says Caribbean to me. The flat front and back elastic waistband give the look of polish and the ease of easy on/off. This style also lends itself as a dressier pant paired with an off the shoulder lace boho top I designed, for a lovely dinner on the pier. Scroll down to see both looks.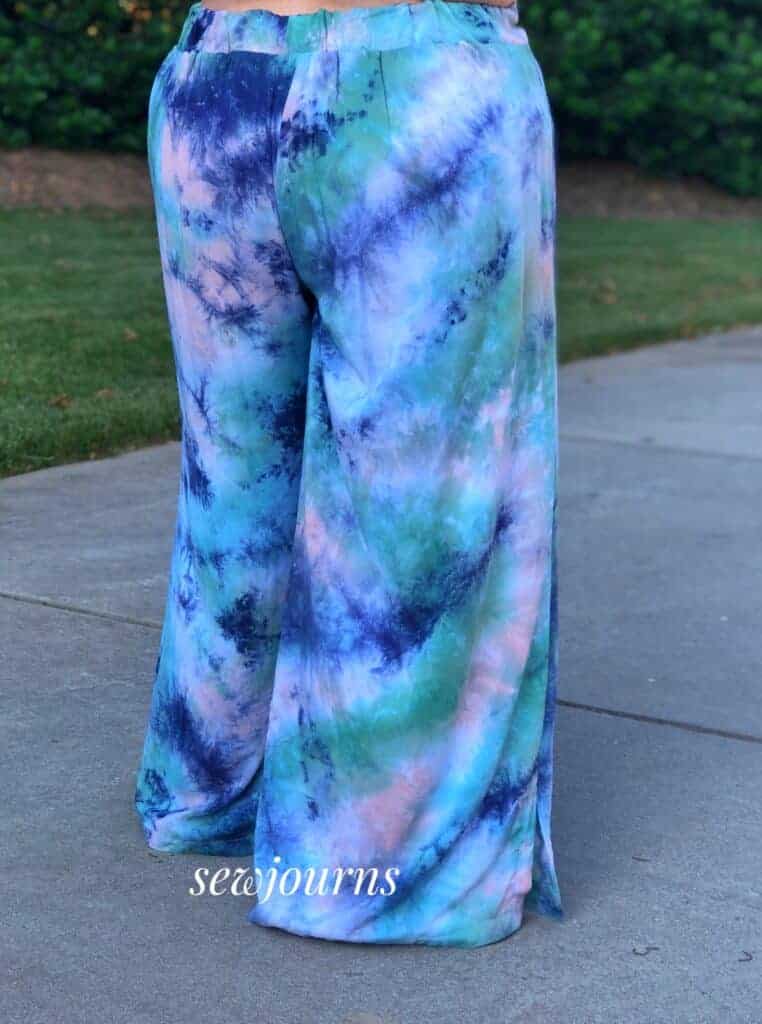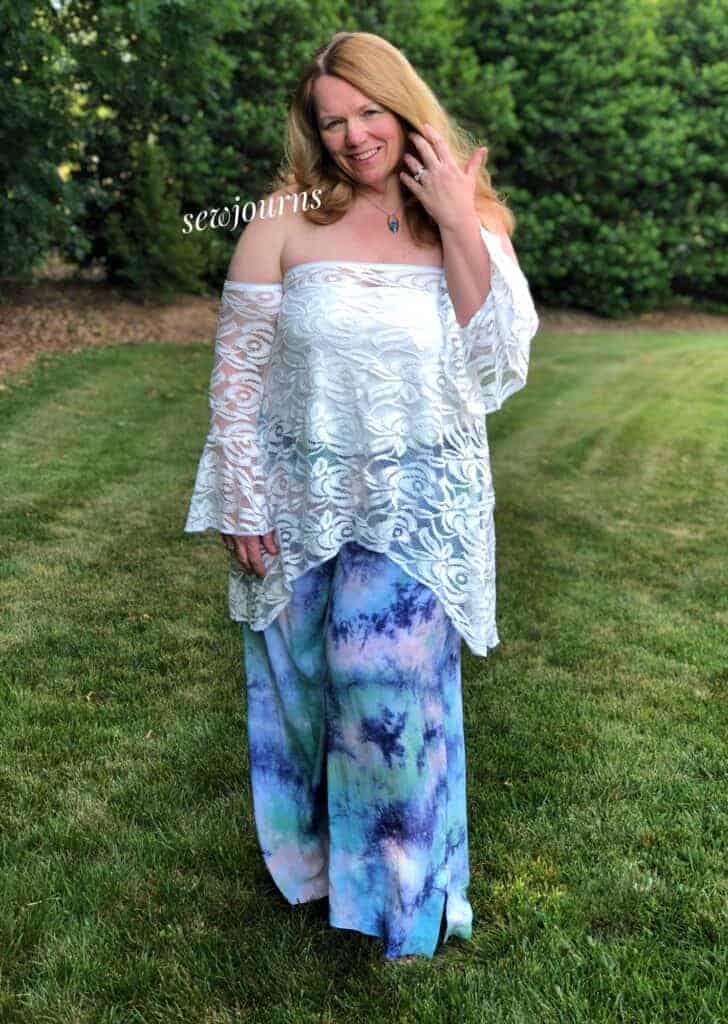 Summer palazzo pant modifications
When creating my muslin for my first pair I started with the size 24 according to the full hip on the chart. I found the size 24 to be too big especially in the high hip and waist but comfortable across the hips so I chose, instead of grading, to go down to the size 22. I did a muslin of the 22 and found the fit to pretty good. The front rise looked great with no signs of "smiles" or pulling anywhere. The curve of the back rise also felt comfortable. However, I did want the back rise to be a bit higher so I opted to use the size 22 pattern and did a full booty adjustment which would bring up the rise a tad and give me a bit more room in the booty especially in a woven fabric. Below is what my pattern looks like after the adjustment. 
Summer capri pants with tulip hem
For my second pair I wanted a capri length for perhaps downtown shopping or lunch out. Classic black and white in 100% rayon which is cool and comfortable. This time I went with the slimmer but still roomy wide width and the tulip hem. The tulip hem is really cute and gives a bit of interest to the pant. My fabric for this pair was about 50 inches wide after washing so the waistband, cut on the fold, did not fit. I chose instead to use a solid black cotton fabric for the waistband and the pocket lining to bring it all together. I've paired it here with the Classic Tee by Love Notions in white. I hacked it a little by creating a modified crop curved length to show off the black and white details of the pocket and waistband. The front pockets are awesome as they do not add bulk to the hips like an inseam pocket on pants would and they lay flat. They are the perfect size for my ID, room key card and cell phone! Hands free shopping for the day!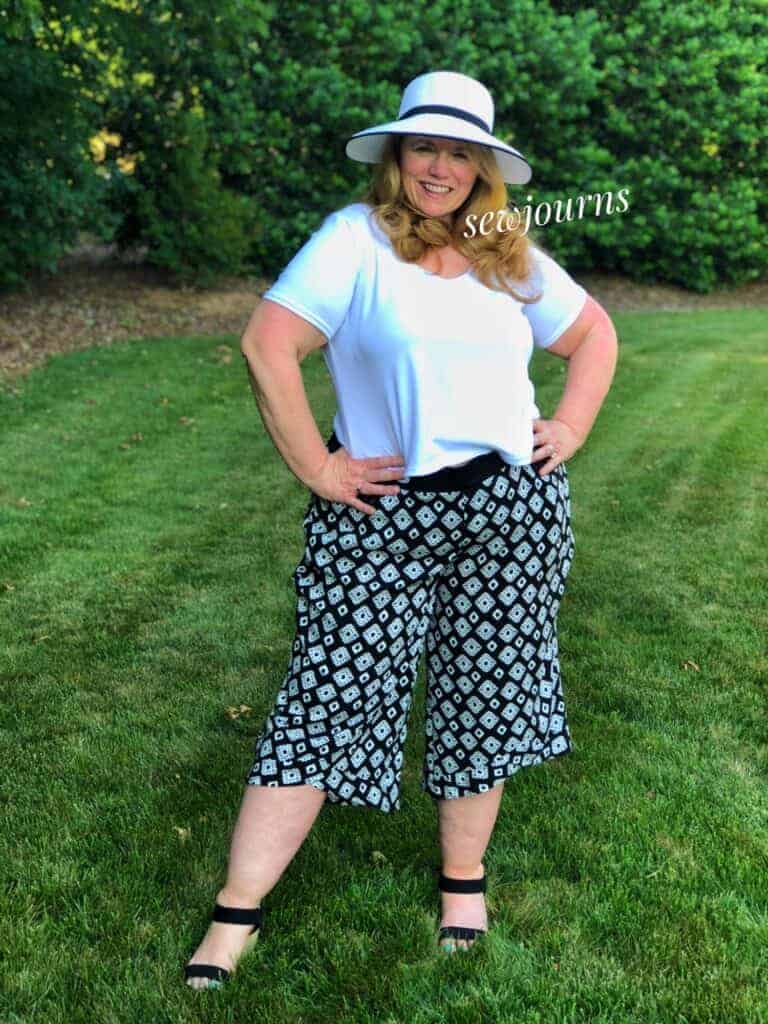 Classic summer shorts
My final pair are the shorts. For this pair I used a cotton/poly tan and ivory stripe. I chose the 6-inch length for these. I decided to add the cuff to the shorts and for more interest, I cut the cuffs on the opposite grain. I basted on the cuffs as per the tutorial so that after sewing you are to turn the cuff up toward the shorts and tack at the side seams. It's a cute look, however I never want to add bulk at my thighs, so instead I sewed the cuffs on RST so they would turn down and increase the length just a bit but I still have the fun of a faux cuff. These shorts will be perfect for lunch at the resort or an early morning sunrise walk on the beach. I've paired it here with a floral classic tee with scoop neck and a self-drafted sleeveless duster for a fun boho look.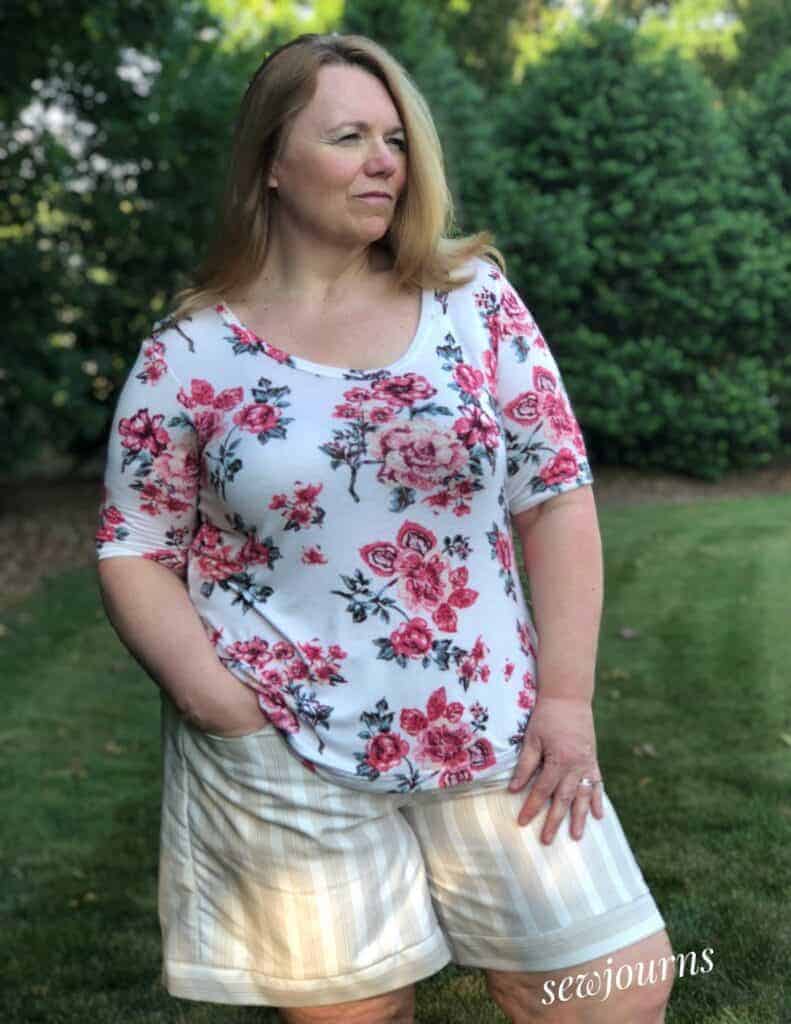 Summer pants for any occasion
I'm ready for the beach, lunch and shopping. I'm ready for my anniversary vacation to begin.
The Summer Caye Pants Pattern is really all you need and with so many options they will take you anywhere. Oh, and yes, they can be made in knit too! Ooh, do I have time to make a knit pair for the airplane? Maybe! I'll let you know!
NOTE: Some of the links in my blog are affiliate links which means when you make a purchase using these links, I may receive a small commission AT NOT COST TO YOU.