So now that many of you have purchased your copy of the Everyday Playdress, your daughters may be asking for their dolls to have their own dress too. And now they can– for FREE!
[/et_pb_text][et_pb_divider color="#cf7d72″ show_divider="on" divider_style="double" divider_weight="3″ module_class="dd-divider" _builder_version="3.0.65″ hide_on_mobile="off"] [/et_pb_divider][et_pb_text admin_label="Text (Main post content)" module_class="dd-post" _builder_version="3.0.106″ text_font="Lato||||" text_text_color="#0c0c0d" text_line_height="1.4em" background_layout="light"]
This is a simple and quick sew.
No serger needed, in fact when I did this tutorial I only used my sewing machine. Use whatever you're comfortable with. See the listed supplies below to get the free doll dress pattern. You will download this pattern to your computer and print it out right at home. This doll dress pattern prints out on three 8.5″ x 11″ sheets of paper.
Supplies:
Approx. 1/4yd fabric. I recommend knit but since this dress closes in the back you could use wovens. You will need to finish your seams differently than I am showing here though. Knits don't fray so I've chosen to just stitch down instead of coverstitching or serging and stitching.
2″ of velcro
Thread, scissors, pins, iron
If you're looking for more beginner friendly girls and coordinating doll patterns be sure to check out this post. We've put together a whole collection of beginner-friendly, easy patterns to sew up for your girl and her 18″ doll (such as American Girl dolls). With this collection, you'll get a total of SIX patterns, three girls and three dolls. All at a reduced price. Or, just get the free doll patterns to get your feet wet!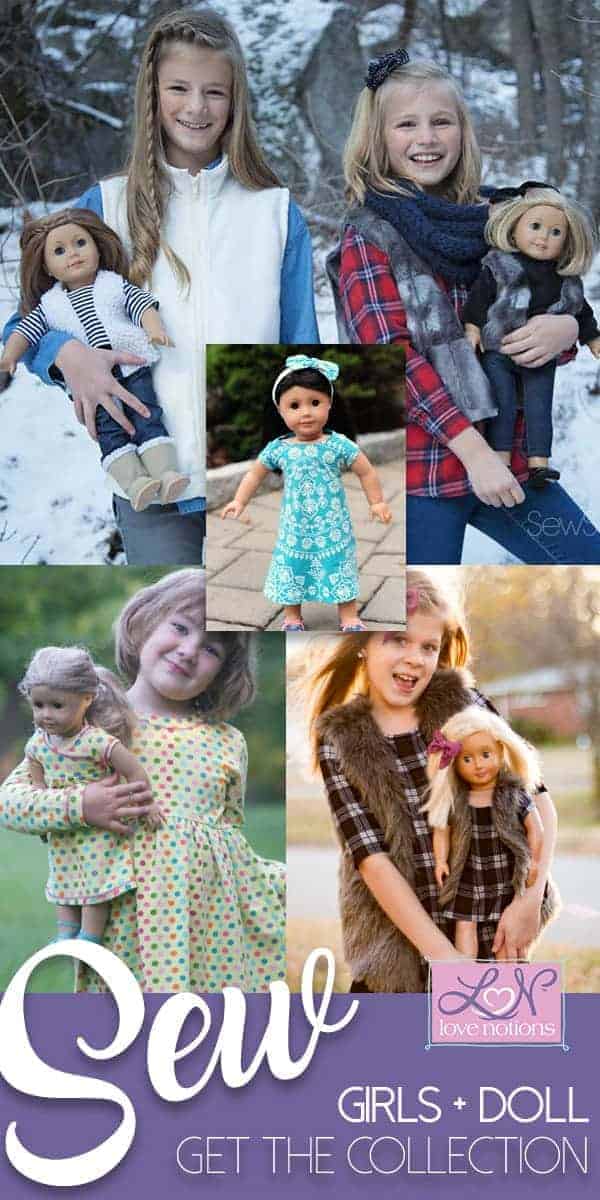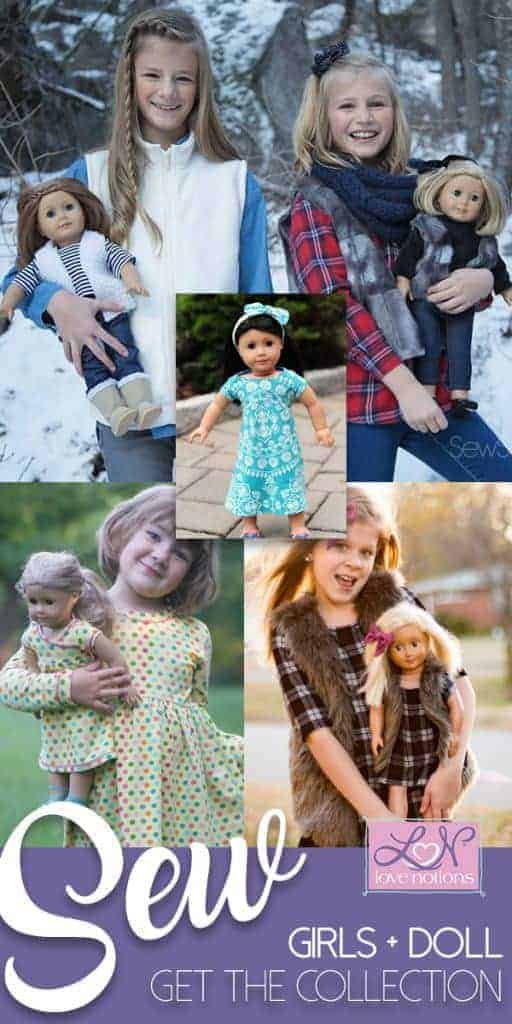 You are welcome to sew and sell from this free doll pattern, no license or credit needed (but appreciated). The pattern and tutorial are copyrighted Love Notions Sewing Patterns 2014. Please do not share your free doll pattern, but direct interested sewists directly here.
[/et_pb_text][/et_pb_column_inner][/et_pb_row_inner][et_pb_row_inner admin_label="Row"][et_pb_column_inner type="4_4″ saved_specialty_column_type="3_4″][et_pb_text _builder_version="3.0.106″]
Shop The Post
[/et_pb_text][et_pb_shop type="product_category" posts_number="6″ include_categories="1967″ _builder_version="3.0.106″ columns_number="0″ orderby="menu_order"] [/et_pb_shop][/et_pb_column_inner][/et_pb_row_inner][et_pb_row_inner admin_label="Row"][et_pb_column_inner type="4_4″ saved_specialty_column_type="3_4″][et_pb_comments show_count="off" form_background_color="#fafafa" module_class="dd-comment-form" _builder_version="3.0.65″ body_font="Lato||||" body_font_size="16px" form_field_font="Lato||||" form_field_font_size="15px" custom_button="on" button_text_size="16″ button_text_color="#ffffff" button_bg_color="#0c0c0d" button_border_width="0″ button_border_radius="0″ button_letter_spacing="0″ button_font="Lato||||" button_use_icon="off" button_text_color_hover="#ffffff" button_bg_color_hover="rgba(12,12,13,0.66)" button_border_radius_hover="0″ custom_css_message_field="border: 1px solid #cccccc;" custom_css_name_field="border: 1px solid #cccccc!important;" custom_css_email_field="border: 1px solid #cccccc!important;" custom_css_website_field="border: 1px solid #cccccc!important;" border_style="solid" border_radii="on||||" button_text_size__hover_enabled="off" button_text_size__hover="null" button_one_text_size__hover_enabled="off" button_one_text_size__hover="null" button_two_text_size__hover_enabled="off" button_two_text_size__hover="null" button_text_color__hover_enabled="on" button_text_color__hover="#ffffff" button_one_text_color__hover_enabled="off" button_one_text_color__hover="null" button_two_text_color__hover_enabled="off" button_two_text_color__hover="null" button_border_width__hover_enabled="off" button_border_width__hover="null" button_one_border_width__hover_enabled="off" button_one_border_width__hover="null" button_two_border_width__hover_enabled="off" button_two_border_width__hover="null" button_border_color__hover_enabled="off" button_border_color__hover="null" button_one_border_color__hover_enabled="off" button_one_border_color__hover="null" button_two_border_color__hover_enabled="off" button_two_border_color__hover="null" button_border_radius__hover_enabled="on" button_border_radius__hover="0″ button_one_border_radius__hover_enabled="off" button_one_border_radius__hover="null" button_two_border_radius__hover_enabled="off" button_two_border_radius__hover="null" button_letter_spacing__hover_enabled="off" button_letter_spacing__hover="null" button_one_letter_spacing__hover_enabled="off" button_one_letter_spacing__hover="null" button_two_letter_spacing__hover_enabled="off" button_two_letter_spacing__hover="null" button_bg_color__hover_enabled="on" button_bg_color__hover="rgba(12,12,13,0.66)" button_one_bg_color__hover_enabled="off" button_one_bg_color__hover="null" button_two_bg_color__hover_enabled="off" button_two_bg_color__hover="null"] [/et_pb_comments][/et_pb_column_inner][/et_pb_row_inner][/et_pb_column][et_pb_column type="1_4″][et_pb_sidebar _builder_version="3.0.106″ area="et_pb_widget_area_3″ orientation="left" show_border="on" background_layout="light" /][/et_pb_column][/et_pb_section]