Hi Love Notions Family! Gosh, It's been so long but I'm back on the Love Notions blog! For those of you who don't know me, I'm Koe from koetiquemade and I'm here to talk about fabric for the Resolution pattern! This pattern (as well as the Sabrinas) could very much be the only pants pattern you need! It has SEW many options! If you have ever wondered what type of fabric to sew the Resolutions in then you are in the right place. I'm going to show you all 5 views (w/pockets) in 5 different fabrics! Plus, I will have links to where I got each fabric in case you want to make all 5 Resolutions views too! As a side note, this pattern pairs perfectly with the La Bella Donna shirt!
Let me tell you a little about the Resolution Bottoms Sewing Pattern.
Some of you may not be familiar with this awesome pattern so here's a little information about the Resolution Bottoms.
Meant for knit fabrics
Five styles included: plain leggings, moto leggings, bootcut yoga pants, straight cut yoga pants, and joggers
All styles feature a shaped back yoke
Front slash pockets for the yoga pants & joggers
Hidden waistband pocket for the leggings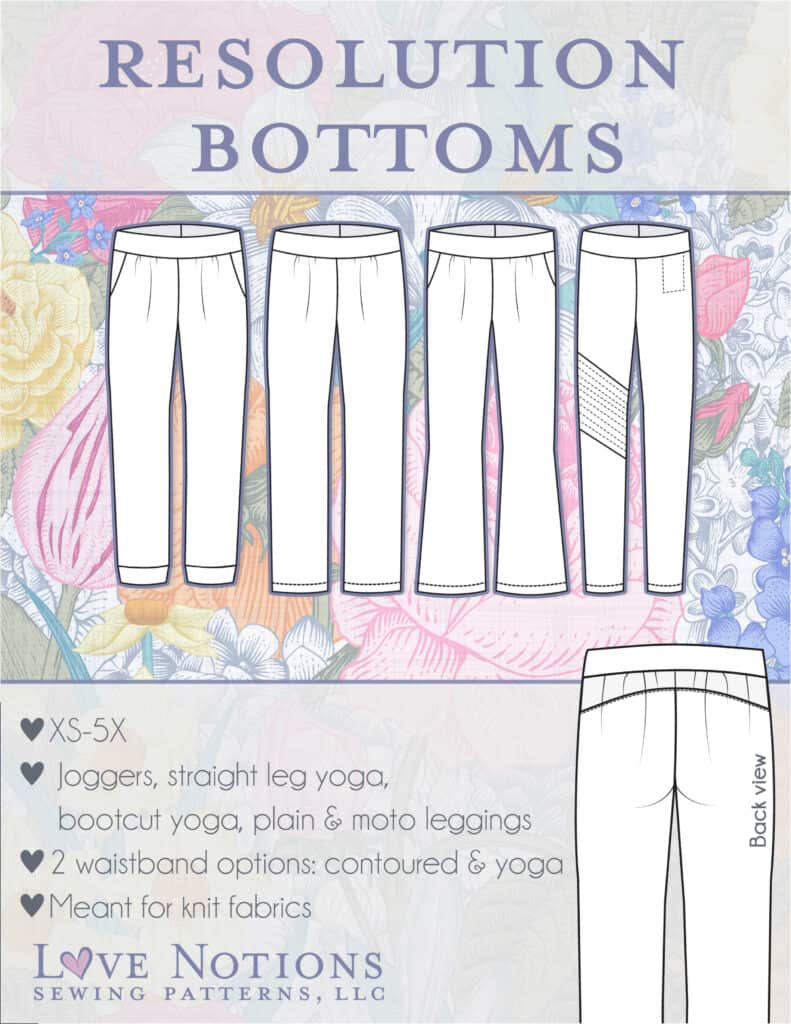 Sizes: XS-5X (See Size Charts here)
Skill Level: Confident Beginner
Fabric Requirements: Depending on your size and what view you chose to make, you will need anywhere from 1 ¾ – 2 ¼ yards of knit fabric.
Joggers & Yoga Bottoms: light to medium weight knit fabrics with at least 25%, 2-way stretch such as french terry, ponte, cotton/lyrca, jersey blends and double brushed poly.
Leggings: medium weight knit fabrics with at least 50%, 4-way stretch such as ponte, spandex & supplex.
---
First Up, French Terry knit!
French terry is a versatile knit fabric with soft loops on the inside and a smooth surface on the outside. This knit has a soft, warm texture you'll recognize from your comfiest sweatshirts to athleisure joggers as well as loungewear. French terry can be medium to heavy weight; lighter than cold-weather sweatpants but heavier than your typical t-shirt.
A lot of people like French terry because they say it gets better with age. However, this is the first thing I have made for myself with French terry so I can't confirm. I've always just assumed it would be too hot of a fabric to wear here in the desert where I live so I avoided it until recently. My assumptions may have been wrong though as these are plenty cool for me. Girl Charlee is all out of this exact French terry but they have some similar striped fabric here.
I made the jogger view without the band around the ankle. I have mixed feelings about ankle bands on my pants so I opted to lengthen the legs by 2 ½ inches and do a 1 inch hem instead. If you know me at all you will recognize that I rarely sew a pattern exactly as directed. I tend to stray just a smidge.
It also has the yoga waistband (my favorite) in some contrasting gray cotton jersey knit and POCKETS! I absolutely love the front slash pockets! What's the point in making your own clothes if you don't add pockets, right!?
I was concerned that the pockets might be too bulky if I made them entirely out of French terry so for the pocket bag, I used the same gray cotton jersey knit I used for the waistband
---
Have you tried Scuba…….knit?
Scuba fabric is a type of double knit made from polyester and spandex, with a very fine gauge thread. This wonderful fabric has a soft grainy "crepe" texture on its surface with a smooth scuba-like texture on the backside of the fabric.. It's a little springy, very smooth and has a nice drape to it. Fabric Wholesale Direct has so many different color options for scuba knit. That's where I usually get mine.
If you're like me, when you hear the word "Scuba" you immediately think of wetsuits. However, scuba knit is not used to make wetsuits for scuba divers. Instead, it is mostly used to make dancewear, skirts, and dresses. Or in my case, straight leg yoga pants!
Although scuba isn't directly mentioned by name for this pattern it is a great option for someone wanting a more structured pant. The Resolution pattern made in this fabric would be perfect office attire but still be comfy as sweat pants. This straight leg view has the yoga waistband and of course the front slash pockets.
You can throw this on with a Metra Blazer and no one knows it's secret pajamas.
---
Everyone needs some Velvet!
Stretch velvet fabric is a soft and stretchy fabric that features short, raised fibers on its face, and a smooth back. Velvet fabric usually has a nap. A nap appears to be lighter or darker shades of color from different angles. If your fabric has a nap, all of the pattern pieces must be laid in the same direction. Otherwise your pant legs may look different colors.
This velvet fabric is incredibly soft and lush. It has a great stretch and recovery and is absolutely perfect for the bootcut cut yoga view! I feel like these are perfect for hanging out around the house or a date night out to my favorite taco shop.
Mily Mae Fabrics has the perfect French velvet so you can make some bootcut yoga pants too! These have the contoured waistband (made from velvet) and of course, front slash pockets.
A quick tip if you plan to make some velvet pants too!
I highly recommend doing the pocket bag in a different fabric. You can do the liner in the velvet since it will be seen but I highly suggest NOT doing the bag in velvet. A knit fabric that has a little slip to it would be much better. Using a different fabric will make getting your hand in and out of your pocket much easier. I did mine in a red ITY knit I had on hand because it's a silky, stretchy knit that wouldn't stick to the velvet.
---
Speaking of ITY……
I would like to add that ITY knit is one of my favorite knits to sew and wear. Any of the previously mentioned Resolution views would be amazing in it. Fabric Wholesale Direct has a lot of color options too. What is ITY? ITY stands for: Interlock Twist Yarn, often referred to as "slinky knit." The best part is that the twist feature helps this fabric be cool, elastic and feel soft to the touch. This fabric is easy to work with and does a great job when used for dresses, blouses, skirts, athletic wear, and flowy pants. Just to name a few. Also, it hardly wrinkles. It's a game changer. I have yet to sew the Resolution pattern in ITY knit, but I have sewn very similar patterns in ITY knit and it was perfect!
---
It's Poly, but double brushed!
Double Brushed Poly or DBP is a 4 way stretch fashion apparel fabric made from a polyester and spandex blend. This buttery soft fabric has been treated to give it the appearance of suede by brushing the surface of the fabric. DBP is stable and doesn't stretch out as it is being worn which some knits are prone to do. This fabric is used a lot for leggings because it has good recovery and doesn't stretch out as it is worn.
DBP is another favorite fabric of mine. I think it gets a bad rap a lot of the time due to its synthetic nature and its tendency to be not very breathable. For some strange reason that doesn't bother me though. It's just so buttery soft and comfy. Plus, it comes in great colors and tends to not be too expensive.
DBP is another favorite fabric of mine. I think it gets a bad rap a lot of the time due to its synthetic nature and its tendency to be not very breathable. For some strange reason that doesn't bother me though. It's just so buttery soft and comfy. Plus, it comes in great colors and tends to not be too expensive.
Since the fabric is so amazing I made the plain legging view with a hidden waistband pocket for my cell phone. I did the yoga waistband for a little more coverage and support. This fabric was actually on clearance at Joann so it may be hard to find. CaliFabrics has some great snake skin DBP that would be perfect if you want to make a pair for yourself. That's where I usually get my DBP.
---
Last but not least, Cotton lycra jersey!
Cotton lycra jersey knit is medium weight stretch knit fabric with a smooth hand and a 4-way stretch making it a comfortable and versatile fabric. The edges will curl towards the right side of the fabric when cut and stretched. It is perfect for making t-shirts, loungewear, yoga pants, leggings and more. Both sides of the fabric do look very similar, but I can assure you there is a right and wrong side. So make sure you have a well lit area when you sew with this fabric so you can differentiate. I try to always have this particular Raspberry Creek charcoal gray fabric on hand at all times.
For this gray cotton lycra knit I made the Moto legging view. This is probably my favorite view of the whole pattern. I have been wanting to make a charcoal gray pair of moto leggings since this pattern came out! Now that I finally have them they do not disappoint.
These have the contoured waistband instead of the yoga one. Rather than do a hidden waistband pocket I did my own spin on this and hacked a front slash pocket!
For this hack I skipped the pocket bag and just attached the liner right to the pants with a twin needle. I like how the decorative twin needle seam around the pockets completes the moto legging look. If you want more details on how to do this kind of pocket you can click here for a hack like this I did with the Sybil Skirt. It's the same concept.
---
Honorable Mentions….
There's so many great fabric and pattern view combinations you can do with the Resolutions. Ponte and Liverpool are two fabrics I plan on using to make future Resolution bottoms. Let us know in the comments what Fabric and view you want to make your Resolution bottoms in!
Let's be friends!
If you are on the fence about this pattern, hopefully this post helps you figure out what will work best with your wardrobe needs. Let's be friends on all the socials! Come follow along on Pinterest, Instagram and Facebook so we can chat about all our Love Notions sewing projects!
---
Save this article to your pinterest board