Boyfriend Cardigan Sew Along Day One
Welcome to day one of the Boyfriend Cardigan Sew Along. Join us while we break down the Boyfriend Cardigan pattern and spend the week sewing!
The cardigans make a GREAT transitional piece that can help carry your wardrobe from one season to the next, making now the perfect time to have a Boyfriend Cardigan Sew Along!
Perfect for layering, the Boyfriend Cardigan can easily carry your summer and spring clothes into fall and winter by throwing a cardigan on top of a short sleeve or even sleeveless top. They also allow you to dress for the cooler mornings and evenings and warmer mid day temps as we transition into spring by giving you the freedom to remove and put back on as the day goes on. I even use cardigans as jackets in mild weather!
The Boyfriend Cardigan is a very versatile pattern and works well with a wide variety of sweater knits. Choose chunky sweater knits for a super warm cardigan for bitter winter days or go with a light loose weave sweater knit perfect for warm spring and summer days! You have the option of going with a hood or a shawl collar, or even just a straight hem in the front to keep things really simple!
For day one of the sew along, we will be focusing on cutting out our pattern and fabric.
I'll be sharing pictures of the steps here, but if you are the type of person who prefers to see the process done, I have linked the video I recorded live in our Facebook group, at the bottom of this post. Hop to the video in the Facebook group, to leave comments on it with any questions you have. Not a part of Facebook? No problem! Comment on this post with any questions!
Step one is taking your measurements and assembling the pattern. Need help with how to measure? Jump to 29:50 in the video. I explain how to measure your high bust, where your waist REALLY is and measuring your hips.
After you have your measurements, print off your pattern. Page 3 in the pattern has LOADS of great info on how to do this. Then it's time to assemble. We go over both of these steps, printing and assembly in the video, but if you prefer, here is a blog post explaining it with pictures.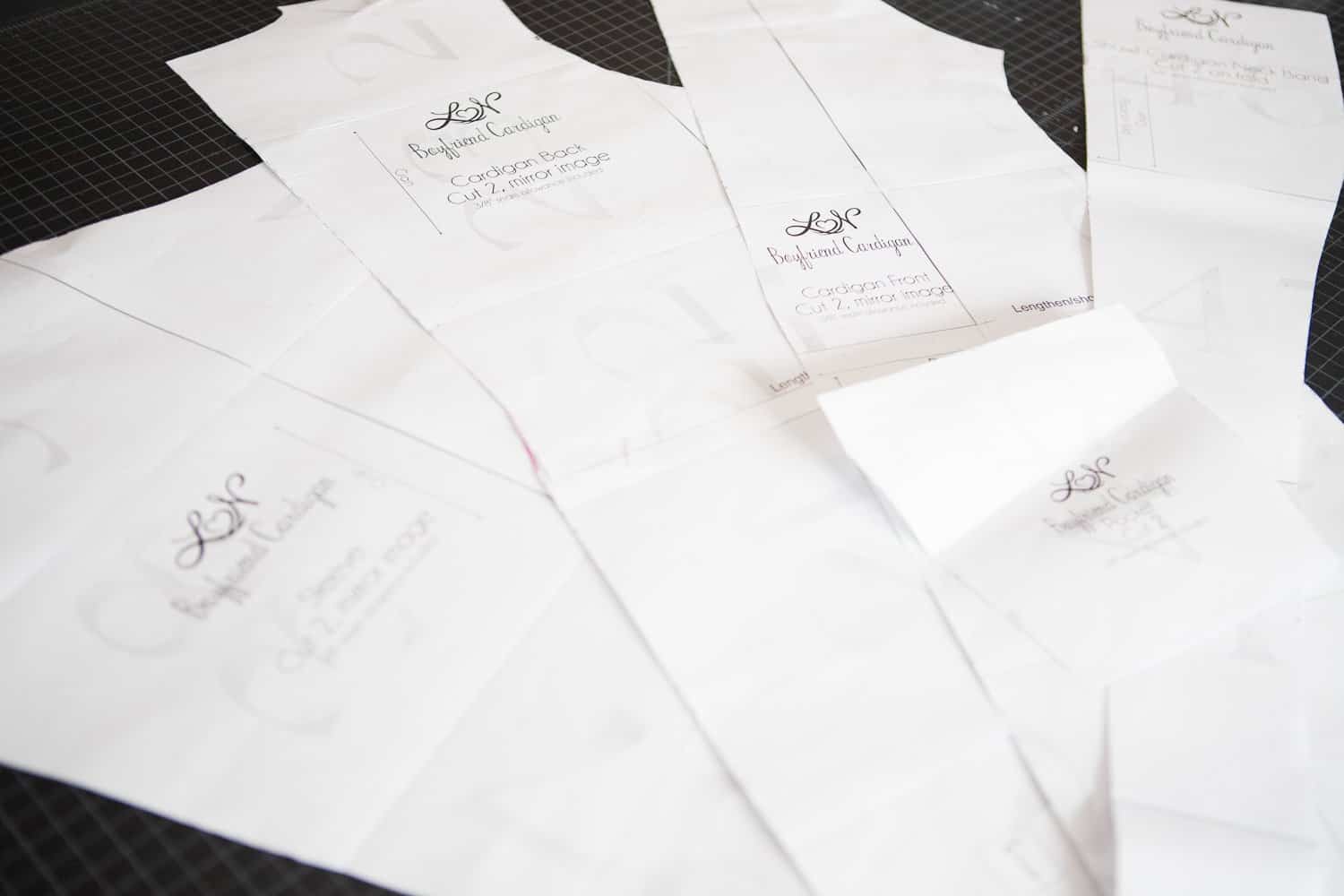 Now is the time to make any adjustments you want to the pattern. Follow along with the instructions on page 7 of the tutorial.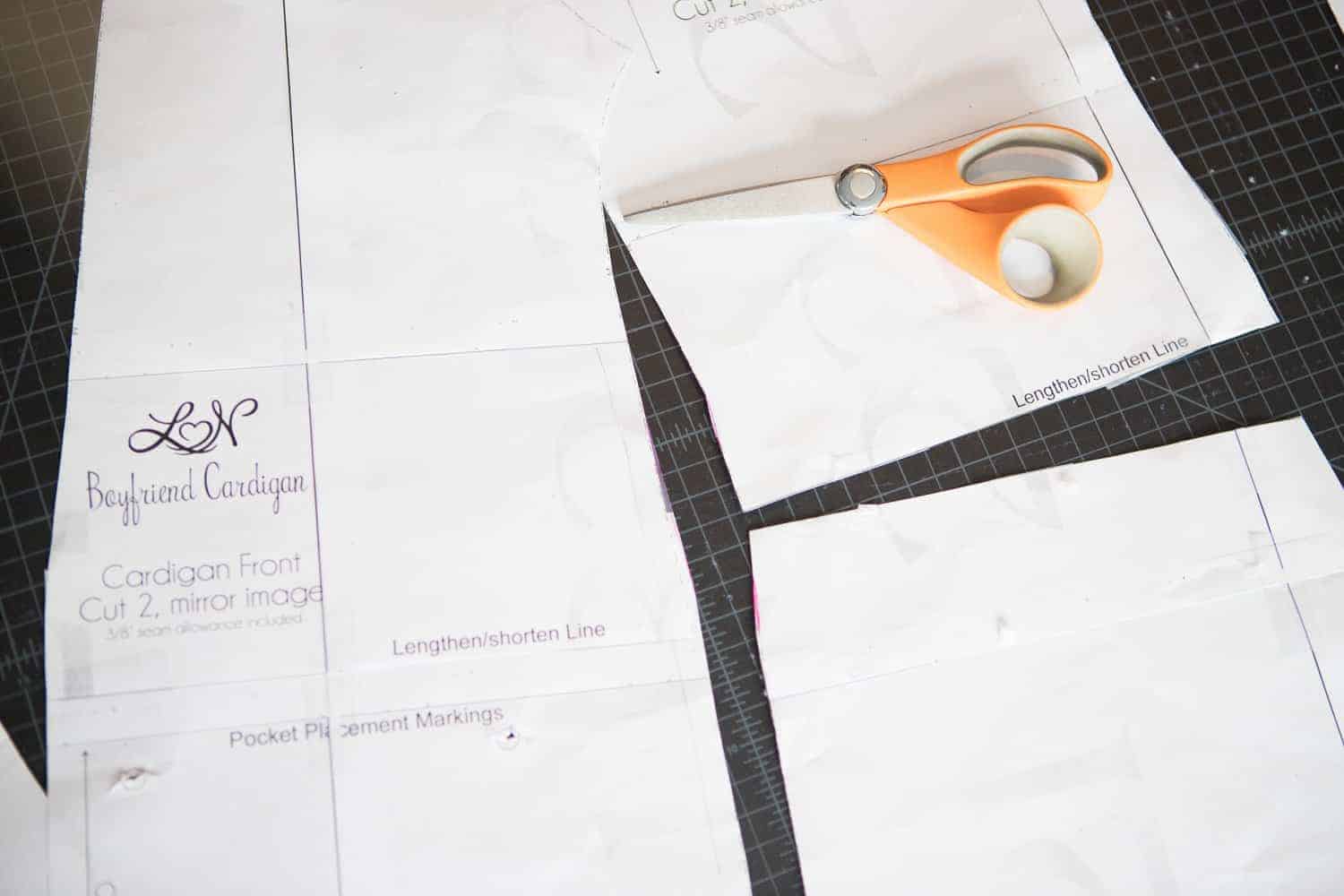 If you have fabric with a great pattern and you don't want to break it up with the seam in the back, just lay your pattern piece out on your folded fabric with the top and bottom overhanging by 3/8″.  This removes the seam allowance from the pattern piece.
Just be aware that cutting on the fold causes you to lose the shaping the back seam provides.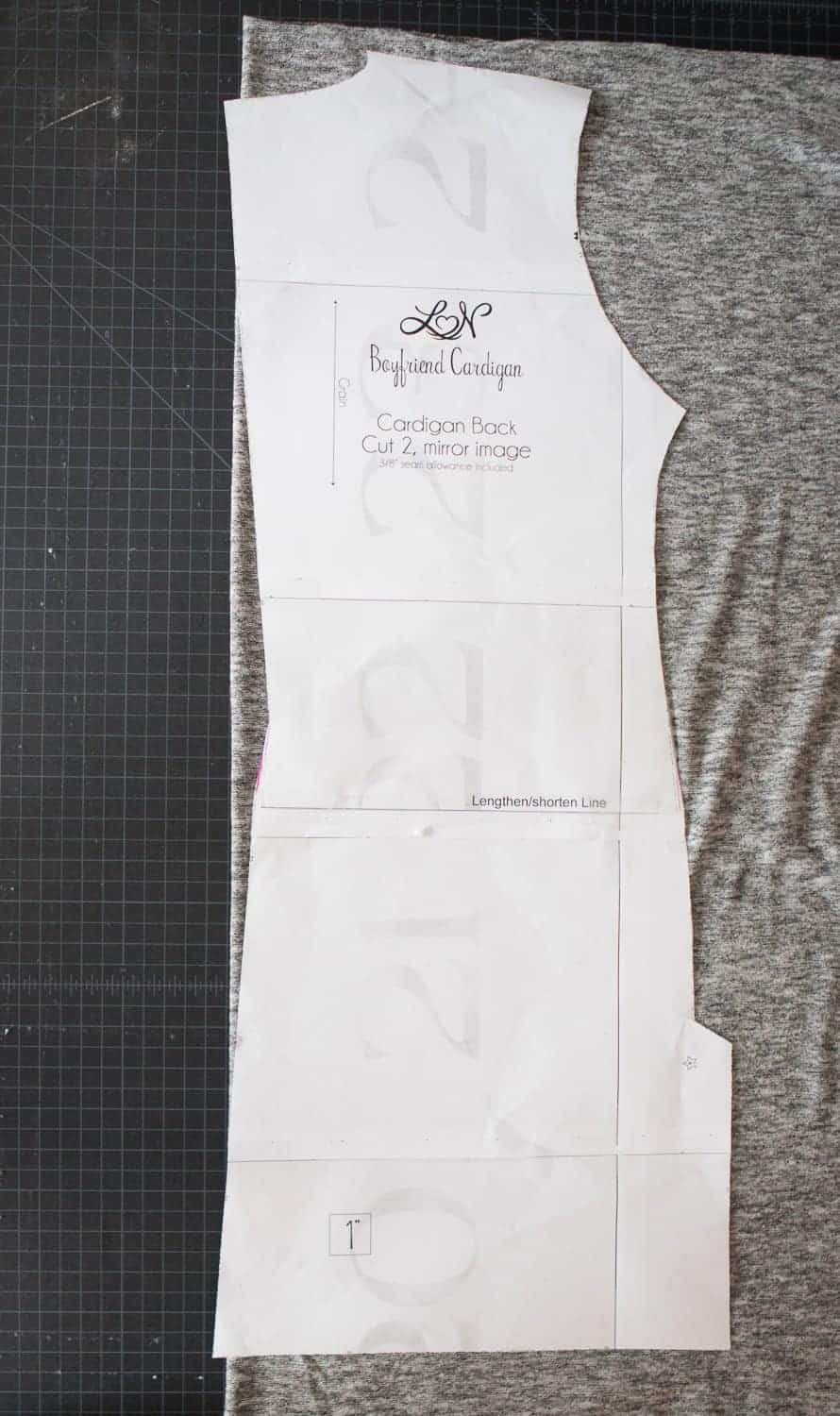 One you have your pattern pieces all cut out, you are ready to go for day two! Join us back here tomorrow for assembling the back piece, shoulder seams and attaching the sleeves. I will also be talking about finishing the raw edges of sweater knits, so don't miss out!!
Love the fabric you see here? You can find it over at Sly Fox Fabrics, our gracious fabric sponsor for this sew along!
Here is the video that was recorded live in our Facebook Group. It was so fun! I hope you join us tomorrow!
Girls Boyfriend Cardigan

$

10.50

Ladies Boyfriend Cardigan

$

12.50