I hope the Sabrina Sewalong has given you the courage to sew up some pants you can look amazing in! If you are just joining us, here is a recap.
Day 1: Picking fabric 
Day 2: Step one to getting the perfect fit
Day 3: Pockets, construction & alterations
Day 4:Waistband & hemming
Now make no mistake, I love the original design of the Sabrina Slims. They look nice and polished, but are crazy comfortable and easy to wear. However, there are times that I like to be just a bit more casual. Actually, pretty much all I wear is super casual. And athletic wear is my first choice, always. And the Sabrina Slims were just begging me to be turned into a pair of joggers. So, I did it. And I'm going to tell you how I did so you can make your own Sabrina Joggers.
I made two different style hems, straight and cuffed. And I love both. <3 The straight pair is some ah-mazing french terry from Raspberry Creek Fabrics. If you haven't tried it, you need it in your life. (And Boo! It looks like this color is out of stock, but they have loads of other great fabrics!) It has a great drape, this deep purple is nice and thick, but not heavy and the recovery is excellent. I'm in love. The gray pair is performance knit from Joann's. I am pretty picky about fabric and I love this stuff. It's very stable, has between 25-30% stretch and is fleece brushed on the pack. It's cozy warm and so great for running in the cold.
To make your own Sabrina Joggers, take your measurements that you made on day 2. Now, print your measured size for your waist and then 2 sizes larger for your hips. You don't need to worry about calf size here, since these will be looser. To draft your fit, you will use the larger size for the side seam and inseam and your regular waist size for the rise and waist. This is what your pattern will look like after blending sizes. (The pink line is starting at my measured waist size and then blending out on the side seam. My measured rise is traced in pink and connects to the upsized inseam.)
You will also be adding length to the legs. I added 4″ for my unhemmed straight pair and 3″ to my cuffed pair. I like my athletic pants pretty long. You may want to measure the inseam you desire to determine how much length you want.
And that's all there is to it! Construct your pants the same way the instructions state. They will still be slimmish (new word?) fitting, but more relaxed. Slimmaxed? Sure, let's go with that. You can hem the cuff, or leave it raw. I like french terry to have a raw edge. I like the way it curls up. Or, you can add a cuff!
To construct the cuff, measure the bottom hem and then use 80% of that measurement to determine the width of the cuff.
For example, the cuff on my pants measured 8″ flat, or 16″ total. 16 x 0.8 = approx 13″ (it's okay to round up) So I cut my cuff 13″ wide by 4″ tall. You will need to cut 2 cuffs.
Fold matching up the short ends, right side together. Sew with a 3/8″ seam allowance.
Press seam open and then fold loop in half, wrong sides together, lining up the raw edges. (same way the waistband was constructed)
Mark the quarter points of the cuff and waistband.
With pants turned inside out, slip cuff into the bottom of the pant leg, lining up the raw edges. Line the seam of the cuff up with the inseam of the pant leg and then match the remaining marks up. Sew into place. (again, same way the waistband was attached)
See, cute cuffs!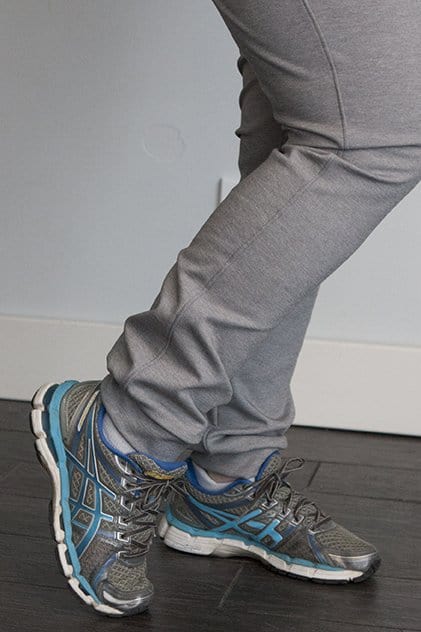 And that's it! Now you have another cute way to wear your Sabrina Slims!
Like I said, I'm super casual! This is very everyday wear for me. I will put on jeans to go to the store. 😉
The gray pair have the great pockets Tami shared with us on Tuesday. Paired the the slimmaxed fit and cuffs, they have more of a jogger look. This pair has already been out running with me and they are fabulous!
Now you have some choices to make! Will you make the Sabrina Slims as they were drafted? Add some front pockets or  turn them into joggers? Whatever you do, be sure to share them in the Facebook group!