Today is the last day of the sewalong. I've really enjoyed working with Kelly and our sponsors, Cali Fabrics & Raspberry Creek Fabrics, putting this SAL together. I hope we've held your hand just enough to get you started on sewing your own Sabrina's. Don't forget: post your finished Sabrina's in the album in the group to be entered to win a $50 credit at Love Notions! I've extended the deadline to next Wednesday the 9th to give you all a little extra time. Today I'm going to post some style inspiration for your Sabrina's. I went through Pinterest and picked a few outfits that you can recreate with Love Notions patterns + the Sabrina Slims. AND, I've found fabric to go with them!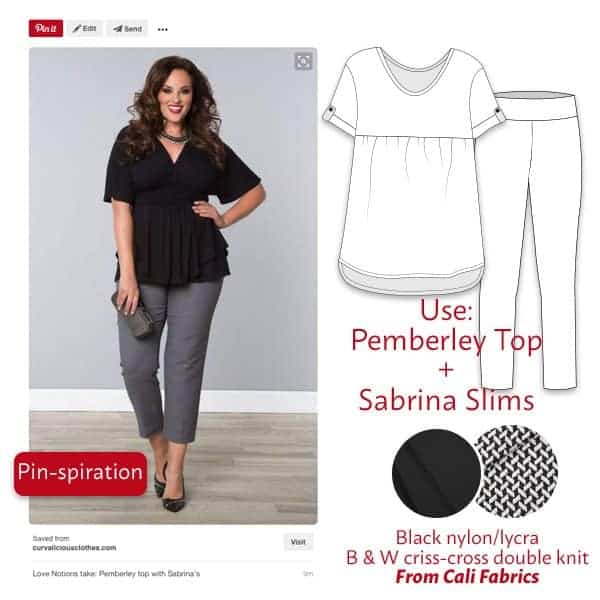 For this inspiration look use the Pemberley Tunic in a solid black flow-y nylon/lycra and a really cool black and white criss-cross double knit for the Sabrina's. I can see this outfit being business casual and good for a night out. I found both fabrics at Cali Fabrics so don't forget to use the discount code lovenotions for 20% off!
This look would be perfect for a date night! Use the Lotus Blossom top in this black dot on white jersey blend paired with black stretch vegan leather from Girl Charlee. I made Mallory a pair of Maxx-ine's in their vegan leather and they were crazy-cool!
I think this look might be my favorite inspiration for the Sabrina's. This casual style is more my speed for working at home or running errands. Sew up the La Bella Donna dolman in this ivory loose weave sweater knit and this brown ponte de roma knit from Cali Fabrics. I love layering camis under loosely woven sweater knits. Looks so put together with very little effort!
So that's it ladies, the sewalong is finished! A big thank you to Kelly for helping me out with my first sewalong and to Cali Fabrics and Raspberry Creek Fabrics for sponsoring us. If you'd like to see more Love Notions Sewalongs let me know!
To recap–
Day 1: Let's talk about fabric
Day 2: Step 1 to the perfect fit
Day 3: Pockets, construction and alterations (oh my!)
Day 4: Waistband & hemming
Day 5: Sabrina Slims, jogger style