It's no secret that sewing pants for yourself can be a challenge. With this sewalong (SAL) Kelly and I will be here to hold your hand for those who have never taken the leap into this particular garment. The pants we will be sewing are the Sabrina Slims. This is the easiest pant to start with because there are no closures, they just pull on. The waistband sits just beneath the navel which helps keep things where they belong and not spilling over (aka- muffin top). The legs fit closely from the waist to knee and then flow straight down. We had many testers of all different shapes sew Sabrina's and every one of them looked so great in the finished product.
If you haven't purchased your copy of the Sabrina Slim's pattern you can get it here:
In today's post we'll be talking about selecting the right fabric. Tomorrow, Kelly will walk you through picking the right size and customizing that size to your unique shape. Later in the week we'll sew the pants from start to finish as well as post some styling inspiration.
---
So, fabric. I love fabric. I buy a lot of fabric. I bet you do too. You may even have something suitable for the Sabrina's in your stash. If not I will be packing this blog post with lots of resources.
My inspiration for the Sabrina Slims were a particular pair of pants that fellow Stitch Fixer's* rave about. They're a stretch woven pant by Margaret M called Emer's. They just seem to fit everyone so nicely with the straight leg and wide waistband. My other inspiration was the ankle length, 'cigarette' pants that Audrey Hepburn made famous. That high waist and slim leg looks so nice on everyone!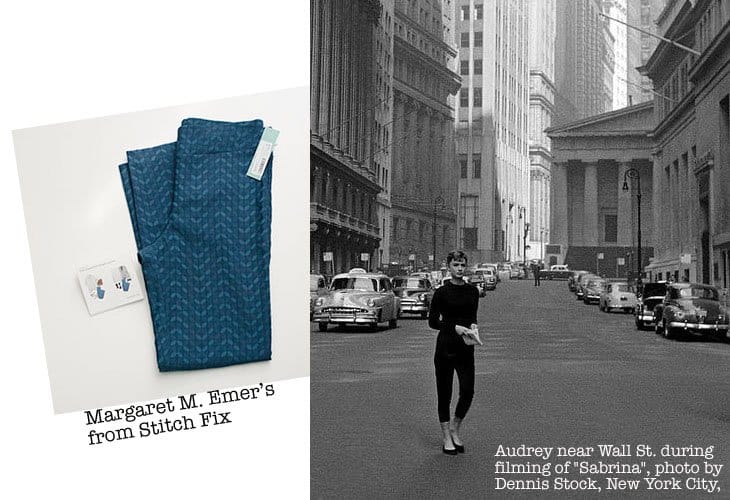 So I drafted up the pants and scoured the internet for the perfect fabric. I found a huge variety! That's one of the nice things about the Sabrina Slims: you can use knits or stretch wovens. If this is your first pair of pants I suggest starting with a stable knit like ponte de roma. Knit is much more forgiving in the fit department so you can get the basics of sewing these down first and get a little confidence boost before you tackle stretch wovens.
Fabric Recommendations:
Stable medium to heavyweight knits with at least 25% stretch such as
ponte
scuba
french terry
interlock
cotton/lycra
Medium weight wovens with at least 30% stretch such as
sateen
corduroy
twill
jacquard
denim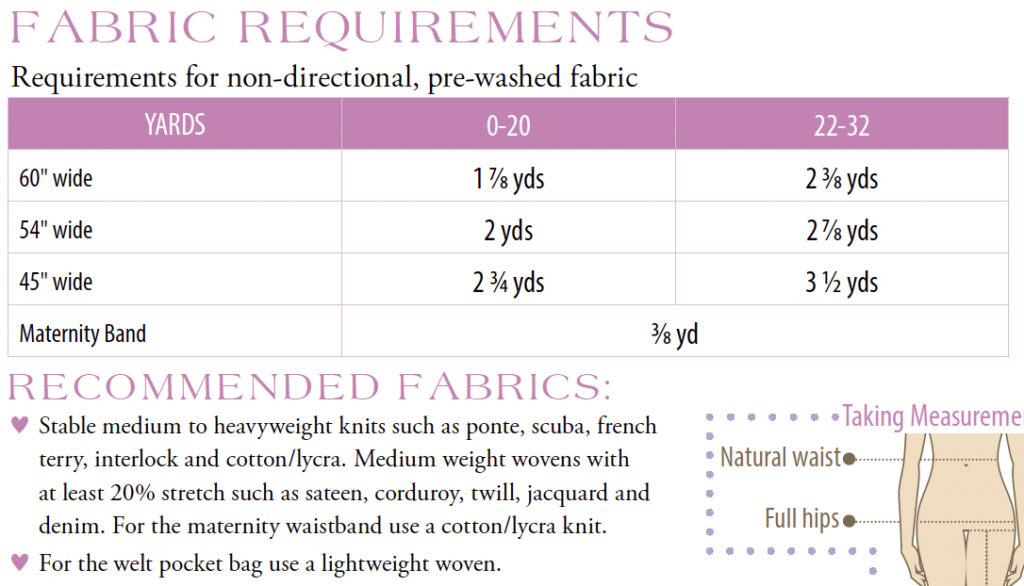 ---
How to calculate Fabric Stretch
So what do I mean when I say '25% stretch' and '30% stretch'? That just is a means to tell if a fabric will be able to stretch enough to fit as I've designed them. I've made up a little worksheet for you to print out and check your own fabric against to be sure it will work as intended.
Here's how to use it:
Cut a piece of fabric 4″ across the grain. Do not include the selvage edge in the 4″ cut.
Hold one of the piece of fabric until it resists. You don't want to stretch the fabric anymore than it would naturally stretch.
Note where the stretched fabric ends. This is the percentage of stretch it has.
Let go of the stretched end and notice how it returns back to shape. If it bounces back to its original 4″ then the fabric has 100% recovery. Most knits will not have that great of recovery.
For the Sabrina Slims you want your knit to stretch at least 25% horizontally and your woven should stretch at least 25-30% horizontally. For this pattern your fabric does not need to stretch vertically as well. You may have a fabric you really want to use but it doesn't have quite enough stretch. In that case you may want to sew a larger size. In any case I would not recommend using anything with less than 20% stretch.
---
Now to the fun part: shopping for fabric!
Califabrics is a great resource for fabric suitable for Sabrina Slims.
After spending a bit of time on the site I've put together a few fabrics I would recommend for the Sabrina Slims:
A. Light pink and periwinkle floral stretch denim. Cali sent me some of this fabric to sew up for this SAL and I fell in love! It has at least 305 stretch and feels so nice! You don't find many good stretch denims with a nice print so this was a great find!
B. Heavyweight light gray slubbed stretch denim. I haven't touched this one in person but from the description I think it should work nicely. If in doubt, get a swatch through Cali Fabric's swatch order system (love it when fabric stores offer that service!). I can just envision a cute pair of gray Sabrina's with a rolled cuff, converse tennis shoes and white and black striped shirt.
C. Denim blue heather french terry. Another winner! This french terry would make a great, casual pair of Sabrinas. And how comfortable! It may feel like you're wearing pajamas but you'll be able to wear them out of the house. Win, win.
D. Blue and white crinkle look print stretch denim. Another great stretch denim that's a print! Cali has several of these in different prints. Lots of options to appeal to everyone. The listing says 25% stretch (just like the pink floral that I got) but if it's anything like the one I received it had at least 30% stretch. They may just be estimating the stretch. But again, if in doubt get a swatch!
---
Raspberry Creek Fabrics has really caught my eye. They have a nice selection of french terry as well as cotton/lycra prints. They even have their own line of Club knits that are so on-trend and a great quality.
Here are a few fabrics that would work nicely for a pair (or two!) of Sabrina Slims:
A. 4-way stretch french terry with spandex. I love that this french terry has spandex! That means the fabric will recovery from being stretched and look nicer, longer.
B. Any Ponte de Roma! You can search them here.
---
There are so many online fabric shops out there, and I couldn't possibly include them all but here are a few more places I like to shop that have fabric that would be prefect for the Sabrina's:
A. Pink/green/blue painterly floral stretch cotton sateen from Mood Fabrics. This is a gorgeous stretch sateen that would be prefect for spring. It doesn't list the stretch amount so you may want to either order a swatch first to start a live chat with Mood to see if they can tell you first. I made a sample pair of Sabrinas in a stretch sateen (from Fabricmartfabrics.com) that was perfection so I'm thinking this stretch sateen will have similar qualities.
B. Diamond embossed ponte de roma from Fabric.com. I ordered this exact fabric for a sample pair of Sabrina's and really loved this fabric. It was an early sample so it had some fit issues but the fabric was so nice. Perfect amount of stretch and an interesting design. Don't worry about ordering a swatch, I can vouch for this lovely ponte.
C. Diamond texture matellasse double knit from Gorgeous Fabrics. This would make a show-stopper pair of Sabrina's! Looks like it's got a great amount of stretch and an interesting design. If the red is too bold for you they also have white.
D. Chicago jacquard stretch denim pindot midnight blue/black from Fabric.com. This lists the stretch as 40% but vertically which is unusual. I think the design is cool enough that I think getting a swatch to test would be in order before writing it off.
---
Now that I've gone through fabric recommendations and even suggested several ideas it's your turn to shop!
Click here to go to Day 2 of the Sewalong!
Save this series to your sewing Pinterest Board: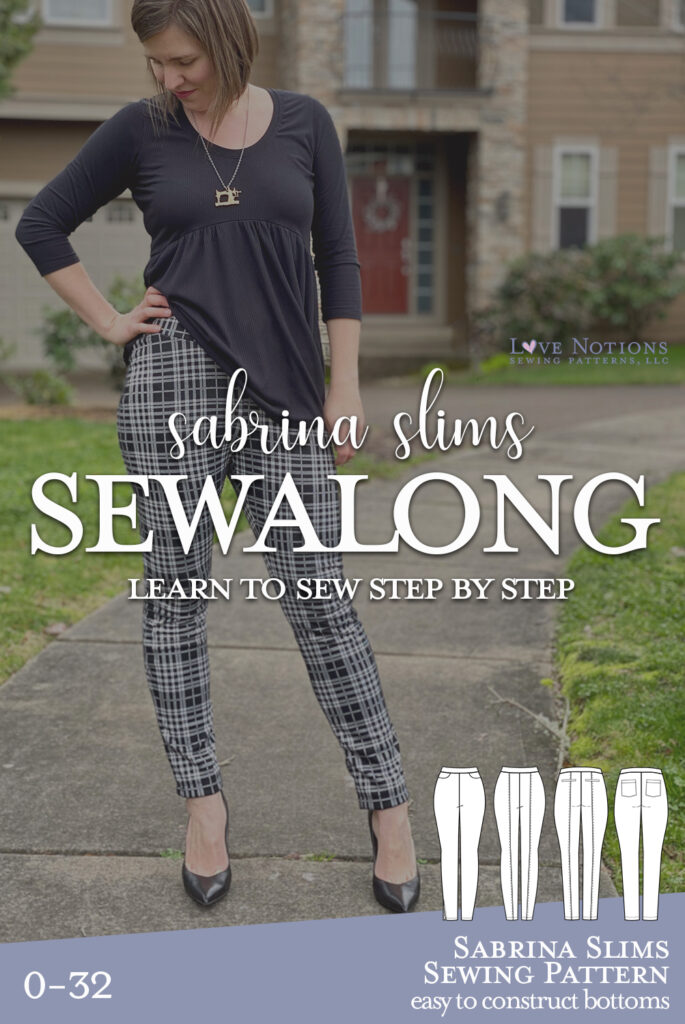 ---
Get more easy sewing patterns