A flutter sleeve strap hack is just what you need when you want a teeny bit more coverage on your sundress's sleeve straps. This post will show you how to add it to your little one's Tempo Sundress, and you can even add it to the adult version of Tempo Sundress too!
Also, do you hesitate on the strappy patterns because you hate your bra straps peeking out? The beauty of the Tempo Sundress is that the straps are actually quite wide for being a strappy pattern – but those pesky bra straps tend to want to peek out anyway, especially at the base of the strap where it attaches to the bodice. Keep reading for the bra strap holders I added to my sundress to be assured that no unwanted bra straps were able to show.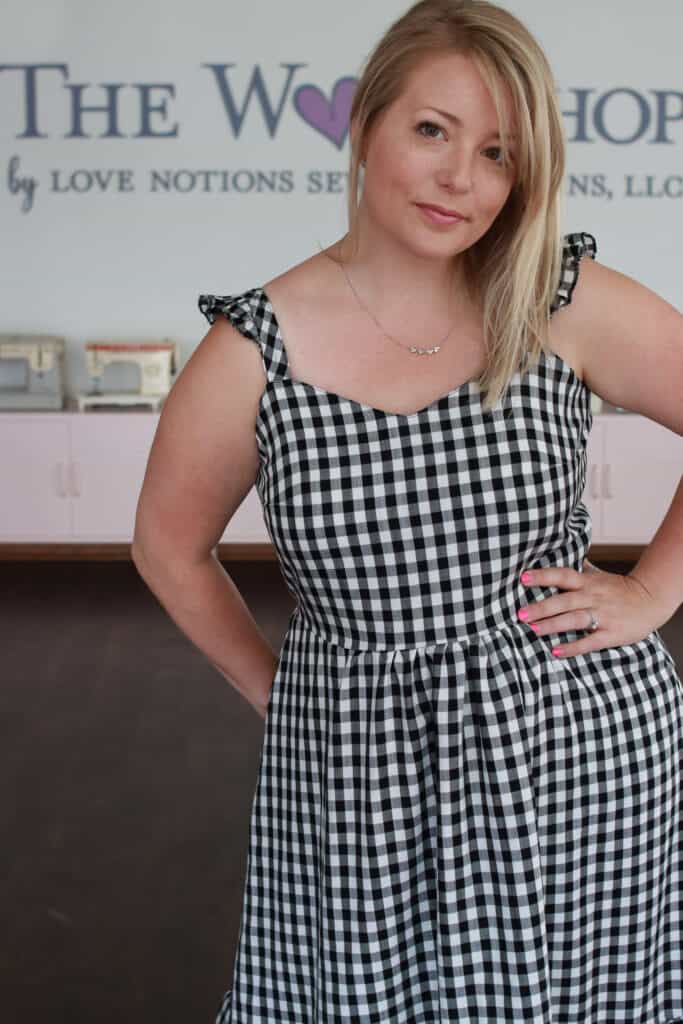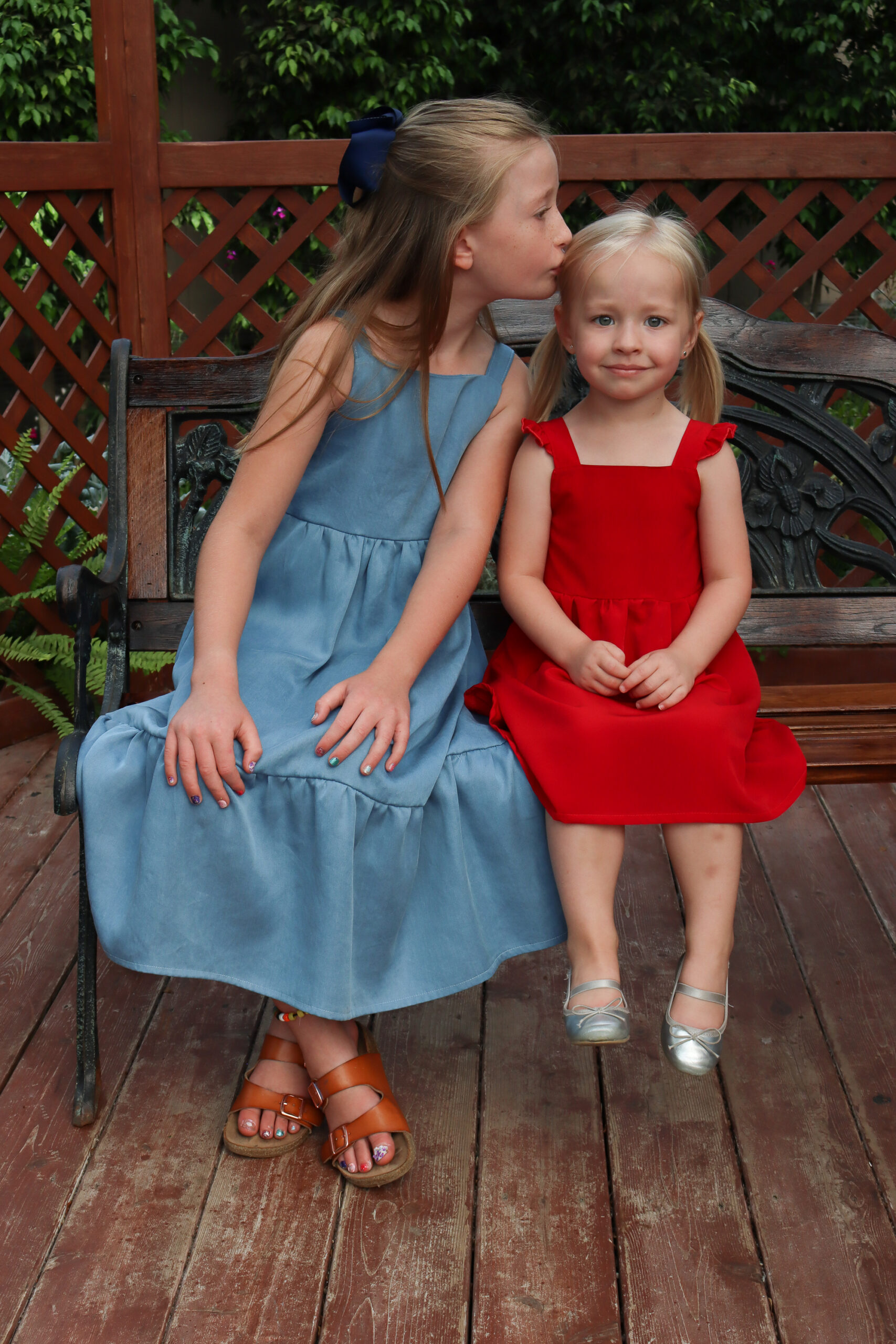 Strappy Patterns
Here are the patterns we are working with, but you can add this sleeve detail to any strapped top or dress!
By the way, if you ever need any other sewing tutorials or topics covered, leave a comment or message for us. We have a huge collection of sewing resources – and a big list of requested topics that the ambassadors and LN team work through for our Sewing School and Focus on Fit blog series. You can also get tons more sewing resources on this table of contents page.
Flutter Sleeve Strap Hack Directions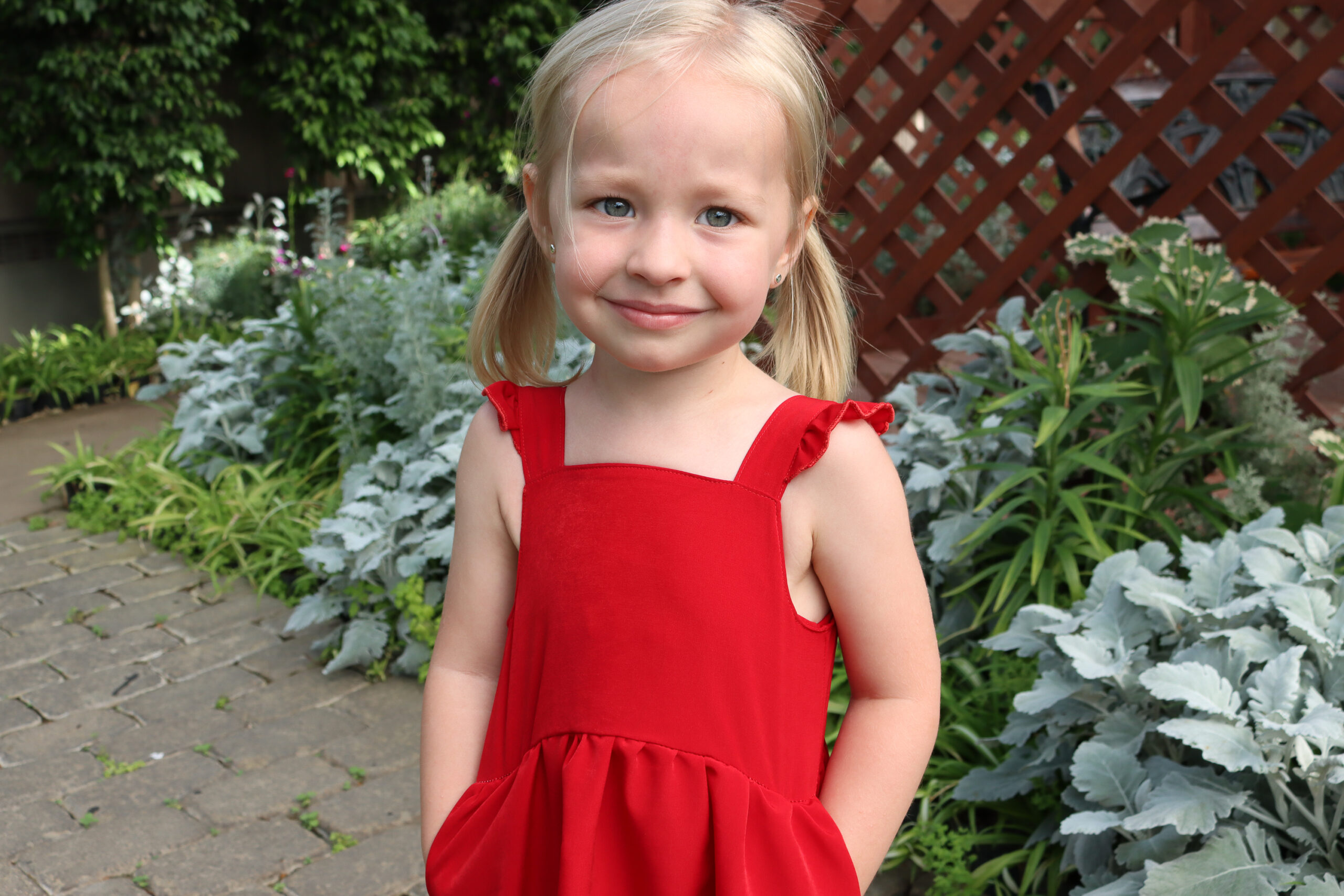 First, let's talk about the flutter sleeve hack. You can watch the video below for the visual. But here is the quick break down of how to accomplish this look:
Create or find your pattern piece. It is essentially a skinny half moon shape. You can use the flutter sleeve from the Dolce Dress and match it up to the kids strap. Or you can self-draft the pattern piece like I did for the adult version of the pattern.
Cut out all your pieces including the flutter pattern piece. I suggest using fabric that gathers well, so something a bit drapey is a great choice.
(optional) Interface the strap pieces to make them a bit stronger and more structured,
Finish the curved edge of the flutter. I like using a three thread serged rolled edge finishing so I don't have to hem such a tiny piece.
Sew a gathering stitch along the straight edge of the flutter and gather to your desired amount.
Place the raw edge of the flutter against the long side of one of the straps.
Sandwich the flutter inside the strap by folding over the opposite long side of the strap.
Straight stitch along the long side of the strap. Be sure to even out the gathered flutter inside the strap and keep the outer edge of the flutter away from the line of stitching.
Turn strap right side out. (I like using this Sue O'very Point and Turner.)
Topstitch and attach to the sundress per the pattern instructions.
How to add Bra Strap Holders to your Straps
Now, let's take a closer look at this quick little bra strap holder. This was so so so easy and required just a few little notions. In fact, this is one of the first times I have willingly hand-sewn something – and it was totally ok that it wasn't perfect because this is purely functional and will only be viewable from the interior of the sundress. I really appreciate little details like this in ready to wear clothes. I once had a strappy dress that included these holders on both the front and back of the dress and it made me feel great to know that I wasn't showing undergarments that I didn't want to show. And I guess I could go bra-less in dresses like this, but that isn't something I'm comfortable with – I like to feel supported and secure. So, I included four placements of these holders – sewn at the bas of each strap.
Bra Strap Holder Tools
Small sew-able snaps
Four short strips of thin ribbon
Hand sewing needle and matching thread
Here's how I created this strap holder.
Sew a snap a the interior base of the strap. I put mine closer to one edge.
Next, fold over a tiny piece of the ribbon and sew that folded section onto the opposite side of the base of the strap. Folding over and sewing allows the raw edge of the ribbon to be encased. You could also burn the edge of the ribbon to created a finished edge depending on its content.
Next, cut the other side of the ribbon to an appropriate length. You don't want to have the ribbon length too long or else it will stick out – and you don't want it too short because your bra strap might not fit inside.
Then, fold over the loose ribbon edge two times so the edge is enclosed.
Then sew the matching snap piece to the folded over edge (making sure it's the side that fits in to the snap side you already sewed).
Repeat these steps for the remaining straps.
Then put on your bra and dress and slip your bra straps through the holder.
Enjoy your bra strap holder!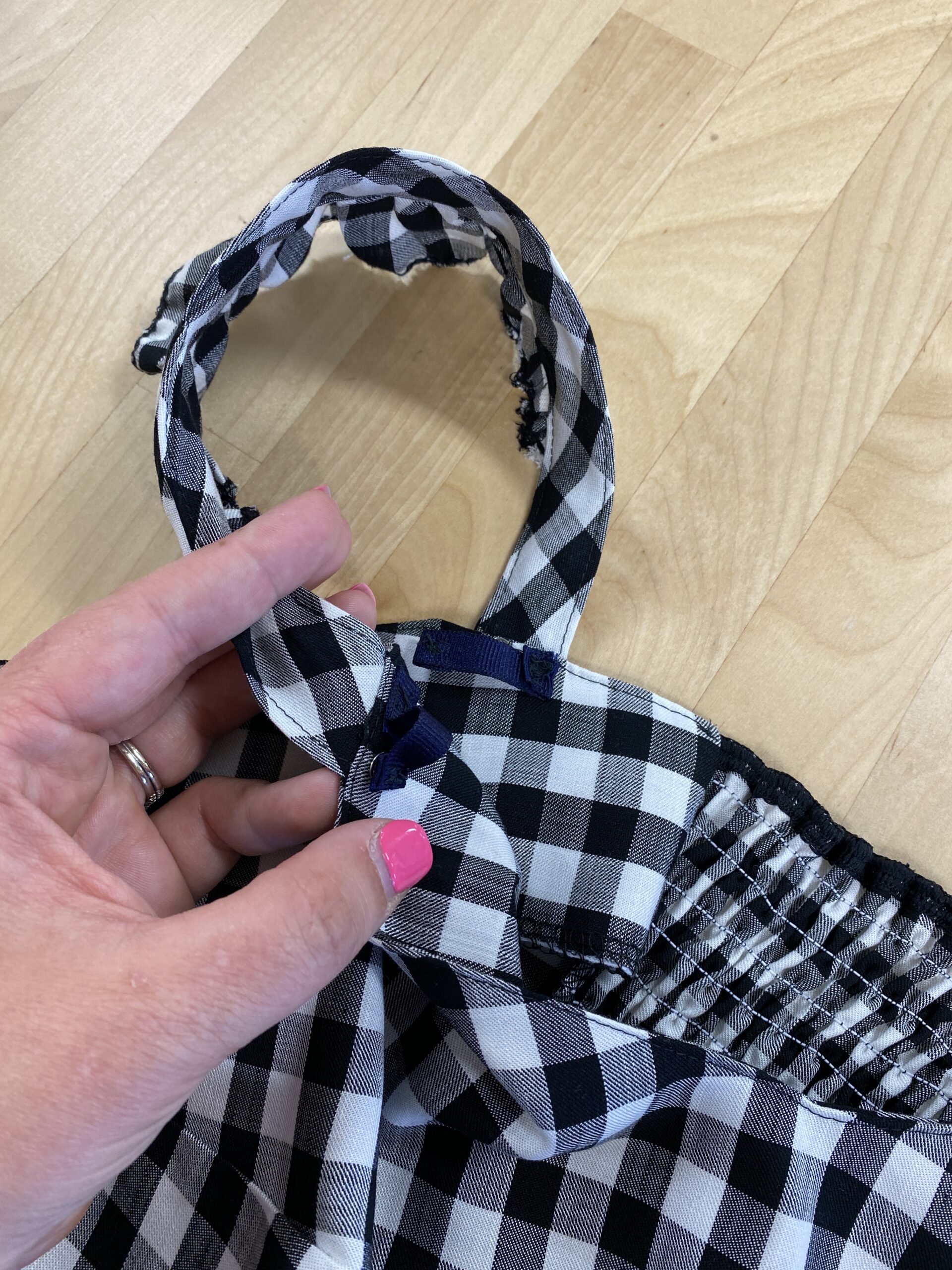 So there you have it! Tempo Sundress Strap Hacks that will make this pattern even more wearable. Don't be afraid to add in those little tiny details that create more comfort for you as you wear them. I know that sometimes these little details can be the difference between a garment that gets worn over and over, and one that lingers in your closet without getting as much love as it could.
Remember that Tempo Sundress is now available for kids! My girlies love their sweet new dresses (and so do I!) and plan to wear them throughout the summer – including on some upcoming trips.
---
---
Sewing gives you the power to say "I can totally make that!"
Also, do you every get inspired by fashions or trends and realize that you could totally make that with Love Notions patterns? When you post about them you can be entered to win our monthly give away for a LN pattern credit + some $$ for fabric and notion shopping!
We call this the #lovenotionspinspiration challenge and it is soooo easy to enter — especially because you probably make posts like this all the time already.
Enter the #LoveNotionsPinspiration challenge when you:
post your LN make on any socials (anywhere we can see we've been tagged)
share your inspo pic
use hashtag #lovenotionspinspirations
That's it!
Keira, our community manager picks a new poster to win every month. There is no limit entries or a timeline requirement. You could even post items you made ages ago – as long as you follow the directions above.
---
---
Keep playing with Hacks on these patterns:
---
Save this flutter strap sleeve post to your sewing Pinterest Board: