Hello sewing friends! It's Katie and I'm so excited to be the teacher for this week's Sewing School and to share today's $5 Feature Friday pattern- the Dockside and Driftwood pattern! If you want to follow along with all my makes you can check out my Instagram HERE or my blog HERE.
---
Sewing School Teacher – FOR REAL
You may or may not know that I was a high school sewing teacher. I have always loved teaching and when I got to combine that with sewing it was awesome! I still remember those first few days of sewing class- both when I was a young student and when I was a teacher. Everyone just wanted to bust out the machines and get to the good part of sewing! But those first few days were filled with learning about sewing tools, pattern markings, and fabric. BORING!
Why is GRAINLINE important?
Have you ever bought a t-shirt and tried it on and it seemed to fit perfectly, but then you washed it and the side seam was suddenly wrapping around your body? I think we've all been there. That is a perfect example of why paying attention to fabric grain is so important.
Feature Friday
Before we get into all of that, let's talk about the Feature Friday pattern today. This one is fun because it's not often we highlight sewing for the men and boys in our lives! For this post I got to include my husband and three sons as well as my dad! And they won't admit it, but I think they kind of liked having the opportunity to show off these makes!
The Dockside and Driftwood are a knit mens and boys pattern with multiple options. It's the perfect shirt pattern because it includes short and long sleeves, as well as a henley, polo, or crew collar. An optional chest pocket is also included. There are several fabric options you can use for this pattern – everything from an athletic wicking fabric to cotton lycra. This is a pattern I love having in my stash because there are so many options!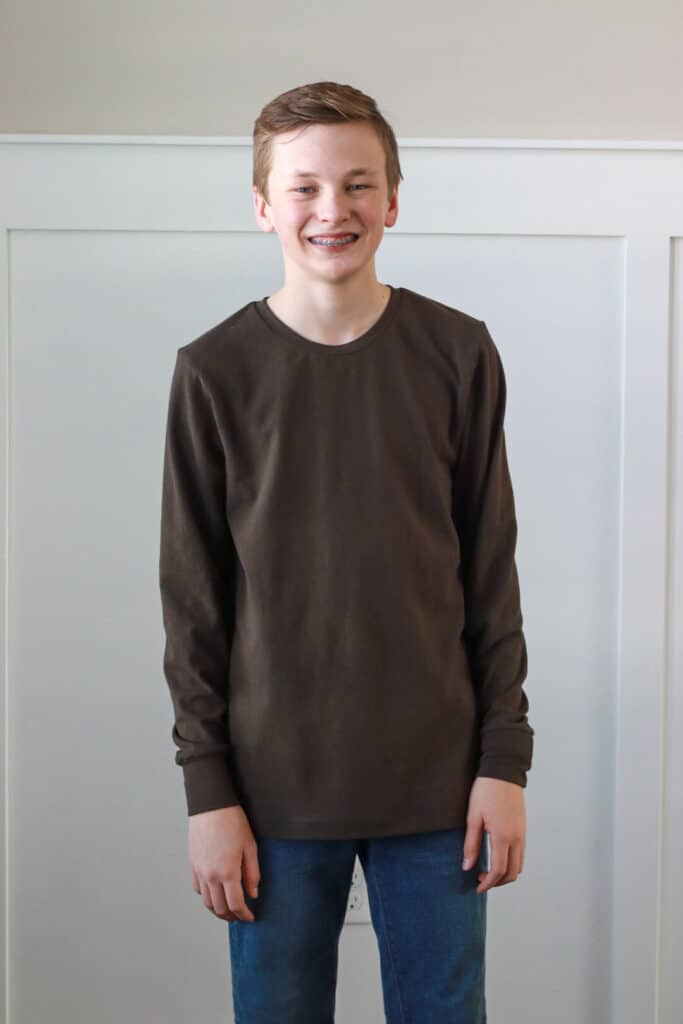 I sewed the crew neck version for two of my sons. My teenager doesn't really love mom made clothes, but when I made him a Dockside t-shirt for his pajamas, he put it on and said, "Now this I could wear to school!" Highest compliment ever! He really likes long sleeved t-shirts, so I had him pick out a color of cotton lycra jersey from Raspberry Creek Fabrics and made him another. He fits perfectly in the men's XS size, with the only adjustment being for length. It's soft and warm and he really likes it.
My youngest son also loves the crew neck version. He has several of the Driftwood polo version because I think he looks good in them, but he really loves a good basic tee! I used a soft Tri-blend from Sly Fox Fabrics and used the leftovers from big brothers for a coordinating neckband. He loves it! This is a pattern I turn to regularly for him.
My boys love to golf and need to wear polo shirts on the golf course. My middle son has been asking if I could make him one so I finally did. I had this tri-blend from Raspberry Creek Fabrics and it worked so well for this pattern! This pattern goes up to a size 14 so I have a little bit longer before he graduates to mens sizing. I added a lightweight interfacing to the collar to give it a little structure and the tri-blend is so soft and silky. It will be perfect for golfing! As a side note, this view works well for school uniforms too!
I made my husband a Dockside henley when it was first released out of an athletic knit. I'm happy to say that he still loves wearing it. In fact, my son commented that he didn't realize that I had made his shirt because it looks so much like something he would buy. My dad has a long sleeved henley he likes to wear so I thought I would make him one. I used cotton lycra jersey from Raspberry Creek and it turned out so well! He was pretty pleased with the final product and even agreed to model for me! I added an extra inch in the length and sleeve length and it fits just how he likes it.
It just so happened that my mom was wearing her Breckenridge Henley! It's the perfect complimentary pattern! She made this one out of waffle fabric and it was the perfect photo op! Aren't they the cutest?
---
Grainline is vital to the long term quality of a garment
Of course when you put that much work into a garment, you want it to continue to look good wear after wear! Making sure your grainline is correct is vital to making that happen.
The fabrics used in Love Notions patterns can be broken down into two categories: Wovens and Knits. Let's start with woven fabrics to better understand grainline.
Woven Fabrics are made by interlacing warp (lengthwise) and weft (crosswise) yarns. These fabrics typically don't have stretch. Woven fabrics have a selvage edge that runs lengthwise along both sides. Pattern pieces drafted for woven fabrics will have a line with an arrow at both ends called the grainline. This line should run parallel to the selvages.
Most often, the fabric you receive will not have an even crosswise cut.
How to Align your Woven Fabric
There are two quick ways to straighten the fabric ends so you can match up your selvages and be sure the fabric is aligned. Misaligned fabric can cause problems in your final garment because the warp and weft yarns are not at perfect right degree angles with each other.

1. Tearing
Tearing is the fastest way to get a straight line. A firmly woven fabric will tear perfectly along the yarns. Clip the selvage edge then firmly pull and tear the fabric.
2. Pull a thread
Pulling a thread is another way and works well for looser, softer fabrics like rayon challis. Clip the selvage edge and then pull the thread all the way to the other edge. Then cut along this line to get a straight edge.
Now that you have straight edges, you can align your selvages. Sometimes fabric has been pulled off grain so you need to realign or block it. You'll recognize it's off if after you line up all your edges the fold isn't laying straight. Pulling the fabric on the bias (which is the 45 degree angle of the selvages) can stretch it if it's slightly off. Sometimes you need to add a little steam or water to relax the fabric. Once your fabric lines up at all edges you can go ahead and cut out your pattern, having confidence the pattern will hang correctly as long as you keep your grainlines parallel to the selvage as you cut it out.
---
How to Align your Knit Fabric
Knit fabrics are made up of yarns that form loops. Because of how they are constructed, they will have greater stretch in width than in length. Many knit patterns will call for a certain percentage of stretch. It's important to check the stretch percentage before beginning to be sure the garment fits properly.
Knit patterns will generally have a marking for the direction of the greatest stretch. This is typically perpendicular to the grainline, as that is the direction that will stretch the most. The ribs of the knit will run parallel to the grainline. In these two photos you can see a close up of the fold running along the rib and an easy way to make sure your grainline is parallel with those ribs.
If the knit has four way stretch you can turn the pattern piece either direction, however aesthetically I prefer to keep the rib in an up and down direction.
You cannot pull a thread or tear a knit fabric, so the method for making sure your fabric is aligned before you cut is a little different. The easiest way is to follow your eye down a rib of the knit and fold along that line, or use it as your straight line.
You don't want to rely on the edge of the knit, as it is not dependable. You can see the difference in matching up the selvages in the photo. The one that has the selvages matched will not fold neatly.
One word about printed fabrics- both woven and knit. Because of the process used, it's very possible for a printed fabric to be printed crooked. An off-grain print cannot be corrected no matter how you try. Stripes are particularly hard to hide if they are off grain. It's not a total deal breaker- I definitely have fudged a slightly off grain knit and it has worked out ok! I think the key is to be aware and understand why things are off if they are. Being aware that grainlines and direction of stretch are there can make a huge difference! The best way to learn is to practice, and I highly recommend Dockside and Driftwood as great places to start. Be sure to pick them up for Feature Friday today!
---
Save this article to your Pinterest Board
Browse our Top Rated Patterns