The Melody Dolman just re-released with sizing XS-5X — and the Melody Virtual Workshop is opens for registration at 9:00 am, central. Here is another way to make Melody exactly right for you (as well as any other woven, dartless pattern) with a small bust adjustment. Thanks to Tami P. for lots of inspiration and fitting help!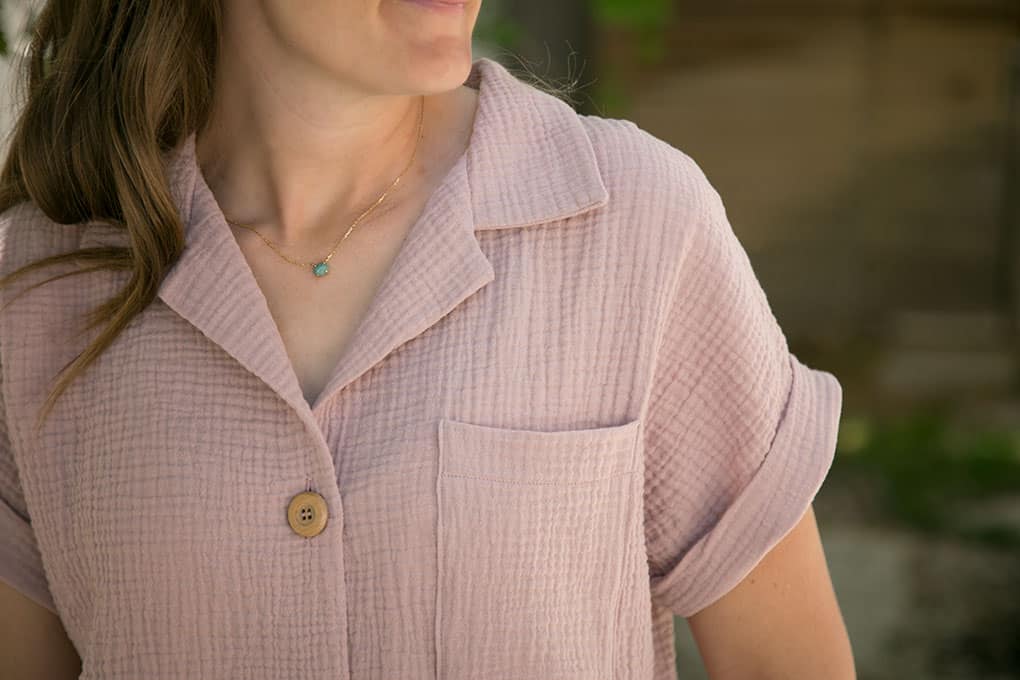 Hi friends! I'm Tami from SewSophieLynn where I blog about sewing for me and my kiddos. Love Notions patterns have been with me since near the beginning of my sewing journey and I've learned so much by sewing up each new pattern. Today I'm here to chat about making those patterns fit. I usually sew up Love Notions patterns with very little adjustments. Lately I have wanted to get the best fit possible and have realized I should be making some adjustments, one of those being a small bust adjustment.
The Melody Top is one of my favorite Love Notions patterns. It's a great beginner button-up and sews up quickly. It's easy to hack and Karina did a great blog post on adding fun details to really elevate your Melody.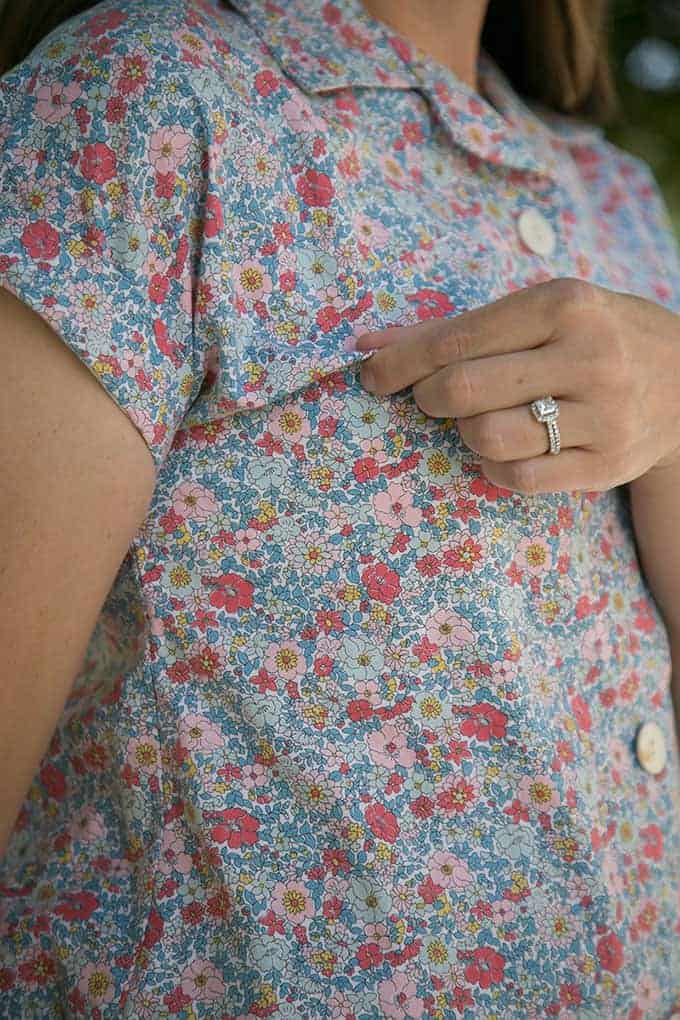 When preparing to sew up another Melody I tried on my previously made Melody tops. My first version, I sewed up in a lovely Viscose blend. I sewed a size small and love the drape and flow of it. My second version is sewn up in a thicker quilting cotton. For this one, I sized down to an extra small. This version you can see I have a bit of extra fabric in the chest area that is really noticeable because it doesn't drape as much as the other fabric.
My high bust and full bust measure exactly the same. If you're familiar with pattern measurements, Love Notions patterns are drafted for a 2 inch difference and many of Love Notions patterns offer a full bust pattern piece for those with a 4 inch or more difference between their full bust and high bust measurements. For knit garments and woven garments with lots of ease, the difference isn't usually too apparent for me. When sewing with more stable woven fabrics though, an adjustment will make the garment lie better and will reduce any lines from extra fabric in the chest area.
I'm going to walk you through making a small bust adjustment. These adjustments will work on any pattern that doesn't include bust darts.
1- First, Draw an armscye (accuracy doesn't matter, just something that looks like one). You will need to do this on the Melody since it's a dolman pattern but you can skip to step three if you are using a pattern with a separate sleeve piece.
2- Cut away the dolman part and set aside.
3- Draw in a line from the armscye to the bustline. Draw a line from the bustline to seam line. Draw a line from bustline down to hem.
4- Determine how much of a bust adjustment is needed and mark half the amount needed along the vertical line. (Just half the amount because we're working with half the pattern). For example, since my full bust measures 34″ and the pattern is drafted for a 35″ full bust, I would need a one inch bust adjustment. I would mark 1/2 inch in on the pattern piece since it will take 1/2″ out of each front piece.
5- Cut apart on the lines keeping the armscye and bustpoint pieces attached so you can pivot the pieces. Pivot the pieces so they overlap and hit the solid blue line.
6- Redraw the side seam and hem to smooth out any jogs. Reattach the dolman sleeve piece and redraw the shoulder seam. Line up your back piece and make sure the shoulder and side seams are the same, trim off the back as needed so they match.
For this version, I sewed up a dreamy plush cotton double gauze from Raspberry Creek Fabrics. Something about double gauze just screams summer living to me. I paired it with comfy linen Allegros for the quintessential summer look. I sewed up a size small again to have that relaxed and lived-in feel.
I love that the Melody can be sewn up in so many different fabrics to change up the look. Check out Katie's blog post on how fabric plays such a key role in how this pattern sews up. Choose a more stable fabric for a boxier look or stick with a silky substrate for a flowy top.
Make sure to grab your copy of the Melody on sale today only!
---
Pin this to your Pinterest Sewing Board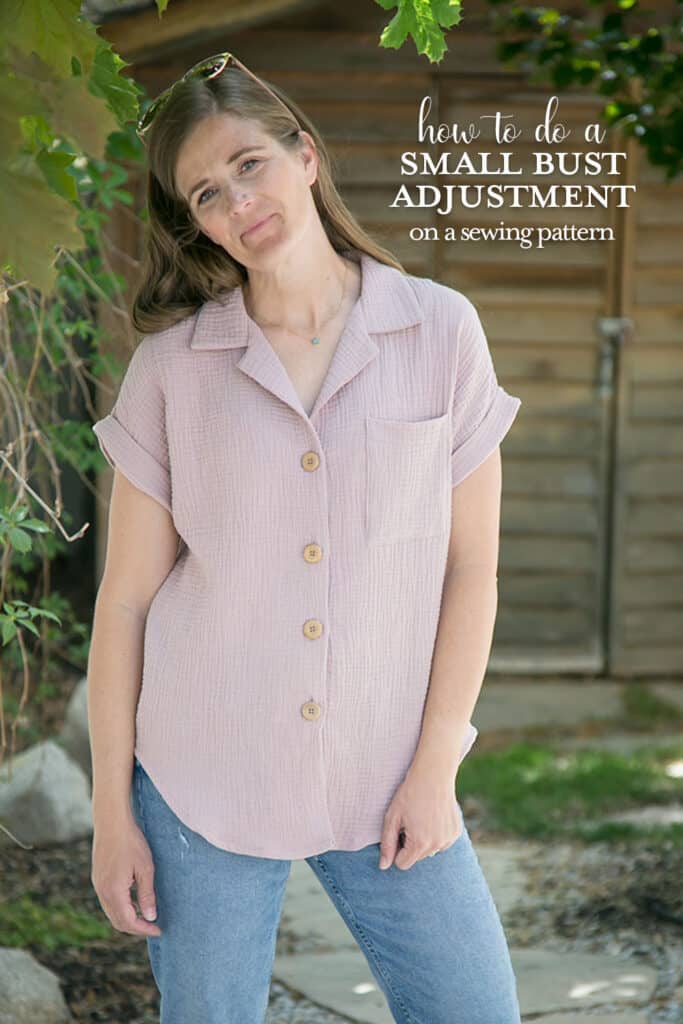 ---
Shop the Sewing Patterns
[carousel_slide id=414175]