The Sybil Skirt is just about ready to re-release (!) and this 7 view sewing pattern is a must have for many reasons. But before I spill all the details about Sybil Skirt (and my new favorite make!) — here's what you can expect from this post:
a little behind the scenes view into the process of updating a pattern at Love Notions
why we update patterns
a little peek into some of our favorite sewing things, including Sybil Skirt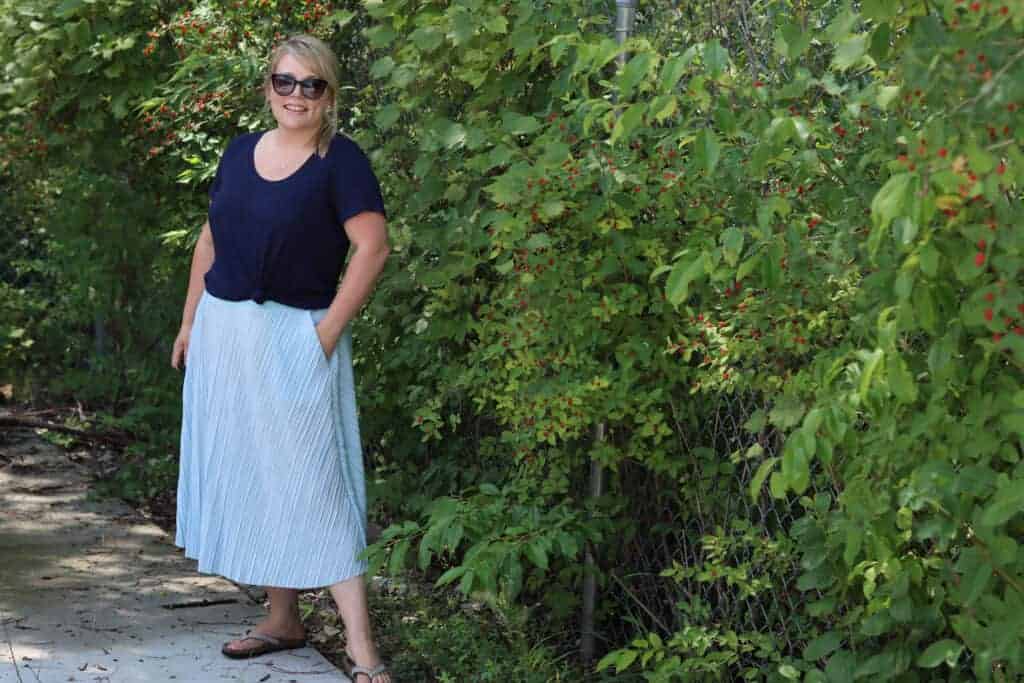 Love Notions Pattern Updates: Behind the Scenes
First, why do we update sewing patterns at Love Notions?
At Love Notions we are confident in the sewing patterns that we put out into the market. A great deal of time, thought, energy and skill goes into making patterns that our community value. We get messages every day from sewists just like you about how they appreciate our patterns for the helpful tutorials and careful design and how Love Notions patterns have given them joy as they sew and wear clothing that makes them feel amazing.
However, sometimes a pattern might need a little tweak after release – for a typo in the size chart or maybe a layer of the pattern needs a marking. For these little things, Tami (the owner and pattern designer at Love Notions) will make the correction and re-upload the pattern files. For any changes to patterns, you can check in the "Errata" tab on the pattern listing.
Many people make a habit to glance at the errata tab before they sew their next make — which is easily accessible from the listing page on the way to download or view the pattern tutorial.
Size Range Updates
Beyond these sorts of small typos, patterns also need to be fully updated to include our improved size range! Love Notions has made a commitment to updating all the patterns in our current library with our expanded size range and we are well over half way there! Since 2019 we've updated or introduced over 30 ladies patterns with sizing XS-5X (or equivalent) which typically includes a Full Bust Adjustment (see this post if you want to learn how to do a small bust adjustment). This sizing improvement expands on our previous XS-XXXL sizing. You can click here to see our current measurement charts.
Do you need to pay for pattern updates?
NO.
If you've previously purchased a pattern and it receives an update (no matter how big or small), you will not have to purchase it again or pay any sort of fee. You simply log into your Love Notions account, navigate to the pattern and redownload the current version. For free.
How is a pattern updated?
There are two ways that a Love Notions sewing pattern is updated:
1) addition of sizes with no modifications to the original sizes
or
2) a full re-draft, re-test and re-release where every size is affected by the redesign.
How do we do size addition updates for patterns?
When possible, Tami and the testing team preserve the original pattern and add new sizing and other updates without altering the original sizes. For example, the recent updates to Melody Dolman, Lyric Dress and Peplum, and Margot Peplum were all made by adding sizes. During a size addition update, the pattern gets the additional sizing through the use of the Love Notions plus size block Tami created a year or two ago. Then it is tested by our additional size testers and adjustments are made as needed during the testing process until the fit is perfected. Then it is released and the Errata chart reflects that sizing update. This type of additional size update takes a little less time and resources than the next type of update I'll discuss — a full redraft.
How do we do full re-drafts and re-tests for patterns?
So why do we need to do a full redraft for some patterns when adding in sizes? I could bore you with all the pattern drafting nuances and lore at Love Notions, but let's make it simple by giving you just a tiny bit of pattern drafting and design background.
Here is the process for creating a sewing pattern at Love Notions. Let's say that Tami has an idea for a cute new pattern. She considers all the elements of the construction and fit, then she put that new design onto her "pattern block". This is kind of like a template of her standard measurements and proportions that she designs for. For example, her ladies pattern block is based on a height of 5'5″.
When she puts the new design on this "block" the computer knows the rules that she has in place for each size and can adjust the design to fit. It's a pretty cool piece of software. Then the pattern is tested by real-life people — our ambassadors and testing community. The pattern goes through several iterations with small adjustments to fit, construction, and design elements.
Then after Tami is pleased with the final product, the pattern is released to the world and available for download. This process can take anywhere from a few weeks up to a couple months, but most of the process starts with that pattern block.
The block was made with careful testing through our pattern testing group and Tami has a block for woven fabrics, knit fabrics, dresses, tops, and pants.
It's important to note that every designer has their own block and even if you make the same size in another designer's patterns, things might turn out differently than you expected.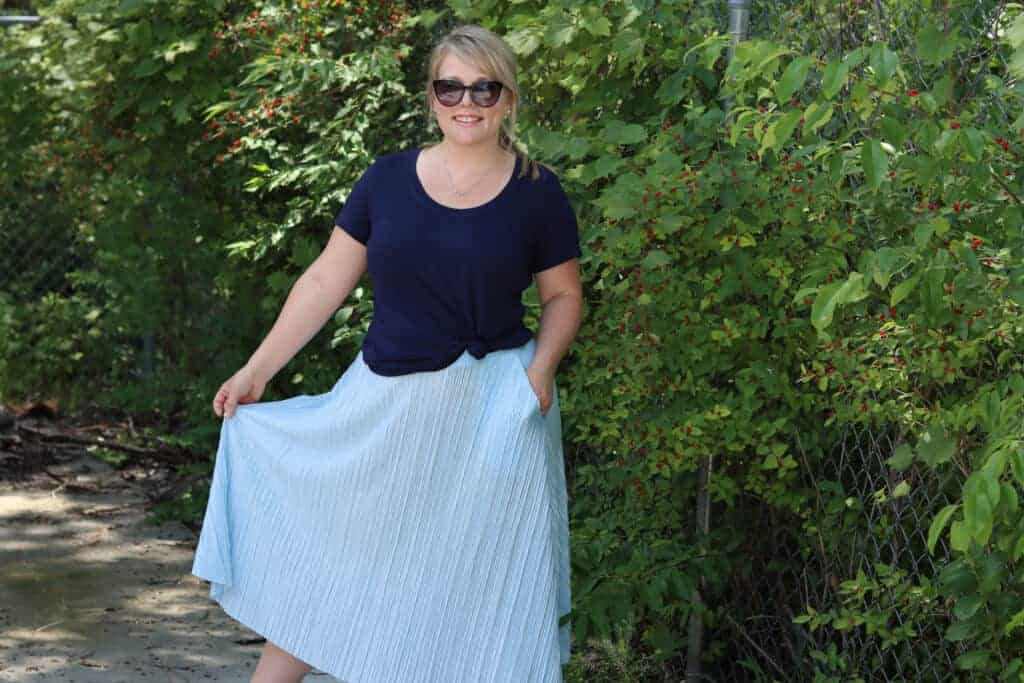 So back to why a full re-test and redraft is sometimes needed: Tami, (the boss and pattern designer around here) previously used a drafting software with a pattern block that has since been updated for her current software system. Now as we add sizing for patterns that aren't on the current block, we have to completely (or almost completely) start from scratch. This requires all new drafting, design (preserving all the original elements and intended fit of the design), and a full re-test with our pattern testing community, When a pattern has been completely re-drafted it takes a lot more work and effort and time – but updating patterns into our current size range is our goal. So we are doing whatever we can to achieve that goal — even if it means starting from almost scratch.
When you redownload a pattern that has had a full update and re-draft, every pattern piece has changed, every page, every size, every marking. The intended fit, style, design, all of that is preserved — but this process makes the old version incompatible with the new version. You probably won't want to mix these pieces together (like if you printed sleeve options from the newly updated version, and tried to use them with the old bodice).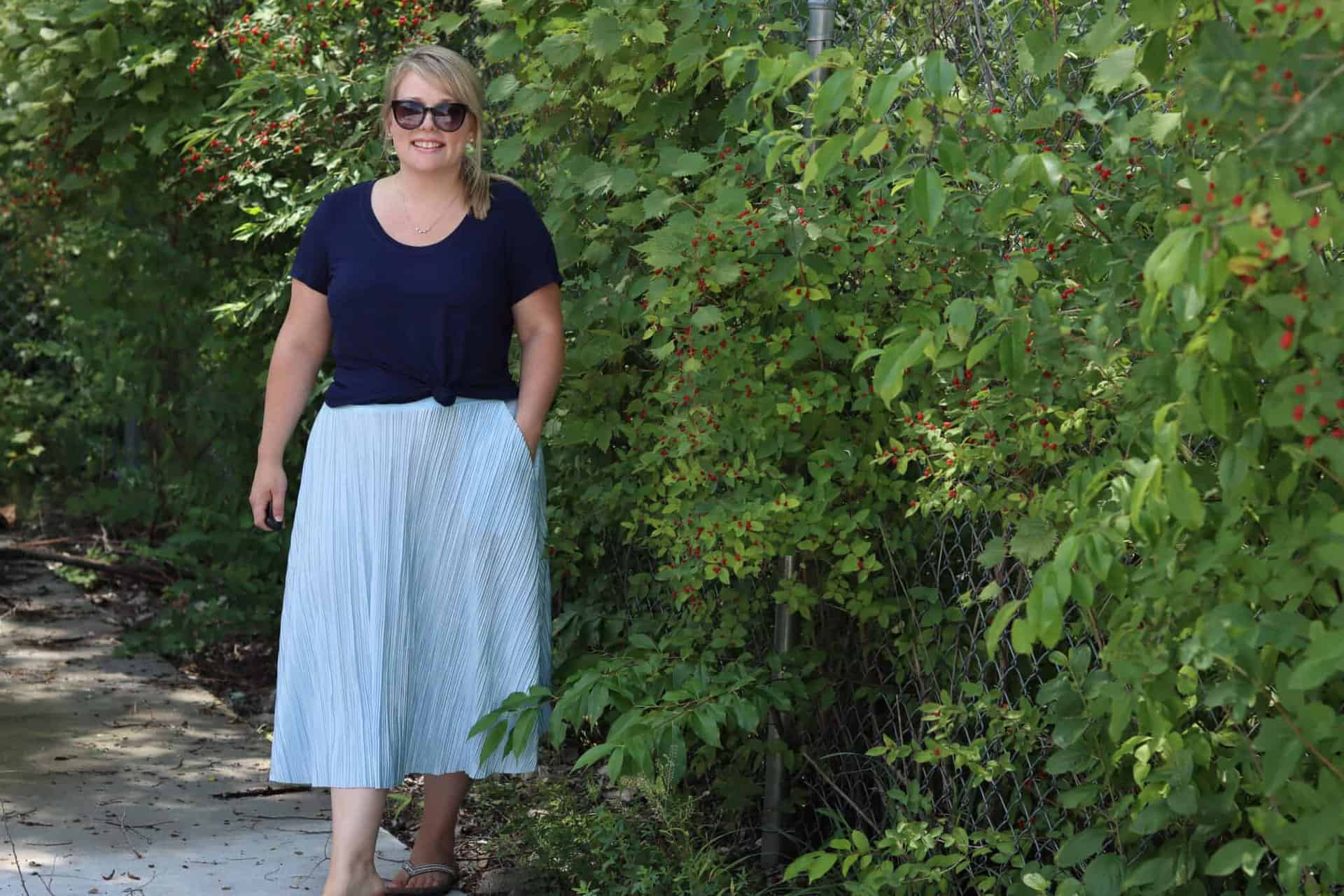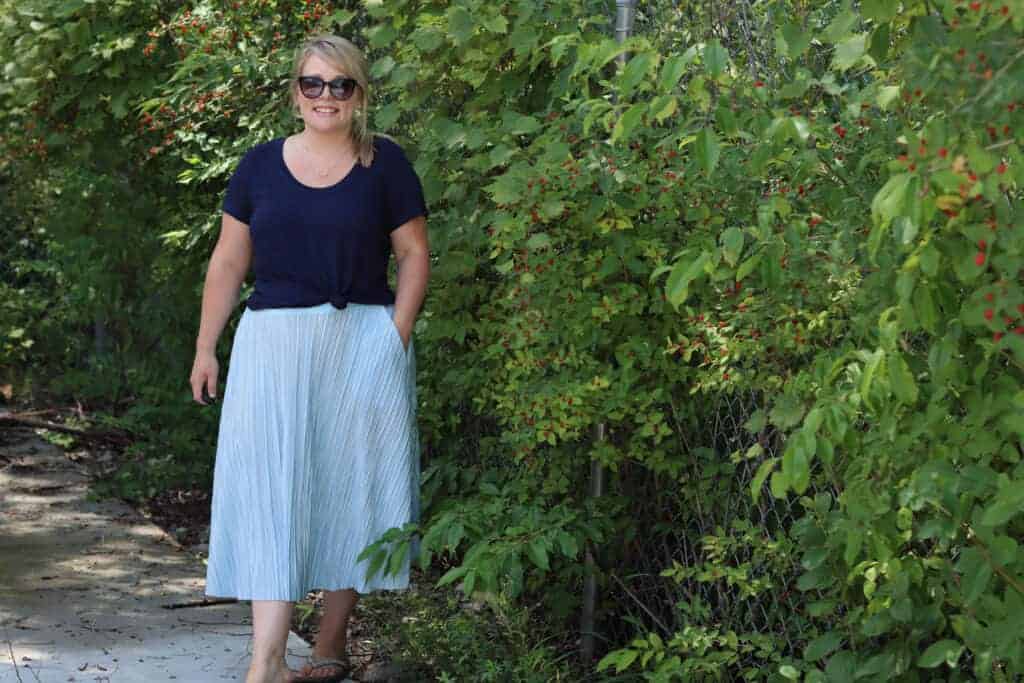 What's happening with Sybil Skirt?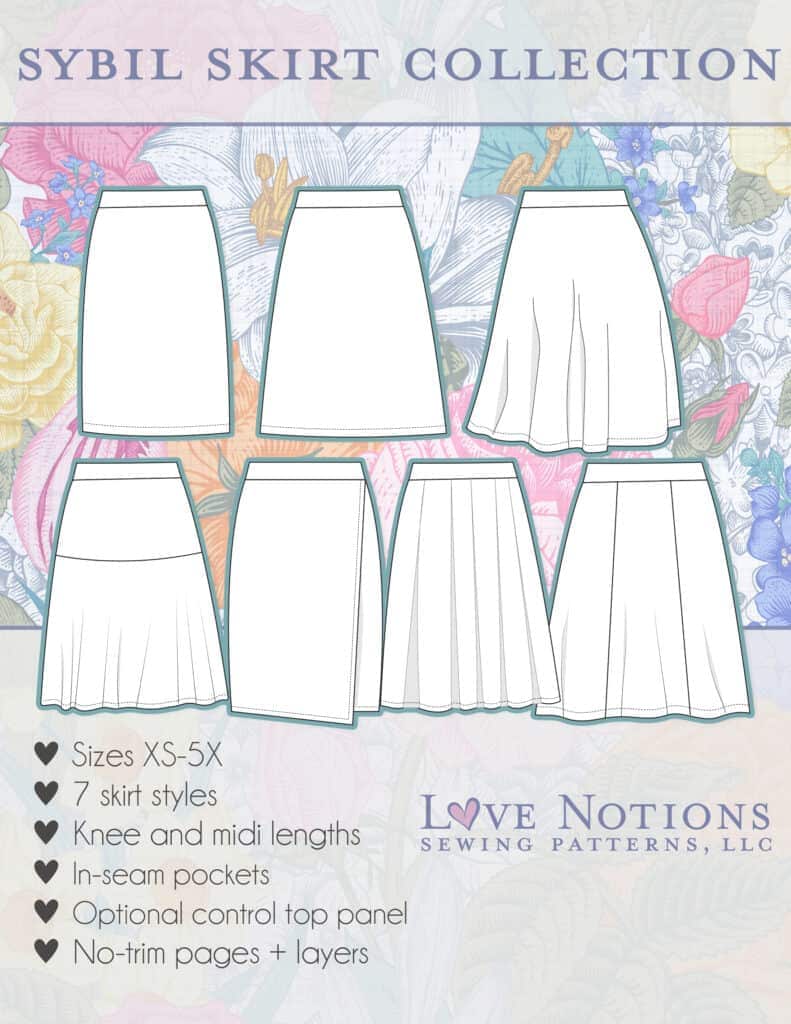 Ok, ok, enough with the boring pattern design details — what's happening with Sybil Skirt?? This pattern is a staple at Love Notions and has been lauded and loved for quite some time. Sybil Skirt offers you a HUGE array of skirt options packed in one pattern. All of the views are meant for knit fabrics and includes all these must-have skirt types:
swing
a-line
gored
pleated
pencil
wrap
flounce
Sybil Skirt Update Details
Sybil Skirt first released in 2015 (on an old block) and was due for a XS-5X sizing update. This past month (June 2021) it underwent a full redraft on our current block and was fully retested in every size and view. We are so excited to offer it on sale at the end of this week for a short re-release sale event — we know you are going to LOVE this updated pattern and will be able to use it ALL THE TIME. This update version includes two lengths (knee and midi) as well as two waists (yoga + control top option). It also has POCKETS with a smart anchored style (droopy in-seam pockets are NOT allowed).
Look at all those views! Which one is your favorite??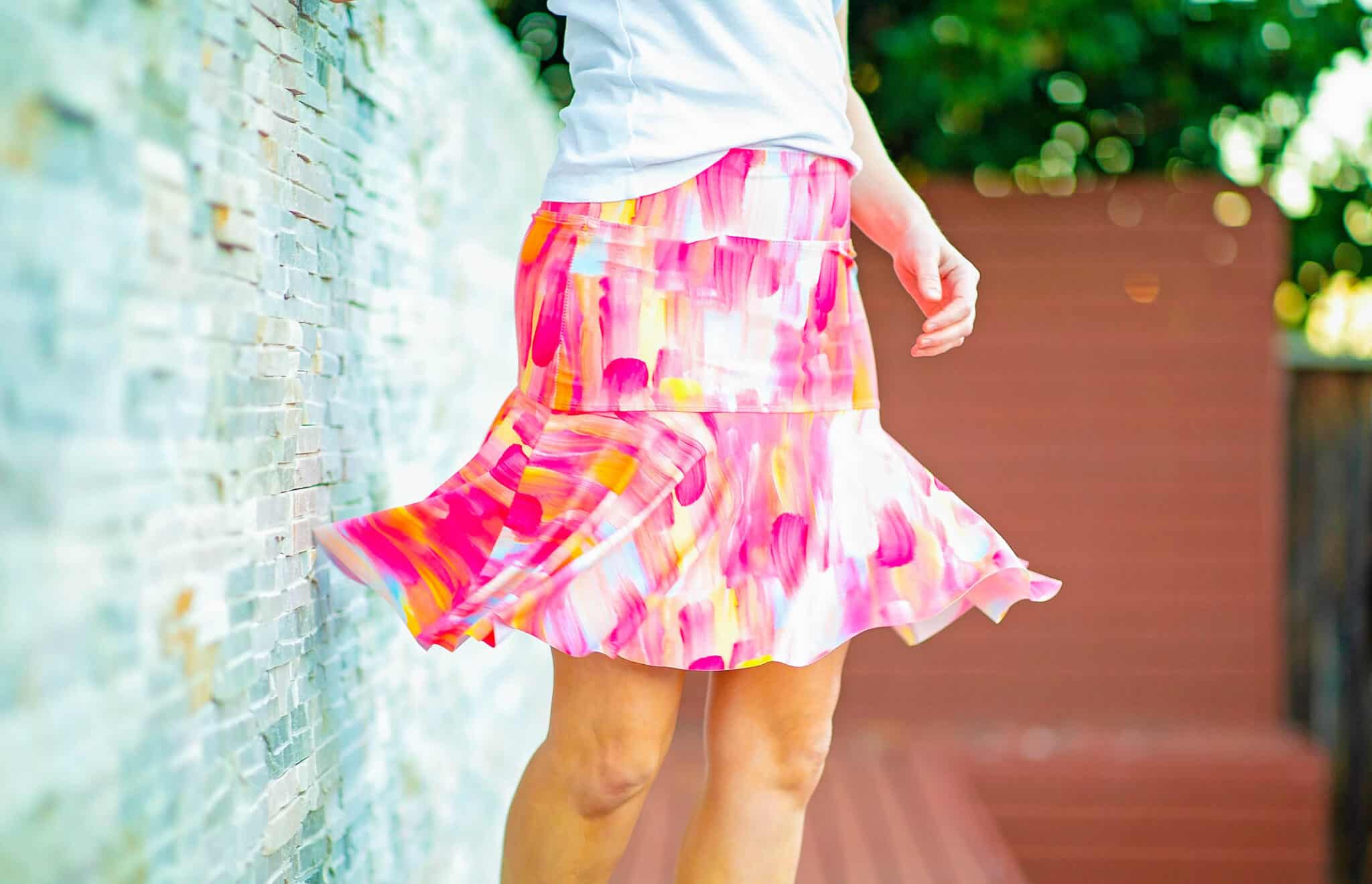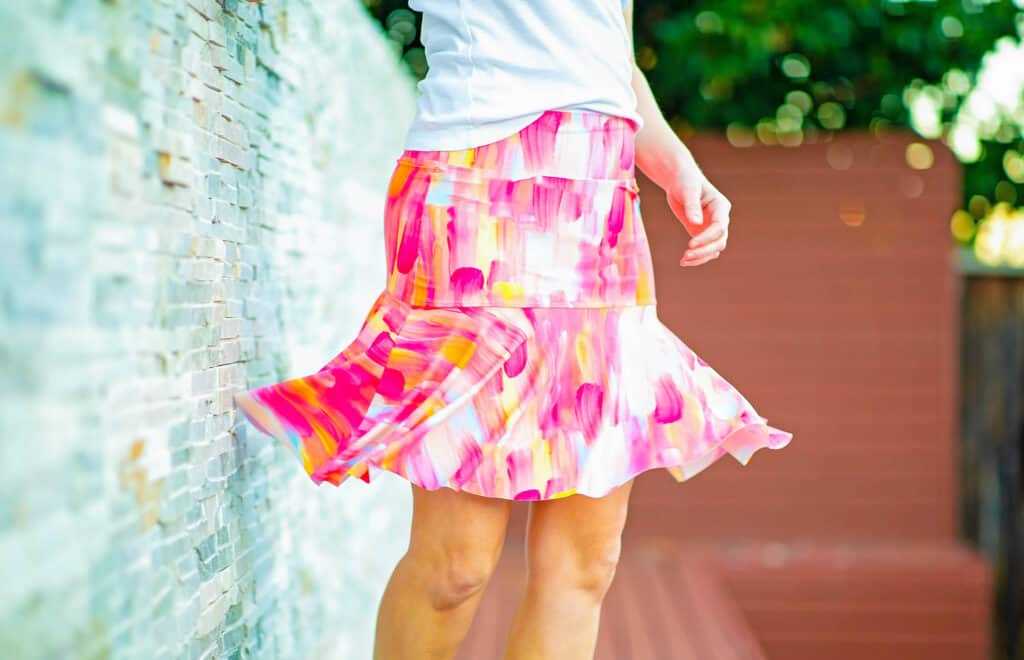 How to stay in the loop when there is an update?
You can stay up-to-date with ALL of the Love Notions new releases, re-releases, full pattern updates, and exciting events. Here's how:
My Sybil Sneak Peak
My Sybil Make
I joined in the Raspberry Creek Fabrics Favorite Things summer tour and decided that Sybil Skirt was the perfect make for the event. The tour is all about sharing our favorite things: patterns, fabrics, and notions — and so this Sybil Skirt certainly fits the bill.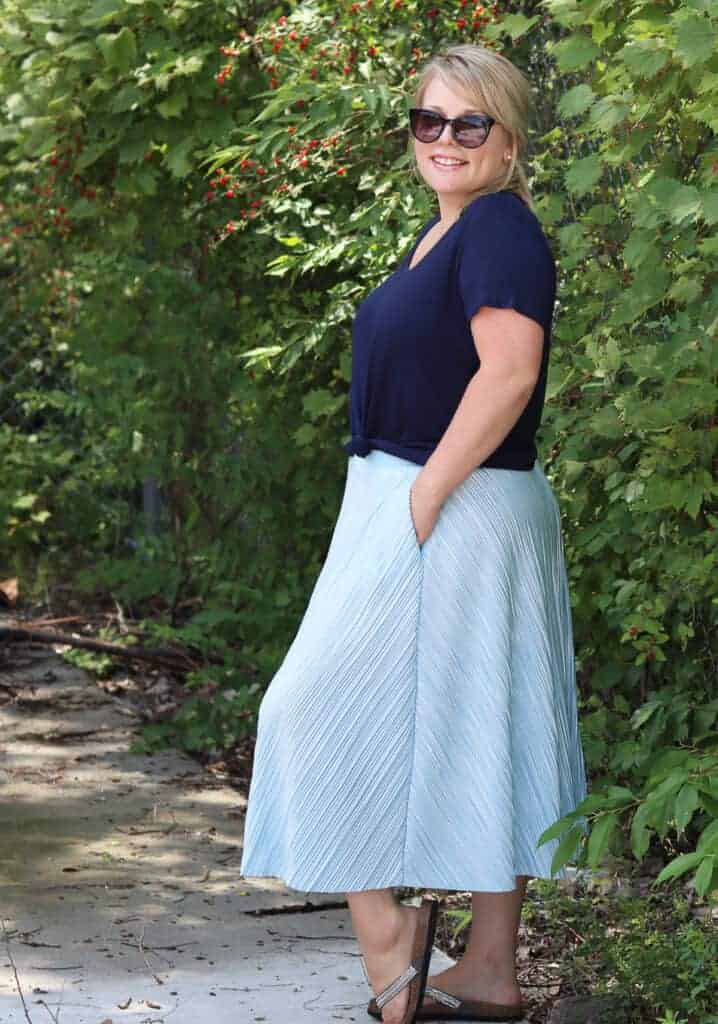 We hope you enjoyed getting a behind-the-scenes look at the pattern update process, the newly renovated Sybil Skirt pattern, and found some inspiring new skirt ideas to add to your own wardrobe. And make sure to check back later this week for that Sybil Skirt reboot!
My favorite sewing item: matching thread
In line with the Favorite Things Blog Tour, what's my favorite sewing notion? Perfectly MATCHING serger thread. When I can, I love being able to pair my fabric with the exact color thread of my fabric — it's not always easy to find that perfect match, but when you nail it and the inside looks as pretty as the outside … *chef's kiss*.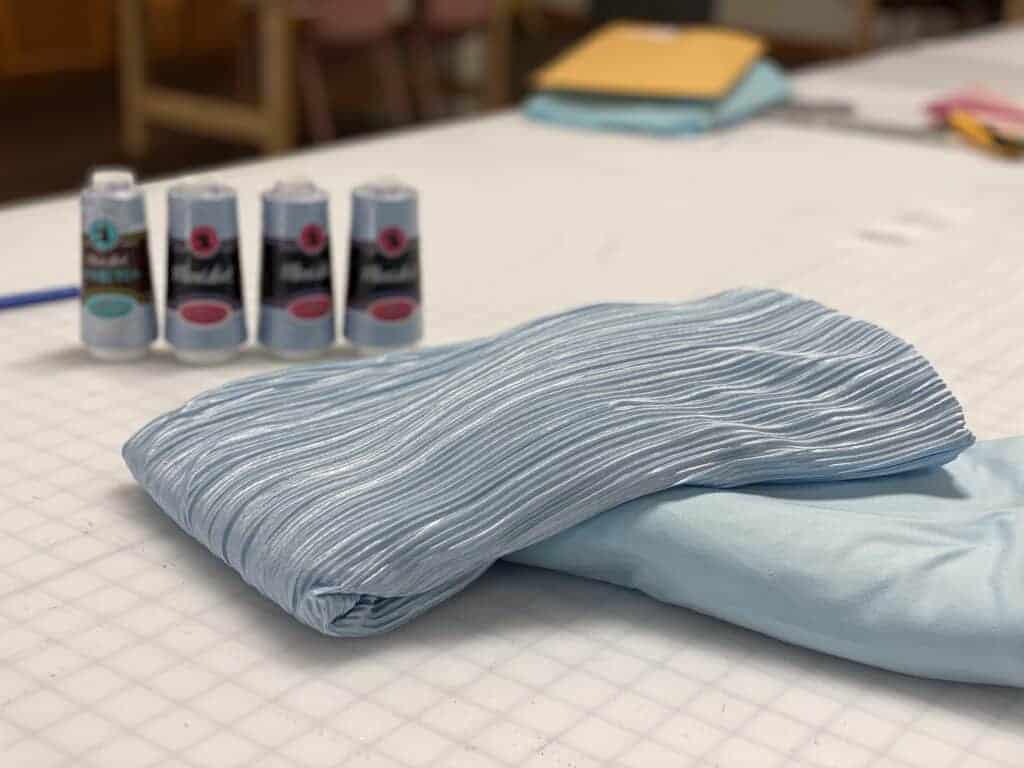 I used Wawak's maxilock and maxilock stretch thread for the serging of this skirt. This is my favorite thread for serging and I like to put the stretch thread in the bottom looper of the serger and leave the other three threads as the regular maxi lock.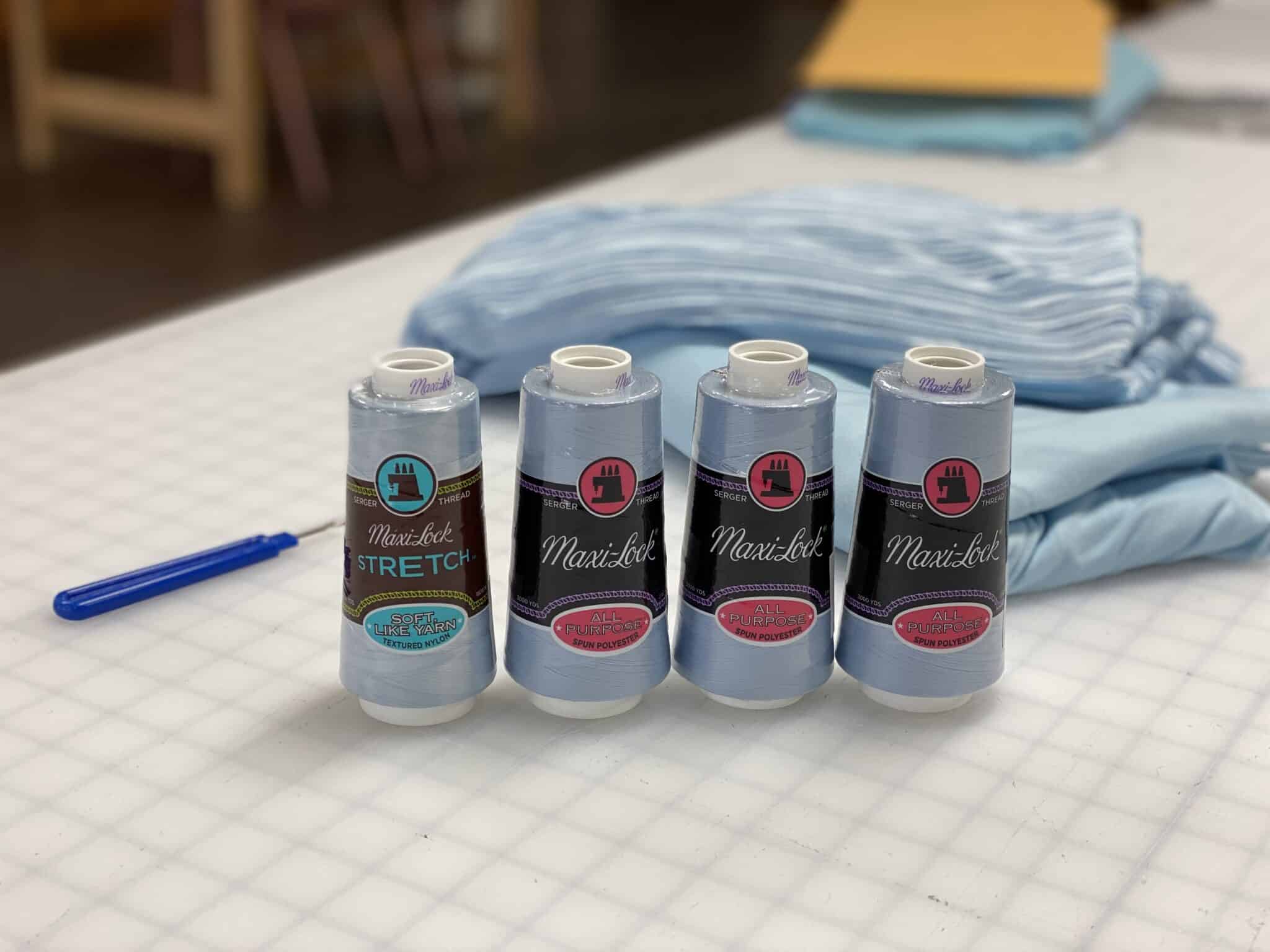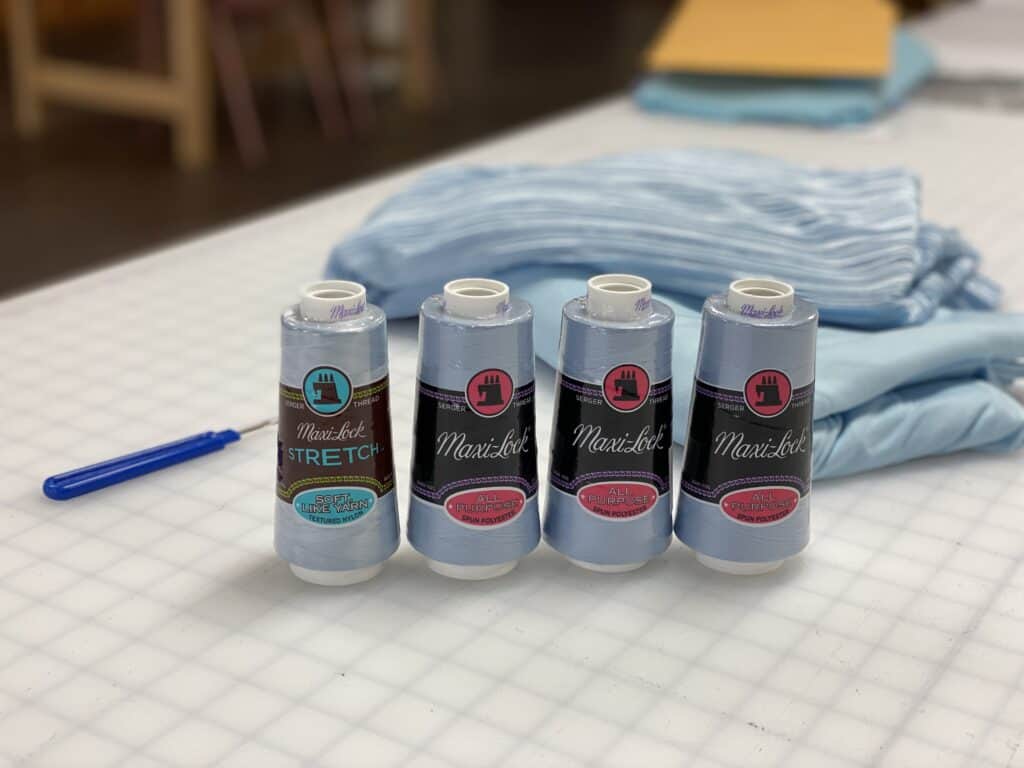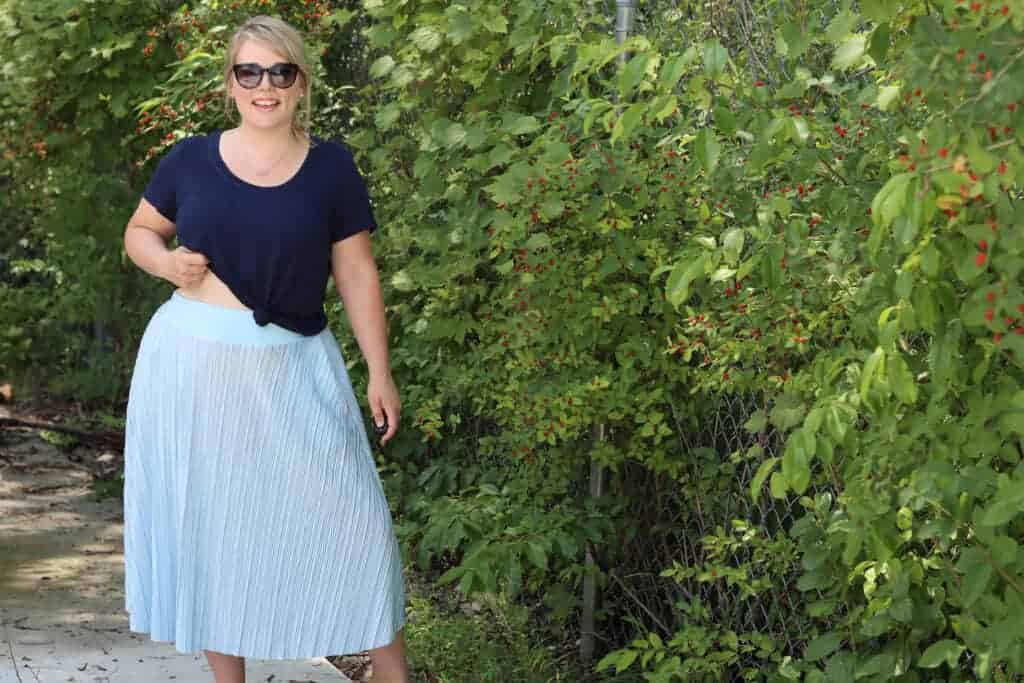 My Sybil Fabric
The fabric I used is a satin pleated fabric in light baby blue (also available in pink, sage green, and white). It is a woven fabric so it worked well for the swing version of the Sybil Skirt. (Take note that the pleats are perpendicular to the stretch of the fabric and it's a woven, so I bent the Sybil Skirt "rules" a bit — but since I used the swing version of the skirt it worked out fine!). Since the waistband has negative ease, I sourced a matching baby blue double-brushed polyester for the yoga style. I also used that DBP for the handy in-seam pockets.
I paired by new Sybil Swing Skirt with a navy blue modal Classic Tee — and to balance out the midi length of the skirt on my short frame, I decided to throw a quick knot onto the hem of my new tee. I love how easy and timeless this look is!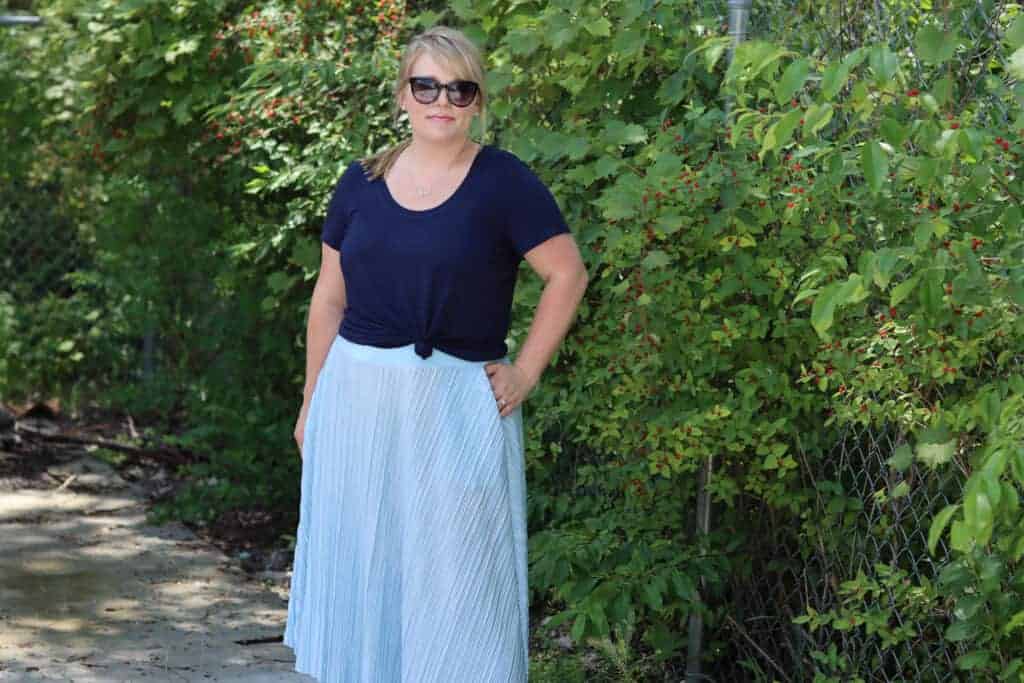 This post was written in honor of the "Favorite Things" blog tour put together by Raspberry Creek Fabrics. This online fabric shop is a great source for fabric for Sybil Skirt. They have tons of different bases – from ponte to cotton lycra and soon you'll be able to easily use them for even more custom printing — including on demand printing of their beautiful designs – past and present.
You can check out the rest of the posts from the participants of the blog tour below. Join in the festivities this week and you could win some sewing notion prizes. Thanks RCF for this pretty gifted fabric for my new Sybil Skirt.
Made By Kates, Kainara Stitches, I Sew Best After Midnight
Sew Mary Mac, Tessa Does for Love Notions, Sew Love You
All My Spare Time, Pins and Pinot, Crafty Professor
Sew Hard of Hearing, Replicate then Deviate, Sew Sophie LynnGenwin Design Co., Shwin Designs, That's Sew Kari
---
Save this article to your sewing pinterest board!
Shop more patterns:
[carousel_slide id=408209]