We're excited to announce that Love Notions is gearing up for our annual 40% off sale.
We don't do site-wide sales often around here, so when we do have them, we do them big. 40% is definitely the most substantial discount we will do this entire year. So now is a great time to stock up on our faves!
All patterns (except the newly release Arlington Sweater) will be included in the site-wide sale which lasts from Monday, October 18th through Friday, October 22nd, 2021. Central time.
What patterns will you add to your Love Notions wishlist?
Here are a few of our new releases from 2020-2021:
Additionally, here are a few patterns that were updated in 2021:
Make a Wishlist!
You can keep track of these wishlist patterns using our wishlist feature! Just log in to your Love Notions account and click the little heart next to the listing! You can access that wishlist from your dashboard for easy shopping and staying organized during the sale.
---
40% off Sale Giveaway Prize
In honor of the sale, and to celebrate with YOU (our wonderful customers) we're doing a "little" giveaway.
Together with the Love Notions ambassador team, we're giving away a Babylock Victory serger OR a Babylock Brilliant Sewing Machine – the winner will choose!
These are machines that we love and use daily in the Love Notions Workshop. The winner's machine will be brand new, in box, unused, and with all manuals and accessories. The MSRP for these machines is between $1,000 and $1,799.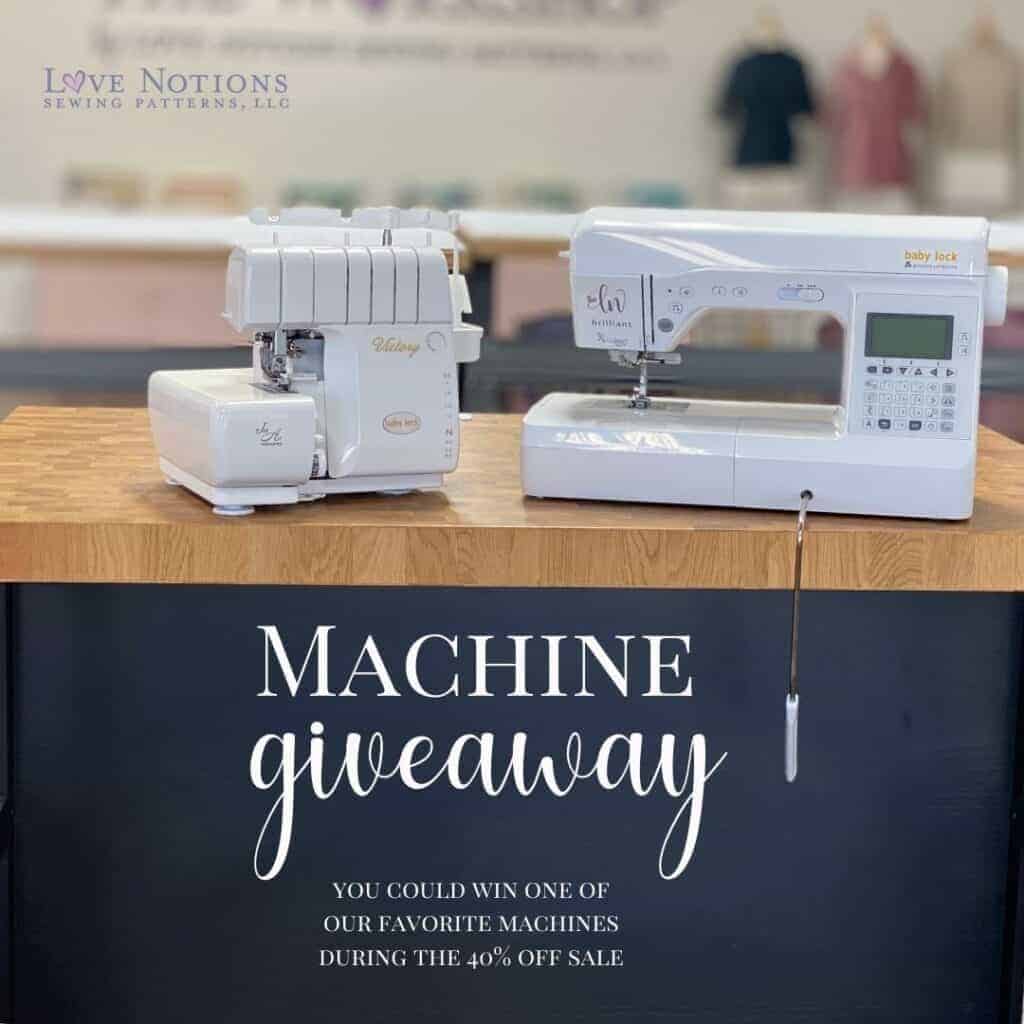 Here are the official rules:
Entrants can learn how to enter to win this prize by following the Love Notions Ambassador team. Each Love Notions team member will be submitting a nomination and will make their own post with directions to enter with them. You can find links to follow the Ambassador team on their social media outlets here (listing of the 2021 Love Notions ambassador team).
Anyone is eligible to enter! Shipping within the continental U.S. will be paid for by Love Notions. Winner outside of the continental U.S. can choose to pay the shipping/receiving/customs difference or select our alternate prize. Please note that this machine uses U.S. voltage.
Alternately, a winner can choose the $1,000 Love Notions store credit to be used on Love Notions digital patterns, workshops, or future retreats.
All nominated entrants will receive the free pattern of their choice.
Nominations will selected by 10/22/21. The final winner will be selected randomly on Tuesday, October 26th, 2021.
---
Shop more Love Notions Patterns:
[carousel_slide id=366612]