Happy Friday, Love Notions family! Rachel here with a Sewing School post I feel like I've been preparing for for YEARS. (Seriously. I looked in my invoice history and some of my first online knit purchases were 10 years ago.)
Why is online fabric shopping hard?
This task can feel especially daunting when you can't see or feel fabrics before buying. You don't want to waste your money, and fabrics aren't as inexpensive as our non-sewing friends seem to think they are. But local options aren't always plentiful, and sometimes you just can't find what you're looking for.
SO. MANY. OPTIONS.
There are a LOT of options now when it comes to online fabric shops, ranging from small family-owned businesses (some of our all-time favorites are listed in this post) to giant megacorporations (I'm looking at you, Amazon – they own fabric dot com now so you can order the same items from either site.)
I've had great experiences with so many places, and even the best shop can sometimes send me something that doesn't quite feel as I expected it to. Today's post is going to help you with the things to consider when looking for the right fabric for your project.
My demonstration pattern: Metra Blazer
I used today's Feature Friday pattern, the Metra Blazer, to demonstrate – I sewed two final versions of the pattern during testing last year, and two more for this post, so we've got plenty to compare and contrast.
My Fabric Choices
I used the shawl collar view during testing, and used a grey slub french terry blend from Sly Fox Fabrics for one Metra and a teal cable knit from Knitfabrics.com for the other. This week, I used two fabrics from Surge Fabric Shop for the wide lapel view – the heavier knit is the Ayr Tweed, and the lighter ribbed knit is their Adventurer Rib Sweater Fleece.
---
Questions to Ask when Fabric Shopping for a Particular Pattern
First, what does the pattern recommend?
If you plan to fabric shop with a pattern in mind, you have to know its fabric requirements.
Knits or wovens?
Light, medium, or heavy weight fabric?
Stable or with drape?
This information is usually near the beginning of a pattern, and will often include a general weight recommendation as well as types of fabrics that might work and the recommended stretch percentage.
Metra Blazer Fabric Recommendations
For the Metra, the pattern tutorial recommends medium to heavyweight stable knits with 25% stretch (this article discusses how to calculate fabric stretch). So, fabrics with these characteristics will be most likely to yield the intended fit and optimal result. The pattern also notes that knits with more drape can also be used but will lead to a more casual and loose-fitting look.

Narrow your selections when you shop
Now, when I go to my favorite online fabric shops, I can search directly for those types of fabrics to help me narrow down my selections. Each fabric listing should also have additional information; the best fabric listings include fabric composition and weight, as well as stretch percentage and types of garment that the fabric is best suited for. Here are some examples of fabric listings with this information: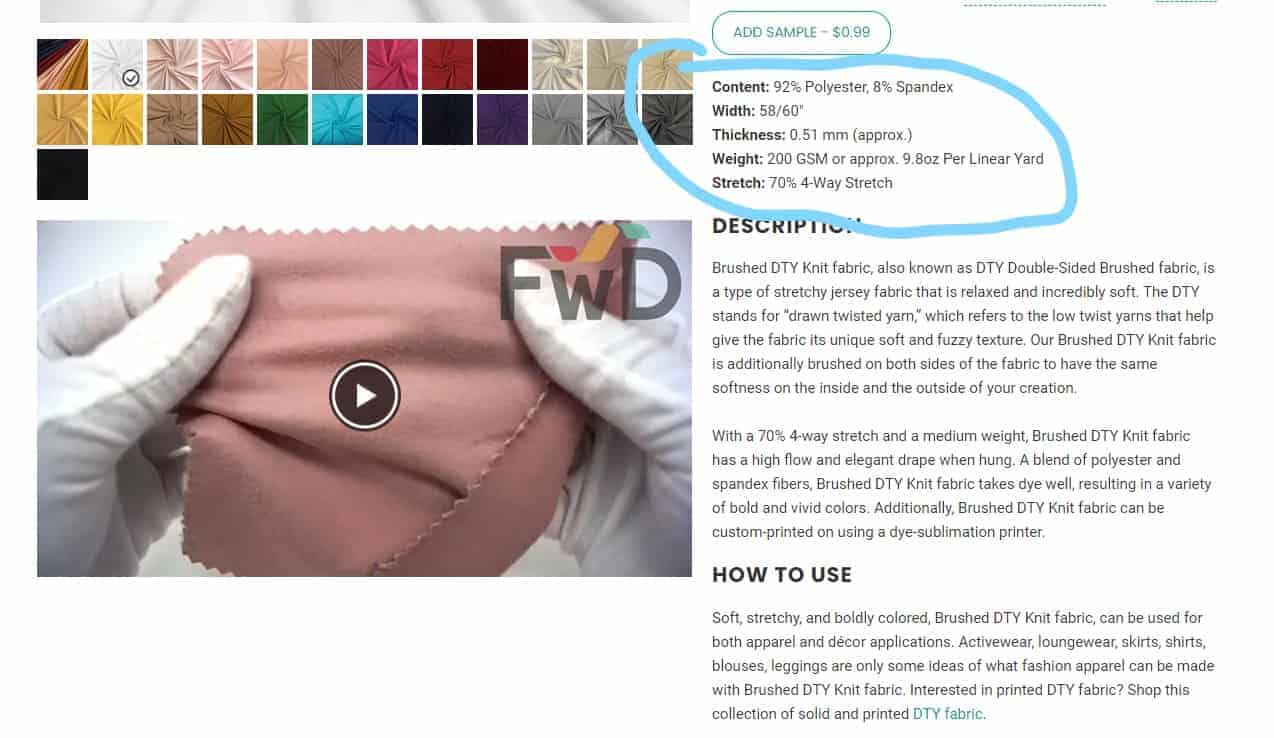 Fabric Comparison
You can see from my Metras that the one made from the lighter weight, more drapey fabric, was the most loose-fitting of the four – they're all the same size – and the wide lapels had a lot more drape. The fabric listing indicated that this one was 57% polyester, 39% cotton, and 4% spandex; it has 75% horizontal stretch and 50% vertical stretch. I love the finished look, and it's definitely a more casual take on the pattern than my other versions. Even the slub sweatshirt knit looks more dressy!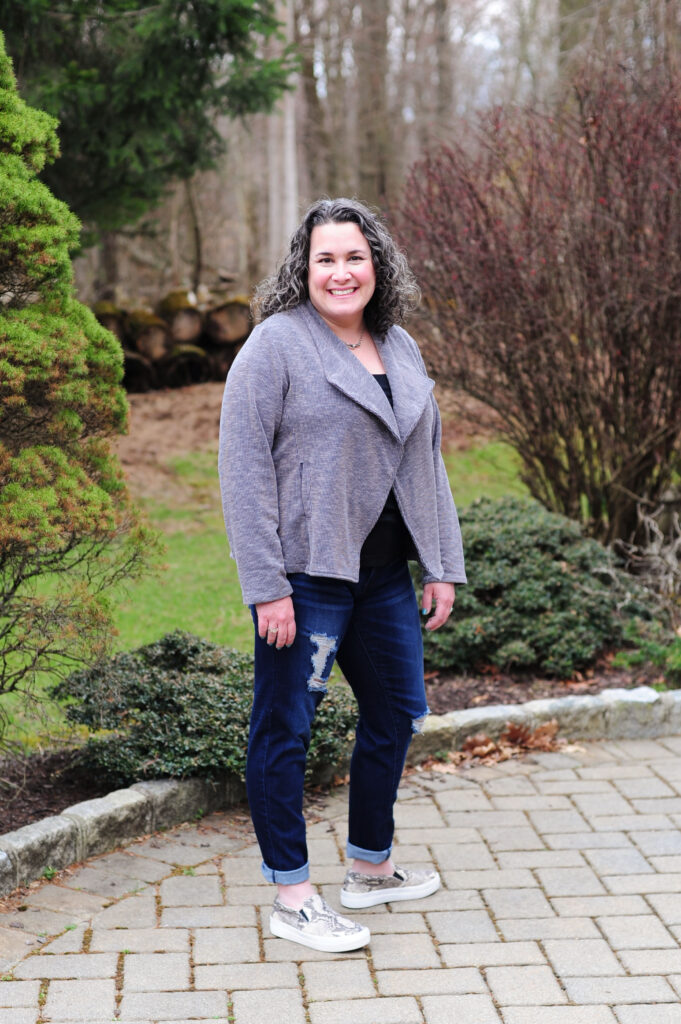 For comparison, the Ayr Tweed knit that I used for the other wide lapel Metra is 95% polyester and 5% spandex, with 75% horizontal stretch and 10% vertical. Having some four-way stretch – horizontal AND vertical – is necessary for patterns like leggings, and while it isn't necessary here, it's nice to have. The listing for the Ayr Tweed also indicates that the weight of the fabric is 220 gsm, or grams per meter squared. Often fabric weights will be listed either in gsm or in ounces, and this can be helpful to assess if a certain fabric will be a good match for the type of garment you're planning to sew. This post is a great reference for understanding fabric weights.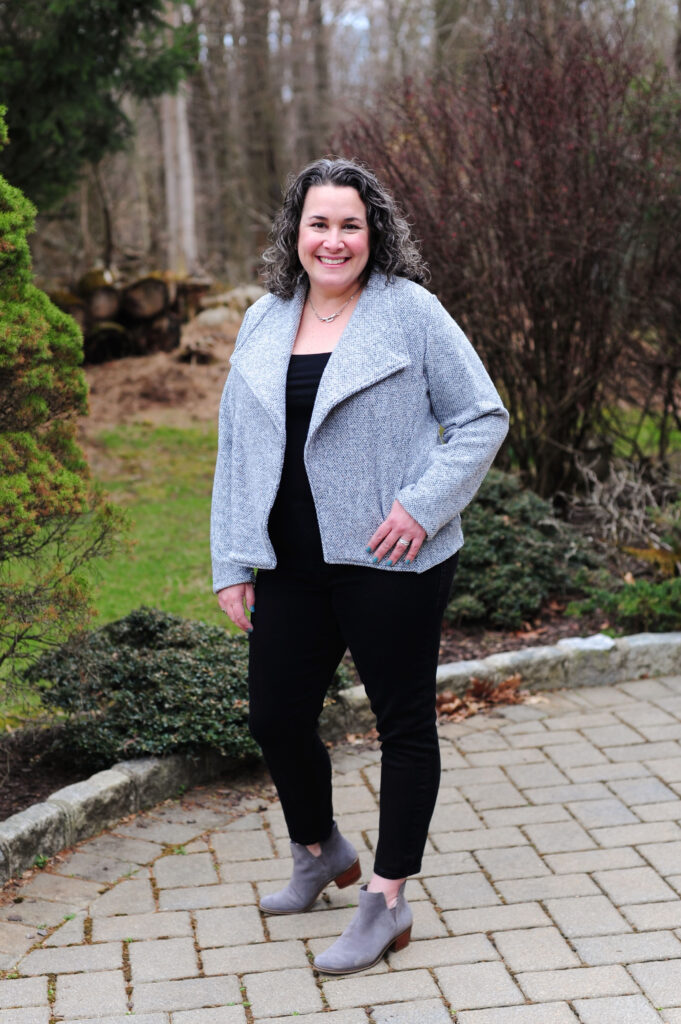 The next question to ask when fabric shopping is: What are the care recommendations?
In addition to care instructions, there are a few other things I take into consideration, too. For example, I think a lot about fabric composition, since that will often give me information about how to care for the finished garment. For example, if it requires dry cleaning, I know it's not for me. 😉
Some fabrics are natural (i.e. cotton, bamboo, silk, linen) and others are synthetic (i.e. polyester, acrylic, lycra, nylon) and they will all wash and wear differently depending on their composition. This post is a great resource for more information about fabric types and the Love Notions patterns we love to pair with different fabrics. I don't automatically exclude a fabric from my options based on its composition, but I know that sweater knits with polyester will be more likely to pill under the arms or that fabrics with lycra will have better recovery but might fit more snugly. I will also sometimes look at store bought clothing that I like to see what it's made of, to see if I can find a similar fabric blend in yardage for purchase. For instance, not all french terry will be the same composition; some is cotton spandex, some is poly rayon spandex, some is bamboo spandex, and some might not have any spandex at all.
All of those factors will influence how a fabric will feel, how it will drape, and even how stable or easy it will be to sew. That's why other information, such as weight and recommended uses, can be helpful from a pattern listing, along with photos of the fabric sewn and being worn. Every time a new Love Notions pattern is released, testers and ambassadors will share photos, blog posts, YouTube videos, and other content to showcase different fabrics we used and how they work for that particular pattern. Many of the fabric companies I've mentioned here also have Facebook groups and sometimes even teams of sewists who will sew up the fabric to share in their groups and in pattern groups, which can be tremendously helpful. It's not just clever marketing!
Next, I think about how much fabric I will purchase
I also look at how much fabric I need, since online shops generally sell fabrics by the yard (and occasionally by the half yard, but not smaller increments like in local brick and mortar shops). Sometimes I'll buy a little bit of extra, in case the fabric shrinks when I prewash it or in case I am not the most careful about maximizing the layout when I'm cutting my fabric. It's also helpful to have a little extra if you're matching patterns or stripes, or if the fabric is cut a little bit off grain. (Want more info about grainlines? This post from Katie is a fantastic resource.)
Online Fabric Shopping can Surprise You
Lastly, know that sometimes even if you take all of this into consideration and feel like you've carefully selected the perfect fabric for your project, it'll arrive and surprise you. That's ok! Frustrating, but ok. Set it into time out, and pick another pattern that will let that fabric shine.
Fabric is a lighter weight than you expected? Try a Classic Tee or or Vivace Dolman instead of the Whistler you had planned. (Have the opposite problem? That tri-blend knit isn't t-shirt weight but rather suited for a sweatshirt? Set aside your Classic Tee dreams for this one and try the Sloane or the Navigator this time.)
There are some shops that sell small swatches of fabrics for you to try for a small fee, and some, like Raspberry Creek Fabrics and Sly Fox Fabrics, offer a swatch pack for purchase of their main fabric bases. Either way, the next time you order fabric online, try a blend that's new to you in the name of "research" – and make sure to join us on our socials to share your favorite fabric finds for Love Notions patterns!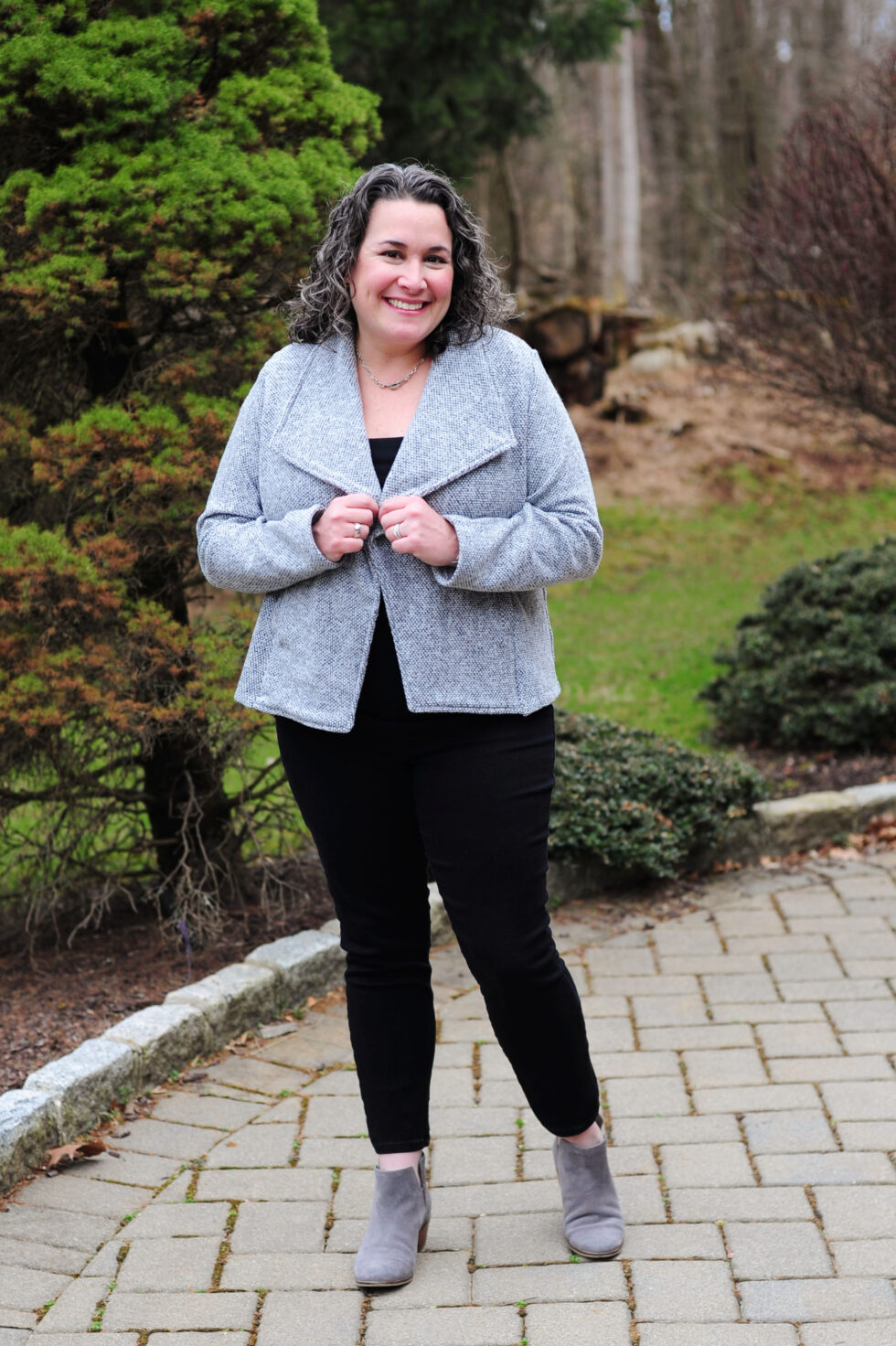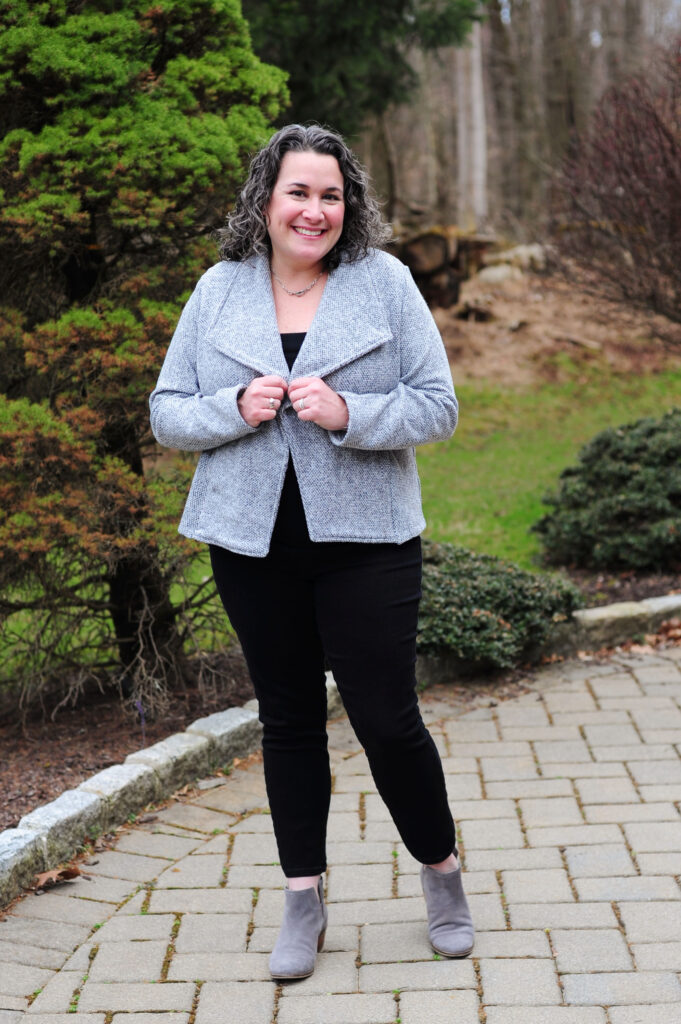 ---
Ready to fabric shop? These posts might help.
Save this article to your Sewing Pinterest Board
---
Shop more sewing patterns:
[carousel_slide id='408209′]