Or, How I survived the last 9 months in comfort and style with maternity sewing patterns
Hi, I'm Tessa. Tami and I were recently talking about the plethora of maternity options available with Love Notions and I said, "Hey! Maybe I should write a blog post about that for you." And so here I am!
Many Love Notions regulars might recognize me as Tami's Love Notions clothing "model" — which has been an awesome little perk of being the sister of a clothing designer. Throw some free, super-cute clothes at me and I will do just about anything.
[Sigh… pre-pregnancy body]
However, at the time of the writing for this blog post, I am also the nine months pregnant Love Notions "model." The one who has been encouraging Tami to make every new pattern "maternity/nursing-capable." So, if you are in the pregnant/nursing stage of life, you're welcome.
Pregnancy Perks and Problems: Clothing Edition- maternity sewing patterns
In my experience, pregnancy usually comes with some serious perks, besides the whole getting an adorable baby thing at the end. People are usually really nice to you, they won't let you lift heavy things, and they are constantly telling you to put your feet up. Well, ok, don't mind if I do.
My pregnancies with my first two daughters, Amelia and Caroline, were actually pretty great. I mean, no morning sickness, no complications, and for both I worked (as a teacher) up to the day before they were born. BUT, that doesn't mean that I love EVERYTHING about being pregnant, especially on this go-around.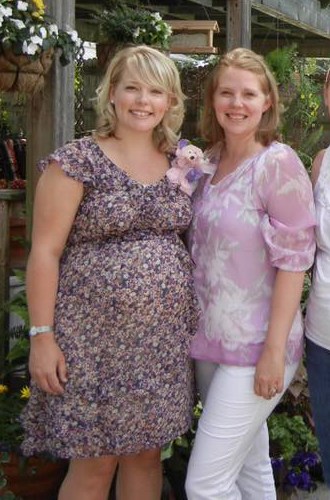 This one? Well. Maybe it's because I'm a teeny bit older, or because I am now a stay-at-home-mom, or because it is the very middle of summer… Let's just say I am very ready to be done with pregnancy and get that little baby girl in my arms and off of my aching pelvis, cankles and sausage-shaped toes.
One thing that I haven't had to worry about during this pregnancy is what to wear, which is not the case for many women.
I know that for many women, pregnancy comes with a lot of expenses and annoyances – especially when it comes to maternity wear. Your body seems to be constantly changing. What fit at 12 weeks will most likely not fit and feel good at 36 weeks. Yet, it feels so silly and wasteful to buy a completely new wardrobe for just a few months, or for every trimester. So many women just wear a few essential pieces into oblivion or deal with being uncomfortable.
I have been-there done-that with the maternity ready-to-wear selections with Baby #1 and #2. Destination Maternity, Motherhood, Kohl's and Target have provided some maternity staples that I regularly wore and even a few that I really loved and was able to keep for subsequent pregnancies. However, most of those pieces have all come with pretty hefty price tags for how long they are worn and in many cases the quality just wasn't there. It also has been tough to find really cute or interesting pieces. A couple pairs of black leggings and five nearly identical tent-like tops are not going to cut it for my maternity wardrobe.  The biggest drawback with RTW maternity in my experience has been with the fact that finding a good fit is really, REALLY tough. Basically, with RTW maternity, compromises have to be made – either with quality, affordability, style, or fit.
Enter Love Notions Sewing Patterns: The Maternity Sewing Patterns Options
Tami has been able to whip up a TON of maternity clothes for me that have made me look, and even more importantly, FEEL comfortable and put-together throughout my pregnancy. She even encouraged me (a complete novice) to take the plunge into the sewing world. Because of this, I have been able to create and modify my own maternity wardrobe. (I think I said this before on the Love Notions Pattern Support Facebook group; but, next my children, my first LDT was the creation I was most proud of, like EVER.)
So, here are a few of my most used Love Notions pieces that have gotten me through this pregnancy with comfort, style, and confidence.
There is a reason everyone loves this pattern. Aside from the fact that it is free when you join the FB LN pattern support group, the LDT looks GOOD ON EVERYBODY. This was one of my go-to shirts when I was feeling the 1st trimester bloat and simply wanted to walk around with my pants unbuttoned. I was able to wear this shirt for my ENTIRE pregnancy and I know it will be a lifesaver as my body fluctuates after the delivery. There is even a hack or two to make it nursing compatible that I will definitely be pursuing.
Later, as the weather got warmer, I loved the dress option of the LDT. Tami gave me one of these prior to pregnancy and I made one myself too, and they were fabulous! So comfortable and they could even be used throughout all the seasons by just throwing on some thick maternity tights or leggings underneath. The one I made required no alterations from the pattern– it was in a fairly stretchy fabric. However, I am relatively short (5'2ish), so your mileage may vary on that one and you may need to add in some extra length. Also, Tami has a blog post on adding in some extra flare on the LDT in three different ways. The other LDT I had was fitted at the bust with a swing skirt using the 2nd method she describes in her post.
[Sidenote: unless you add some inches to the length, it is often a good idea to throw a pair of stretchy bike shorts on underneath any shorter dress. This was great for the summer "chub rub" and prevented any wardrobe mishaps where skirts fly up and show more than intended.]
Ok, as far as pjs, I could not HANDLE wearing any kind of tight tummy-hugging bottom to bed, especially if it cut across my waist. This was tough because I am a yoga pants and tank kinda gal, so those form-fitting yoga pants were nixed early on. Instead of wandering around my house in the early morning in just a tank, I decided to try out a Luna night gown. This was the answer to my prayers. I made this one, and just sized up from a medium to a large. Depending on the fabric, many people might not even have to size up. Sleep becomes absolutely crucial when you are pregnant and anything I could do to stay comfortable and cool was worth every effort. Luckily the Luna was there for me in my time of need (as well as the two fans blowing directly on me and the eight strategically-placed pillows).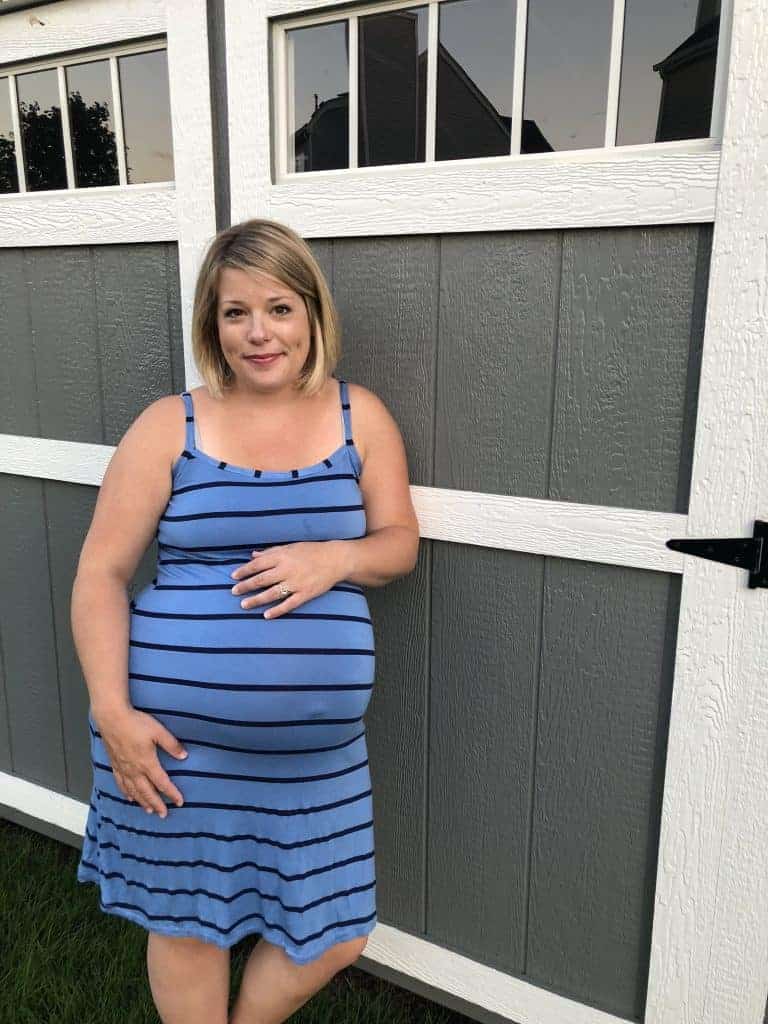 [I also made four of the
Luna nightgowns for my girls
and they are far and away the pajamas of choice at bedtime. Talk about a quick and easy sew for working through some fabric leftovers.]
This top was essential for 1st and 2nd Trimester! I doubt I would be able to get it over my bump at this point, since it is a woven, but it was so helpful when I was just starting to wear maternity clothes and needed something that didn't scream maternity for under cardigans and with maternity pants. (Let's be honest, full belly panel bottoms are amazing and going back to regular button fly/zip up pants is giving me anxiety. Check out the maternity version of the Sabrina Slims for help in this department.) The Harmony was great because it had a little bit of flow to the bottom without being billowy. In fact, I don't believe I added any more than maybe an inch or two to the bottom, but YMMV. In order to give my bust a little definition and when I felt like accentuating the bump a bit more, I would wear the matching tie belt. All I did there was use the extra fabric and a bias tape maker (I think it was the 1.5 inch). And viola, the perfect top for a more polished look.
This pattern actually includes a dedicated maternity hack post with some great details and tutorials (and even new pattern pieces!!!) to make it work perfectly for you. I love the Sonata and it was perfect for my second and third trimesters. I know it will be used a ton in the few months after the baby is born. It is a woven pattern, so this one would definitely need to be worked on to be maternity-capable, so be sure to take advantage of the tops and tricks Tami gives for making it maternity. I love the neckline!
Like I said before, some Love Notions patterns were perfect because they were in my closet already and have worked throughout my pregnancy without any modification at all. The Forte dress was one of those pieces. Also, how cool is it that with ONE pattern you can make both a dress and a shirt with a ton of customization. Sewing for the win. (Again, I would pair this dress with athletic shorts underneath.) I think some Forte tops are in my future next because they will be perfect for easy-access nursing and will transition beautifully into fall.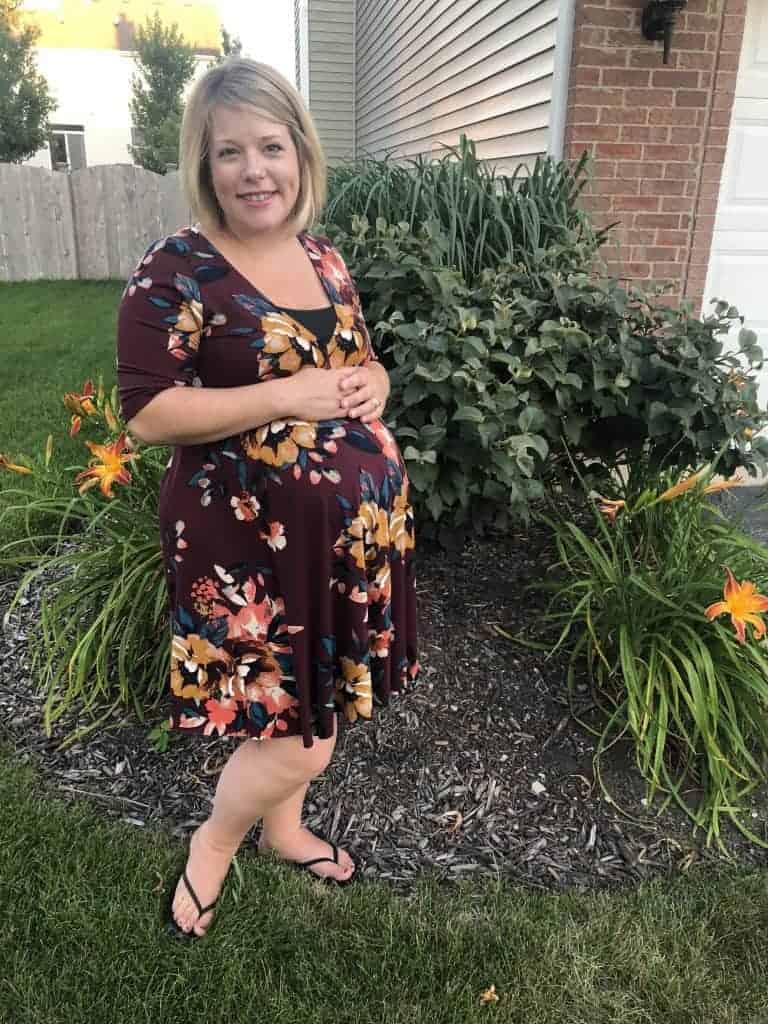 Ok, this one I couldn't help but wear because of the style and fabric choice. The bottom skirt of this one is a super cool and flowy ITY fabric that just felt so good in the heat of summer. Tami had made this for me when the Olympia first came out, way before I was pregnant. If I were to make this again for 3rd trimester pregnant me, I would skip the pockets or alter their placement because they tended to flop out and stretch weirdly. I would probably also shorten the bodice piece a bit so the dress section started right below my bust. BUT, I loved this dress so much that those little persnickety, pregnancy-related glitches did not stop me from wearing the dress on a pretty steady rotation.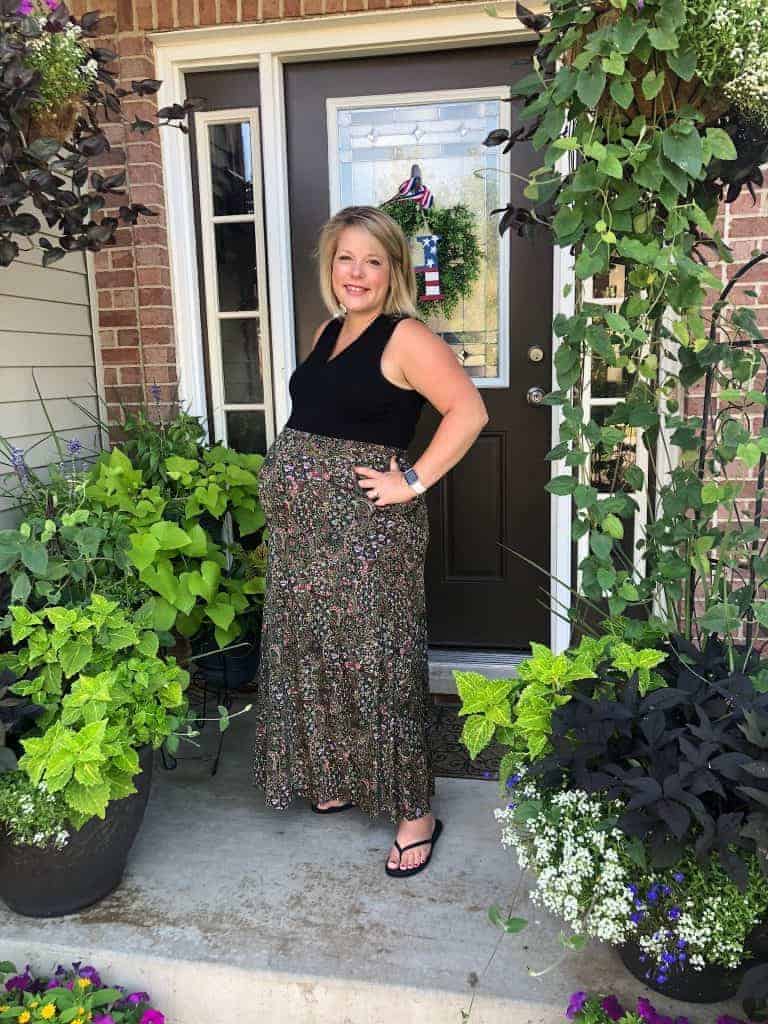 The LBD was also a favorite shirt for this pregnancy. As I said, I am a very novice sewist, so when it comes to judging fabric amounts for cutting out patterns, I am not exactly a placement pro. I had this soft stretchy fabric (I think it is a single brushed poly) and knew I wanted to live in it this summer. But, I only had enough to maybe make a shirt, definitely not a dress and probably not a tunic. So, I looked to the La Bella Donna and realized I could probably squeeze a shirt with a curved hem out of it. Welllll, when it came time to actually cut, I realized that sleeves were definitely not going to happen and that I didn't even have enough fabric for the curved hemline, which I thought was pretty important since I needed more coverage over my bump. Not wanting to scrap the project altogether, I thought I'd just try out the hem band option and lo and behold, it was the perfect piece to keep my shirt down and under my bump. Also, I should note that I cut the neckline down to scoop as well. Sewing gets pretty fun when you can completely customize all of your clothes!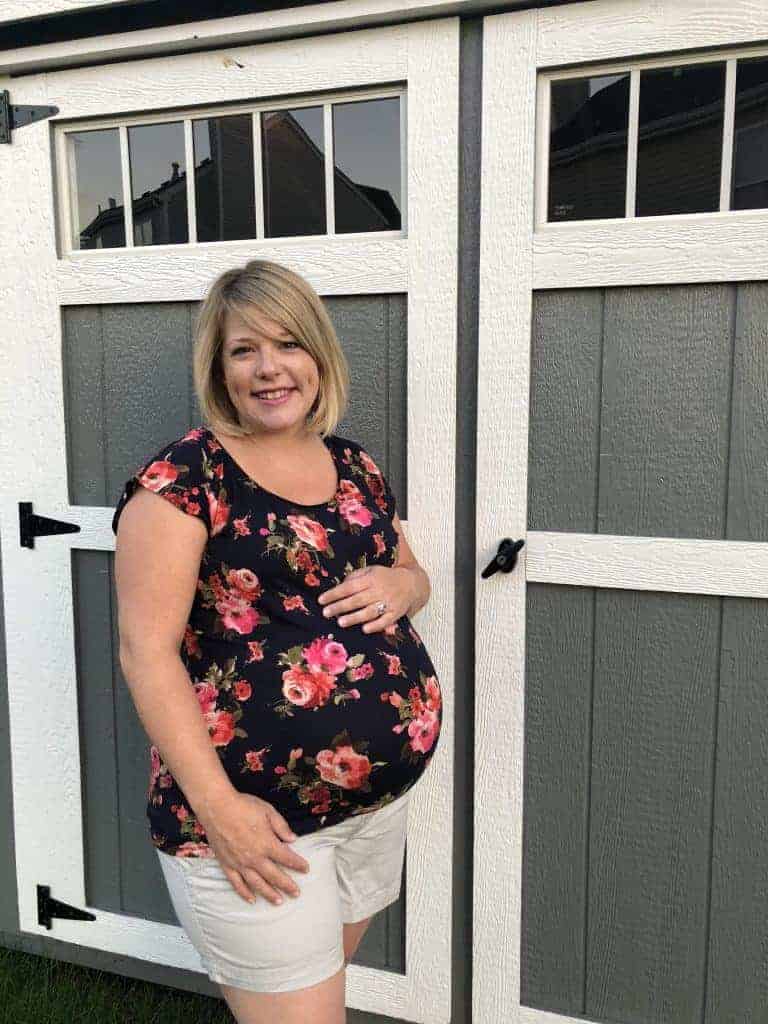 This is one of the pieces I am proudest of when it comes to sewing my maternity wardrobe. The Tessa sheath dress is my namesake. (Thanks for naming a great pattern after me, Tam!) What was funny about it was that I hadn't actually ever worn one before. So, when Tami gifted me a bunch of this pretty scuba material, I knew it would be perfect for that pattern. What I didn't know was how to make it maternity. So I jumped in and did some measuring and guessing and a little bit of praying. I did size up to a large and I did add some extra inches to the waist as I was cutting. However, the scuba material I have was really forgiving after I sewed it together. (There was some shock when I did a quick fit check and saw how much gapped between the side seams after I sewed the shoulder pieces together.) In the end, I think it worked out really nicely and everyone at Mother's Day brunch was floored that A.) I made it myself and B.) That it showcased my bump so well while being so figure-flattering to the rest of me.
I don't think you can go through a Love Notions maternity roundup post and not talk about the Willow Wrap dress. I am sure I will be making a few Willow Wrap tops for nursing, but when it came to pregnancy this dress was a dream! It was awesome to feel the figure-flattering capabilities of the form-fitting top and still feel completely comfortable with the flowy bottom half. Let's face it, wrap dresses work for everyBODY.  I love that I will be able to continue wearing it for the rest of the summer and definitely into the fall. And the good news about larger maternity sizes AND being able to sew is that when I need to size down a bit, I think I'll be capable of altering this to fit when [if?] I get back to my pre-pregnancy size. This one also has specific maternity options inside the pattern itself, which is so helpful.
Oh man, this skirt is THE BEST. I was over at Tami's when she was working with the tester group for the Ravinia. Being the bratty younger sister I am, I said she could totally make that maternity for me. Quickly, we realized it would probably be pretty easy to alter the pattern a smidge to make it maternity for anyone that needs it. The really great thing about the skirt is that it has a surprisingly supportive full-length panel, but that it doesn't feel bulky: an absolutely essential quality of maternity clothes. Also, pockets!
Thanks for my maternity wardrobe, Love Notions!
So, there you have it: a peek into my maternity closet. I know I have it made when it comes to custom clothing due to Tami's generosity, help and creativity; but, really, I realized that even *I* am capable of amazing things when it comes to making and altering my own clothes in general. My husband LOVES the money saving factor, and I love the fact that things fit comfortably. Not to mention, I think they look pretty cute, too. Talk about a practical and useful hobby. [Now, to convince my husband to use that "savings" for massages and pedicures. ;)]
At this point in my pregnancy, I feel like I have heard it all when it comes to strangers' (and even close friends') reactions to my body. "Are you sure there's only one?" "Are you sure that the doctor doesn't have the due date wrong?" or, "You look like you are going to pop!" I think most women know that some of the only safe and desired comments on a pregnant woman's body are something to the effect of "You are glowing" or "You look beautiful." In those situations, if I'm wearing my Love Notions maternity wardrobe, I can usually respond "Thanks, I feel pretty wonderful, too."