Love Notions has had a lot to celebrate in 2021, and before the year is over we want to take a moment to review the new patterns, updates, and events that made this year great. The past few years have had their challenges, but we are grateful for this sewing community and our communal love for sewing.
As we run down this list of patterns, I hope you can celebrate with us! This list is a reflection of all the hard work and creativity that head pattern designer Tami infuses into the Love Notions brand – along with her trusty team of ambassadors and pattern testers. Bringing a sewing pattern to life is a labor of love!
(Want to know more about the pattern design and update process? Check this out!)
---
Our Big News Today
Before we begin, we are excited to let you know that our last update of the year is the Tessa Sheath Dress – it is now on sale and features the same great design and original fit of that versatile classic Sheath Dress; however, the pattern has been fully updated and retested to include sizing XS-5X and features a new tutorial layout, a done for you full bust adjustment, and more!
Today only (December 3rd, 2021) you can get Tessa Sheath Dress for $5. The re-release sale will continue on December 4th and 5th at $9. Regular price is $12.
---
What's our mission?
As part of our year in review, it's a good time to tell you about some of the important events, goals, and priorities we have here at Love Notions. Each of the patterns we produce and sell contributes toward that mission, so it's important to remember why we do what we do. Additionally, you can read more about our company values here.
Our first goal as a sewing pattern design company is to help you find joy in sewing.

This means that we try to make your sewing experience the best it can be so you feel supported as you sew: our thoughtful tutorial design, our carefully tested patterns, our easy-to-wear options, and our constantly added resources are here to help you love sewing as much as we do.

Another goal we have is to get everyone sewing!

We design for the family and love to see all people using our designs. We also want to make sure that no matter your income level you can access some great sewing patterns – so we have

Lastly, we want to get better and better at making patterns you love and bringing you sewing content that helps. Here are a couple of things we added this year:

A new pattern tutorial format and layout – easier to find important details like seam allowances and the print layout, as well as larger text, metric and imperial measurements for sizing and yardage, finished measurement charts, and lots more!

Focus on Fit Blog Series – we started a new series for those fitting adjustments so you can clearly see when, why, and how to get the best fit possible on your sewing projects. Some of the topics we added this year were: Small Bust Adjustment, Full Bicep Adjustment, Fitting Bust Darts, Sloping Shoulder, Sway Back Adjustment, and Lengthening or Shortening a pattern.
Sewing School Blog Series – we also added to our handy collection of sewing basics and how-tos. Some of the best articles were: Sewing with Sequins, Sewing Machine Feet, Bias Tape, and Needles.
More sizes, talents, and backgrounds in our Love Notions ambassador team. We added about 15 more people to our lovely Ambassador Team. Our ambassador team is a beautiful community of sewists who help pattern test, create content, and promote for Love Notions. This year we were grateful to include (and compensate) even more people who help develop and spread the word about Love Notions. You can read about our Ambassador Team here and here.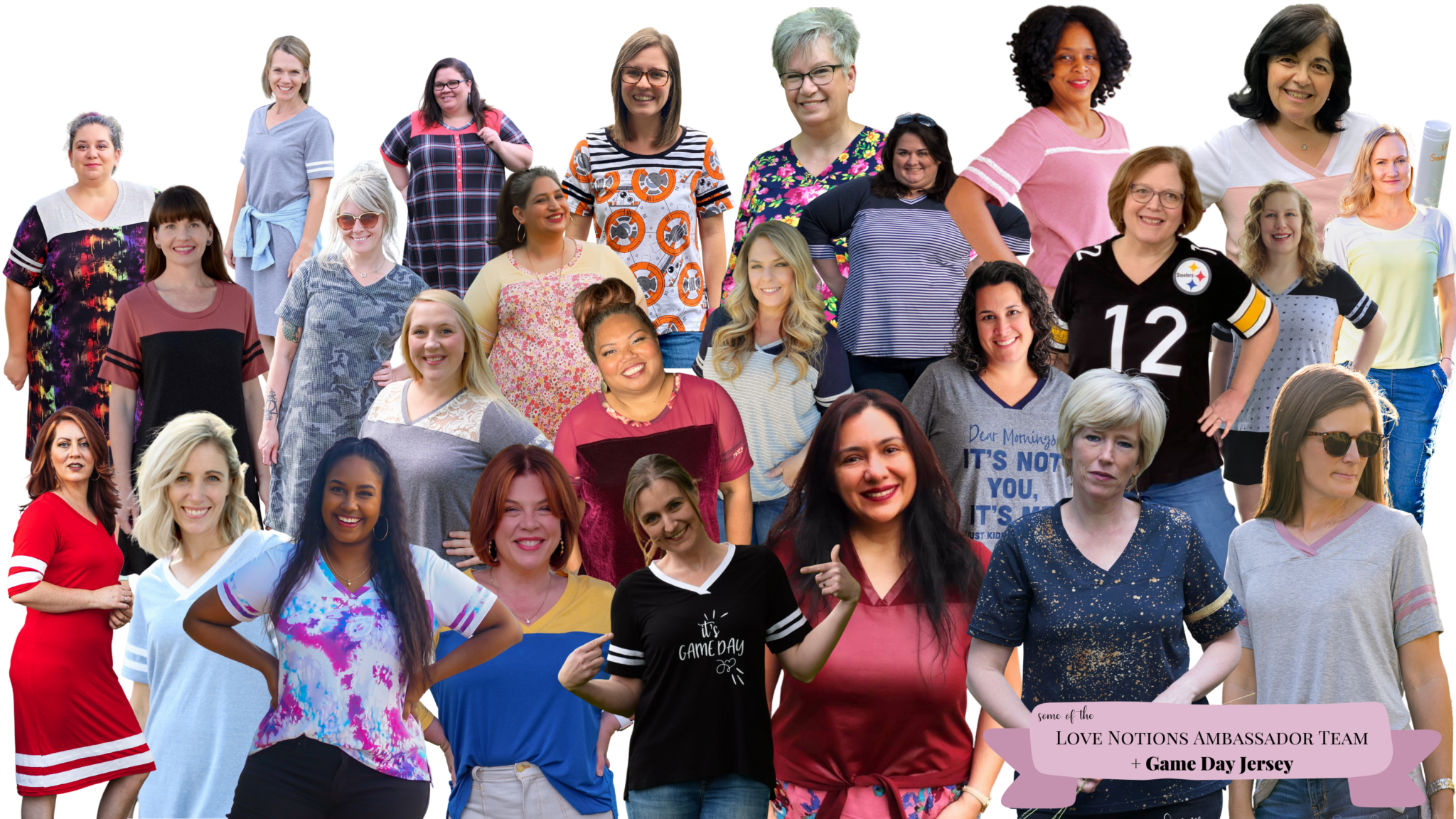 ---
Now, onto our 2021 Look Book
These are the patterns that were new releases this year. As you can see, Tami had a slight love affair with wovens this year — and especially wovens with lovely little details like shirring! The Love Notions new pattern collection this year was smaller than usual (we updated a LOT of patterns to fulfill our sizing update goal!), but the ones that are new are so so so so good. Take a look:
These patterns form such a beautiful little capsule collection.
We are so proud of this small but mighty collection of patterns and if you haven't taken the time to tackle one of these this year, I highly recommend doing so!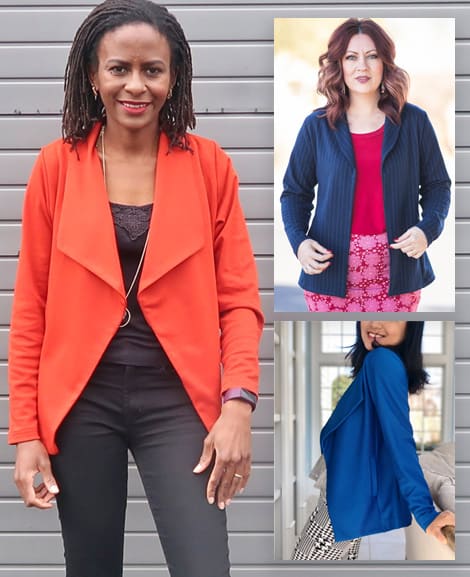 ---
Pattern Updates in 2021
Additionally, we've updated a TON of sewing patterns this year!! So while we didn't have quite as many new releases, we had lots of patterns upgraded to include our current size range and to be on the current Love Notions pattern block, (Again, if you want to know more about what goes into the pattern design and update process – read here!)
Here's what was updated this year:
Whoa! That is a LOT of pattern updates! These are all patterns that are workhorses in your closet and getting these updated and into the hands of more people was a top priority this year.
---
What's next from Love Notions?
Well that does it for what Love Notions has produced in 2021 – we are ready for a nap! While we are getting a little bit of a break at the end of the year, we still have lots of sewing pattern and sewist support planned for next year.
Wanna see a TINY sneak peek??
WARNING: All of this is subject to change (but one of these patterns is actually already in testing and we are LOVING it!)
Men's Thomas Track Pants (This kids pant is a top-rated pattern and the men's version is coming soon!)
Ambassador-designed pattern! (We have goosebumps thinking about how cool this is!)
Fraser Cardigan (a curved style cardigan that is actually just about to start testing!)
A ladies button down shirt (no more struggling with RTW button ups)
Girls Tempo Sundress (This was also a MUCH requested pattern!)
A Love Notions version of your favorite JEANS (eep!)
An athletic hoodie (would love to hear what you are looking for on this one!)
7-8 more pattern updates (this sounds daunting right now, but we have proven we can do it!!)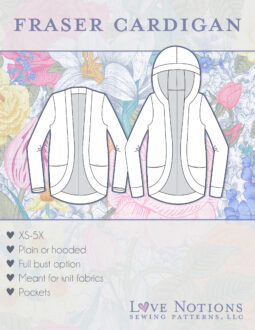 Ok, again, that is totally a sneak peek into our heads and plans for the future – and it's all totally subject to change.
If you would though, please consider dropping a line about what you'd like to see from us and what you've loved this past year. It's been a privilege serving you with patterns this past year. Every time we see a make, or get a comment, or connect with you — we are so honored that you have Love Notions in your sewing life. Cheers to the new year and may it be filled with lots and lots of beautiful sewing. Love ya!
---
Shop the Patterns
[carousel_slide id='303884′]
---
Save this post to your Pinterest Board